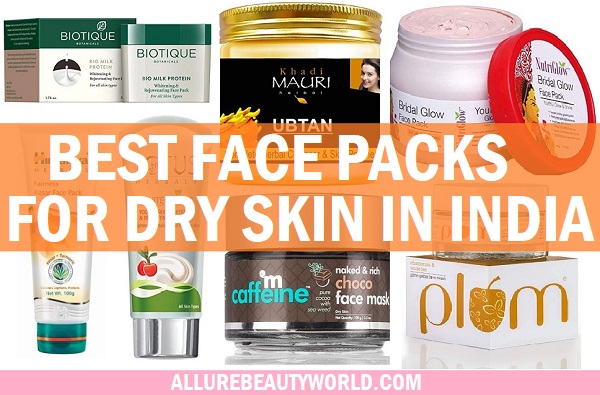 When your skin gets dry, you can do take help from the skin care products. The best products that you can use on your skin are face packs or masks to relive the dryness. Dryness can be most commonly seen during winter season, when the weather gets cold and mercury level gets lower. This is the time of the year, when your skin really does get very dry and needs hydration and moisturization. So here we are sharing this list of top best face packs in India for dry skin that men and women both can use. Other than the dryness cure, they will also give a fresh glow on your skin and heal the skin problems such as pigmentation, fairness and sun tanning. So, whatever is your concern using these face packs, you can pick the one according to your concern, For eg. you can try a face pack for dry skin for pigmentation that will also nourish your skin and removes the pigmentation from the skin. Moving on, to the list of the best face packs for dry skin in India.
List of The Best Face Packs For Dry Skin in Indian Market (2022)
1. Biotique Bio Milk Protein Whitening & Rejuvenating Face Pack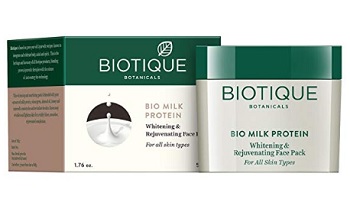 Biotique milk protein whitening and rejuvenating face pack is for all skin types and it gives immense glow and smoothness. While it removes the dry patches from your skin, it eases away wrinkles and lightens skin complexion. Wheat proteins and milk proteins along with wheat germ and almond oil helps to nourish dry face and gives it glow. Apply it on your face and rinse off after 15 to 20 minutes. It is suitable to be used twice in a week by both men and women.
2. Himalaya Herbals Fairness Kesar Face Pack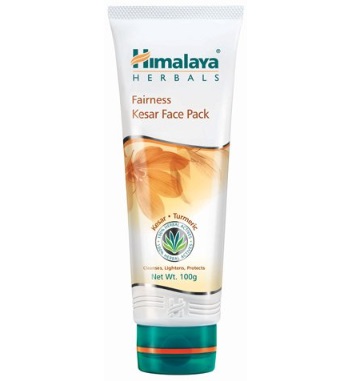 Himalaya Herbals fairness Kesar face pack contains Kesar or saffron along with turmeric. It enhances the glow while removing the impurities. It heals acne and removes the blackheads. The product also removes the dullness and dryness by regenerating the skin cells. To heal the injured and damaged skin, apply this fairness face pack for dry skin evenly on your face and neck and leave it for drying. Remove it after 10 to 15 minutes and it's good to go. It can be applied once or twice in a week.
3. Lotus Herbals White Glow Yogurt Skin Whitening And Brightening Masque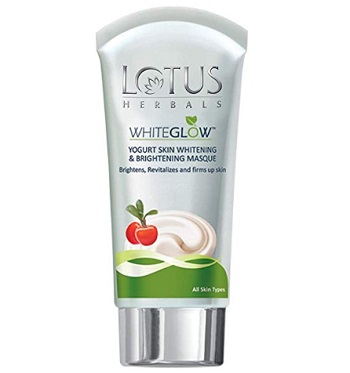 Lotus Herbals whiteglow yoghurt skin whitening face mask is for all skin types available for dry skin it really does wonders. With the yoghurt proteins and lactic acid, it dilutes and gets rid of the dead skin cells from the skin. It can be applied twice in a week for bright face. The face mask also makes the skin moisturized and glowing. So even if you have dark spots and blemishes on your skin, you can apply this face mask to remove any unwanted scars and marks. It can be applied on the entire face and neck except for the eyes and mouth area. Leave it for 30 minutes and then wash it off with cold water. It also eliminates the dead skin flakes.
4. mCaffeine Naked & Rich Choco Face Mask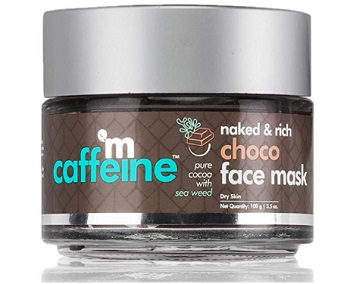 The charcoal face mask is for dry skin as it contains the immense moisturization of cocoa aloe vera and Seaweed. These are the best ingredients care for your dry skin and as a soothing touch on your face. So, while it gives you soothing hydration, nourishment, it also imparts healthy glow on the skin. It is also FDA approved, Mineral oil free, cruelty-free, mineral oil and paraben free and is a dermatologically tested product for dry skin for both men and women. Clearly, it is the best face pack for dry skin in India. The brand is a paraben free brand suitable for dry and sensitive skin.
5. Khadi Mauri Herbal Ubtan Pack for Skin Lightening & Tan Removal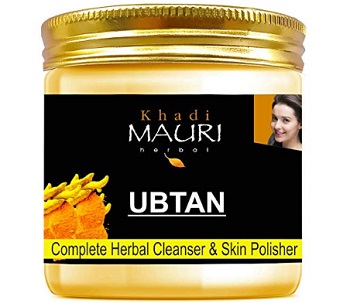 Khadi Herbals Ubtan face pack is basically formulated for skin lightening and tan removal purpose. It is an Ayurvedic formula which is suitable for dry skin as it contains the rich ingredients like Sandalwood, turmeric, rosewater. It is a powder face pack that you have to mix with some medium like rose water or milk to get the best results. As if you have dry skin you can even mix it with some Ghee to mix and apply on your skin. Rich in natural ingredients, it does not contain any chemicals. It gives you clear skin. So a lot of time, people who suffers from problems like uneven skin tone, pigmentation, and acne scars, Khadi herbal Ubtan can be one stop solution to get rid of all such common skin problems.
6. Nutriglow Bridal Glow Facial Pack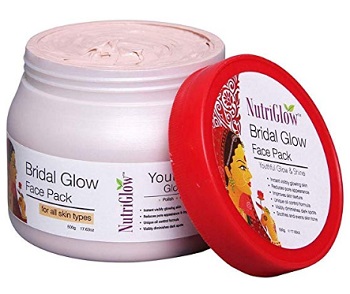 Nutriglow bridal face pack is to get you bridal like glow. After using the face pack, it's one of the best face pack for dry skin. This is why it's not for oily and acne prone skin tone at all. The key ingredients include Zinc Oxide, Lemon Essential Oil, Rose oil, Orange oil, Sandalwood Oil, Vitamin E to make skin fresh and rejuvenated. While clearing the skin this makes the skin hydrated and smooth. It also removes the tan. Acting as a good moisturiser for your skin, you can enjoy glow on your face.
7. Plum Chamomile and White Tea Glow Getter Face Mask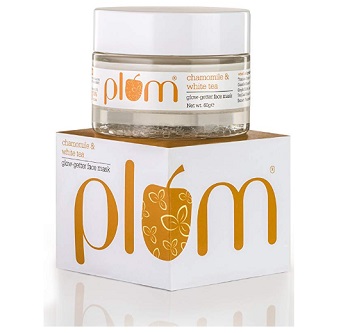 Plum chamomile and white tea face mask is a 30 minute treat for your skin. It is PETA certified Vegan and cruelty free product with no parabens, SLS or harmful ingredients. The mask has a non drying texture that you will love. So, it helps recover the skin from sun tan and other types of stress. The goodness of licorice root extracts, chamomile extracts, it's suitable for people with even dry skin as it does not dry the skin at all but gives a good glow.
8. Vaadi Herbals Instant Glow Face Pack, Almond and Honey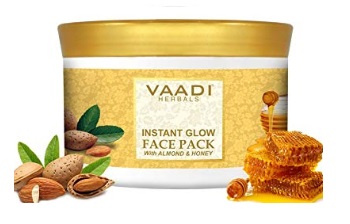 Vaadi herbals instant glow face pack contains almond and honey. This is one of the best readymade face packs for dry skin in India. Almonds give you instant glow and shine, while honey improves the quality of your skin and improves the uneven skin tone. Almond is also rich in vitamin C because of vitamin E, it improves the skin moisture level and gets rid of dry skin. So, it lightens the pigmentation and you get glowing fair and beautiful skin.
9. Jovees Insta Fair Liquorice Glow Pack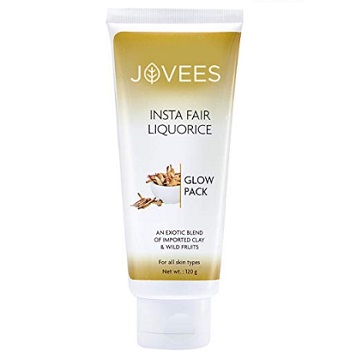 Jovees instafair licorice glow face pack is for all skin types and is an exotic blend of imported wild fruits, sandalwood and clay. The product would surely help in improving the skin texture and in bringing glow to the skin. Apply it on the face and leave it on for 20 minutes. Application of such face mask twice in a week, ensure sure that your skin becomes fresh and glowing.
10. Aroma Magic Anti Pigmentation Glossy Pack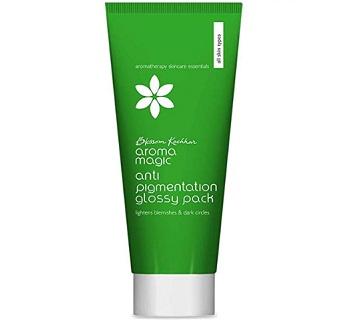 Aroma magic glossy pack also improves pigmentation and dark spots. There are no side effects of using this face pack for dry skin it just gives glow and moisturization. Suitable for all skin types, it also even tones your complexion while making the skin elastic and smooth.