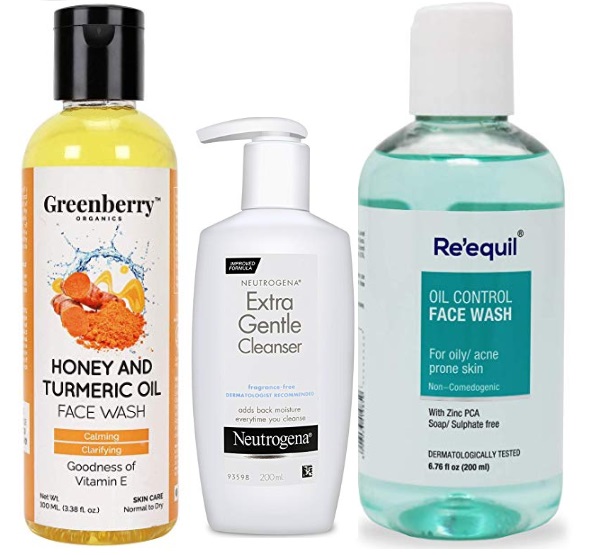 Face wash for sensitive skin can be immensely helpful in cleaning and giving that suppleness to the skin. When your skin is red, itchy and has constant burning sensation, it's sensitive. Sensitive skin is not only dry, it can be acne prone. Excessive exposure to UV rays and skin-damaging environmental conditions can also make your skin sensitive. We've compiled this list of the best face washes for sensitive skin in India. These are the top facial cleansers for sensitive skin type that can also help you keep the skin in best condition.
Signs of sensitive skin:
Rashes

Stinging sensation

Itching feel

Dry and rough patches

Broken capillaries

Beauty products can cause rashes

Gets red pretty quick
Top 10 Best Sensitive Skin Face Washes in India
So, here are the best face wash for sensitive skin in India. Choosing a good face cleanser is important as would be using them on daily basis. If you've dry redness prone skin, then please do take a look at these best face washes for dry sensitive skin in India.
1. Kaya Skin Clinic Face Cleanser for Sensitive Skin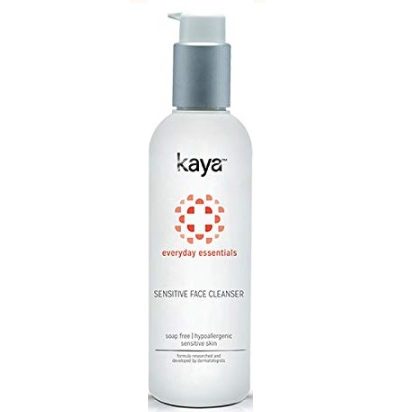 The facial cleanser is exclusively made for sensitive face type. It is a soap-free hypoallergenic product which men and women with sensitive face can easily apply. The product comes in a pump dispenser that makes it easy to use. It doesn't cause any irritation or burning sensation while you use it. It is developed and recommended by the dermatologists. The formula is soap and paraben-free and also is the best face wash for sensitive acne prone skin in India.
2. Cetaphil Gentle Skin Cleanser (Dry

Sensitive

Skin Type)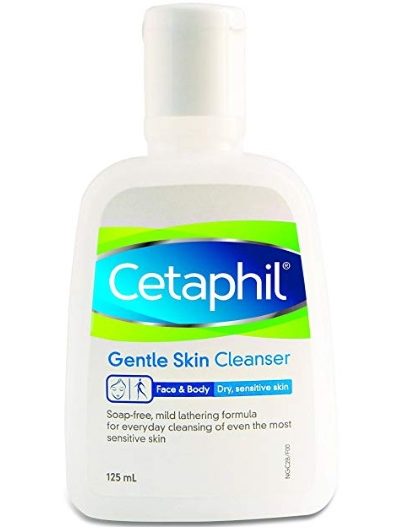 The gentle skin cleanser is a non-foaming product, which doesn't give you false lathers, but clarifies the skin effectively. It has a soap-free mild lathering formula that is suitable for everyday cleansing for even the most sensitive skin types. Even in case of Eczema, rashes and redness, this product is suitable. It's a creamy product that is like cleansing milk. On top of that, it is a non-comedogenic product that doesn't block the pores. It's the best dermatologist recommended face wash for sensitive skin.
How to use: You can take it on a cotton pad and wipe off your face using this. It is a soothing and non-irritating product with people with sensitive skin must try. Please note that, it is not a face wash which gives lathers but more like a creamy product.
3. Neutrogena Extra Gentle Cleanser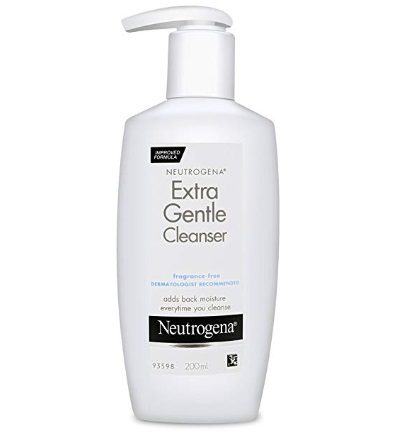 Neutrogena sensitive skin face wash removes oils sebum, dirt and makeup traces without drying the sensitive face. The product adds moisture for your dry sensitive skin. It is a fragrance-free, hypoallergenic product which is non-comedogenic and dermatologist recommended. So when you have skin prone to itching, burning and rashes you must use a product like this. It's also suitable for oily sensitive skin type.
4. RE' EQUIL Oil Control Sulphate-free Anti Acne Face Wash for Oily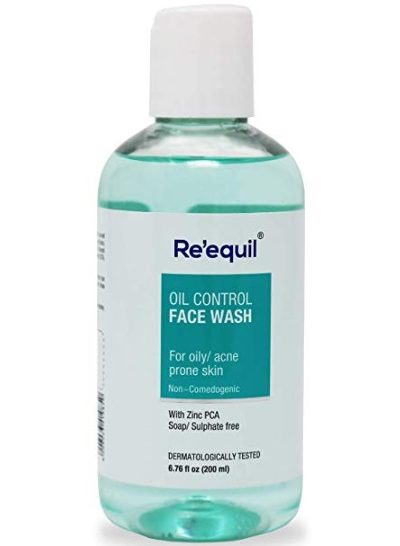 This product is suitable and is the best facial cleanser for sensitive skin with acne breakouts frequently. It is a sulphate free and paraben-free product that does not contain any soapy residue. It is a dermatologically tested formula with zinc PCA. It naturally moisturizes your skin and gives it oil-free. The product has a gel texture that blends and forms easy lathers on your face.
5. Kama Ayurveda Sensitive Skin Cleansing Foam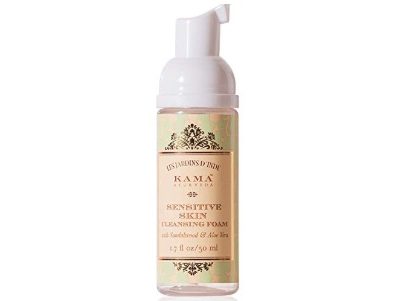 The chemical free cleansing foam is exclusively made for sensitive skin. It may not be a very affordable product but it's one of the best for extra delicate skin. It removes the impurities and excessive oils without stripping away the natural oils from your face. The herbal face wash contains pure sandalwood oil, cold pressed aloe vera leaf juice and calendula extract that are known to soothe rest itchy skin. It is also a good face wash suitable for rosacea and Eczema prone skin.
6. L'Oreal Hydra-Total 5 for Dry and Sensitive Skin Silky Cream Face Wash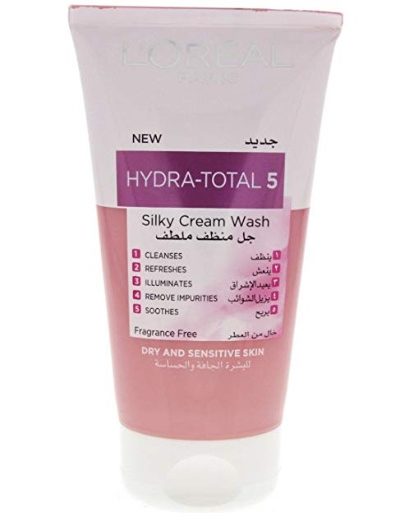 The creamy face wash cleanses, refreshes and removes the impurities from your face. It is a fragrance-free product that is suitable for dry and sensitive skin. It also gives you benefit in whitening your skin. It's best face wash for dull sensitive and allergic skin and is a mild face cleanser. Use t twice to keep the skin redness free and no seasonal rashes.
7. Greenberry Organics Honey and Turmeric Oil Face Wash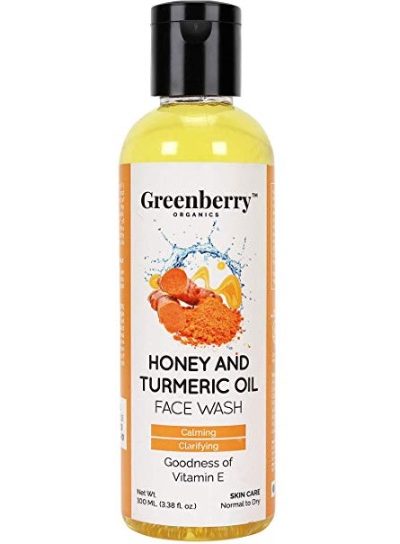 It's a gentle facial cleanser that is blended with organic honey and turmeric oil. Men and women, who have extra sensitive face during summer season and gets burnt easily, should use this facial cleanser. It has skin calming and clarifying properties, along with the goodness of Vitamin E. You can get beautiful skin, using this paraben and Sulfate-free product.
8. Mcaffeine Neem Face Wash Cleanser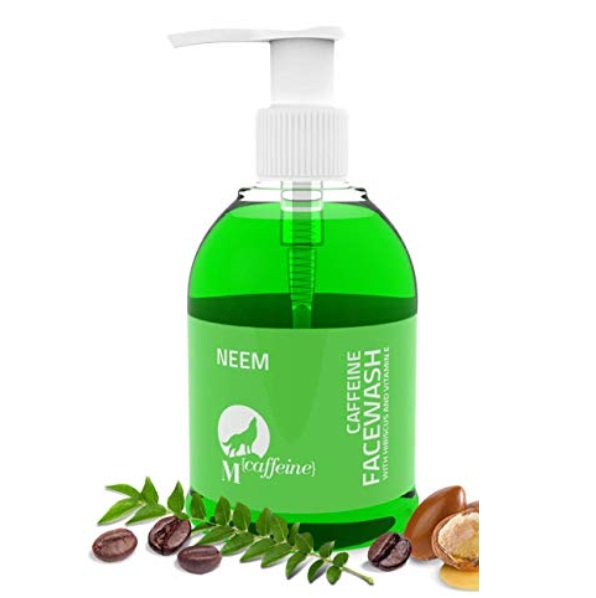 People with oily-sensitive skin should give it a try. It's a Neem face wash with Argan oil and Vitamin E. It helps you get clear and detoxified skin. Neem with its anti-bacterial and anti-fungal properties helps to deep cleanse your skin and pulls out the dirt. It also fights the existing acne and pimples on your skin. Product is also wonderful for open pores and hyper-pigmentation. It moisturizes that help to clarify your skin effectively.
9. O3+ Lightening & Calming Face Wash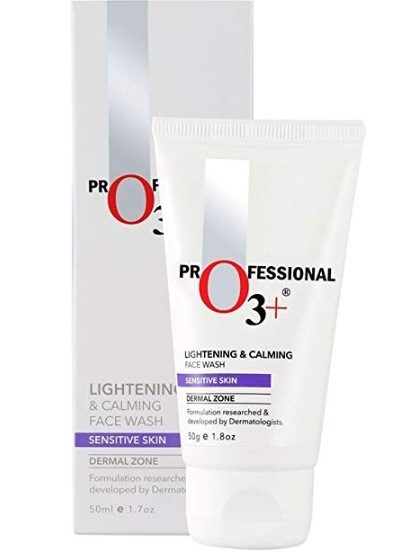 It doesn't mean that when you have sensitive skin, you cannot have skin whitening. This facial cleanser is a lightning and calming face wash, that whitens your skin tone and suits it very well. To apply it, you can take some on your palm and massage on your face in circular motion. Then, rinse off using clear water. It can be used two times in a day and is the best face wash for sensitive oily skin in India.
10. Khadi Honey and Glycerin Face Wash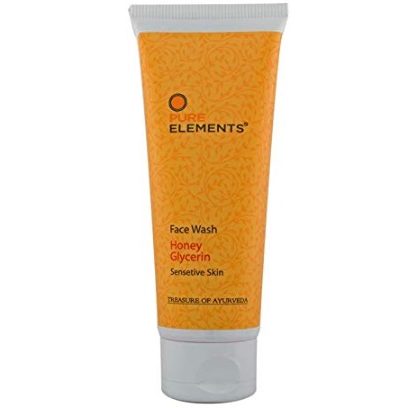 This is one of the best honey and glycerin Ayurvedic face wash. It is a very mild inorganic non-foaming face wash that contains organic aloe vera juice, pure honey and glycerin. It doesn't strip the natural moisture from your face but keep your skin's natural pH balance maintained. With gel base, the face wash is perfectly suitable for irritated and sensitive skin. It is a paraben and soap-free face wash for sensitive skin in India.
How to wash sensitive skin and How often:
You should first of all, wet your face. Then taking some cleanser on the palm, rub it. Apply it on the face and massage for 10-20 seconds. Wash your face with clear water. Pat dry with a clean towel. Do this in the morning and before going to bed.
We hope that this list of the best face cleansers for sensitive skin in India, helped you out in choosing the best one out from the Indian market. Use them accordingly and also don't forget that when you have sensitive skin, you should take extra step. Always apply sunscreen, when you go out under UV rays. During winters, apply suitable moisturizers to keep your dry sensitive skin moisturized. If you have Sun burning, then apply curd on your face for 15 minutes and wash it off. You can also apply cucumber juice to get rid of the tanning and sun burning.