Facial wipes are among those handy products that you can use to clean your face, when you do not have any other means around. In fact, there are different types of facial wipes available in the market for different purposes. Like there are facial wipes with the makeup remover formulations that help to get rid of the makeup completely. Other than that, there are wipes available which help to take of the dust, sebum, grime from your skin, so that your skin can get clear. Even while you are travelling, facial wipes can be a very useful product.
Normally, using the face wipes is not harmful for the skin, but choosing the best facial wipes is must to take care of your skin. Here, we have compiled this list of the best facial wipes available in the market at affordable prices. These are the dermatologically developed and recommended products, safe and gentle on the skin.
List of the Best Face Wipes in India (2023)
1. Kaya Youth Oxy-Infusion Face Wipes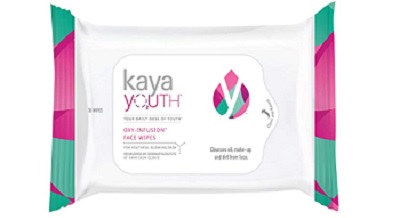 The face wipe comes from the house of Kaya. It is your daily dose of youthful skin. It has an oxygen infusion technology for youthful glowing skin. As it is developed by Dermatologists, it's gentle and not harmful for the skin or cast any side effects. Using these facial wipes on the skin helps to cleanse oils, makeup and dirt from the skin. They are packaged in a re-sealable pouch pack that is easy and handy to carry in the bag, purse and even in the pocket. It's suitable for all the skin types and is amongst the best face wipes for men and women. So, you can add it to your regular skin care to get a boost of oxygen to stay youthful and glowing.
2. Kara Cleansing and Hydrating Face Wipe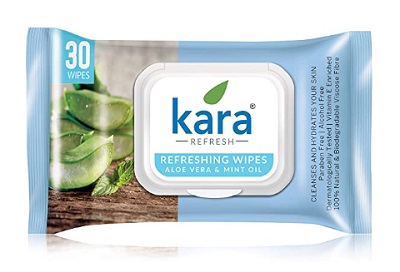 Kara face wipes are available in multiple variants and out of that these variants, these refreshing wipes with aloe vera and mint oil are the best. They are very reasonably priced and inexpensive. These are the biodegradable wipes Kara brand and are eco-friendly. They are indeed perfect product to boost the freshness on your skin. These are alcohol free wipes that cleanses the debris and oil from your face and neck. They are also packaged in an easy-to-use reseal-able pack.  Made from 100% viscose bio-degradable fabric, after using the face cleansing wipes, you'll not have any limit residue on your face. These are paraben and alcohol free and 100% natural.
3. Himalaya Moisturising Aloe Vera Facial Wipes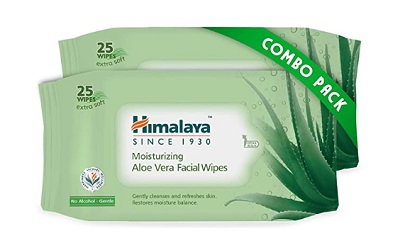 These herbal wipes are extremely moisturizing and enriched with aloe vera with a gentle formula. It soothes the skin while effectively removing the grease and grime. Enriched with the natural ingredients, these facial wipes not just cleanses your skin gently but also locks the moisture. Even though it is suitable for all skin types, because of the presence of aloe vera, these are best face cleansing wipes for even the sensitive skin.
4. Kara Aloe Vera & Cucumber Face Wipes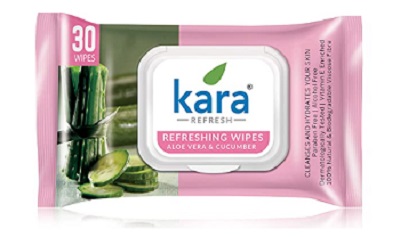 Kara facial wipes with aloe vera and cucumber are for sensitive skin with hydrating and nourishing formula or least of these are paraben-free and alcohol-free facial wipes, which are also dermatologically tested and rich with Vitamin E. This facial wipes are natural and are made with 100% biodegradable viscose. So, this will not leave behind the residue on your face.
5. Nivea Micellar Cleansing Wipes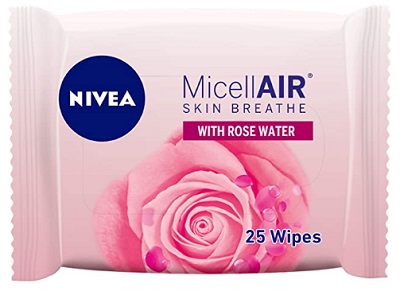 Nivea micellar cleansing face wipes with the rose water essence has gentle cleansing. Micellar water helps the sensitive skin to get cleansed properly without drying out. So after that it leaves your skin clean and refreshed. This portable facial wipes refreshes the skin on the go and make it soft and smoother without any residue org sticky feeling.  The micelller formulation of these face wipes helps to attract the makeup, dirt and sebum effectively, so that they can be removed thoroughly without drying the skin. These are also ophthalmologically approved facial wipes compatible for all skin types.
6. Himalaya Purifying Neem Facial Wipes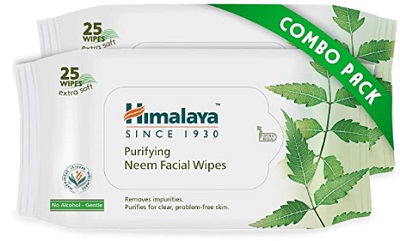 Himalaya purifying neem face wash are the best facial wipes for oily and acne prone skin. So, if you would like to get rid of the makeup, dirt and dust from your skin, while travelling or when you do not have the resources to wash your face, this facial wipes can be a quick fix. These have a gentle and effective cleansing formula that helps to keep the skin clean and fresh. So you can take a wipe from the pack and gently cleanse your face neck and area.
7. Senseller Refreshing Facial Wet Wipes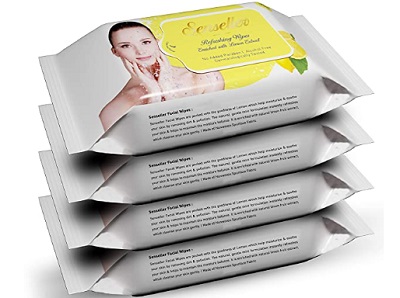 These refreshing facial wet wipes are rich with lemon extracts. These are packaged with the goodness of lemon that helps to moisturize the skin and remove the dirt and pollutants so that your skin can sparkle and shine. These have lesser irritating formula with lemon extracts. Enriched with natural lemon water, it does not only cleanse the skin, but also makes the skin a bit better than before. So after a long day when you remove your makeup using these wipes help to ensure that there are no clogged pores or bacterial infection. These are made of non-woven fabric and are degradable. Free of alcohol and paraben, these are yet another brand of good facial wipes in India.
8. TULIPS Refreshing Face Wipes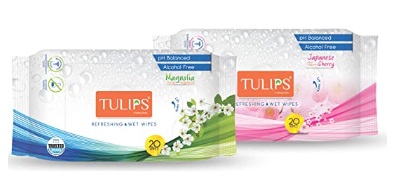 These refreshing facial wipes comes with different fragrances and variations. This have a pH balanced formula and dermatologically tested product. Gentle on your skin, these are refreshing wipes which are travel-friendly and comes in a re-sealable pack.  So while the wipe refreshes your skin, these are the staple skin care. When you're travelling, it's an easy way to get rid of the dirt and excessive oils effectively. It leaves behind a non-sticky and fragrant skin with a soft lingering saint of European fragrances. Using the wipes are very easy and these are very gentle on the skin. Keep them in your bag and use them, whenever you would like to have a great clear looking skin.
9. Little's Soft Cleansing Baby Wipes with Aloe Vera, Jojoba Oil and Vitamin E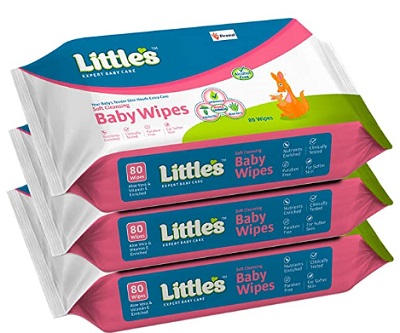 These soft cleansing baby wipes comes in jojoba oil Vitamin E and aloe vera. The gentle baby wipes can also be used on adults face and hands. So these are ideal for gently cleansing and moisturizing the delicate skin. When your skin is extra sensitive, baby wipes are the best face wipes to use. Enriched with goodness of aloe vera and Vitamin E, it ensures that the skin remains soft and moisturized. The gentle fragrance also keeps you happy and doesn't give any irritation.
10. FACES Fresh Clean Glow Makeup Remover Wipes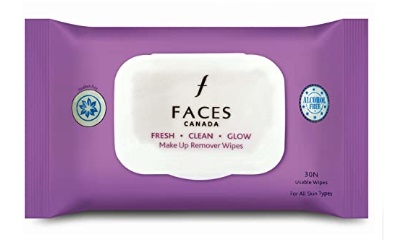 Places fresh clean glow makeup remover wipes are for removing the makeup 2 days can be used on the face with no make up at all. So while giving you beautiful freshness and oil free Lok these are gentle on your skin. Please effectively remove all traces of makeup and dirt and gives you hydrated and moisturized look. Give your face and instant freshness and Glow by using these Vibes. These are made with a formula that removes even the hardest makeup traces.
11. L'Oreal Paris Ideal Skin Make Up Removing Towelettes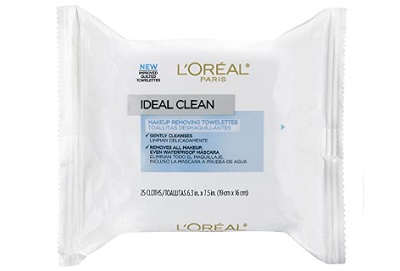 L'Oreal Paris skin makeup removing wipes are used with a gentle formula. These face wipes are made to remove the hardest traces of makeup like your waterproof mascara, eyeliner and eye shadow. So, for the long wear makeup removal, these wipes are soft and gentle on the skin. They remove the dirt and oils for visibly clean and tightens the pores. So, even if you have problem of open pores on your skin you can use these.
12. Origami So Soft Assorted Wet Wipes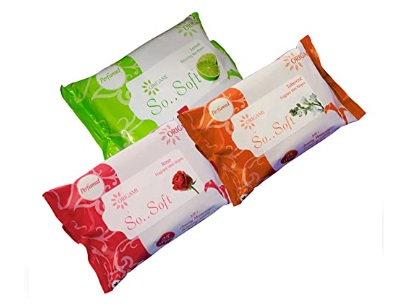 These are very popular alcohol-free facial wipes, which are gentle on the skin and also reasonably priced. The travel-friendly pack of these wipes makes them easy-to-use. You can use these for cleansing, moisturising and refreshing your skin. It is good for your face as well as other body parts.
These are the best facial cleansing wipes available in the Indian market, you can use these whenever you need to clean your skin.
How To Use A Facial Wipe
Take the face wipe out of the pack.
Use it to cleanse the skin on your face and neck.
Do not be too rough rather use gentle wiping strokes.