Let's take a look at the best makeup products from L'Oreal Paris.
Best L'Oreal Makeup Products in India
1. L'Oreal Paris True Match Super Blendable Liquid Foundation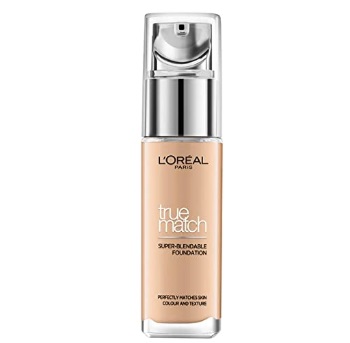 The super blend-able liquid foundation gives high coverage without the cakey finish. It has SPF 17 that is suitable for the day time. However, even for the flash photography, the foundation fares well. It stays for around 6 to 7 hours if you do not go under the heavy sun and with the coverage suitable for every day, it's also perfect for your office. It reduces the excessive oil production and is suitable for all skin types including the very dry and the combination skin. The formula is really super hydrating and gives a good coverage with the natural blend-able finish with the ingredients like Vitamin B, Vitamin E and glycerine. The foundation has so many different shades to match majority of the Indian skin complexions.
2. L'Oreal Paris Base Magique Primer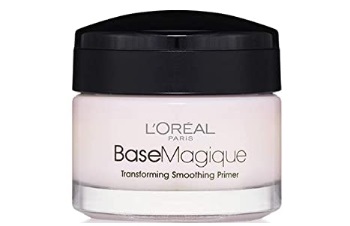 Using primer before base makeup is really important to make your foundation stay longer without getting dull or patchy. This makeup primer hydrates and protects the skin. This helps to smoothen the wrinkles and open pores to make the skin even tone and flawless. It also mattifies the skin to get matte look and super smooth coverage. Apply it on your face, before using the foundation to get airbrush kind of look. The L'Oreal Product suits the oily skin and does not cause any breakouts. If you have dry skin then your skin would feel a bit drier after using this therefore, try a moisturizing primers.
3. L'Oreal Paris Brow Artist Genius Kit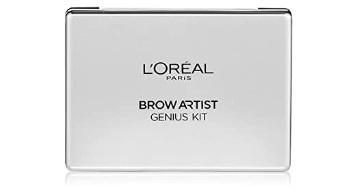 An eyebrow, is an important part in your makeup, that can really make a lot of difference in your eye makeup look. Earlier, there was a dearth of good eyebrow styling kits in India, but not anymore when you have this kit around. This kit is available in multiple Shades out of which you can choose the one that complements and matches the original eyebrow color. L'Oreal Eyebrow kit comes with a mirror and An eyebrow cake powder and wax with a double end small brush. The brush has spooly brush and a slanted tip brush on each sides.
How to use: Apply the wax on your eyebrow and with the help of the slanted tip applicator, you can dab some powder over it and then roll the spooly over to blend everything well.
4. L'Oreal Paris Kajal Magique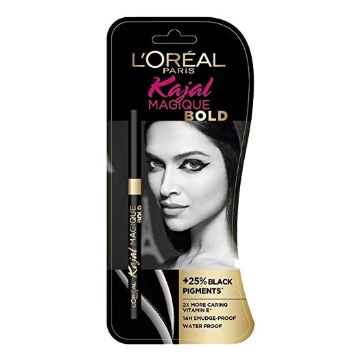 A good Kajal must be there in your makeup kit. Smokey eyes can make a difference to your eye makeup and the way you look. It has 25% more black pigments that make your Kajal look Jet black. With a 24 hour smudge-proof and waterproof formula, this also contains ingredients like Vitamin C, Vitamin E and cocoa butter and olive oil. It is suitable for contact lens wearers and also for the sensitive eyes.
5. L'Oreal Paris Infallible Pro-Matte Foundation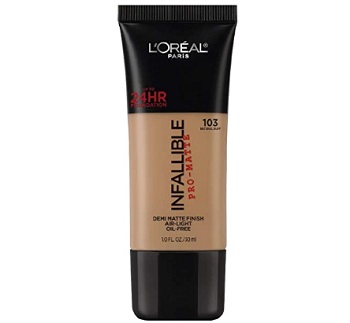 This affordable foundation from L'Oreal Paris is available in multiple shades. This is meant for oily to acne prone skin, because of its oil-free and lightweight formula. It has a demi matte finish because of which your skin looks almost real and non-sticky. It gives 24 hours long wear formula with excess oil absorption technology. The easy to blend liquid Foundation is available at economical price and multiple shades. It has yellow undertones because of which it blends seamlessly with Indian skin complexion for daily wear. If you've oily and combination skin, then this foundation is suitable for you, as it doesn't oxidize as much as the other foundations out there.
6. L'Oreal Paris Lash Paradise Mascara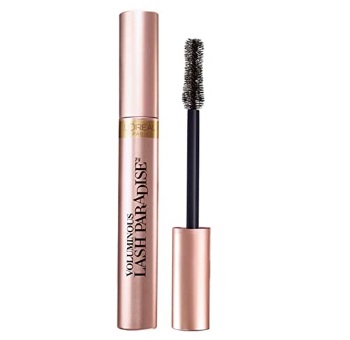 It's a highly waterproof and highly rated mascara from not just this brand but in India. It's voluminous formula, thickens the lashes for the intense look and effect.  The highly volumizing mascara is really popular and gives you that intensely long looking lashes. It is waterproof and smudge proof, this is why, this can be removed easily only with an eye makeup remover.
7. L'Oreal Paris Super Liner Gel Intenza Eyeliner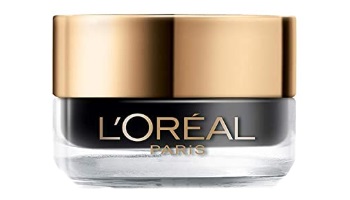 The absolute stunning gel eyeliner is available in multiple colors. It has a smooth application and last up to 36 hours. The eyeliner formula is water resistance, tear-proof and sweat-proof. It comes with a slanted applicator brush too. The product is very easy to apply and one would really enjoy using it. It gives you that sharp and crispy winged eyeliner look. It is a long lasting product and you would be really be amazed by the creamy and light formula.
8. L'Oreal Paris Rouge Signature Matte Liquid Lipstick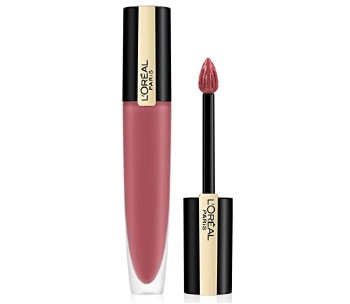 The Signature Matte liquid lipstick are budget friendly liquid lip color from L'Oreal Paris which are available in beautiful and gorgeous colors. As the colors are quite on the darker side, which is this range is majorly for parties and events or for times when you wish to sport bold colors. They have super lightweight finish and long lasting formula. The lipstick doesn't feel uncomfortable on your lips because of the matte finish, but it has an oil-in-water formula that becomes matte but let the lips breathe.
9. L'Oreal Paris Dermo Expertise Lip and Eye Make-Up Remover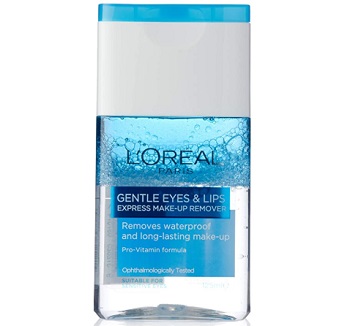 An eye and lip makeup remover is an essential product if you put makeup on regular basis. Not taking off your lip or eye makeup properly can lead to infections and even some issues later on. This effectively removes the eye makeup and even the long lasting liquid lipsticks or waterproof mascara as.  Take some of this on a cotton pad and swipe it over your lips and eyelids.
10. L'Oréal Paris Glow Mon Amour Highlighter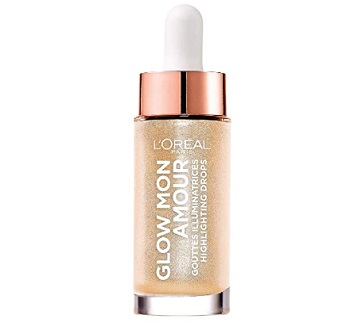 Makeup highlighter is a product that gives you that god is like glow for the events and parties. It is highly pigmented liquid highlighting color available in liquid formula. The drops blend seamlessly for easy application and luminous radiant glow. You can even mix it with your foundation or moisturizer to add that radiant finish. Even, if it can be mixed up with your body moisturizer. The highlighter is used on different parts of your face, like on top of the cheekbones, bridge of the nose and the pros and on the cupid bow of the lips. The product is packaged enticingly and is available in two Shades. "Sparkling Love", is the golden shade while the "Loving Peach" has a peachy tones to it.  You must remember that the glitters are a bit chunky, so while purchasing it, keeping this in mind.
11. L'Oreal Paris Color Riche Gold Obesession Lipsticks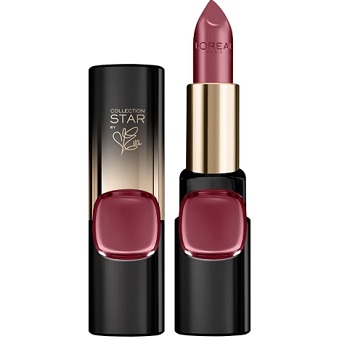 L'Oreal Paris gold riche Gold Obsession Lipsticks are infused with the gold pigments. These are infused with precious 24 carat gold pigment for illuminated lips. So, the trendsetting lipsticks have that Shine that makes them one of the favourite lip products for parties for many women. It has Moist Matte formula that delivers intense moisture while providing Velvet Matte finish to your lips. It is available in seven different Shades.
12. L'Oreal Paris Brow Artist Xpert Eyebrow Definer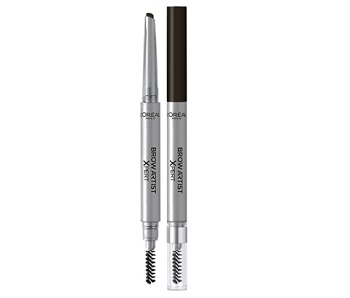 Taming your eyebrows can make you look stunning and bring so much of difference in your eye makeup and your overall look. This has easy-to-use retractable bro pencil, which is made for the defined and sculpted brows. It has a spool brush on one side and on the other side, a retractable eyebrow pencil. It delivers the perfectly fuller looking brows. The unique tip creates the precise shape.  It comes with a soft styling brush that blends the filled-in color over the brows. It is a very easy to use product which is available in different shades. When you are not really used to using the brow kits with the powder formula that you can apply with a brush. It is the best for you.