We might be aware that moisturization is the key to get healthy skin. However, when someone has oily skin, they may dread slathering any more cream or moisturizer on the face. This happens with a lot of men with oily greasy skin.
There are moisturizers for men with oily skin available in the market, made with light weight formula. Honestly, applying lightweight moisturizing product not just help to hydrate the skin but also reduces the shine and grease on the face. In this article, we've picked up the best moisturizers for oily skin available in the Indian market. Even, if you have a shiny forehead or oily nose, then too these oil-free moisturizing products, will not add up grease over the face. Additionally, teenage boys can apply these water based moisturizers for oily skin. Let's check the top best moisturizers for men with Oily Skin in India.
Best Men's Moisturiser for Oily Skin in India (2023)
1. Nivea Men Oil Control Moisturiser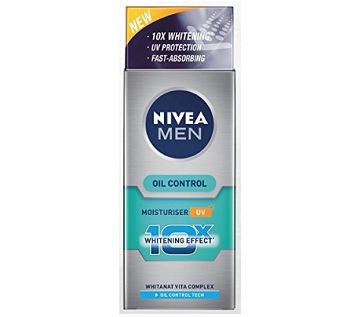 Nivea men oil control moisturizer is one of the best moisturizing product for men with oily and acne prone skin. With oil control technology, it ensures that oils are released in lesser amount so that skin does not look oily or grease loaded. It controls the oil production, with its effective formula and moreover as an added bonus, it gives whitening effect. This men's face moisturizer for oily skin also contains UV filters however, the amount of SPF is not mentioned on the pack anywhere. It's formula helps to hydrate the skin, while keeping the skin matte. It's the best men's oil control moisturiser for men at light-on-pocket prices.
2. Phy In The Clear Superlight Moisturizer For Men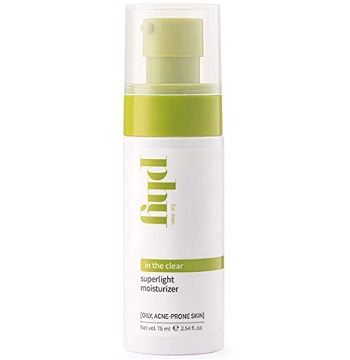 The super light moisturizer for men has an extremely lightweight formula and hence is formulated for oily and acne prone skin. The best thing about this product is its texture which does not make the face sticky, rather improve the moisturization. With pump packaging is very easy to apply. It's a Dermatologist approved formula made with lemon and green tea. The moisturizer helps in whitening dull skin. If dullness is the major concern, this oil-free product can help to even it out.
The quick absorb and non-sticky formula imparts just the right amount of hydration that your oily skin needs for summers and winters. Truly, it can be your go to product for men with extremely greasy skin. It's highly recommended daily sue skin acre product for oily skin. Use of this adds shield on your skin to fight the environmental damage and free radical damage. It's also a good moisturizer for combination skin men.
3. Garnier Men Power White Anti-Pollution Brightening Moisturiser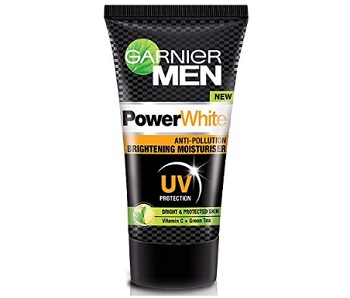 It's the best rated product for men to fight the pollution effect like free radicals damage, dust, dirt and environmental pollutants. It's rich in vitamin C and Green tea that makes the skin fair and bright. By fair, we do not mean, it would miraculously transform your skin colour but yes up to certain extent, it brightens the dull skin tone. As the formula is light, it can be used by men with oily and combination skin. However, we feel if your skin is acne prone, do stay away from this product especially during the summer season.
4. L'Oreal Paris Men Expert White Activ Whitening Moisturing Fluid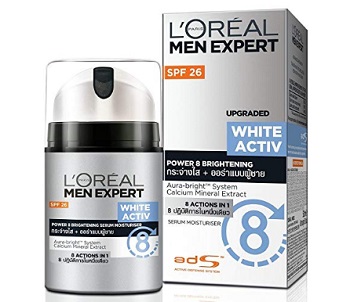 If you need a whitening moisturizer for your sticky and oily face, L'Oreal Paris Men White Activ Whitening Moisturizing Fluid is the answer to that. It's a whitening moisturizer for men with oily skin, formulated with ingredients such as calcium mineral extract and Vitamin C. While it reduces the production of natural melanin in your skin, SPF 26 shields the skin from the bad effects of sun rays. So, it gives a whitening action on your skin while repairing the skin damage that your skin goes through every day. It's perfect for men with all skin types, but we just feel that with its light weight formula, it works even for the men with greasy skin. The dark spots can also be lightened with the application of this water light product on daily basis. It's a good face cream for oily skin for mens in summer.
5. Neutrogena Oil Free Facial Moisturiser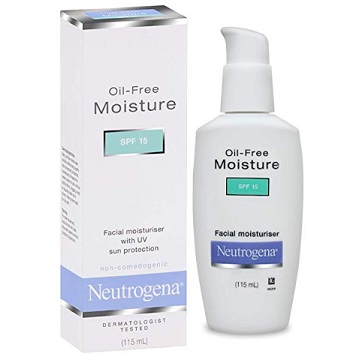 When your skin is oily, using oil free moisturizer product is the best thing one can do to keep the skin in good condition. This is an affordable and budget friendly oily skin care face product which is highly rated amongst the users. Oily skinned men shell try an oil free facial moisturizer and this one is also  loaded with SPF 15 to give you everyday sun protection. With non-comedogenic formula, it's suitable for normal to oily skin. As an added bonus, the product is alcohol free, allergy tested and sensitive skin friendly.  For those with extremely oily skin during summers and humid season, this quickly absorbing formula would do the miracle. It keeps skin moisturized but does not make face shiny or stick at least after using it for couple of hours.
6. Biotique Bitter Orange Bio Orange Whitening Face Lotion For Men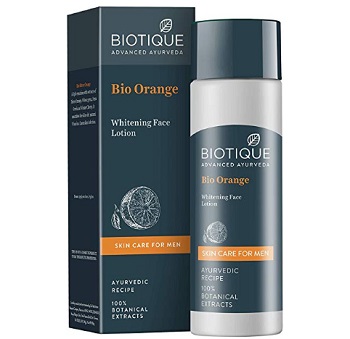 Biotique has recently forayed into the men's skin care products. Biotique Bio Orange whitening face lotion is one of them. It's like a complete skin care for men with Ayurvedic formula. This moisturising face lotion is an Ayurvedic recipe made with 100% Botanical extracts and does not involve any chemicals. It's a good product as compared to most of the other popular brands. It's a face lotion with a lightweight easy to blend texture. It moisturizes the skin and improves the skin complexion and can be slightly sticky during the summer season, this why we would recommend it for men with skin for winter season especially. Packaged in a plastic bottle packaging, it's easy and handy to use and within affordable price tag, this is a decent moisturizer for men with oily and combination skin.
7. Plum Green Tea Mattifying Moisturizer For Oily & Acne Prone Skin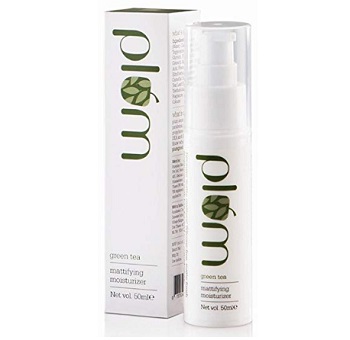 The next product here tops the list of every oily and acne prone skinned guy in the town. We are talking about Plum Green Tea Mattifying Moisturizer. With its light and matte formula, it really wins the heart of almost everyone who have used it. The lightweight moisturizer is made especially for oily and acne prone skin. The multi-dimensional product has to control the shine and gives you a non shiny matte look. It also combats acne because of its glycolic acid ingredient. Additionally, it also contains green tea extracts help to soothe and calm the inflamed skin. The men's face lotion for oily skin prevents the acne by preventing the built up of dead skin cells in the pores. It's a Vegan and Cruelty free product which is also paraben and pthalate free. This is the best moisturizer for oily skin in the market currently.
8. Re'equil Oil Free Mattifying Moisturiser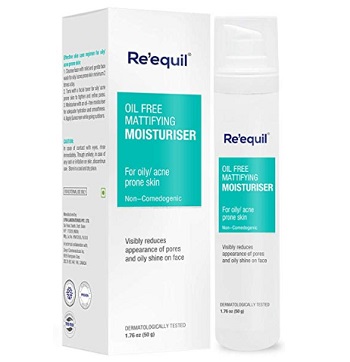 This oil-free mattifying moisturizer has become one of the best for oily skin because of its exceptionally hydrating, light-weight and non-comedogenic formula. In a very short time, this product has become one of the most favourite of many people. The men's moisturizer cream for oily skin reduces the pore size on your face and reduces oiliness. This is why, it gives you matte look for a long time. Moreover, its formula is dermatologically tested and with clinically proven actives, it's a water based gel formula. It can also be called as one of the best oil-free moisturizer for oily skinned guys out there. Both men and women can try it. It's a sulphate and paraben free product. So, whatever you have to look for a good product for oily skin, this product has everything in it. On top of that, its price is also reasonable. It contains ingredients such as in Apple, tea tree that are known to declog the pores and reduce their size.
9. WOW Apple Cider Vinegar Face Moisturizer For Normal/Oily and Acne Prone Skin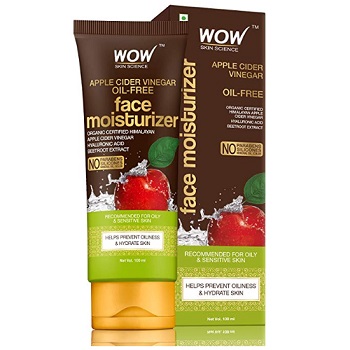 When your skin is acne prone, apple cider vinegar can really do wonders. The face lotion gets instantly absorbed in the skin and reduces the open or enlarged pore size. It's a paraben and sulphate free product which is also dermatologically tested. It can be kept in the Gym bag or in the travel pouch, to use the product whenever one needs the best moisturizer for acne prone skin. Naturally, apple cider vinegar is known to pop immense benefits when your skin is oily and acne prone. It soothes the skin and has a paraben and mineral oil free formula. Another reason, why this product is best rated for men with oily skin, is that, it maintains the natural pH balance and controls the excessive sebum production. Safe for sensitive skin, the product has given great results in keeping the skin matte and velvety smooth.
10. Mamaearth Oil-Free Moisturizer For Acne Prone Skin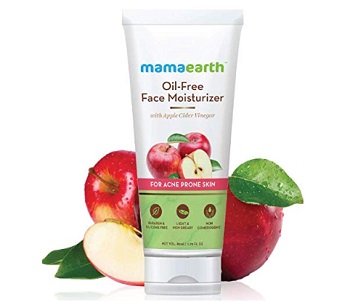 Talking about Apple Cider Vinegar (ACV) this also contains apple cider vinegar and is yet another oil free moisturizer for men and women with oily skin type. It minimizes the acne by preventing the dead skin debris built up. Therefore keeping the skin pores clean, it potentially prevents the acne from happening on the skin. This is one of the best Apple Cider Vinegar and oil free moisturizer for men in India. The texture is light therefore gives you best possible results when you apply it on the daily basis.
Skincare is an important thing and finding the right product is even important. Pick one of these best moisturizers for oily skin for men in India and without doubt you can make your skin better than before. Using moisturizers also helps to reduce enlarged pore size. Other than using the moisturizers, make sure that you scrub your face at least 2 to 3 times in a week. This will prevent the oil built up in the pores and therefore, can be prevented.