Mamaearth is a brand that is known for its paraben and sulphate free products. The brand uses vegan ingredients, which are also toxin free. Being dermatologist tested and cruelty free, the brand formulates various the beauty products. The best thing about this brand is that it does not have any paraben, sulphates, artificial colorants and fragrances. This is why the brand has gained quite good standing for itself in a short span of time. So, if you would like to know about the best Mamaearth products for skin and hair, then take a look at this featured products list below. Hopefully, you'll find out the product that suits your skin or hair type.
List of Best Mamaearth Products In India Reviews (2023)
1. Mamaearth Coffee & Cocoa Face Wash for Women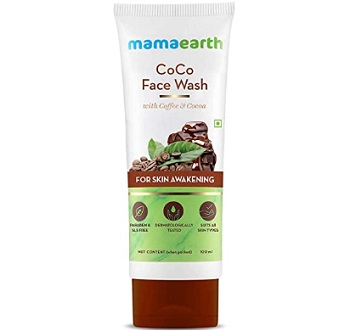 This 100 % vegan and herbal face wash for all skin types, is the best product from Mamaearth. It's enriched with coffee and cocoa that does skin awakening to re-energize the skin. Caffeine also fights dullness and to reduce puffiness. Its deep cleansing formula removes the excessive oils and keeps your face from getting dull and darker during summers.  The face wash has a pH balanced formula and is dermatologically tested to suit all the skin types. For this, is one of the best face wash in India that has really delighted the users, who used it. There are tiny cocoa and caffeine particles as well.  Regular application of this product increases the collagen production and overall skin texture also becomes smoother.
2. Mamaearth Argan & Apple Cider Vinegar Hair Conditioner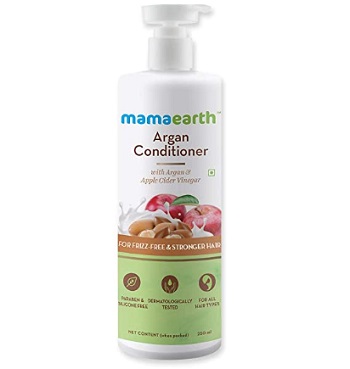 The Mamaearth Apple Cider Vinegar and Argan Oil conditioner is for dry and frizzy hair. It's the best conditioner for dry, frizzy and extra rough hair type. Even to tame the season induced frizz and to balance the pH level, this extra moisturising conditioner works extremely well. Doesn't matter which shampoo, you use, one can still try this conditioner after shampoo. Argan oil present in this conditioner helps too deeply nourish each and every hair strand making hair get bouncier and voluminous. It's made with dermatologically tested ingredients and is free of sulphates, SLES, mineral oils and paraben. This hair conditioner is all the hair types for repairing the heat and styling damage.
3. Mamaearth's Onion Hair Mask for Hair Fall Control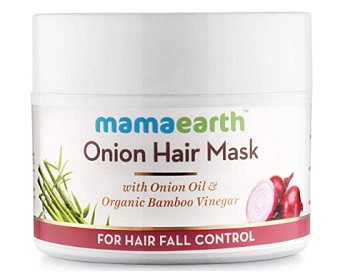 Onion extracts, being rich in sulphur, is known ingredient to strengthen the hair roots and to reduce hair fall. This is an onion hair mask with Organic Bamboo Vinegar. These powerful ingredients help to make hair thicker and stronger to aid in frizz-free hair. With no chemicals in it, the herbal hair mask is free from paraben, sulphate and chemicals that disrupt the hair's natural beauty. For curly hair, this hair mask gives deep nourishment and makes the hair de-tangled and smoother. Adding a beautiful sheen to the hair, this is ideal for any hair care routine. It's one of the best Mamaearth products for hair care.
4. Mamaearth Anti Dandruff Conditioner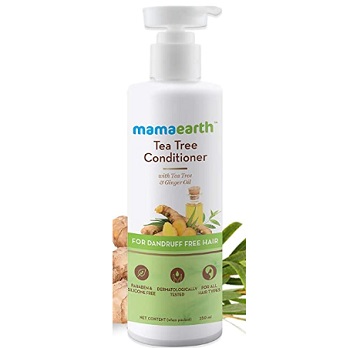 This anti dandruff conditioner is rich in Green tea and Ginger oil. Free of the chemicals, the conditioner is ideal for all the hair types with dandruff as the major hair problem. Being free of the toxins, it's suitable for chemically treated hair as well. The conditioner does not strip the color from your hair, rather it preserves the color. It's also rich in almond oil that adds silky and smooth shine to the hair. By increasing the hair strength, it makes the hair break less. It removes the dandruff and reduces the hair fall by smoothing the tangles. Tea tree has great antifungal properties, to put a stop on the dandruff flakes.
5. Mamaearth With Neem & Tea Tree Neem Face Pack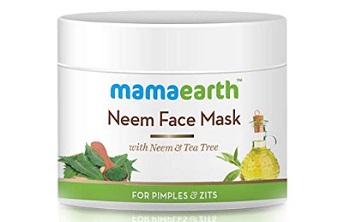 The neem and tea tree face mask is for the oily and acne prone skin. With neem in it, it also contains tea tree oil that ensures that acne and pimples are greatly reduced and never come back. The anti-acne mask helps the skin to get rid of the extra oils and cleanses the clogged pores. It prevents the future breakouts. It shall be used twice in a week. It also has ingredients such as Kaolin Clay and Bentonite clay that extracts excessive oil without over-drying the skin. It's one of the best Mamaearth products for acne care.
6. Mamaearth's Ultra Light Natural Sunscreen Lotion SPF 50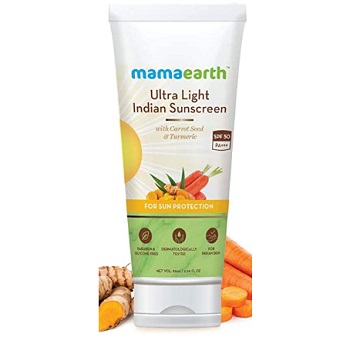 This light sunscreen is infused with carrot seed oil and turmeric. Being physical sun protecting ingredients, it shield from the harmful effects of UVA/UVB rays on the skin. It gives the protection from the sun rays for up to six hours. These ingredients don't let the sun rays damage the skin. SPF 50 is an ideal action factor for the everyday wear. It adds a protective layer on the skin. Suitable for Indian skin, it also gets absorbed easily and can be used before makeup as well. As it's non-sticky, it's suitable for all the skin types, moreover, being free of those harmful parabens, sulphate and other stuff which can harm the skin. The sunscreen is non-oily and d can be applied by people with oily and acne prone skin as well. However, if you live in a very humid environment then skip this product.
7. Mamaearth Onion Oil for Hair Growth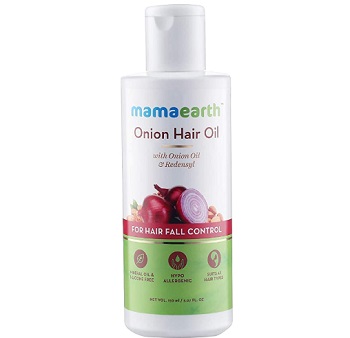 Onion oil makes the hair roots extremely stronger and reduces the hair fall while promoting the hair growth of the lost hair.  Along with the onion oil, it also contains Redensyl which is a chemical compound is known to promote the hair growth and reduce the falling hair considerably. This is one of the best onion oil, which is also a best-seller.  It's an effective product to premature greying, dandruff and dryness of the hair with regular use. Apply this on oil 2 times in a week.
8. Mamaearth Deeply Nourishing Baby Wash Product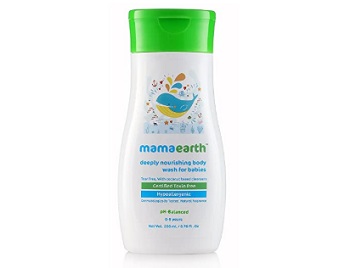 The baby wash product is gentle and free of parabens and chemicals. It's a coconut based cleanser that has certified toxin free ingredients and is hypoallergenic. Therefore, the baby wash is perfect for the babies' delicate skin. It can be used for babies under five years of age. Being, completely free of harmful chemicals and being dermatologically tested, it's apt for the sensitive skin too. It's rich with the orange Essential oil and vitamin E for extra moisturization.
9. Mamaearth Skin Illuminate Vitamin C Serum

This Vitamin C serum can definitely does a lot of for your skin. It's a strong antioxidant that no won't just combat the dark spots but also helps in preventing the melanin production. It reduces the hyper pigmentation and dark spots.  The product firms the skin and with the fast absorbing formula, it's also non-greasy. It has Squalene along with Vitamin C and turmeric. This ingredient is a plant derived super-hydrating ingredient that reduces the production of squalene naturally. Therefore, this can be applied after mid twenties. The serum helps in reducing the fine lines and also the wrinkling. It does not break out the skin and even, if you have oily skin, it's safe to use.
10. Mamaearth Anti-Pollution Daily Face Cream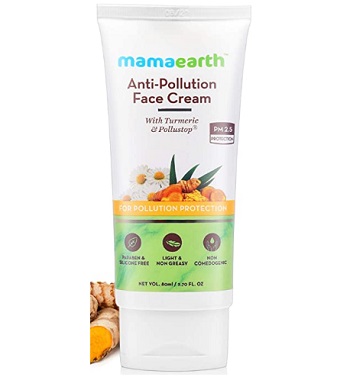 The pollution fighting cream has an oil-free formula, which isn't greasy. To combat the effects of pollution and pollutants, along with sun damage, this cream is perfect to protect the skin cells from all these damages. It also acts as a UV damage and tan removal product. It contains formula that protects the skin from pm 2.5. The product is SLS, paraben and artificial preservatives free. It's suitable for all skin types and being lightweight, it fares for skin types. The product is oil-free and protects against pollution.
11. Mamaearth 100% Pure Cold Pressed Castor Oil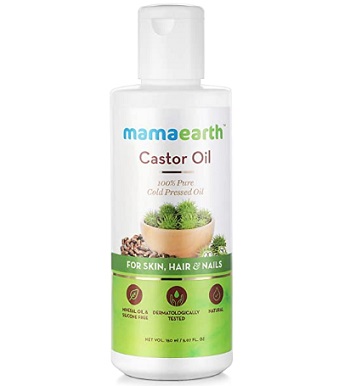 The 100% pure castor oil can be used for skin hair and nails. Castor oil is a wonderful ingredient or product that helps to hydrate and moisturize the skin. Even to remove the makeup castor oil works really well. Castor oil can boost the growth of hair, therefore can be used on your eyelashes, eyebrows and hair on your head. Regular application of castor oil makes the hair cuticle healthy and while improving the blood circulation it also ensures that your hair gets thicker and lustrous. Castor oil application is also an excellent treatment for brittle and weak nails. As it's dermatologically tested and does not contain chemicals and fillers, it can be applied on your face nails hair and skin.
12. Mamaearth Bye Bye Blemishes Face Cream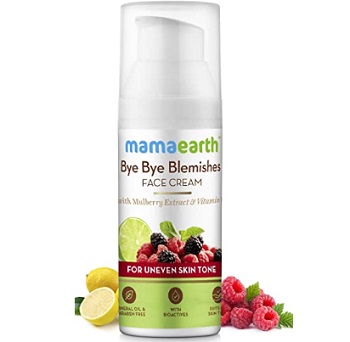 Blemishes on your face can make it patchy and uneven. With daisy flower extracts and Mulberry extracts, this is an effective product to vanish the appearance of blemishes, dark spots and other problems that really concerns a person. So, to get rid of the old blemishes or pigmentation, this product works really well. If you have open pores or very oily skin that into you can try the cream but during summer season, it can be a little extra sticky for you. Therefore, we would recommend it to be used by people who have normal to dry skin. Coming in a pump packaging, the product is good to apply.
13. Mamaearth Tea Tree Natural Face Wash for Acne & Pimples Wash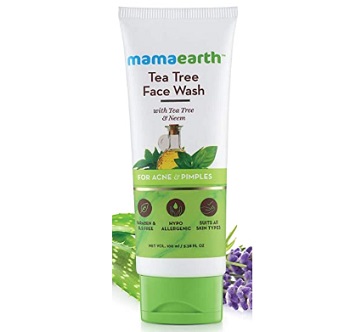 Tea tree face wash is like a miraculous product for oily and acne prone skin. To keep the oils and acne away from your face, regular use of this product two times in a week gives the best results. The neem extract comes with quite incredible properties to for great skin. It removes the dirt and impurities clogging the pores. The natural antibacterial products in this face wash helps to prevent breakouts and acne and pimple. These are completely free of paraben and is one of the best chemical free face wash in India with neem and tea tree.
14. Mamaearth Ubtan Face Pack Mask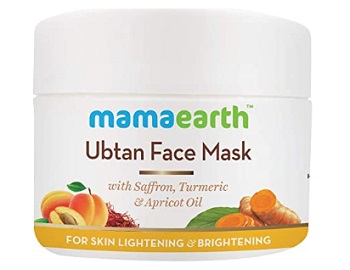 This is an ubtan face mask, which is rich with saffron, turmeric and Apricot oil. The products are wonderful in getting rid of the old acne marks, tanning and pigmentation. By exfoliating the facial skin, this gets quick glow on the skin. Use it twice a week and your skin feels moisturised and glowing. To increase the radiance of your skin before going to a party, always use products like this for getting naturally glowing skin. It also removes the dirt and also the oils which are trapped in the pores.
15. Mamaearth Argan & Apple Cider Vinegar Shampoo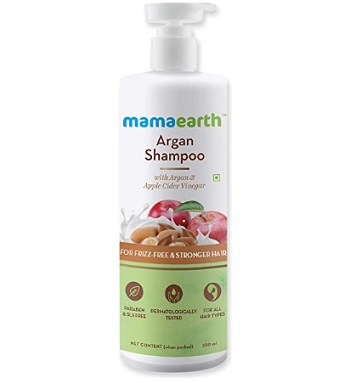 Apple Cider Vinegar Shampoo is for all the hair types but it works for all hair types. Because apple cider vinegar is a deep cleanser that gets rid of the harsh chemicals, sebum and product residue build up. It also reduces the pollutant build up on your scalp. Due to the inclusion of Argan oil, this shampoo also works really well for dry hair because Argan oil has the extremely hair moisturizing properties. Thus, it transforms the rough and dry hair into smoother hair.
These are the best Mamaearth products available in the Indian market. Having said that, these products are those top rated Mamaearth products, reviewed by many people with high ratings.