Bathing is the first thing that you do in the morning. Not just to get rid of the dirt, dust and impurities that you accumulate all during the day but also to revive your senses and to soothe the aching muscles. Body washes are used to do all that and to have a feel good factor. But if you are confused about the organic body washes in India, then this post will talk about the best natural body wash available in the market. With natural and organic we mean that the product must be parabens and sulphate free otherwise, it can potentially disrupt the pH balance or can make your skin itchy. 
10 Best Natural and Organic Body Wash in India
1. Khadi Rose And Honey Body Wash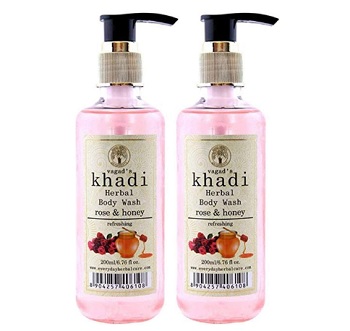 Khadi rose and honey body wash is a paraben and Sulfate free body wash to give you a complete luxurious bathing experience. With the natural rose extracts, it gives a mild fragrance that increases the skin's blood circulation and improves the skin complexion. Other than adding softness to your dry skin from Honey, it also takes care of the dry flaky patches on the skin. Free from the harsh chemicals, this is one of the best organic body washes available in the Indian market.
2. Biotique Bio Honey Cream Rejuvenating Body Wash
When it comes to soothing and healing the dryness of your skin especially during the winter season, Honey is one of the most effective ingredients to look for in the organic body washes. Biotique bio Honey cream based body wash is ideal for dry skin and one of the best body washes for winter season in the market. It deeply cleanses the skin and gets rid of the dirty impurities and oils sticking on the skin layers. While healing the dry and itchy skin, it revives the skin tone and gives enough of the Moisturisation that last for couple of hours. 
3. WOW Fabulous Foaming Body Wash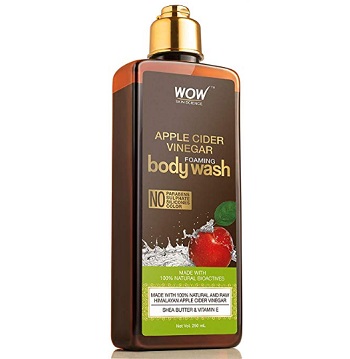 This body wash with peaches and apple cider vinegar is a summer body wash specially for those who do not have very dry skin but normal to oily skin. So, when during the summer season your skin becomes extremely greasy, sweat and loaded with the pollutants body wash enriched with apple cider vinegar is quite helpful. It protects skin from bacteria and also helps to get rid of the dark spots and patches on your body skin. It is one of the best shower gels with apple cider vinegar in India. In fact, it's a reasonably priced organic paraben free shower gel in the market.
4. Khadi Lavender and Ylang Ylang Body Wash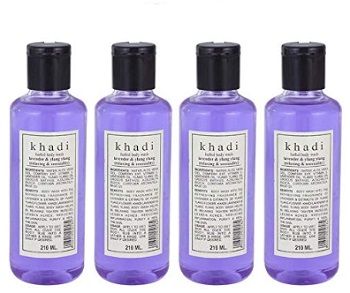 Khadi lavender and ylang ylang body wash is yet another paraben and Sulphate free organic body wash in India that refreshes the mind and soul. With lavender, it makes the skin feel better than before and heals the sensitive skin and dry patches. This is one of the best body washes to prevent scars on the skin and with the complete natural and herbal formula, it's safe for all skin types for all the season.
5. D'VENCE Tea Tree Oil Body Wash With Eucalyptus Oil and Peppermint Oil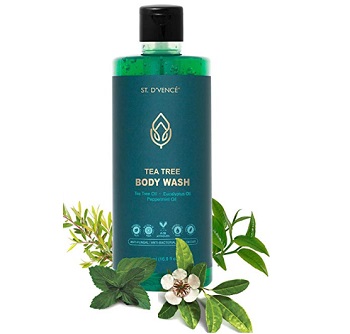 D'vence tea tree oil body wash with Eucalyptus oil and peppermint oil is an extremely rich and antibacterial body wash for men and women who are into sports or who lives in cities which are very polluted. Because all during the day your skin gathers impurities and toxins so much that it becomes dull. Therefore, to get rid of all the skin problems and issues an organic body wash loaded with tea tree, eucalyptus and peppermint oil would be extremely beneficial. So tea tree oil is known to cure the itching, boils and mild irritation that happen on your skin because of the pollutants. It's the best body wash for sports people and athletes and for during summer season.
6. Dettol Body Wash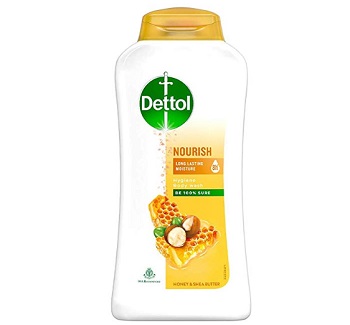 The Antibacterial body wash is to cure skin troubles like itching, rashes and mosquito bites and Dettol body wash is a well-known product. It may not be completely organic and paraben free but yes this is one of the best body washes for you and your family when you would like to protect the minor skin ailments and infections. It is a very convenient to use product which can be used by the entire family. 
7. Soil And Earth Natural Body Wash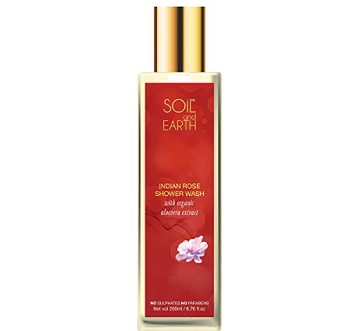 It's a natural body that does not have any sulfates or parabens. The body wash is very sturdy in its packaging and with a pleasant smell, it makes you feel good. In fact, this product has a pleasant smell with organic formula that tends to make your mood better and uplifts your senses. The product is completely natural and free of paraben and sulphates, as we mentioned. For dry to normal skin, this is one of the best natural body washes in the market.
8. Gaia Skin Naturals Organic Body Wash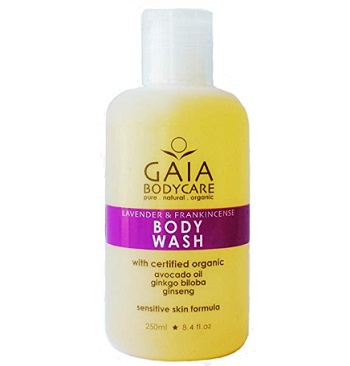 Gaia skin natural body wash in organic body wash with lavender and frankincense. With two important essential oils, it soothes sensitive and dry skin. It cleanses the skin and makes it appear softer and nourished. The body wash is made from natural ingredients, as we've mentioned which is why it gives you an amazing bathing experience with the luxurious feel. In fact, it's a suitable organic body wash for people who stays mostly outdoors and who've got all those toxins and impurities lingering on their skin layers.
9. Biodale 100% Natural Body Wash Powder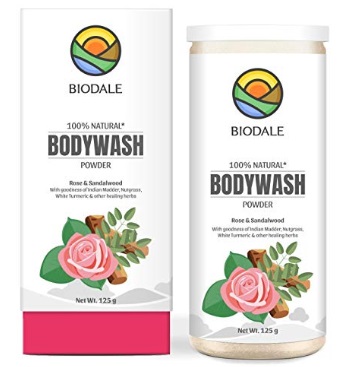 Biodalel natural body wash powder is 100% organic body wash which comes in powder form. So, you've to mix the powder with little bit of water it make it lather. We have seen that this is one of the best rated body wash powders which may not be quite popular but quality wise its really good.
10. Good Vibes Sandalwood & Vetiver Super Soothing Shower Gel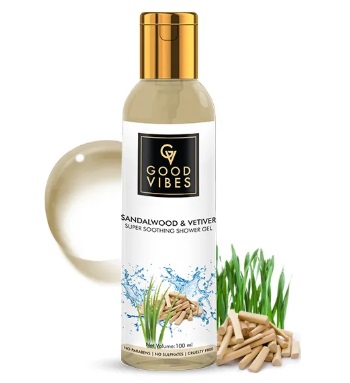 Sandalwood and vegetables soothing shower gel is a product that is available online mostly at a reasonable price. It helps in reducing pigmentation, dark spots and dull hairs from your body skin so that it shines just like your face. It is a completely herbal body wash which gives you satisfying results and is a very pocket friendly organic body wash in India.
These are the best organic or natural body wash is available in India that you can try however choose the option depending on your body type and the season.