Orange peel powder is a rich source of vitamin C which is a well known antioxidant. It has the ability to naturally rejuvenate the skin by getting rid of the dead skin cells. Use of orange peel powder for face can be done in number of ways and the best use is to regulate the oil balance and to uproot the blackheads. Having said that here we have compiled the best brands of orange peel powder available in the market.
Best Orange Peel Powders in India
1. Banjara's Orange Peel Skin Care Powder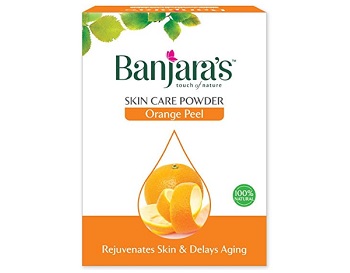 Banjara's Orange peel skin care powder is rich in vitamin C and antioxidants. It prevents the aging signs like wrinkles and fine lines. It also acts as astringent for your skin therefore the uneven skin complexion is also cured. It can be used to prepare the face pack or skin brightening scrubs too. This orange peel powder price is also very affordable.
2. Hollywood Secrets 100% Pure Organic Orange Peel Powder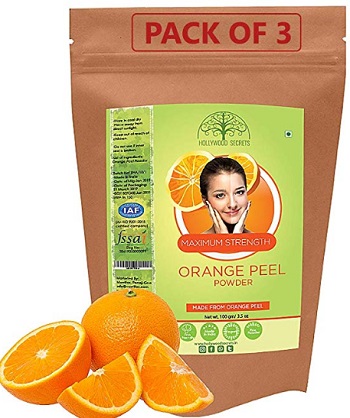 The skin whitening Orange peel powder is a powerhouse of antioxidant and Vitamin C. It helps in writing your uneven and oily skin. Being touted as one of the best products to cure oiliness, it helps to remove the dirt properly. Not just for your face, it can be used for your scalp and here as well. It removes the dirt and toxins accumulated over the skin and scalp effectively this is why the skin whitening powder is immensely beneficial. You can orange peel powder online at good prices.
3. Khadi Orange Peel Powder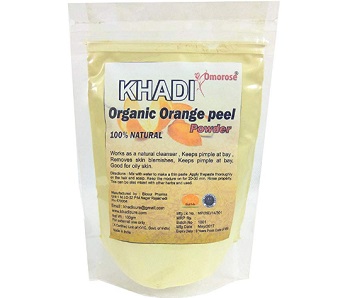 Khadi Orange peel powder is made with 100% natural powder obtained from crushing dried orange peel. Mix it with some water, honey or milk and make a thick paste. Apply it on your face or scalp and keep it for 30 minutes. Rinse properly and use it regularly to keep skin beautiful and hair shinier.
4. Indus Valley Organic Orange Peel Powder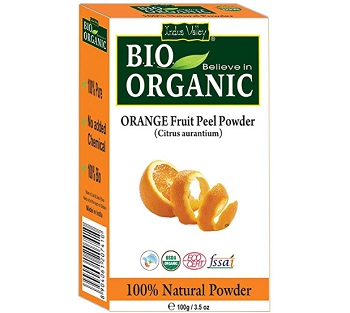 This product is one of the best rated orange peel powder brands in India. It brings a natural glow on your skin by acting as an oil removal and anti aging face mask. It makes skin free from the extra oils and bright. It is suitable for all skin types and even for the sensitive skin. The dried orange peel powder maintains youthful glow on your skin. The orange peel powder is rich in vitamin C, hence, tightens the pores and reduces dark spots. Clearly this is one of the best products to have for face whitening. I is even better than the Good Vibes brand.
5. Luxura Sciences Pure Vitamin C Orange Peel Powder For Skin Whitening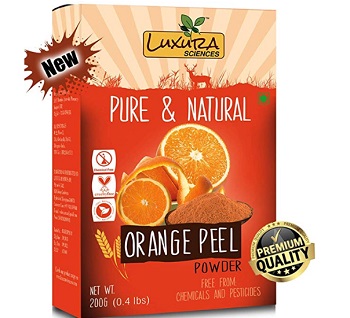 Luxura Sciences pure organic orange peel powder or pimples, skin whitening and oil removal. Free from chemicals, pesticides and other preservatives this is a totally natural product. The orange peel powder can be used in multiple ways to prepare face packs and masks. Mixing Orange peel powder with water or yoghurt gives amazing results for all skin types. It acts to whiten your skin by removing the dark and dead skin cells.
6. Elemensis Naturals Pure & Natural Orange Fruit Peel Organic Powder for Skin Whitening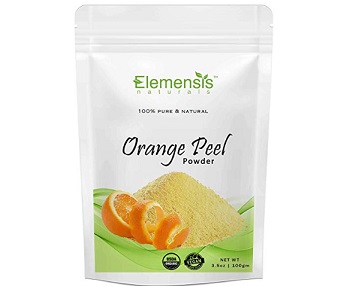 This natural pure orange fruit peel powder is primarily used for skin whitening and dark spot removal. Free of chemicals, it is one of the best anti blemish natural face pack that men and women both can use. Rich in antioxidants it also helps in the removal of sun tanning and acne spots.
7. Herb Essential Orange Peel Powder for Skin Whitening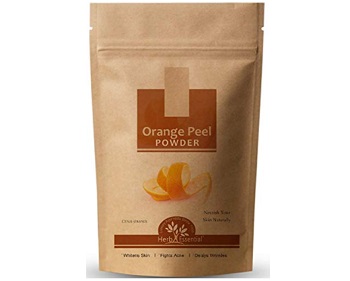 This brand is yet another good brand to buy orange peel powder. It can be used to make regular face packs and masks. The powder is used to keep the open pores tighter and to eliminate the impurities from the skin. It is a vegan and paraben free product that is manufactured using orange powder.
8. ETHERIC Orange Peel Powder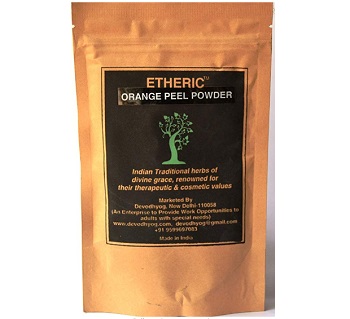 Etheric Orange peel powder comes in a pouch packaging with the zip lock pack. It is free of chemicals and preservatives this ensures the total purity of orange peels. It is made from naturally dried Orange peel and is a natural source of vitamin C for skin and can be used to cure oily skin, dry skin and as a deep cleanser for your scalp and hair.
9. Satymev Orange Peel Powder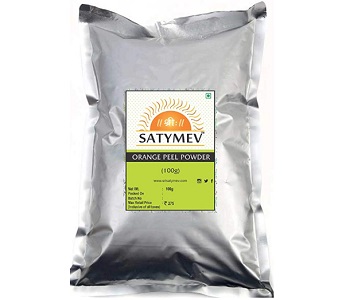 The pure Orange peel powder is loaded with citric acid that works as natural bleach for your skin. It effectively lightens the skin tone and enhances the fairness. Just mix curd with orange powder to make face mask. Even mixing with some honey or water also works. It works as an excellent face scrub to minimise the blackheads and acne on the skin. In fact, one can try orange peel powder for acne scars thrice in a week and it also diminishes the existing blackheads on the face.
10. H&C Natural Orange Peel (Citrus Aurantium) Powder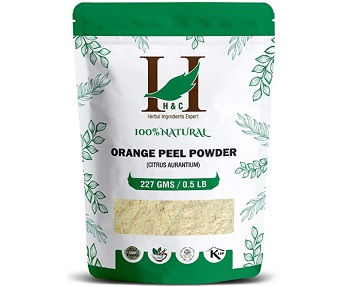 Package in a pouch pack, this orange peel powder for skin is 100% natural and is one of the best brands that make orange peel powders in the market. Working like an astringent, powder absorbs the excessive boys in sebum from the oily skin. To use it simply take two spoons of orange peel powder and mix with one spoon of milk and honey. Apply it on your face and wash after 15 minutes. It reduces the excess oils and makes the skin beautiful.
11. Foodherbs Orange Peel Powder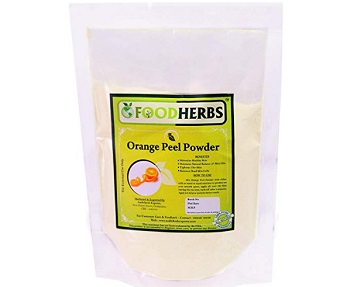 To maintain healthy and beautiful skin, orange peel powder can work wonders. Mix this powder with milk or water and apply the paste on the skin. Wash it mild water after 5 minutes. It can be used daily to regulate the oil balance and to remove the extra oils from showing up on your skin. There are no bleaching agents or chemicals added in this pure orange peel powder mask. It is a totally natural and vegetarian product.
These are the best orange peel powder brands available in India which you can try. Orange peel powder can be mixed with these ingredients to get good results according to skin types.
Check these:
Orange peel powder with Multani mitti: Oily and acne prone skin
Orange peel powder and curd: for all skin types
Orange peel powder and honey: For glow and all skin types
Orange peel powder and lemon juice: For skin whitening and scrubbing
Orange peel powder and Rose water: For freshness for all skin types
Orange peel powder and milk: For freshness and glow for all skin types
Apart from that there are other combinations too that you can try.