Patanjali is a very popular Indian Herbal Skin care and hair care brands that also makes health related products. It is one of the fastest growing companies currently in India and is popularized by Baba Ramdev. It has 100% organic and pure ingredients. However, some of them are not very pure,  as their products are quite herbal and affordable. So if you've hair fall, dandruff and hair growth related issues, Baba Ramdev hair care products have different types of products to give you solutions without any side effects. These Patanjali hair products would help you get relief in whatever hair problems you have. So let's check the best Patanjali shampoo products for hair or Baba Ramdev patanjali hair care shampoos in India.
Best Patanjali Shampoos Products in India (2021)
In this post, we've mentioned the list of the best Patanjali shampoo products. For different hair types that men and women can try.
1. Patanjali Milk Protein Shampoo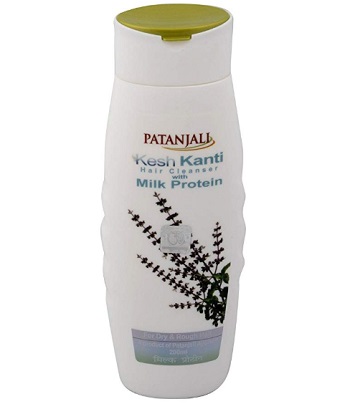 Patanjali milk protein shampoo is one of the best shampoos from this brand and it's made with natural proteins and natural herbs. It gives natural bounce and volume to the thin and limp hair. While fighting the dryness of the hair, it also minimises the hair loss. At times, hair loss is seen because of different factors and reasons because of which hair breaks. This hair protein shampoo helps in combating dryness and breakage. With milk proteins in it, this gives nourishing shine and bounce. For excessive hair loss or alopecia, trying the shampoo can help you get good results. Even during the time of pregnancy and lactation, a lot of women experience hair loss and hair thinning. Men who are experiencing hair thinning can also try a shampoo like this. It provides natural proteins from the roots to tips, which makes hair voluminous and bouncier. It also contains in Neem, Tulsi Aloe vera, Bhringraj, and proteins.
2. Patanjali Kesh Kanti Reetha Hair Cleanser Shampoo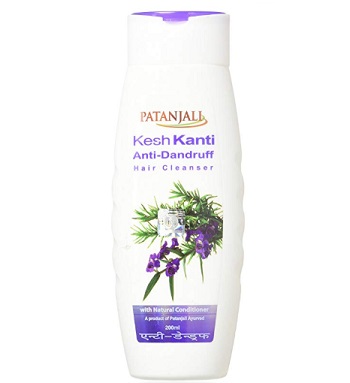 Patanjali Reetha shampoo has reetha as the key ingredient along with other herbal ingredients that keeps the hair shinier and bouncier. With the goodness of reetha, this lathers naturally and makes it one of the best herbal shampoos in India. For dry hair and dandruff treatment, this is one of the best Baba Ramdev shampoo for dry hair. It helps the hair from getting dry and dehydrated. Also the product when applied regularly, turns the hair darker and prevents premature aging. It also contains Mehndi, Shikakai, Amla, Reetha, neen and turmeric. The Ayurvedic shampoo for men and women is a solution to hair loss and dandruff. This Patanjali shampoo also cures split ends and frizzy hair.
3. Patanjali Kesh Kanti Anti-Dandruff Hair Cleanser Shampoo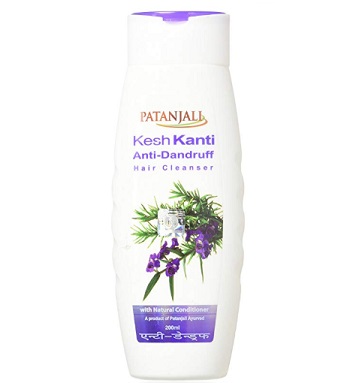 If dandruff is the major concern, Patanjali anti dandruff shampoo combats the dandruff because of key ingredients like Amla, gudhal, tea tree, Nilgiri, Neem, Honey, Rosemary, Tulsi and shikakai. It is easy to apply and has the scalp rejuvenating properties because of which the dandruff gets healed faster. It also relieves the frizzy hair and hair loss because of dandruff. The organic shampoo is yet another popular Baba Ramdev shampoo products in India. Applying it to two three times in a week helps to get rid of dandruff quickly. The ratings of this Baba Ramdev anti dandruff shampoo product is very good.
4. Patanjali Kesh Kanti Natural Hair Cleanser Shampoo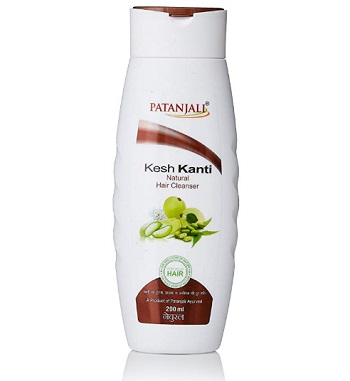 Patanjali Kesh Kanti Natural Hair Cleanser Shampoo is for all hair type and even if you do not have any particular hair issue you can try the shampoo. It improves the hair growth and minimises hair loss in both men and women. While hair loss is a common problem seen in men and women, it helps to revive the weak hair. It strengthens them from the roots and even the teenagers and youngsters can seek help from this shampoo. This can be referred as the best organic or Ayurvedic shampoo in India. As there can be multiple causes of hair loss and thinning, it can be the best herbal hair loss treatment that enhances hair growth and volume. For fighting dandruff and dry hair the shampoo is yet another choice of many people. The shampoo has proven to be the best hair falling treatment for both men and women. This is considered as one of the best Baba Ramdev shampoo for hair fall control too.
5. Patanjali Kesh Kanti Aloe Vera Shampoo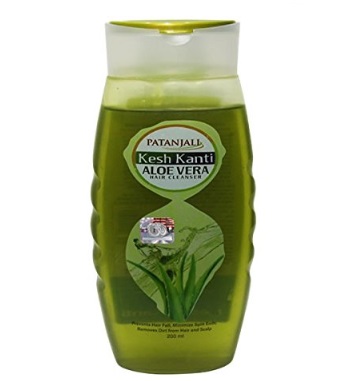 Patanjali Aloevera shampoo is formulated for all hair types. However, it gives best results when your hair is oily and greasy. This is one of the best herbal shampoo for oily hair in the market. Made with ghritkumari, or aloe vera, it also contains Brahmi, Amla, Reetha, Bhringraj, and other natural ingredients. Aloe Vera shampoo is yet another mild and everyday use shampoo for men and women. Even teenagers and youngsters, can try the shampoo in reducing the dryness and daily wear and tear of hair. In fact, this shampoo also gets rid of the product built up like hair styling products and combats the heat treatment damage prevent hair fall and dryness. The main thing that the shampoo does is to ensure bounce and shine in your hair.
6. Patanjali Kesh Kanti Shikakai Hair Cleanser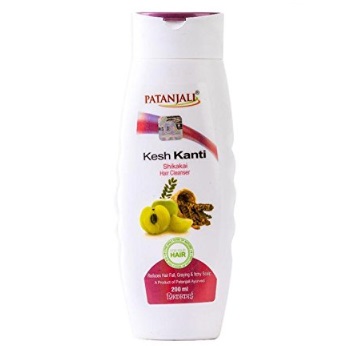 Shikakai is the key ingredient in the shampoo as this is formulated to make thin hair thicker and stronger. This is also wonderful in reversing the grey of hair. White hair can be seen even during teenage and young age. With the pollution and impurities floating in the atmosphere is also to be blamed, the shampoo also gives good lather. The affordable Ayurvedic shampoo is the best Baba Ramdev shampoo for hair fall and grey hair. It fights premature hair greying and whitening of hair and men and women both can try it. It is a really good herbal hair cleanser which can be used daily. Easy to use packaging of this Ayurvedic shampoo for grey hair is easy to use and apply. It is also mild enough to be used everyday.
7. Patanjali Coconut Hair Wash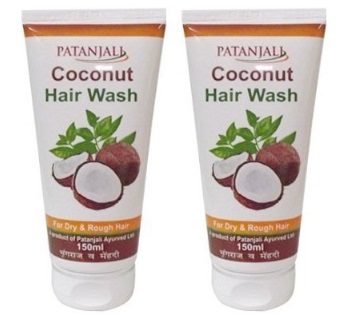 Patanjali coconut hair wash comes with the power of coconut, it is one of the best natural coconut shampoos in India. This is the best Patanjali shampoo for dry hair which is blended with coconut oil and natural extracts of fenugreek, bhringraj, aloe vera and it has proven to be quite hydrating and moisturizing for dry and damaged hair. This Patanjali coconut shampoo for hair fall has given positive results for men and women. It nourishes the scalp and also hydrates the hair so that they become smooth and silky. While fighting the split ends and dryness related issues, it also makes your hair thicker so that you can make different types of hairstyles.
8. Patanjali Kesh Kanti Silk and Shine Hair Cleanser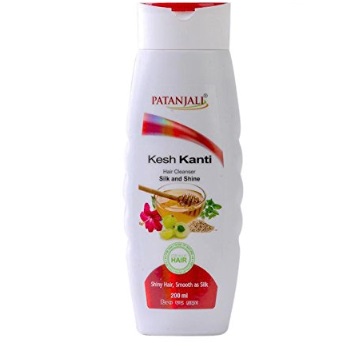 Patanjali Kesh Kanti Silk and Shine hair cleanser removes dryness, softens rough hair and provides hair shine with natural herbs such as sesame oil, amla, honey and bhringraj. It softens and detangles the hair. It cleanses the hair and scalp of oiliness, grime and environmental toxins. Now with Patanjali Kesh Kanti Silk and Shine Cleanser hair gets lustrous with every passing day.
So, these are the best Patanjali shampoos available in India. Hopefully, keeping in mind the pointers you would be able to choose the best Baba Ramdev shampoo for your hair type and concern. Using shampoo to get rid of your hair loss and hair fall problem is a good habit. We would also advise you to take a protein rich diet and drink a lot of water.
Other than that always use good hair growth oil at least twice in a week. Biotin is also a key dietary supplement that needs to be taken in ample amount.
So, if you are still confused which shampoo by Baba Ramdev is good or not, then you would now Know that the shampoos are really good and are made of natural extracts. Experiencing excessive hair fall, Patanjali shampoo are also good for hair fall. They are not all expensive. However, they are very affordable and can be bought from online and from the Patanjali stores.