Pocket perfumes are the new age perfumes to refresh you whenever and anywhere you wish. The best thing about these pocket perfumes is their compact and tiny packs that one can easily slip inside even the smallest clutch. So, if you wish to smell amazing all day throughout then why not carry on pocket perfumes along. Gone are the days when one used to carry big bottles in their handbags to offices. Here we've compiled the list of the best pocket perfumes for women available in the market currently. The best thing is that these perfumes are very affordable, that you can have as many as you want. Using the pocket perfume is easy. Just take off the upper lid, if it has then spray it over the pulse points like the wrists, neck, inner side of the elbow and more.
Best Easy To Carry Pocket Perfumes for Women in India 
1. Engage ON Cool Aqua Pocket Perfume for Women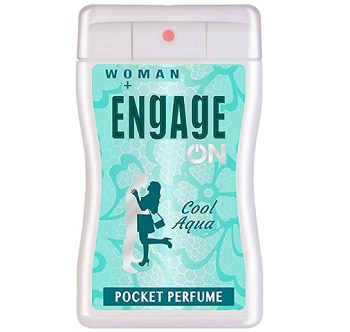 Engage On Cool Aqua pocket perfume for women comes in a very thin and flattened packaging that can fit a small party clutch nicely. The pocket perfume has mostly citrus, lavender and rich woody accords. The pocket size body spray perfume has an intense fragrance because of its top notes however soon it settles down to give you that freshness of citrus, Aroma of lavender and the extreme magic of rich woods. It's a more of a summer fragrance for women.
2. Engage ON Floral Fresh Pocket Perfume for Women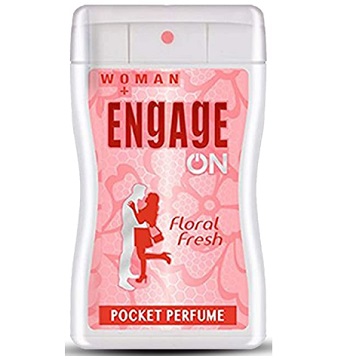 You are someone, who would like a Floral and fresh fragrance for the daytime especially during summer season, then engage on pocket perfume in the variant floral fragrance is for you. It offer 250 sprays out of this small pack. Clearly, it can be definitely your secret to staying desirable anytime anywhere you want. This has a fragrance blended with roses, violet and pink pepper. It sounds really amazing and the perfume is the best summer woman's spray for daily use.
3. Yardley London Morning Dew Compact Perfume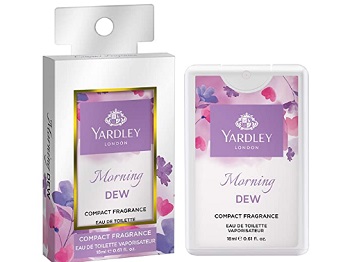 Yardley London morning Dew compact is specially made for the daytime affairs. With fresh Freesia and Mandarin, this is a very vivacious and uplifting fragrance for women. Its top notes have Mandarin and Freesia. Middle notes have Rose and Apple Blossom. Base notes have musk and sandalwood. Try this Yardley pocket perfume for the day time and for parties.
4. ENGAGE ON 2-in-1 Pocket Perfume Woman Day & Night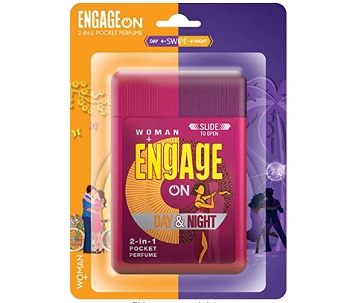 Now Enough Said about the pocket perfumes, but the new age pocket perfumes are 2 in 1. Yes, why settle for one when you can have two of them. It's a two in one perfume that works day and night. So, you can use it for the daytime and at night time for any after work party or event. In fact, a third fragrance can be made by mixing the two. It's slightly expensive than the regular pocket perfumes that carries only one fragrance but nonetheless worth it. Day time scent has fresh florals, while the night one has sweet with wood and warmth of the mask. It's the best pocket perfume spray for women in India.
5. W.O.W. Perfumes Black Poison for Women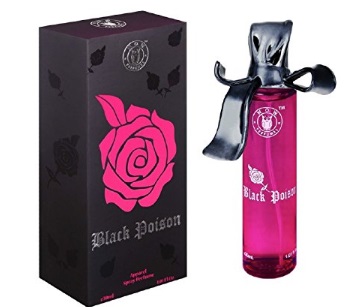 This one is not exactly a pocket perfume but it is a smaller bottle of the original perfume that can be categorised as a pocket perfume itself. The scent comes in a very attractive packaging and is excellent for daily use. With sandalwood base notes, it stays a lot long that one thinks. Whenever you need a fragrance cheap enough but clearly long lasting, it can be used for the events or a meeting. The fragrance has a nice blend of sensual sweet lingering Vanilla with citrus accords.
6. Yardley London Autumn Bloom Compact Perfume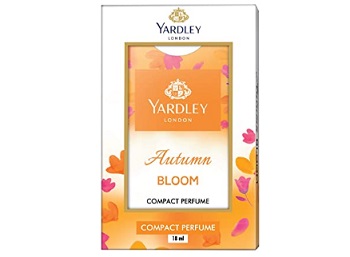 Yardley London compact pocket perfume for women in Autumn Bloom is highly recommended because of its amazing notes. Its top notes have apple and bergamot, with middle notes composed of Rose and Apple Blossom, while the base notes have Amber and Sandalwood. The notes sound very common but the blend is such amazing that it would keep anyone refreshed and pleasantly fragrant throughout the day while they are at work or college.
7. Engage ON Classic Woody Pocket Perfume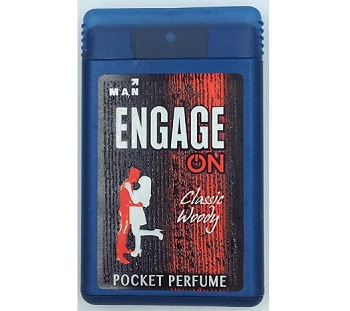 This one is the classy Woody pocket perfume that is made for men, however the goodness is its sensual wood accords because of which even women can try it. This little pack would give you 250 sprays of perfume. This perfume comes across as a very subtle and mild perfume even when you spray it for the first time instantly. It is a modern fragrance that has fresh Aqua mixed with Musky Woody notes.
8. Niyor Vanilla Chocolate Alcohol Free Perfume Fragrance Pocket Perfume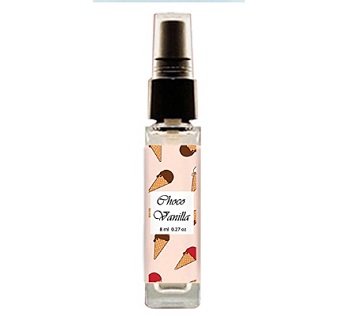 Niyor Vanilla chocolate alcohol-free pocket perfume comes in a tiny bottle in a spray packaging. The very affordable pocket perfume is made with an alcohol and chemical free formula and is also child friendly. Spray it on your pulse points like wrists, neck and even the clothes. Its application last for around 3 to 5 hours and that depends on the environment as well. One can keep this amazing chocolate pocket perfume in the purse to apply it whenever needed. Perfume has chocolate and Vanilla fragrance along with Sandalwood and Musk for the base.
9. Yardley London Country Breeze Compact Perfume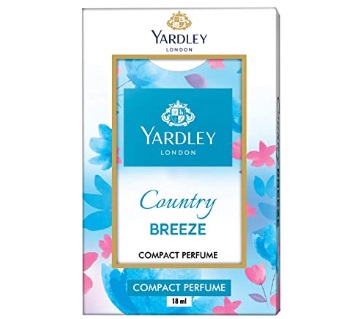 Yardley London Country Breeze compact pocket perfume for women has top notes of Green Apple and Bergamot with amber and musk as end notes. Middle notes of Freesia flowers and Rose adds floral freshness. Basically, this is a fruit floral fragrance perfect for the spring and summer season.
These are the best pocket women's perfumes available at cheap prices and good scent.