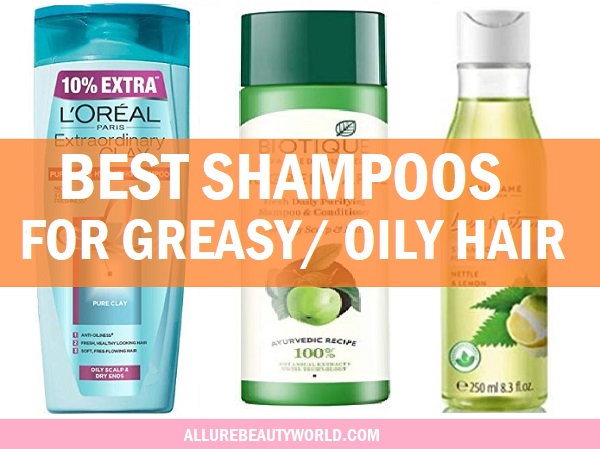 When you have oily scalp and hair, you just cannot use any other shampoo. Choosing the correct shampoo product can make a huge difference, the way your hair looks. Here, we have listed the best shampoos for oily hair available in the market. Tackling the oily scalp problem become a lot easier with the use of suitable hair care products.
Most of such shampoos for greasy hair type are gentle enough to be used every day. But remember, if you're using a clarifying shampoo for oily scalp, do it only once in a week. Otherwise, they can disturb the pH balance of your scalp. I like mild shampoo, you can also check this list which I created on best mild shampoos in India, which are good for sensitive scalp. So let's go ahead and check out which are the best shampoos for oily hair and greasy scalp in India.
Best Shampoos For Oily Hair in India: 2022 For Voluminous Hair
Let's take a look at the best shampoo brands for greasy oily hair in India. You can in fact use the mild shampoo for oily hair daily as well if you feel that in summers, your scalp gets greasy and loaded with dirt and sweat.
1. L'Oreal Paris Extraordinary Clay Shampoo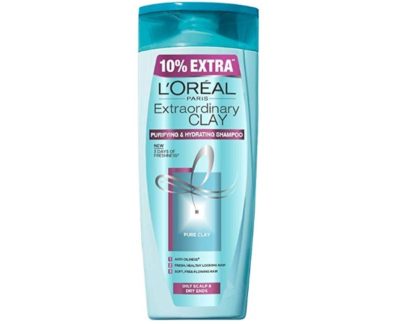 We all know how effective clay can be to suck out the extra oils and sebum. The clay component makes your scalp oil-free and clear. The product is a rich blend of clay and other hydrating products. It is a tailor made and best shampoo for oily scalp with dry hair. It gives you two benefits: one is to cleanse the oily scalp and secondly is to hydrate the dry hair ends to instantly make them look smooth. If you've thin and fine hair, then go for these best shampoos for thin and fine hair in India.
2. Biotique Bio Green Apple Fresh Daily Purifying Shampoo and Conditioner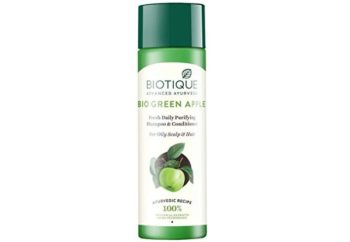 The natural shampoo comes with double benefits of shampoo and conditioner. It is specially formulated for people with oily hair and scalp. So, while you are using this shampoo, it's gentle enough that you can try it every day to get free flowing oil-free hair. Apples are excellent detoxifies and protectors that shield your hair from the bad effects of UV rays. I personally have used this shampoo and really liked its feel and post wash results. It's the best shampoo for fine oily hair in India.
3. Oriflame Love Nature Shampoo for Oily Hair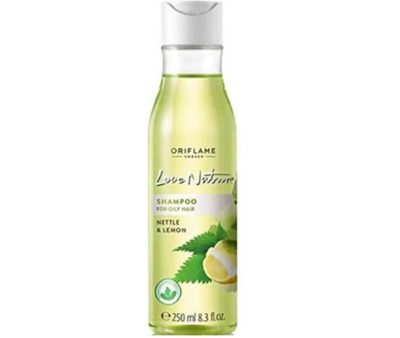 You can transform your oily hair with the use of this lemon and nettle rich shampoo. It's is mild cleansing shampoo that can be used on daily basis to keep your hair hydrated and refined. It clarifies your scalp by eliminating the excessive sebum but does not dry the scalp with over cleansing. It's the best shampoo for oily scalp and dandruff.
4. WOW Apple Cider Vinegar Shampoo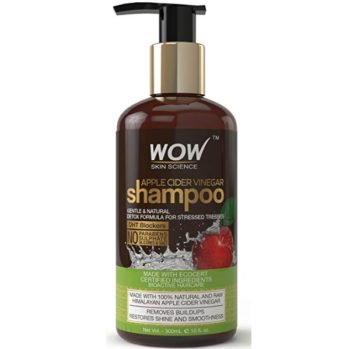 If you are looking for an organic paraben free shampoo that is best for oily hair, this option should be in your list. It's a sulphate and paraben free product that contains apple cider vinegar. Apple Cider Vinegar shampoo is known to eliminate the dirt, gunk, product residue and excessive oils from your scalp. The shampoo comes in a quick to use pump dispenser. The cruelty free organic shampoo for oily hair unblocks the scalp pores to let it breathe. It is also one of the best shampoos to control the hair fall due to excessive see bump as it is a DHT blocker as well.
5. Dove Rejuvenated Volume Shampoo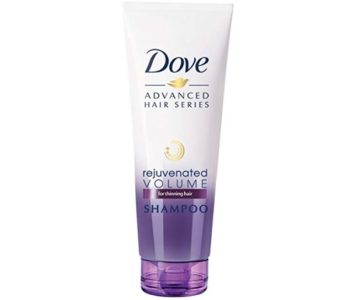 It's not just a volumizing shampoo for your thin hair strands but is a perfect product to get nourished hair strands. The Dove shampoo for oily hair reduces oiliness of the scalp. It is infused with the beta nutrient complex that volumize your hair and hydrates the moisture thirsty hair ends with split ends. I created this list of the best shampoo for volume and density in India, that you must go through to get thick hair. I have recently used this shampoo and its best thing as that while it gets rid of the oils in excess, it still hydrates those brittle and dry hair ends.
6. StBotanica Biotin & Collagen Volumizing Hair Shampoo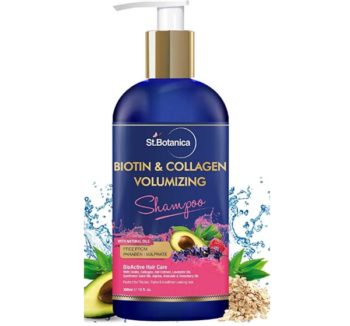 We've another option for shampoos for extra oily hair that are paraben and Sulfate-free. The StBotanica Vegan shampoo is rich in biotin and collagen that helps to volumizes your thin and fine hair. It is a powerful blend of hydrolysed collagen, Lavender oil, vitamin B5, Silk proteins along with so many essential oils that this is the best shampoo for oily thin hair that users have rated high. It has a purifying and cleansing action which is mild enough to be used every day. You can safely apply this shampoo to make sure that your hair feels grease-free and looks smoother. It is safe shampoo for color treated hair as well.
7. L'Oreal Professionnel Serie Expert Pure Resource Shampoo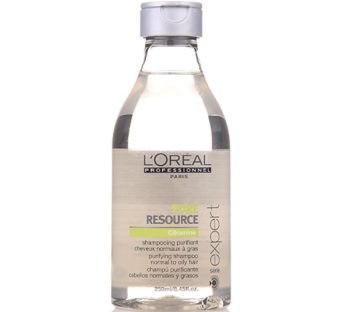 The gel based clear shampoo is a purifying product that is made for normal to oily hair. While the product gets rid of the scalp grease and dirt, it also makes your hair extra soft. It has an Aqua crystal texture with purified water that gently dislodges product built up, accumulated by the use of hair styling products even for your super oily hair. Hard water residue is also wonderfully eliminated by this light shampoo. It is one of the best professional shampoos for oily and fine hair type.
8. Healthkart Apple Cider Vinegar Cleansing & Nourishing Shampoo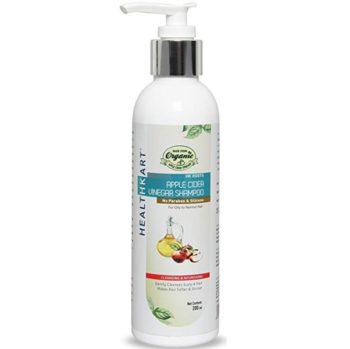 Apple Cider Vinegar is a miracle product for sebum loaded hair. This next shampoo contains apple cider vinegar along with some essential oils. It lathers well to cleanse your scalp and hair by removing dirt, product build ups and pollutants. It makes hair soft and shiny while restoring the ideal pH of your scalp. It's the best shampoo for thick oily hair. It's completely free of parabens and silicones and is helpful for scalp acne because of ACV.
9. Park Avenue Beer Shampoo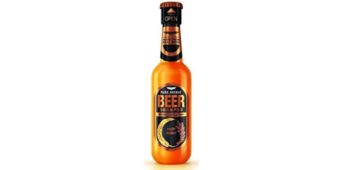 Beer has excellent ability to uplift your roots and to get rid of the gunk, product residue and oils in one action. Yes, this is India's first good shampoo for oily scalp that is made from the real beer. It gives you 6 times fluffy and voluminous hair that looks smoother. It is rich in natural bio-actives and proteins that repair the damage. The shampoo can be used every day as the formula is quite mild. It is one of the best beer shampoos for men with oily scalp and hair.
10. TRESemme Spa Rejuvenation Shampoo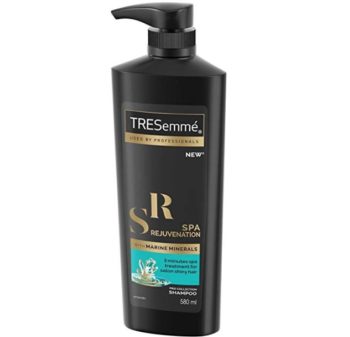 The Spa rejuvenation shampoo is perfect for all hair types especially when your scalp is sticky. It is infused with the hydrating Marine mineral Complex and essential nutrients. It makes your hair get the benefits of hair spa while you are at home. It is one of the best shampoos for damaged and oily hair. It prevents the damage and repairs it. The formula is nourishing and gentle enough to wash your hair everyday and won't cause the dryness.
11. Khadi Mauri Herbal Herbal Heena Shampoo for Oily Hair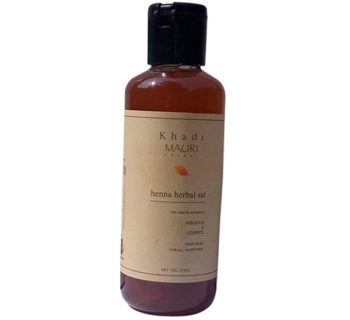 The shampoo is like an Ayurvedic oily hair treatment. It is also rich in hibiscus and liquorice. It is the best Khadi Natural shampoo for an oil laden scalp.
12. Himalaya Herbals Protein Shampoo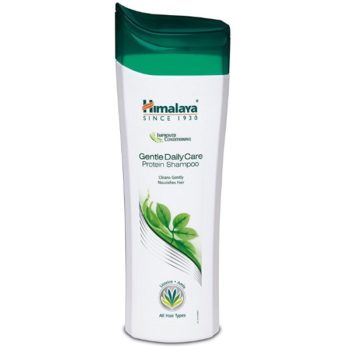 The gentle protein cleanser is a daily use shampoo made for men and women. The herbal shampoo has a mild foaming formula that reduces the styling product built up on your scalp. That can be used by those suffering from hair loss and dandruff. It contains amla, almond along with some other effective cleansing agents.
13. Biotique Bio Walnut Bark Fresh Lift Body Building Shampoo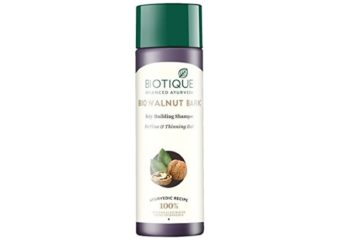 When you have fine and thinning hair with oily scalp, it stimulates the hair growth and makes them smoother from roots to tips. It is made with all the herbal ingredients that revitalize the hair and make them grow faster. The price is also another factor that this is a bestseller item and is the best volume shampoo for oily hair.
14. Shahnaz Husain Shahenna Plus Hair Cleanser Normal To Oily Hair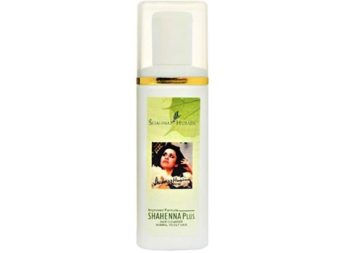 The product has hair loss control formula that helps to reduce oiliness and restores the normal ph balance. It's is an ideal treatment that gives you beautiful and smooth looking hair.
15. WOW Miracle 10 in 1 Shampoo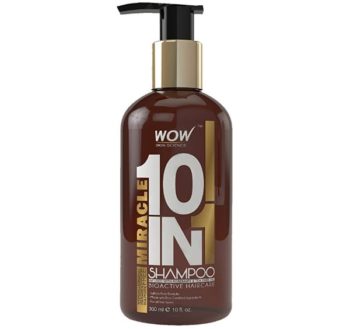 The gentle cleanser is a shampoo which is free of sulphate paraben along with other chemicals. It has a bioactive formula that works on oily hair and scalp. Thanks to its formula that doesn't dry out the scalp and it's the best shampoo for oily hair and oily scalp.
These are the best shampoos for oily hair in Indian market. Hopefully the list have helped you in picking up the right product for oily hair care.
Some Tips to Care for Oily Scalp
Having an oily scalp is totally hereditary and the point depends on your hormones, but you can take preventive measures to control the old and to keep the scalp clean.
A lot of people say that washing your hair everyday can damage them or make then dry. But in case of oily hair, if the shampoo is mild, it can be used on your oily scalp every day. Such cleansers help to eliminate the everyday product built up and oiliness from the scalp effectively without making the hair dry.
When the hair and scalp is oily,  the first thing you have to do is to use a clarifying shampoo that helps to get rid of the residue, product built up, gunk and even dead skin from the scalp. This layer of debris and gunk can also result in more sebum production. Use a clarifying shampoo at least once in a week. You you don't know then surely read this list of ours on best clarifying shampoos in India as posted on our website Tipsandbeauty.com.
Choosing the shampoo for oily hair can be tricky but as we shares the entire list with you, picking up the best one shouldn't be a problem.
You can also use dry shampoo when you wish to get rid of the oils quickly from the scalp.
Home Remedies for Oily Scalp
When you do not have a dry shampoo with you, you can take help from baking soda. Take some baking soda and put that on the scalp. Gently rub it on the scalp to let it soak up the excessive oil.
To make a homemade clarifying shampoo, you can follow this quick recipe using apple cider vinegar.
Take one fourth cup of vinegar.

Add to teaspoonful of lemon juice.

Mix one cup of warm water.

Mix them and after you have shampoo your hair rinse your scalp with the solution.

Apply it first on the scalp and leave it for few minutes and then rinse it off with cool water.
Once in a week you can also apply a mixture of lemon and green tea on the scalp. Section the hair and apply this mixture. Wash after 30 minutes. This is a clarifying formula that clears the residue, built up and oil from your scalp.
I hope this post helps you in taking care of your oily scalp and hair. If you've any questions, do mail or comment. 🙂