Shampoos for fine thin hair in India, this is what a lot of readers ask us recently. If you too are wondering which are the shampoos that you can use for thinning hair? In this article, we are going to talk about the best shampoos for people struggling with fine and thin hair and would like to naturally boost the hair growth. When you have dull fine hair, making certain hairstyles can be really problematic and you have to compromise on various hairstyles. Other than that, strands thinning is a major issue that can also lead to balding in the long run. There can be several issues like too much chemical treatments, hormonal imbalance, Vitamin B complex deficiency, hereditary, age, and thyroid related imbalance etc. Using the best shampoo product for fine hair helps to swell them up and you get to enjoy a bit of volume. Other than that, such shampoos also contain ingredients which helps to control thinning of hair.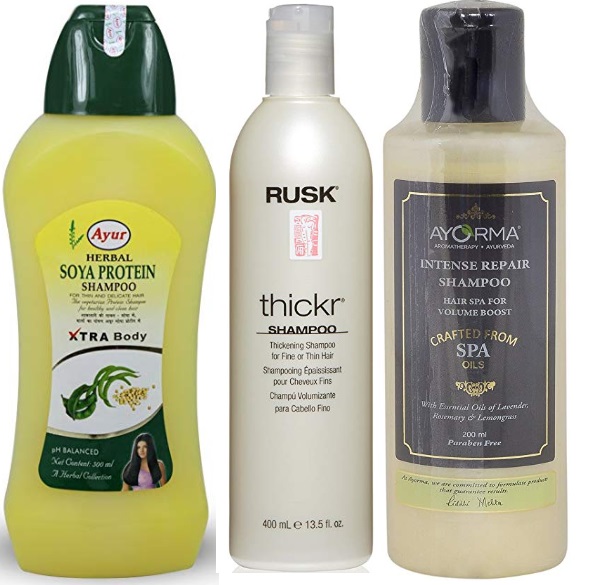 Top Best Shampoos for Thin Hair in India for Thickness and Growth
Anyways, there is a list of the top 10 shampoos for thin and fine hair that would definitely help you decide the perfect one for you. You can also take help of onion juice for hair growth. Other than that, buying shampoos for fine hair online will be a good deal as you can get some discounts.
1. StBotanica Biotin & Collagen Volumizing Hair Shampoo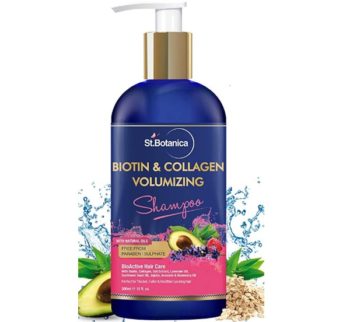 When you need adequate volume for your fine hair, then this is the perfect shampoo for you. The shampoo contains biotin and collagen that boost the volume of your hair. The nutrient rich formula of the shampoo pumps in the moisture and immense thickness. It gives volume boost and makes your hair look thicker. The product is a powerful blend of collagen, Lavender oil, lemon oil, Silk protein vitamin B5 and so many other essential oils. This is one of the best shampoos for all hair types but works amazingly for thin and fine hair. Use it two to three times in a week to maintain healthy looking hair. You can also check our post on best mild everyday use shampoo in India
2. GNC Women's Biotin Shampoo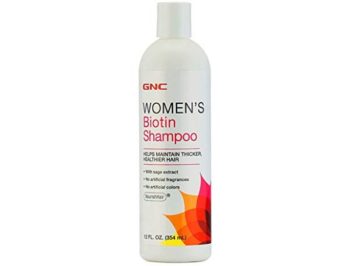 For receding hairline, you must use shampoo products which are rich in biotin. It is rich in fenugreek seed extract and biotin that maintains dense healthy hair. The organic product doesn't have any colorant or artificial fragrances but is one of the most effective biotin shampoos for thin hair. It can be used by men and women, for dry thin falling hair and it safe to be applied every other day.
3. Organix Thick and Full Biotin and Collagen Shampoo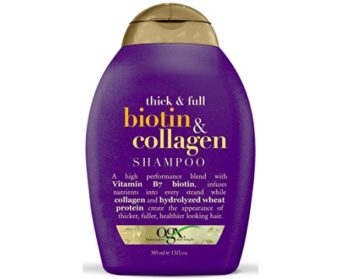 We have got an option for you which is comparatively cheaper. It's a biotin and collagen shampoo for thin hair that has high performance and blend of Vitamin B7 and hydrolyzed whey proteins. These ingredients helps make hair brilliant looking. It is perfect for thin and fine hair that lacks volume and looks dull. The purple coloured bottle looks quite attractive and has a sturdy packaging. It's the best shampoo for oily scalp with dry hair.
5. Emeveta 100% Herbal Organic Aloe Vera Neem Shampoo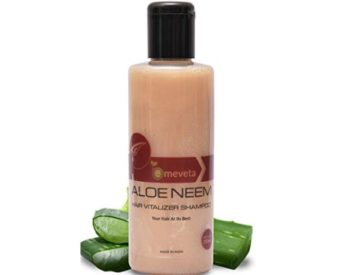 When your hair is thin, your priority is volume with hair growth. The shampoo would do exactly that for your oily scalp with dandruff. It is an aloe vera and shikakai herbal product that is a perfect product to thicken thin hair. The hair vitalizing shampoo works well and is the best in making the new hair grow faster. The antioxidant properties of Amla and Reetha help to make hair much stronger to prevent untimely breakage.
6. Ayur Herbal Soya Protein Shampoo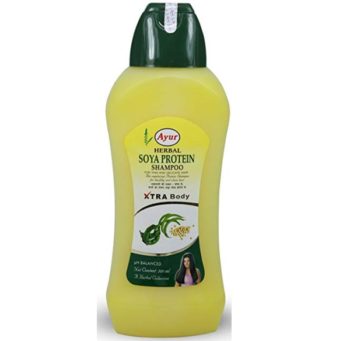 Soya protein is one of the best ingredients for delicate and thin hair. The herbal shampoo is rich in soy protein that boost the hair re-building and thickens the hair  to make them appear strong and bouncer. You may use it every day for all hair types but because of the ingredients, it is best suited for fine hair.
7. Farmavita Italy Volumizing Shampoo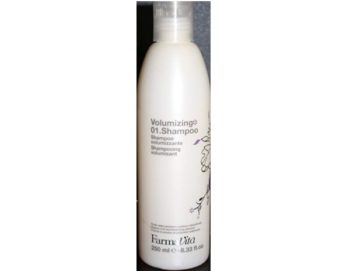 This next product is a volumizing shampoo and is extremely affordable and works to give you beautiful hair. Farmavita Italy Volumizing Shampoo is the best shampoo for thin hair in India, which gives good lather and is chemical-free. It can be used two times in a week to maintain beautiful looking hair.
8. Rusk Thickr Thickening Shampoo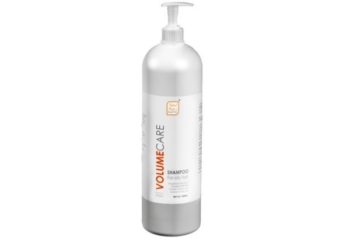 The product has got some excellent ratings online. The thickening shampoo is made with a nutritive formula that provides body and thickness for each hair strand. Its light weight formula cleanses your scalp but does not make it greasy or weigh down the hair. It makes your hair clean and superbly bouncier. Considering the price, it is an expensive product that you can try if you would like to splurge on your shampoo product. It's one of the best products for thinning hair in India.
9. Rahul Phate Volume Care Shampoo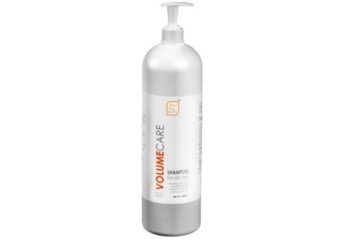 The volume enhancing shampoo is expensive but if you have oily scalp and wish immense volume then this can be tried. The shampoo works the best for people with thin hair that looks dull and sticky. It cleanses your scalp gently and effectively, that your hair looks immensely voluminous.
10. Ayorma Intense Repair Shampoo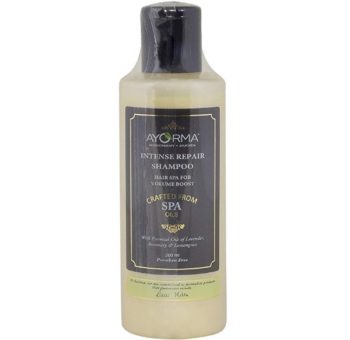 The natural shampoo is like a hair spa for your hair that gives you lively and bouncy hair. It is formulated with oils that can induce health and thickness to your fine hair. The product also stimulates the follicles and regulates sebum production. Rosemary and lemongrass in this Scalp-Stimulating Shampoo are known to stop hair loss and stimulate growth of new hair. You can use it two to three times in a week and it safe for dry hair.
11. Semi Di Lino Volume Magnifying Shampoo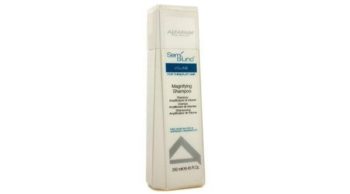 It adds body and exceptional density to hair strands so that they look thicker in appearance. It can be used two to three times in a week. To apply it, you can wet your hair and using a teaspoonful of shampoo, massage only on the hair. Rinse it and repeat if required. The shampoo is expensive but is an effective product to deal with thin and flat hair.
12. BBLUNT Full On Volume Shampoo for Fine Hair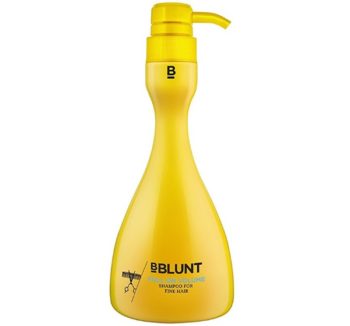 People dealing with fine hair, should try shampoo like this to add life to your hair. The shampoo retains the moisture and re-inforces the hair repair system. If fights against pollutants and adverse Indian weather. It is rich in MNP 5, glycerine and hydrolysed rice proteins.
13. Giovanni Organic Root 66 Max Volume Shampoo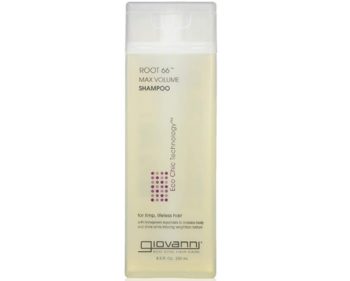 The affordable shampoo has horsepower expanders that give maximum volume to your lifeless thin strands. It is suitable for strengthening fragile hair. It also protects your fine hair from damage and pollutants. It is a paraben, SLS and mineral oil free. It has Organic formula up to 94%. It is one of the best shampoos in India for limp thin hair with affordable price.
14. Moroccanoil Extra Volume Shampoo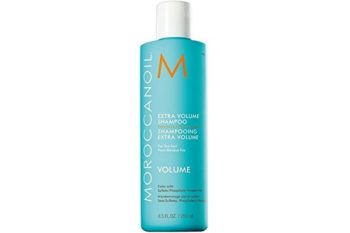 With the presence of Moroccan oil, it is a perfect product to give you thickening and body. The luxurious lathering formula of the shampoo cleanses your scalp and hair. It gets rid of the product residue and gunk of oily scalp. You can repeat it 2-3 times in one week. The mild formula is also makes this a daily use thickening shampoo. It the best shampoo in India for hair strength and to get improved texture.
15. Nyle Volume Enhance Shampoo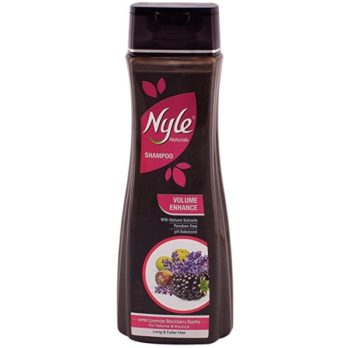 Nyle is one of the best affordable and paraben free shampoos that we have in Indian market. The organic shampoo is rich in ingredients like reetha, Blackberry, Amla, lavender and lemon. The shampoo gives volume but it is not very effective in hair growth. It's best yet cheap volumizing shampoo for men and women in India.
16. Schwarzkopf BC Volume Boost Shampoo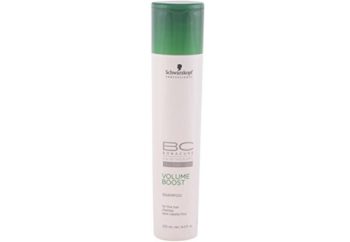 To Sprinkle some life in your thin hair, it's perfect. As it is rich in super foods that are loaded with vitamins and antioxidants. The shampoo gives you a mirror like shine. The full of nutrient rich product gives stronger and healthier hair. You can gently massage the shampoo in your wet hair and rinse it,till the water runs clear. Apply conditioner afterwards. It is one of the best shampoos for thin damaged hair.
17. TIGI Bed Head Fully Loaded Massive Volume Shampoo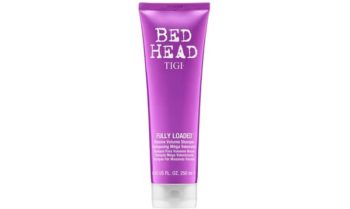 Get the volume with this shampoo that gives you massive looking hair. Its effective formula is suitable for everyday use and can be applied by men too. The Purple coloured bottle looks really enticing and is rich in products that improvises your hair strands and give them body.
These are the shampoos for thinning hair and hair loss in India. When you have limp fine hair, you need hair growth as well. These shampoos with biotin and collagen can help you stimulate the re-growth of hair and get them longer faster. For best results use them three times in a week. 
Lastly, you should also read about this article that talks about the best home remedies for thinning hair.