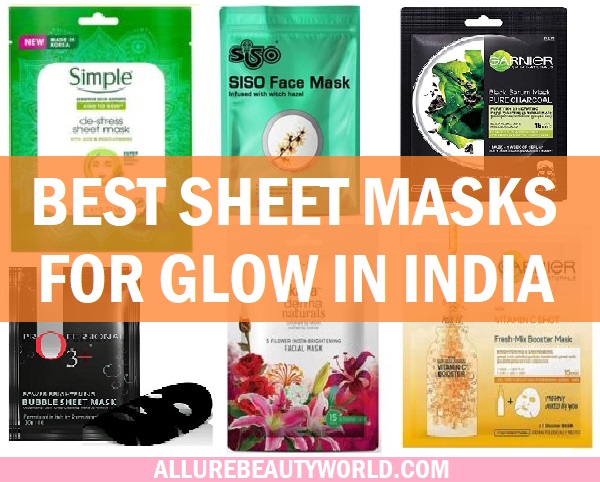 Sheet masks are the latest products in the beauty market that has made everyone love them. Sheet masks are basically sheet fabric soaked in nutrient rich solution or serum. These are made of fiber, gel or paper. Most of the sheet masks are rich in serum that helps to make skin glow with a boost of hydration. There are different sheet masks available in the market. For example, there's a sheet mask for oily skin to control the oils while anti-aging sheet mask gives enough for the moisture and gives anti aging benefits.
Originated from Japan or South Korea, these sheet masks are getting popular in the Indian market sheet as well. The serum filled or soaked sheet masks have face shape cut out patterns making them easy to use. So if you have not used them before then you must. Here we have compiled this list of the best sheet masks in India. The sheet masks are affordable and can be bought online and from the stores.
How to Apply Sheet Mask
Cut the packet and take out the sheet mask. Put it on your face and with gently tapping the face. Adjust the contours or the cut made on the sheet mask over your face contour. Keep it for 15 to 20 minutes or as suggested on the pack. Remove the mask and massage your face gently to make the remaining serum get absorbed easily. There is no need to wash your face or wipe off the excess product as massaging will take care of everything.
List of Top Best Sheet Masks in India (2022)
1. Garnier Fresh Mix Vitamin C Face Serum Sheet Mask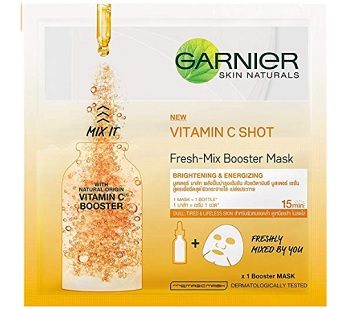 Garnier Vitamin C is a whitening and brightening skin care product. It is for dull and tired skin that gives the life to dark and dusky skin tone. Applying it is extremely easy and it can be used once in 2 weeks to make your skin beautiful and glowing.  Vitamin C serum brightens a dull and shallow skin complexion. It's the best sheet mask for glowing skin India.
Garnier serum mask price in India: 99 Rupees
2. Siso Face Mask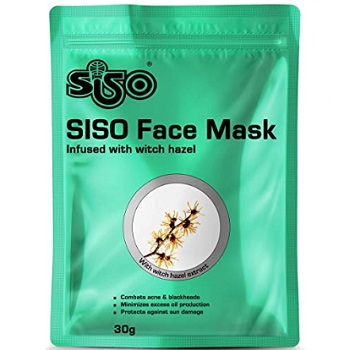 This sheet mask is infused with witch Hazel. It removes the acne and blackheads and minimize the excess oil production. Made especially for the oily and acne prone skin this also protects against the sun damage and stress that your skin goes through every day. Witch Hazel extracts also closes the open pores and makes your skin better and flawless. Apply the mask and leave it on for 15 to 20 minutes. Remove the mask and let the liquid get absorbed in the skin layers.
3. Simple Kind to Skin De-Stress Sheet Mask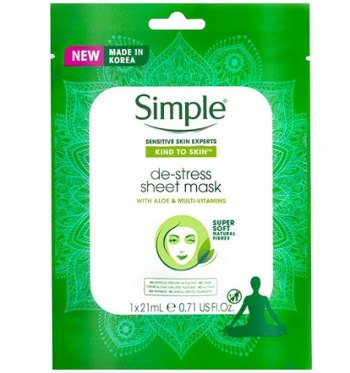 The distressing sheet mask is infused with aloe vera and multivitamins. It does not contain any parabens or any sulphates that can harm your skin. Made with 100% soft natural fibres, it calms the stressed skin and instantly brightens the dull complexion. Apply the sheet mask on your face and remove it after 15 minutes. No need to rinse and it instantly makes your skin glowing and beautiful. It's the best face mask sheet in India for stressed skin.
4. The Face Shop Real Nature Blueberry Face Mask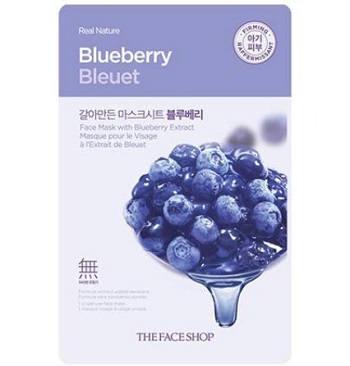 The Face Shop real nature Blueberry face sheet mask is anti aging sheet mask that also makes your face glowing in just one use. It's amongst the best Korean sheet masks in India to regain the skin suppleness and preventing the skin's oxidation and damage done by the free radicals. It also makes the skin tone better and reduces dark spots and age spots. It is an anti aging product that is best for skin sagging and other age related skin conditions.
5. Garnier Charcoal Face Serum Sheet Mask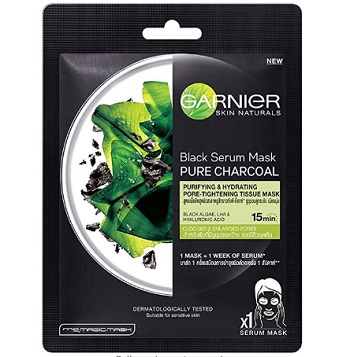 Garnier charcoal face serum sheet mask is a one of the most popular sheet mask from Garnier that is for clogged pores. This cheap sheet mask in India helps to unblock the blocked pores and leaves your skin beautiful and healthy looking. It's suitable for acne prone skin and other skin types, it basically takes care of the deep settled impurities on your skin layers. By removing them, it ensures that skin stays better and healthy looking. It's the best sheet mask for oily skin in India.
6. Kaya Clinic 5-Flower Insta-Brightening Facial Mask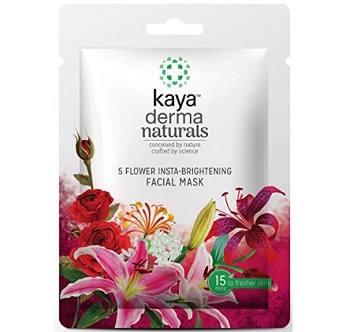 Kaya Instant brightening facial sheet mask contains the power of five flower extracts. It brightens your skin and removes impurities so that your dull skin becomes glowing and fresh. It delivers the high concentrated hydrating and brightening ingredients like the floral extracts. Free from paraben and pigmentation, it is a dermatologically tested product. Use it for 15 minutes to get fresh and fair skin.  The sheet mask has a formula that is enriched with flower extracts of roses, lilies, Tiger lilies, Jasmine and honeysuckle. It also contains niacinamide, that's why it is also one of the best sheet masks for aging skin.
7. O3+ Power Brightening Bubble Sheet Mask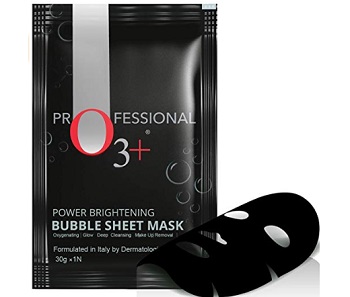 O3 power brightening bubble sheet mask contains deep cleansing properties. This oxygenating and brightening sheet mask bubbles when applied on the skin. It delivers oxygen to the innermost layers and prevents acne causing bacteria. The power brightening formula is tested by the Dermatologists and prevents the growth of free radicals from damaging your skin. It is one of the best sheet mask to deep cleanse the skin and to reduce the effect of pollution and environmental damage.
8. O3+ Brightening Face Sheet Mask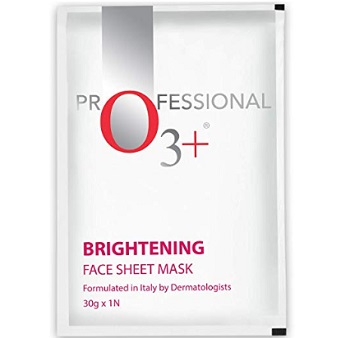 O3 brightening face sheet mask is for even tone and radiant looking skin. The fairness sheet mask helps to promote the glow and even out skin tone. It is excellent for normal to combination skin and with Vitamin C, it gives an instant brightening effect. It is rich in the extracts of orange and passion fruit. Use this dermatologist tested sheet mask is once in a week.
9. Skin Elements Face Mask Sheet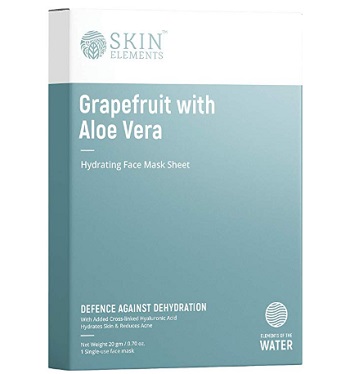 Made with grapefruit and aloe vera, the sheet mask is a hydrating sheet mask that gives defence against dehydration. Rich in the hyaluronic acid, it hydrates skin and reduces acne spots. It's one of the best sheet mask for dehydrated and rough patches skin. It is suitable for all skin types and also calms the irritated and sensitive skin.
10. Lotus Herbals Whiteglow Infused Brightening Serum Sheet Mask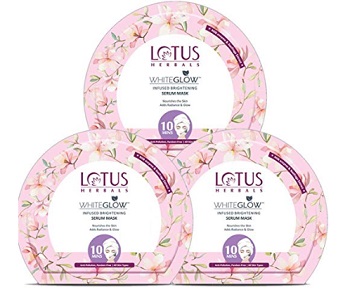 Lotus Herbals white glow infused brightening serum sheet mask is a very affordable product to instantly brighten skin complexion. It keeps the skin soft and supple and gives it natural radiance and glow. The sheet mask helps to repair the damaged skin and gets absorbed to renew the cells for lasting fairness. Apply the sheet mask on the face and leave it for 10 to 15 minutes. Remove the mask gently and massage the excess serum left on the skin.
11. Kaya Clinic 5-Herb Instant Oil Control Facial Mask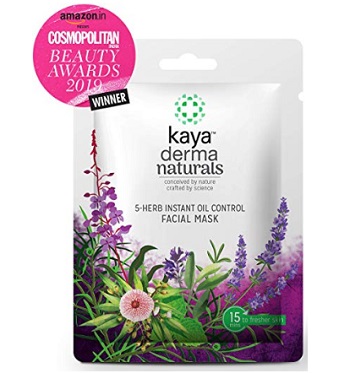 Kaya oil control sheet mask is primarily made for oily and acne prone skin. To control the excessive oil from showing up on your skin and to unblock the blocked pores. It's rich with Canadian willow herb and tea tree extracts. It is a paraben and fragrance free product which is dermatologically tested. The sheet mask helps to unblock the skin pores and make the skin better by killing the acne causing germs. The easy to use face mask can be used once in a week.
12. Organic Harvest Moisturising Face Sheet Mask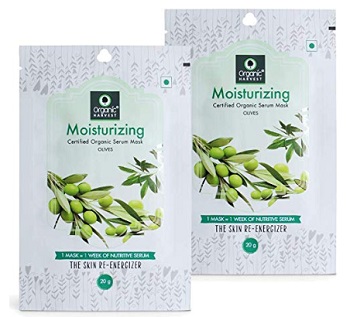 Organic harvest moisturising sheet mask has the essence of olives. It is an organic sheet mask that gives you supple and smooth skin. It against the skin lost moisture and penetrates deeply in the layers. The biodegradable cellulose sheet mask is like a mini facial at your home. Made with olive extracts it gives a long lasting moisturization extracts. It is a paraben and Sulphate free product which is organic and plant based. It's also the best sheet mask for dry skin in India.
13. LuxaDerme Brightening Bio Cellulose Face Sheet Mask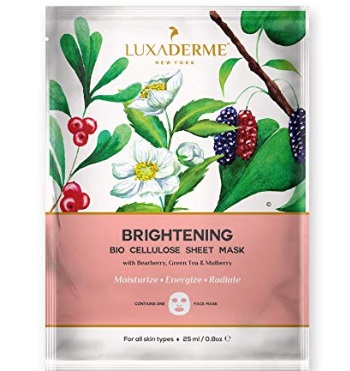 Luxederme biocellulose face sheet mask is for people who would like to make the skin glowing. Made with bearberry, green tea and aloe vera extracts it is a fruit sheet mask that complexion and reduces the dark spots and age spots. You get your daily dose of glow in just 20 minutes. It does not have any paraben, sulphates, petroleum, alcohol and artificial colorants.
These are the best sheet masks available in India for oily skin, dry skin acne prone skin and sensitive combination skin. You can try the one that suits your skin type and the skinissue that you are facing. This sheet mask are very easy to use and you need to just make sure that you apply them regularly once in a week to ensure your skin stays healthy and free from the environmental stress.