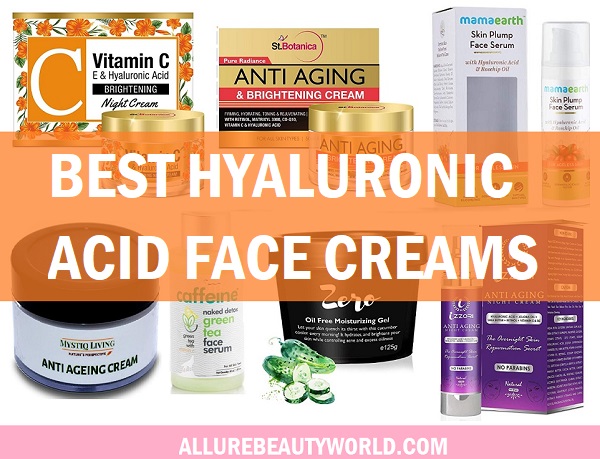 Hyaluronic acid creams are like blessing for dry skin. This miraculous ingredient is the perfect ingredient to fight the tight skin feeling, dry patches, flaky cheeks and all the other skin issues which can make the skin feel dull. Thanks to its amazing ability to moisturize and hold 1000 times its weight in water that makes it an extremely good skin hydrating product available in the market. Here, in this article we're going to talk about the best Hyaluronic acid creams in India. A lot of anti aging skin creams and products contain Hyaluronic acid. These creams take benefit from the hydrating properties of hyaluronic acid. And the ingredient is also very lightweight which is why the anti aging creams will not be heavy on the skin even when you apply them during the daytime. Best part is the non-comedogenic nature of Hyaluronic acid, which is why even when someone has oily skin, they can slather it without worrying about their pores getting blocked. It's really is a better moisturizer for all skin types for all seasons.
Best Hyaluronic Acid Creams For Face in India (2022)
So, if you would like to moisturize your skin and get some anti-aging benefits, in this article, you'll find about some of the best hyaluronic acid creams in the market currently. So regardless of your skin type, use any of these products to sufficiently moisturize your skin.
1. StBotanica Hyaluronic Acid Brightening Night Cream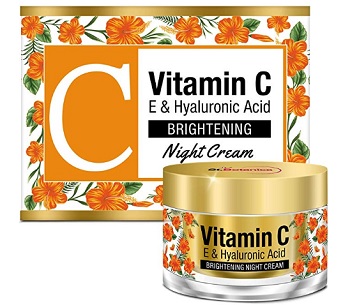 The cream is rich in vitamin C and hyaluronic acid, is a powerhouse of antioxidants which are known to have anti aging and skin brightening features. It also diminishes the signs of sun damage, such as dark spots, sunspots and hyper pigmentation. If you want skin brightening cream loaded with hyaluronic acid then this is an excellent cream to use. It's formulated with a paraben and fragrance free formula to take care of even the super sensitive skin types. With no negative or side effects from using the cream, it just gives you a brighter and fresh looking skin. It can also be used as an anti aging product for people in their 20s.
2. Mystiq Living Hyaluronic Acid Anti Ageing Cream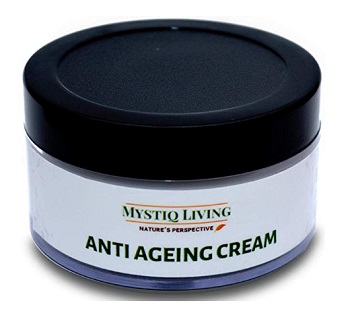 The lightweight serum cream is suitable for all skin types and no matter whatever skin type you have, it surely improves skin tone and texture. Devoid of any parabens, sulphate and chemicals, it's a cream product that contains active ingredients. It's also a great choice of hyaluronic acid cream for oily skin types. The lightweight cream smoothens into the skin and gives instant moisturization with a non sticky feel.
3. MCaffeine Naked Detox Green Tea Night Gel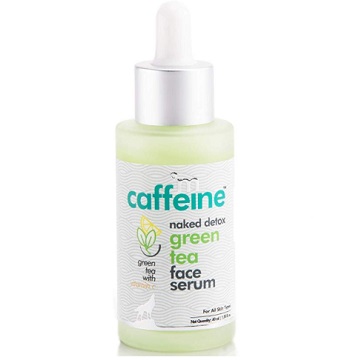 It's a green tea face serum with Vitamin C, the light gel serum is perfect for night time routine, even when you have oily and combination skin. Its formula contains two of the most powerful ingredients, known for their antioxidants blend. It offers great moisturization that helps to accelerate cell turnover. So while you sleep, the product seeps in the skin layers nicely and gives you supple and smooth skin the next day. Its ability to make your skin smoother and radiant is incredible. The formula is lightweight and non-greasy and according to some users, it works brilliantly as a day and night serum. In fact, green tea also fights photo damage and everyday pollutant induced damage. It's a natural detox for the damaged skin.
4. StBotanica Pure Radiance Anti Aging & Face Brightening Cream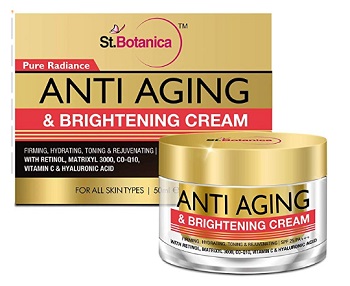 It's a day cream that you can use during the daytime as it comes loaded with SPF 25. It contains not just hyaluronic acid, but retinol, Matrixyl 3000 and Vitamin C. With so many anti-aging ingredients, the cream is rich in the anti aging ingredients. With high concentration of hyaluronic acids, it smoothens the fine lines and also moisturizers for much needed youthful glow. It's the best anti aging day cream for people in their thirties as well. Right from using it for two weeks, people have seen overall improvement in their skins' moisture level and texture. The formula is free of parabens, fragrances, dyes and mineral oil. This makes it safe for sensitive skin types. People would just not do without this product ,when their skin is dry and damaged.
5. Ryaal Zero Oil Free Moisturising Gel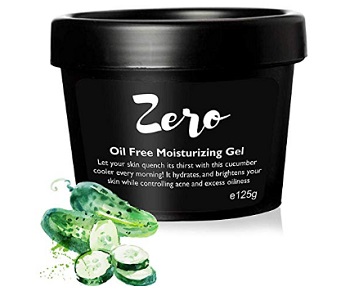 It's an oil-free moisturizer and gel with real cucumber extracts and hyaluronic acid, perfect for acne control and oily skin. People have rated it as the best moisturizing gel for oily and acne prone skin which controls acne and excessive oil. It detoxifies, treats sunburn and calms the irritated skin. Lastly, the completely natural product is safe for men and women both. It not just moisturizes but brightens your dull and tired skin tone during summer season. In fact this is the best summer moisturizer with hyaluronic acid for oily skin in India.
6. Mamaearth Skin Plump Face Serum Anti Aging Cream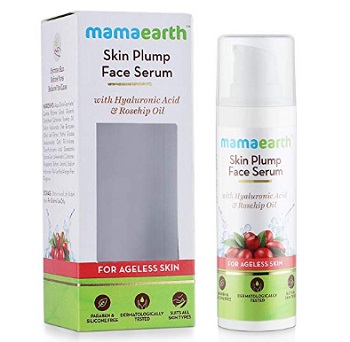 The face serum is like an anti aging products for glowing skin. For ageless skin, you can try this serum twice in a day. With hyaluronic acid, it's also blended with rosehip oil. It refines the pores and with natural coconut extracts, the serum fills the fine lines and makes skin supple and toned. The antioxidants in olive oil and fatty acids in castor oil aid in reducing fine lines and wrinkles over the forehead. It's a dermatologically tested product, hence, safe for sensitive skin. Free of sulphate, parabens, SLS and Mineral oil, this face serum is suitable for all skin types. However, as the formula is a bit high on moisture, it's best suitable for normal to dry skin.
7. Izzori Pure Anti Aging Day And Night Cream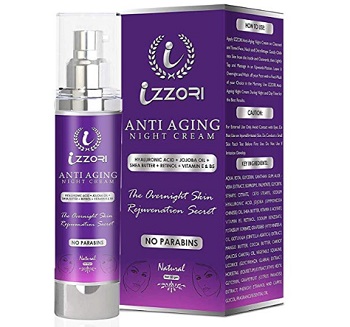 It's a powerful anti aging night cream that is blended with jojoba oil, shea butter, vitamin A, vitamin B5, retinol with hyaluronic acid. With no parabens, it's like an overnight skin repairing treatment that fights the lines and wrinkles effectively. While reducing the dark circles and fine lines near the eyes and mouth it even tone your skin tone. By using this, one can be assured that it diminishes the lines and prevents aging. The anti aging cream does not block the pores or makes your skin oily or sticky. With an affordable price tag, this can be tried by men and women both.
8. StBotanica Pure Radiance Night Cream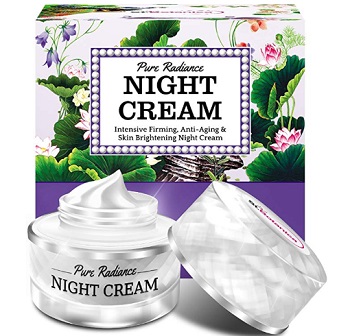 Pure Radiance night cream is an intensive skin firming and brightening night cream. So, while you reach your 30s, it becomes very important that you use an anti aging skin firming night cream. This is the age when people also want fair and bright complexion. To do all that for you, this product is known as the best night cream for firming and brightening purpose. The benefits of Vitamin C, vitamin A and Vitamin D3 helps to make this choice for many people. When it comes to moisturizing your skin, this cream does all that. It's not a cheap product but yes it's the most effective night cream for 30s out there in the market.
9. CGG Collagen, Hyaluronic Acid and Vitamin C Night Time Skin Moisturizer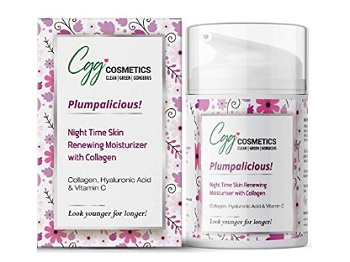 If you need an affordable collagen and hyaluronic acid skin cream for night time, then this is the best hyaluronic acid creams in India. Including this in your night skin care routine would impart freshness. You can wake up every morning with plump and smooth looking skin, because of its collagen rich formula. Hyaluronic acid in this cream gives moisturization, while Vitamin C gives brightness and relief in dark circles and dark spots. It's paraben and sulfate free product which also happens to be dermatologically tested making it safe for sensitive skin as well. Apply it at night after cleansing your skin thoroughly.
10. Bioayurveda Nourishing Lift Night Face Care Cream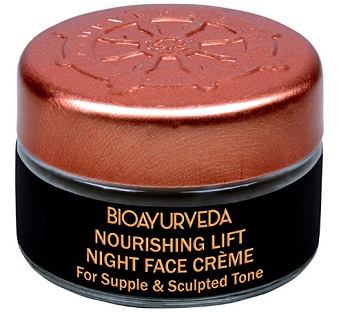 The Ayurvedic formula of this nourishing night cream contains many herbal ingredients that has green tea, soya protein, aloe vera, geranium and hyaluronic acid. In gives you soft and sculpted tone. Suitable for all skin types, it has light moisturizing formula. It also works on pigmentation and wrinkles effectively. It's suitable for dry facial skin and is available at an affordable price tag.
Now, that you know about the best hyaluronic acid skin creams in India, you can pick one and include to your skin care routine. Hyaluronic acid is known to deliver superb benefits and that's what your aging skin needs the most. This product helps to moisturize the skin and ward of any dryness and irritation because of dry patches. In older people hyaluronic acid has proven as a great moisturizer.
It also puts a delay on skin thinning, itching and the overall skin aging process. These are the best hyaluronic acid creams and serums because of them, your skin becomes radiant and glowing.