Does Oily skin make you feel conscious?  We often struggle to get rid of the oil and to keep the skin matte and glowing. Use of suitable skin care products for oily acne prone skin can definitely help you with keeping the skin problem-free. One of the most tricky product is the moisturizer. Choosing moisturizers for oily-acne prone skin is very difficult but on the contrary, following few tips and rules, it is an easy task. Here, are the points you need to keep in mind, while picking the best face moisturizer for oily skin in Indian market.
How to choose the best moisturizer for oily face?
They should be lightweight and without greasy ingredients

It should be non-comedogenic

Such moisturizers should be able to penetrate in the skin layers

Ingredients like salicylic acid, benzoyl peroxide are the best

They should be oil-free and water based.

Your moisturizer should basically do everything but not close your pores
Best moisturizers for Oily, Acne Prone Skin in India (2022)
Here, is the list of the best moisturizers for oily skin which are oil-free and non-comedogenic. Applying a good face moisturizer can help you with keeping the skin hydrated yet non-greasy. Do you know, when you use a water based moisturizer your skin actually  secretes lesser oils. In long term, it'll benefit you.
1. Plum Green Tea Mattifying Moisturizer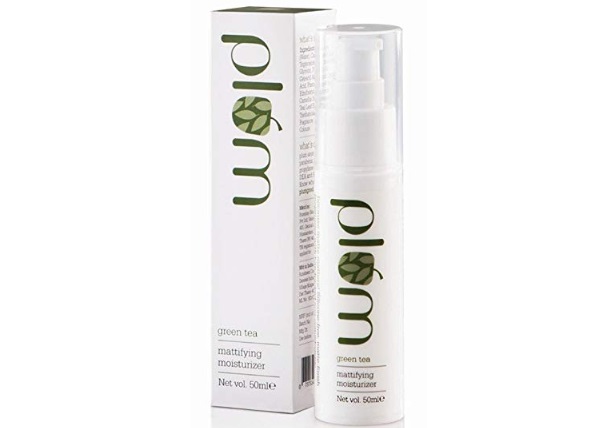 The Mattifying moisturizer is best moisturizer for acne prone skin. With the goodness of green tea extract this light moisturization helps to control the shine and gives you a fresh feel. The moisturizer give you multi benefits like treating acne and pimples, giving controlled hydration and making the skin matte. It is free of those comedogenic ingredients and is 100% silicone and paraben free. It is one of the best affordable paraben-free moisturizer for oily acne prone and combination skin. Is also contains glycolic acid that prevents acne by mildly exfoliating the skin. Do read about the best glycolic acid face washes to keep your skin like you have always desired for.
2. Natio Acne Clear Day Daily Repair Oil Free Moisturiser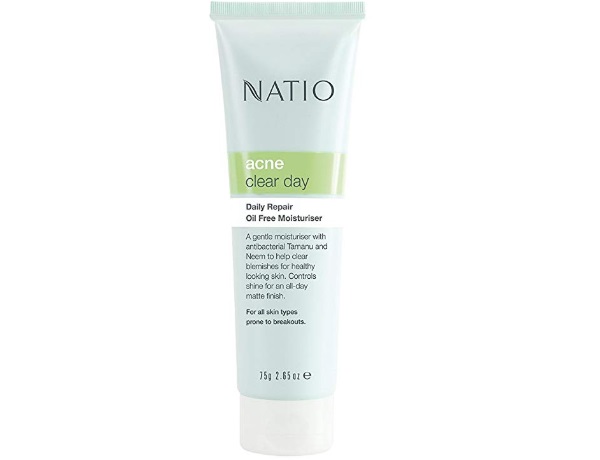 Natio Oil free moisturizer maybe expensive but it is worth every penny. It is a gentle product with the antibacterial Tamanu and neem that helps your skin to stay blemish free. It regulates the oil production for shine-free face. The water based moisturizer is formulated for breakout prone skin type. It's also the best moisturizer for combination skin which can help you win the task of managing the breakout prone skin.
3. Jovees Aloe Vera Moisturising Lotion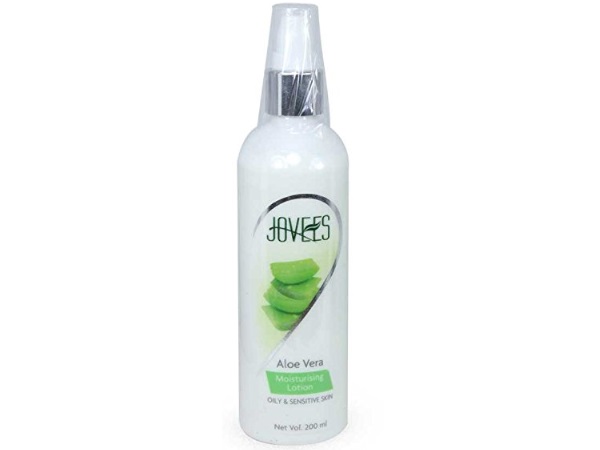 Jovees aloe vera moisturizing lotion is specially made for oily and sensitive skin. It has aloe vera that hydrates your skin deeply but does not make it look shiny or greasy. It comes in a pump dispenser which is easy to use and the product is very affordable.
4. Neutrogena Oil-Free Moisturizer SPF 15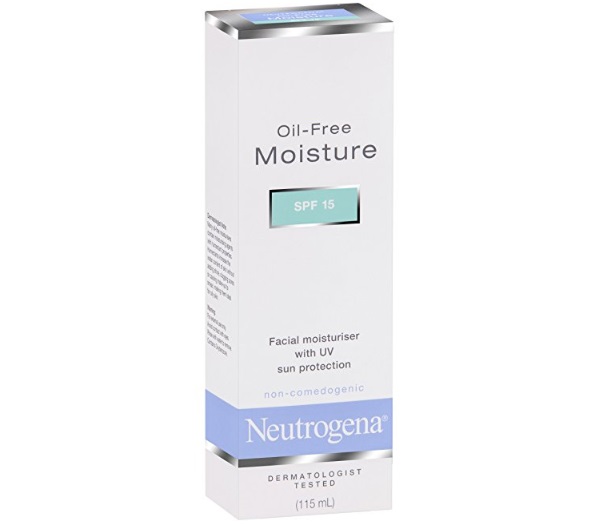 Neutrogena moisturizer is suitable for oily skin, combination skin and acne prone skin.  It gives you UV protection up to SPF 15. It is a dermatologically tested and one of the best non-comedogenic moisturizer for oily and acne prone skin type. It is affordable and has a pump dispenser which makes it extremely easy to use. The product is alcohol free, fragrance free and paraben free which is another point to consider this.
5. Yves Rocher Sebo Vegetal Mattifying Cream Gel for Combination to Oily Skin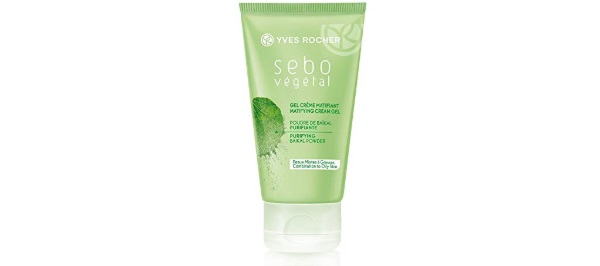 Vegetal Matt gel is exclusively made for combination to oily skin. The Ultra light red texture that gets absorbed in the skin layers extremely easily and absorbs the excessive sebum. It effectively moisturizes your oily skin for up to 24 hours. The gel cream does not make your skin sticky or oily that gives a beautiful glow on the skin.
6. Biotique Bio Chlorophyll Oil Free Anti-Acne Gel 

It's an anti acne gel from Biotique. The bio chlorophyll oil-free anti acne gel is one of the best products that you can use for your breakout prone oily face. It contains extracts of Seaweed, aloe vera and chlorophyll to tighten your skin pores and reduce the blemishes and dark spots. It is one of the best antibacterial moisturizer which is light and gel based.
7. Forest Essentials Pure Aloe Vera Light Hydrating Gel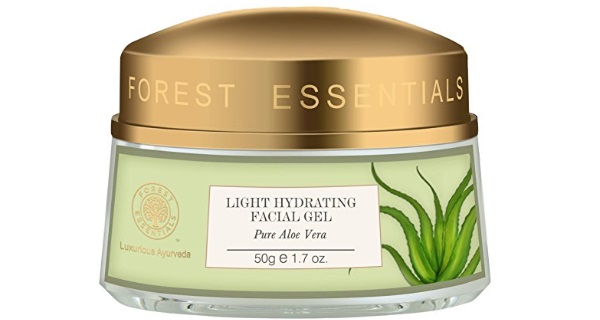 It's a light hydrating aloe gel lotion that gets in the skin layers deeply and gives you glow. It has soothing and hydrating properties. This watery-gel is suitable for combination to normal skin. So if your skin is not that oily but a combination of oily and normal then definitely go for this product.
8. Ozone Acne Check Hydrant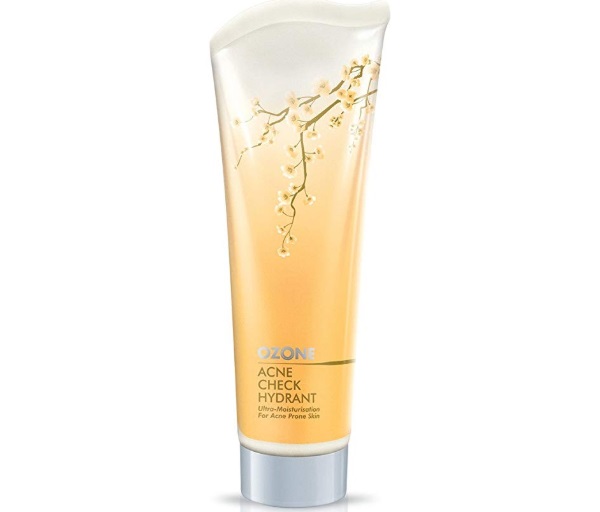 The Ultra light moisturizer is for acne prone skin. It cures acne with its antiseptic ingredients. For acne and sensitive skin this non comedogenic moisturizer is suitable for everyday usage. Its price is also very affordable. Tube packaging is simple and consumer friendly. Being light textured, it seeps nicely when you do gentle light massaging on the face.
9. Nivea Men Oil Control Moisturizer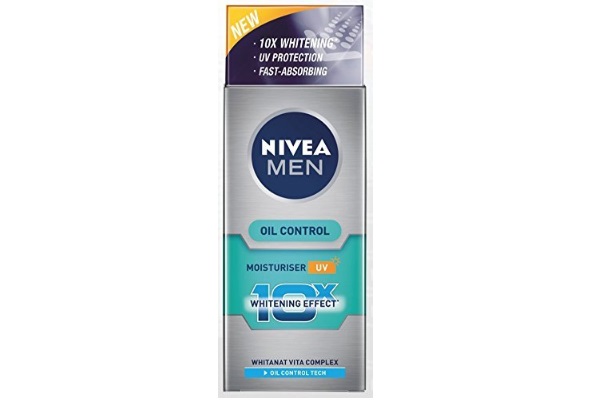 This next product is for men. Nivea Men is the best moisturizer for men's oily skin in Indian market. It is a multipurpose product that gives you fairer skin tone and oil control benefits. It has 10 times more skin whitening benefits and fast absorbing formula. It absorbs the oils from the skin and keep the skin naturally for a long time. You can apply this twice in a day. If you have dark spots, then you can also use the oil control dark spots moisturizer from the same brand.
10. Kaya Skin Clinic Acne Free Purifying Nourisher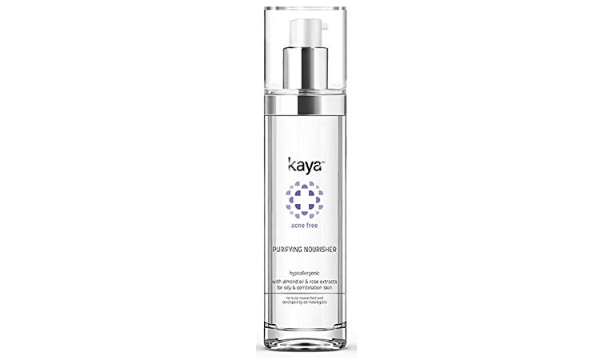 This Oily skin product comes in a pump dispenser and a beautiful packaging. It has hypoallergenic formula that is a rich blend of aloe vera, almond oil and Rose extract. It is specially formulated for oily and combination skin. The perfume free and non comedogenic moisturizer is developed by Dermatologist and is researched for years. This gentle cleanser for oily and acne prone skin can be used twice in a day.
11. VLCC Lavang Moisturiser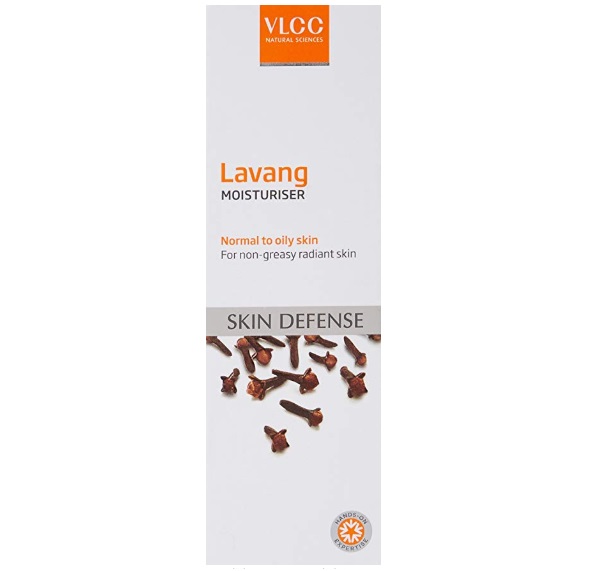 VLCC Lavang Moisturiser is appropriate for normal to oily skin. It has a non-sticky formula which is rich in cloves. Cloves with its antibacterial and antiseptic nature unclog the pores and fight the bacterial infections on the skin. It treats the acne and pimples and also prevents them from coming back. The best face lotion for oily skin is also very pocket-friendly. It can be applied twice in a day.
12. Clean & Clear Oil Free Moisturizer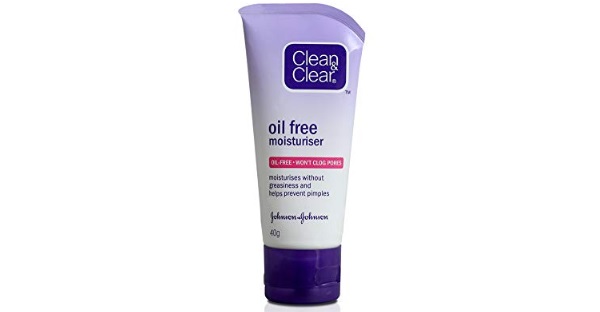 Clean and Clear oil free moisturizer is one of the best and budget buy for normal to oily skin. It helps prevent pimples and blackheads with its non-comedogenic formula.
13. Lacto Calamine Oil Balance Daily Face Care Lotion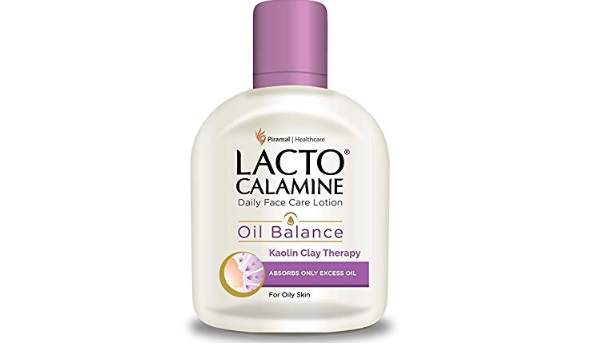 Lacto Calamine oil balance in lotion is one of the best kaolin clay lotion suitable for greasy skin. The clay absorbs the excessive sebum from the skin and keeps the skin matte. It's the best oil control moisturizer, rich in Kaolin clay, zinc oxide and glycerin. It is not suitable for very oily skin and acne prone skin. The product is available in different sizes if you want.
14. Lakme Peach Milk Moisturizer Lotion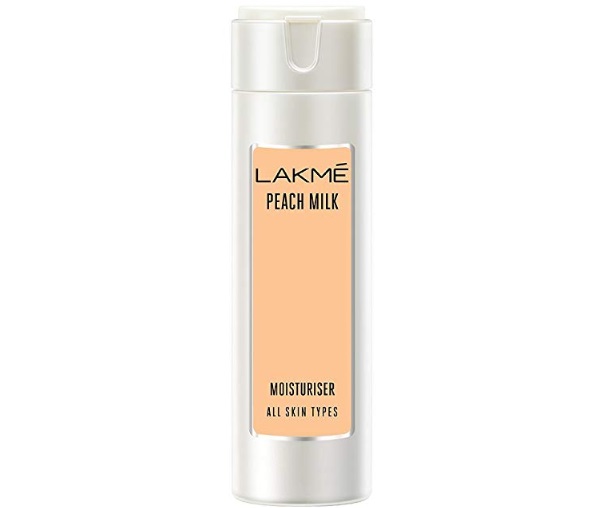 Lakme peach milk moisturizer is suitable for men and women who have got combination to normal skin. The peach milk extract helps to revived the dull skin and brighten with. It can be your daily use moisturizer suitable for even winter's.
15. Aroma Magic Juniper Berry Oil Free Moisturiser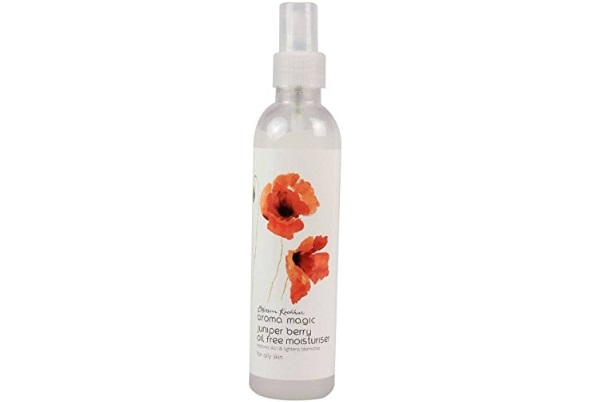 Juniper Berry is Extremely good for oily and acne prone skin. The antiseptic and antibacterial properties of this very helps to treat acne and revive refine the pores. The oil free moisturizer is also water based in nature which is one of the best for oily skin. Additional you this product also lightens your skin color. 
16. Lotus Herbals Alphamoist Alpha Hydroxy Skin Renewal Oil Free Moisturiser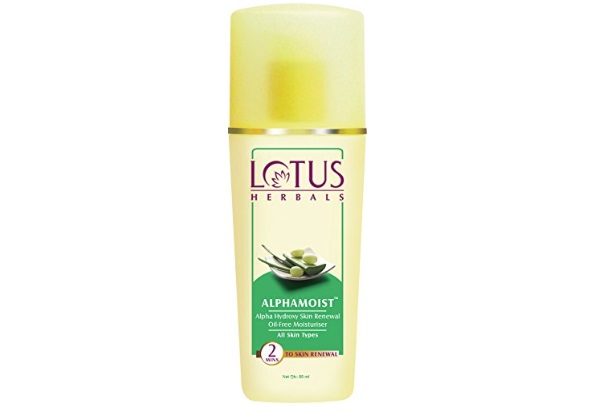 Lotus skin renewal oil free moisturizer comes in a pump dispenser. It gives you beautiful skin within few minutes. It can be used twice in a day to get non greasy and healthy looking skin. It has non comedogenic formula that does not cause breakouts. It is not suitable for extremely oily and acne prone skin.
17. KHADI Omorose Aloevera Gel with Liquorice and Cucumber Extracts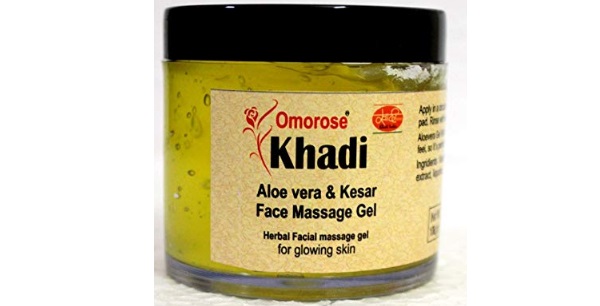 It blends aloe vera, cucumber and liquorice in this face massage gel. It is a herbal formula that is made for oily skin. You can massage your skin with this child twice in a day to get beautiful skin and to lighten the dark spots.
18. Aloe Veda Aloe Calamine Calming Skin Lotion
 
The gel based moisturizer with SPF is rich in aloe vera leaf extract, calendula extract and zinc oxide. It protects your skin from sun rays and UV exposure. It is a paraben free, mineral oil-free moisturizer for oily to normal skin. The pump dispenser of this moisturizer makes it very easy to use it.
19. Sebamed Clear Face Gel Moisturizing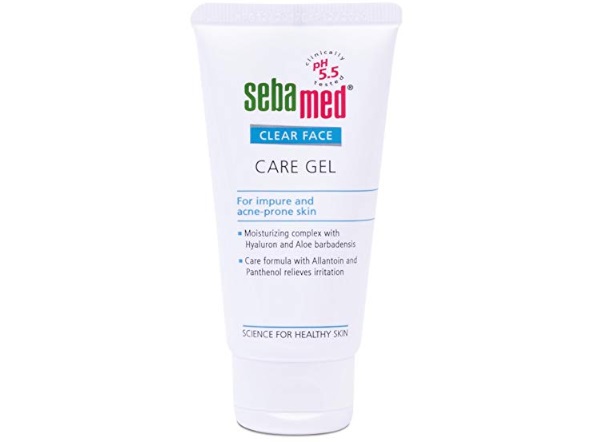 When your skin is acne prone and very sensitive than this is the best skin. The dermatologically tested product has an ideal PH 5. It cares for your sensitive skin with its allantoin and panthenol rich formula. It moisturizes your skin with hyaluronic acid and aloe vera.
20. RE'EQUIL Oil-free Mattifying Moisturiser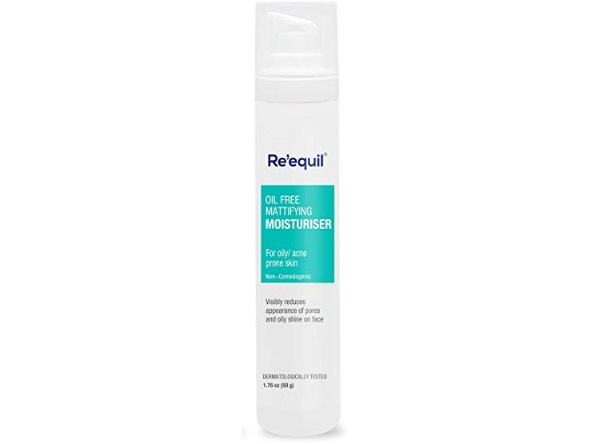 It is a dermatologically tested product which gives you visibility reduced appearance of pores and oily skin. By far it is the one of the best affordable and non-comedogenic water based moisturizer for oily, sensitive and acne prone face. It also works on the open pores. Apply it twice to get moisturization with no stickiness or greasiness.
Hopefully the list has helped you in selecting the best moisturizer for oily skin. The moisturizing products for oily skin should be chosen with care as you mentioned earlier.
Tips for Oily Skin Care
Here are few tips that you can follow to care for your oily skin.
You must watch your oily face at least twice in a day using cleanser rich in salicylic acid, tea tree, benzoyl peroxide etc. Even charcoal face wash works well for cane prone skin.
After that use an alcohol free skin toner suitable for oily skin.
It should be followed by the application of a good water based moisturizer to create a protective barrier on the skin.
A lot of moisturizers for oily and acne prone skin also contains ingredients and elements that can lighten the appearance of dark spots.
We are sure, now you've gotten the answer to what's the best moisturizer for oily skin in India.