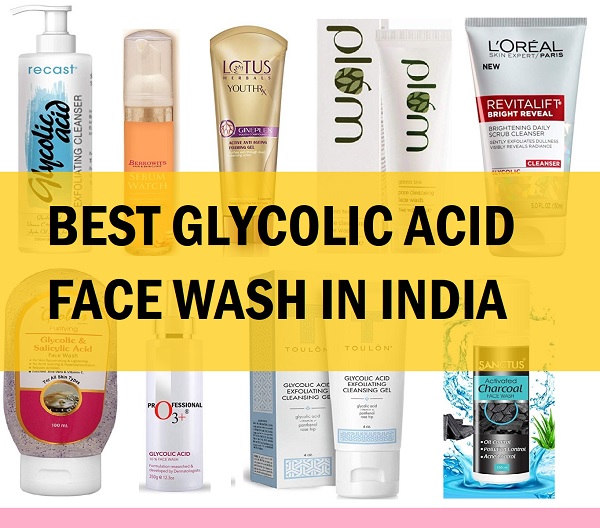 Glycolic acid is an Alpha Hydroxy Acid, that can help maintain a fresh skin by naturally exfoliating your lifeless cells. It gets rid of the uppermost dead skin layer that helps in unclogging the blocked pores and give benefits in smoothening the skin texture. We have compiled this list of the best glycolic acid face wash brands in India. This glycolic acid face cleansing products would give you better results in your acne and even for flaky dry skin. Not just that these glycolic acid rich product are suitable for anti-aging purpose as well as they increases the skin cell turnover and aids in renewal. With glycolic and salicylic acid face wash you can definitely put a stop on the acne problems. Face wash that contains 10% glycolic acid are best for the acne prone and scarred skin.
Top 10 Best Glycolic Acid Face Washes in India (2022) For Oily Skin
1. Plum Green Tea Pore Cleansing Face Wash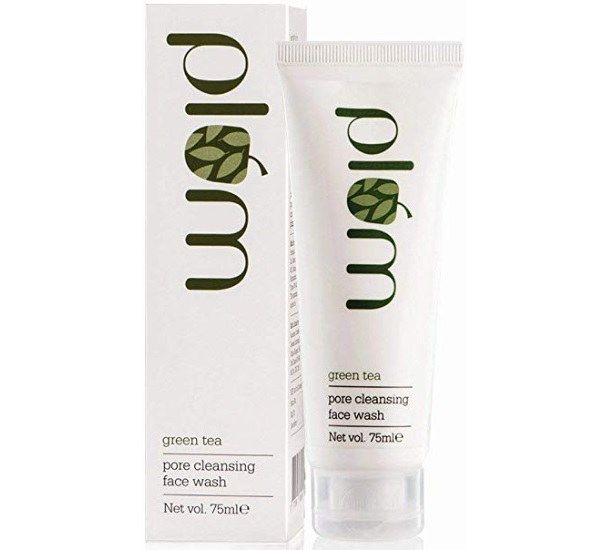 The green tea pore cleansing product contains green tea which is unnatural powerful antioxidant to get rid of the toxins and dirt from your face. It is rich in glycolic acid that cleanses your skin. This facial cleanser is a specially formulated for oily-combination skin type. The product is the best to avoid blocked pores to eradicate the cause of acne. You can apply it two times in a day to get beautiful and soft skin. It is a paraben free cleanser.
2. Globus Remedies Glycolic and Salicylic Acid Face Wash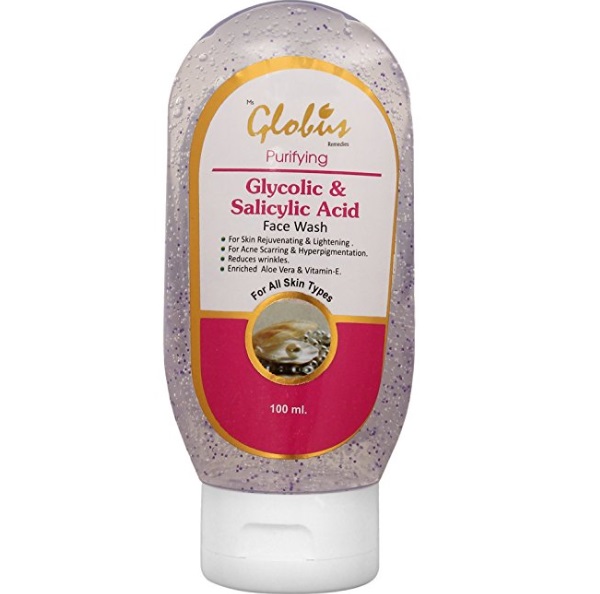 This product contains glycolic and salicylic acid both. It is enriched with aloe vera and Vitamin E as well. It's the best facial cleanser which is very affordable for acne scars and hyper-pigmentation. It contains glycolic acid in 10% and is a non comedogenic product. Salicylic acid works by reducing the amount of dead skin cells. The salicylic acid with glycolic acid foaming face wash will give you clear skin faster. 
3. Recast Glycolic Acid Exfoliating Face Wash for Men and Women
The Product is rich in Alpha Hydroxy Acid and contains ingredients that cleanse your skin deeply. It is a paraben free and wrinkle erasing product that also gives you spot reduction. It is safe for normal, dry combination and sensitive skin. As the face wash doesn't contain any harmful products, it won't irritate the pH balance of the skin, hence, is the best glycolic acid face wash for acne.
4. BERKOWITS Sebum Watch Face Wash for Acne Scar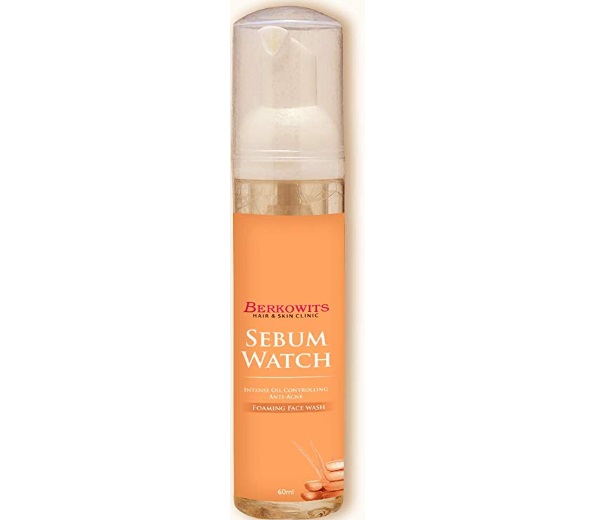 The facial cleanser is suitable for getting rid of the Acne scars. It also gives you oil controlling properties and is a foaming face wash. It effectively reduces blackheads and eliminates pimples. It has salicylic acid along with glycolic acid and aloe vera extract. Undoubtedly, is one of the best anti acne face wash which is also very affordable and the best facial cleanser with glycolic acid.
How to use: You can use this foaming gel face wash, two times in a day for an effective solution for acne prone skin.
5. O3+ Glycolic Acid 10% Face Wash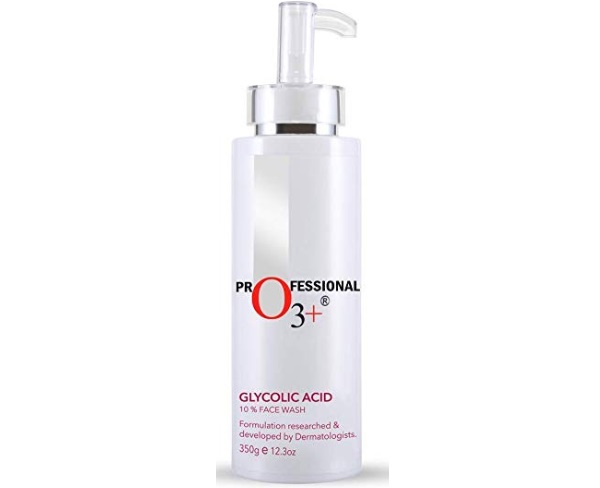 O3+ professional face wash contains 10% glycolic acid. It is a formula which is developed by Dermatologists and is a well researched product. It has great skin cleansing properties that brighten and lighten the skin. It exfoliates your skin and gives you beautiful skin complexion. It's the best 10 percent glycolic acid face wash in India, suitable for normal to oily and acne prone skin.
How to use: This face wash can be used two times in a day. Take small amount on your palm and dilute it with some water. Apply on the face in circular motions and wash it off with clear water. Avoid applying near mouth and eye area.
6. Ahaglow Glycolic Acid 10% Face Wash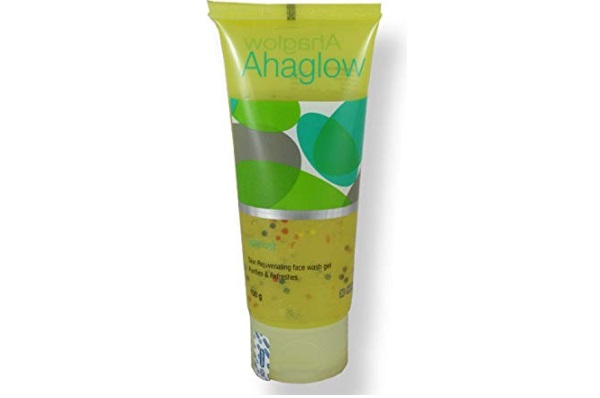 The facial cleanser contains glycolic acid in 1% which is sufficient concentration to get rid of the acne scars and mild exfoliation. It also contains aloe vera that makes it safe for sensitive skin. The product is perfect to keep your skin rejuvenated all during the day. You can take the gel face wash on your palm and massage on the face. Wash off with clear water. 
7. Lotus Makeup Youthrx Active Anti Ageing Foaming Gel Face Wash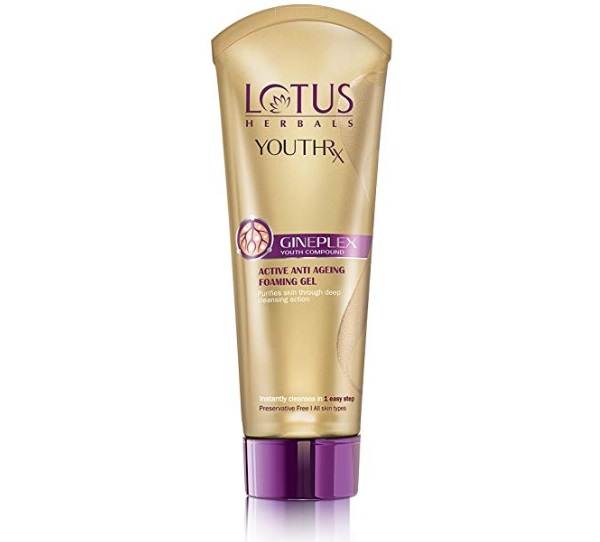 Lotus anti aging face wash contains jojoba, Ginseng, Ginger, Milk peptide Complex, Alpha Hydroxy Acids along with glycolic acid. It retains your skin's moisture balance and maintains a healthy pH balance. It gives you glowing complexion instantly and enhances skin renewal. You can use it two times in a day. It also eliminates lines and wrinkles.
8. Toulon Glycolic Acid Facial Cleanser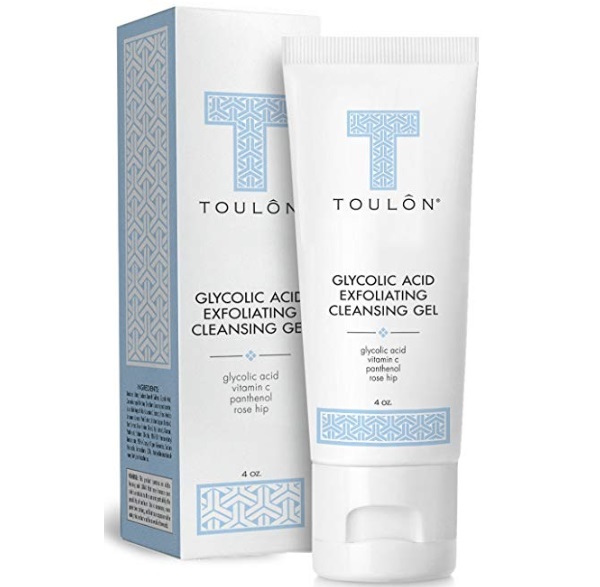 This is top Glycolic acid facial cleanser containing Alpha Hydroxy Acids along with lactic acid and Vitamin C.  It is one of the best rated face wash for dry sensitive skin. It also reduces acne on dry face and brightens the age spots. It is perfect to be used by men and women during all the season. It is an organic and natural cruelty-free product that contains 100% pure rosehip oil and paraben-free product.
9. L'Oréal Paris Revitalift Bright Reveal Cleanser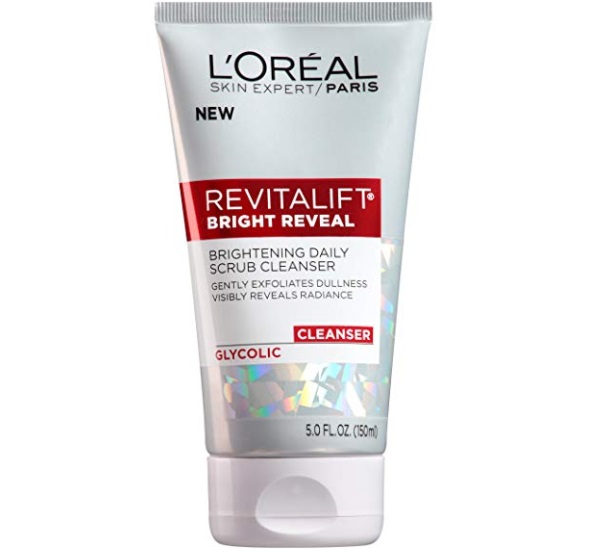 This skin brightening daily scrub cleanser gently exfoliates the dullness from your skin and visibly reveals radiant skin. It is a cleanser based on glycolic acid that helps to revive bright looking skin. It helps to improve skin tone and makes it smooth. The product helps to get rid of the wrinkles and fine lines. As you get old, skin's natural ability to shed surface dead skin cells diminishes with age. Glycolic acid with micro-pearls exfoliates the dullness.
10. Sanctus Activated Charcoal Oil Control Face Wash for Men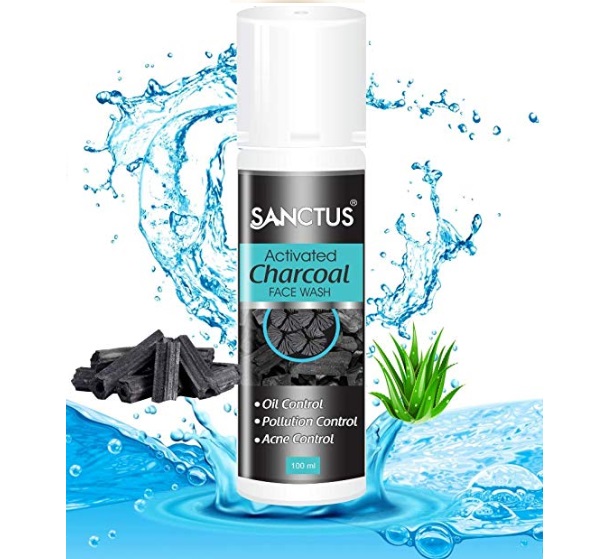 The product contains glycolic acid along with Vitamin E and aloe vera. It is actually a charcoal based oil control face wash for men. It repairs the skin damage and gives you glowing skin. The product detoxifies your skin from the harmful pollutant settled on your skin layers. It maintains healthy pH balance. It is one of the best products to get rid of the toxins and dullness causing pollutants.
How to use: Damp your face and neck with water. Take a small amount of this face wash on your palm and massage gently on the entire face. Rinse it off with clear water and pat dry for best results. Use it every day in the morning and evening.
Benefits of Glycolic Acid Face Wash Products?
Glycolic acid is considered beneficial for your face as it mildly exfoliates your skin by removing the outermost layer of the skin and tissue.
Hence, it reveals a bright and glowing complexion. Products that have glycolic acid help to treat marks, blemishes and scars on your skin. Long term use of such products can also give relief in skin discoloration like pigmentation and aging science like fine lines and wrinkles.
When your skin is oily, then glycolic acid skin care products can help you get rid of the dead skin cells and unblock the blocked pores that can lead to pimple and acne formation. This ingredient also replenish lost moisture from your skin this makes it an effective ingredient in moisturizer.
When it comes to anti aging moisturizers, you must check that it should contain glycolic acid in them. You can use glycolic acid products like face wash every day.
Generally the ingredient is safe to be used even for the sensitive skin. You can also use benzoyl peroxide and glycolic acid face wash.
These are the best benzoyl peroxide and glycolic acid face wash in India which can be tried for acne, pimples and wrinkle removal.