Face wash for acne scars is meant for fading the pimple marks, scarring and dark spots on your skin. But a lot of readers do ask us, which is the best face wash for pimples and dark spots in India. For them, we created this guide to help you choose the best face cleanser for your acne prone and oily skin type. Scars and spots can be your biggest trouble, once the acne heal. Actually, these blemishes can also be due to UV exposure and pollutants. So, if you have acne scarring and marks problem, then I would really recommend that along with trying the anti acne creams to fade those scars, you must also try the facial cleansers that help your skin to become even and blemish-free. If you're wondering which face wash is best for acne scars? In this article, I have compiled the best face washes for acne scars in India which also works on dark spots.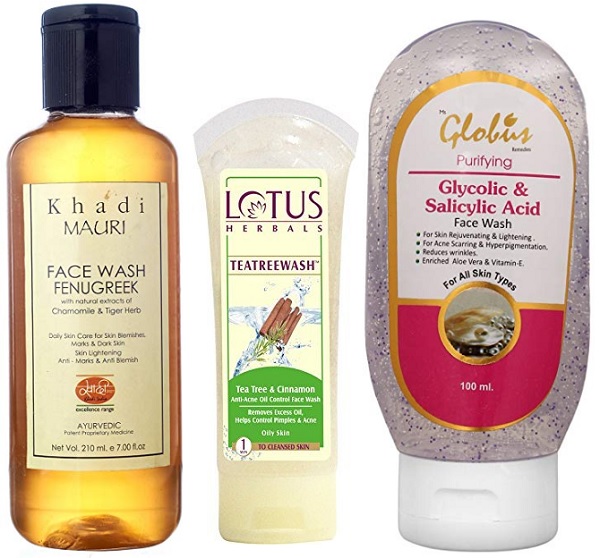 These are from the popular and best selling face washes for getting rid of scars and marks from your face and are available online easily, therefore, buying them should not be a problem for you. The discoloration and red spots is the most dreaded skincare issue that teenagers and young adults find hard to get rid of.
Therefore, the first thing should be getting a good skin care regimen. While, we must avoid not picking up the pimples. Because when that's done your chances of acne marks and scars increase manifolds. Other than that, people who're struggling with scars and pimple marks, should use sunscreen religiously as that will help protect their skin against UV exposure.
Using the Dermatologist approved acne scarring products like the facial cleansers, creams, other facial packs and mask will definitely help you in fading those marks from your skin. Naturally as well, your skin repairs the damage due to pimples and acne, but these spots can be there on the skin surface for few weeks to few months.
As a teenager, who was suffering from excessive acne and marks on her skin, I know how that feels. It really reduces your confidence and that is something none of us would wish to have on our face. You should never let the acne scars lower your confidence. But this is the right time when you need to say them goodbye.
How to Remove Acne Scars?
You have to do two things, one is to use a cleanser that protects the skin from bacteria and prevents the acne. The next step is to exfoliate your skin regularly to not let the dead skin cells built up over the skin pores. And lastly your face wash for Acne should also have Acne scar reducing properties.
Top 10 Best Face Washes for Acne and Scars in India
With this, choosing the best face wash for Acne scars and marks in India, will be easier. Let's check these scar lightening face washes that you can try everyday twice in a day.
1. Blue Nectar Ayurvedic Pimple Clear Face Wash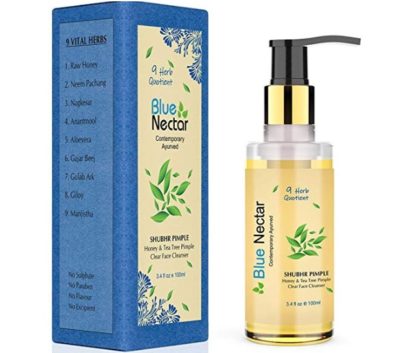 The facial cleanser comes from a really organic brand and trust us, it has received extremely positive reviews. A blend of potential 9 Ayurvedic Herbs this face wash works to fight the pimple causing microbes. I like that this brand is sulphate and paraben free and it's completely ayurvedic face wash to get rid of the acne marks and scars from the skin. It's suitable for all skin types that is formulated for oily to acne prone skin. If you get pimples every now and then, then leave those nasty scars on your face like on your nose, forehead and cheeks, then this is the best option to use. Honey in it makes this face wash suitable for summers and winters. It deeply cleanse the oily and greasy skin without over drying. It also controls the excessive oil secretion on the face. I am sure you will be satisfied with the results that this face wash gives you. Other than that, I also feel that this is a good face wash for dark spots and uneven skin tone. So, if you are someone have tried multiple facial cleansers for the oily and pimple prone skin, then this can give you really good results.
2. Khadi Natural Fenugreek Face Wash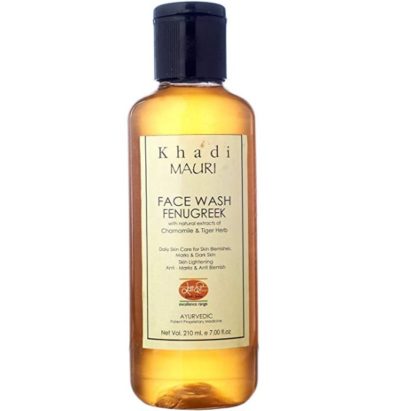 This Khadi natural face wash is filled with fenugreek and orange extracts. It's also a SLS and paraben free cleanser which is made with the purest ingredients without the chemicals. The gel based orange colour of this face wash is really enticing and does not dry your face after the application. So if you have very dry skin which is also prone to breakouts then this is a cleanser that you can use as it will prevent the breakout and fights the dark spots and acne marks. The lathering properties of this product is quite good.
3. Torque No Scars Face Wash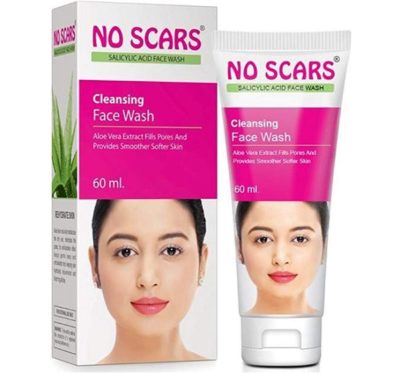 You might have heard about the No Scars Cream, which helps to get rid of the blemishes and this is the face wash. The No Scars Face wash is a salicylic acid face wash with aloe vera to combat the open pores. Do you know earlier, I have also posted about the glycolic acid face wash. Yes even glycolic acid is suitable to fade pimple scars from the skin. This acne scar removal face wash works in double action by making the hyper-pigmentation lighter, working on your blemishes and even stretch marks. It means that the product also contains activated carbon that gives your skin fresh feel and sucks out all the impurities that can cause the skin to appear dull and lifeless.
4. Berkowits Hair & Skin Clinics Sebum Watch Face wash For Acne Scar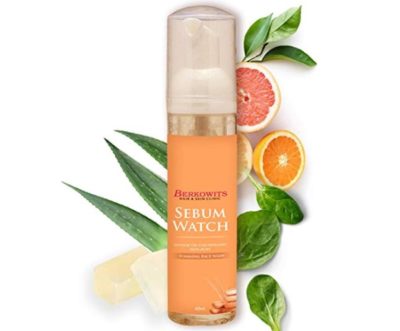 This brand is from the very well known skin and Hair Clinic. It's exclusively made for the acne scars and for preventing acne. It comes with an intense oil controlling formula that regulates the oil balance and make the skin less oily. The face wash is one of the best facial cleansers with salicylic acid, glycolic acid for scars and marks. Regular use of this facial cleanser also improves the skin appearance and pore size. It removes the 99% of those acne causing bacteria and clarifies the acne prone skin. So it can be an effective and the best pimple marks removal face wash for your acne and marks. 
5. Lotus Herbals Tea Tree and Cinnamon Anti-Acne Oil Control Face Wash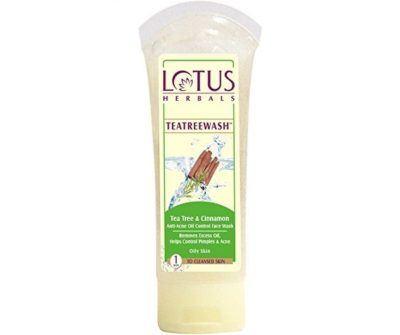 Hands down this will be my most favorite and preferred face wash for oily skin and acne scars in India.  So, if you ask me, which is the best face wash for acne marks, scars, spots and even to get rid of the cystic pimples, I would recommend it. Both tea tree and cinnamon are very powerful as an antibacterial agents that works to clear your skin.
The gel based face wash clears the skin by fighting the bacteria yet does not make your skin stretch your dry yes eat during the winter. It's an affordable product which regulates the sebum production on your skin and I have also noticed that after using this, I get glow on the skin and my open pores are also reduced in size do that is temporarily. It contains oak bark, an astringent product which soothes inflamed skin. It'll work even when you've combination face with oily T-Zone.
6. Globus Remedies Glycolic And Salicylic Acid Face Wash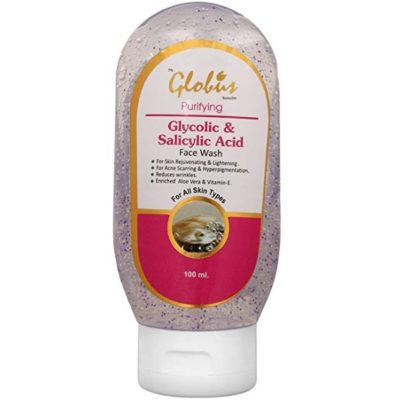 It's the best glycolic and salicylic acid face wash for scars. Along with that it contains micro-beads that polishes your face. It contains four main ingredients like aloe vera Vitamin E, glycolic acid and salicylic acid. It's one of the best face wash for acne and dark spots help to rejuvenate your skin and lightens the acne scarring and pigmentation. Pigmentation is not just a skin issue dreaded by adults, even youngsters like teenagers can have this skin condition. Glycolic acid is a non-comedogenic ingredient, with the capability to remove the dead skin cells and reduce the information that is related to cystic acne. Do you know this also helps in removing blackheads and whiteheads?
7. Nivea Men Dark Spot Reduction Face Wash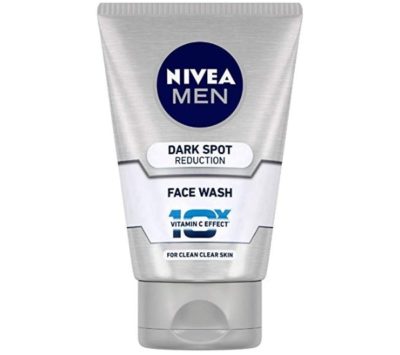 Nivea men dark spot reduction face wash is undoubtedly is the best facial cleanser for men, who've acne prone and oily skin. It contains 10 nutrients that make your skin glowing and even. It is helpful in removing pimple marks as well.
Key ingredients: Licorice, Whitanat, Vitamin E, Pro Vitamin B5, , Vitamin C, Ginko Leaves Extract, Ginseng Root Extract, Glycerin, Magnesium Chloride, Glyceryl Glucoside
The men's cleanser gets rid of the excessive oil from your skin while fighting the scars and dark spots. It's also suitable when you have that sensitive skin after the shaving. It buffs the unwanted pollutants for fresh glow. My brother has used this face wash and really liked it. It's a really good face wash for acne scars.
8. Olifair Hydrate Insta Glow Gel Face Wash Spot Reduction Face Wash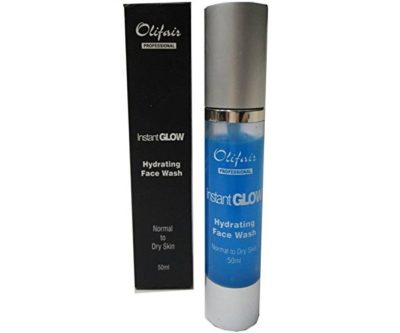 The gel based face wash is a hydrating the product which is suitable for normal to dry skin. It means that on your dry-normal skin as well, you can experience acne. So, when acne leaves spots and scars, this is a good option to get rid of that. As it's hydrating that lightens the scars simultaneously. It makes your skin glowing and bright. You can also use their cream which is moisturising for normal to dry face.
9. Pond's White Beauty Daily Spotless Lightening Face Wash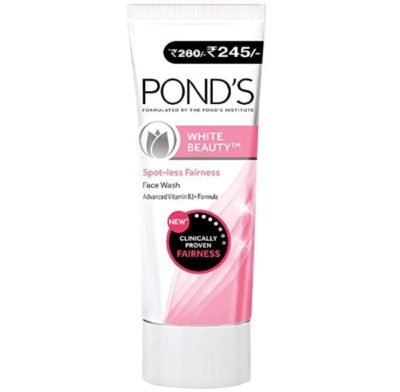 The ever popular Ponds White Beauty Spotless Lightening Face Wash is for people who'd like to have even tone and fair skin complexion. It's an advanced vitamin B3 formula that works on the dead skin cells and spots. The face wash is a very popular product amongst youth. It has all controlling formula therefore,  I will not advise this to be used by people have got very dry skin, though, if you have normal skin you can still try this acne scar removal face wash.
So I hope that out of the list of the top best face wash for acne scars in India, you were able to pick the one that suits your budget and preference.
Getting rid of the scars and marks from your face is not a tough task, if you take care of your skin regularly.
You must use suitable cleansers, skin creams everyday to keep the skin protected and to boost the skin's natural repair system. Exfoliating regularly, like twice in a week will make the results achieved faster. When you scrub or exfoliate, your dead skin cell layers are removed and as the new layers or expose your skin gets more clear.