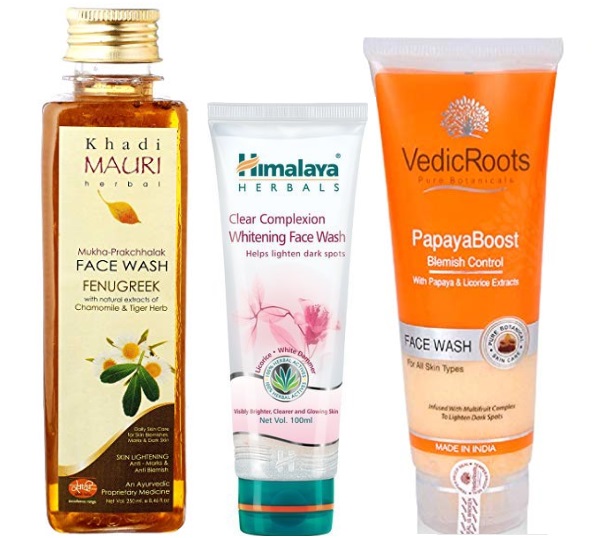 Best face washes for pigmentation in India, is what we're going to talk about in this post. Pigmentation makes our skin look dull patchy and lifeless. There can be several factors responsible for this skin condition but the point is which are those products that can help us treat skin pigmentation in a better way. In this article, we are going to talk about the best pigmentation control face wash available in the market. These are affordable products that you can use to lighten the hyper-pigmentation and other skin issues like melasma, scars, age spots along with the dark spots. You can also use the creams to fade the dark spots. 
Top 10 Best Face Wash for Pigmentation in India For hyper-pigmentation Cure
Here is this list  the top 10 best facial cleansers for hyper pigmented and tanned skin in India.
1. Mcaffeine Neem Face Wash Cleanser with Argan Oil and Vitamin E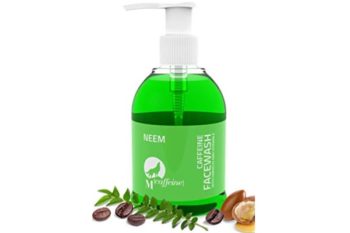 The Argan oil cleanser is rich in Neem along with Vitamin E. It helps to Detox and cleanse your skin deeply and pulls all the dirt from the pores. It is the best face wash for pigmented oily skin with dull dark patches on the face. The product is also considered the best face wash for dark spots. It has received some of the best reviews from the users.
2. Khadi Mauri Herbal Anti Pigmentation Fenugreek (Methi) Face Wash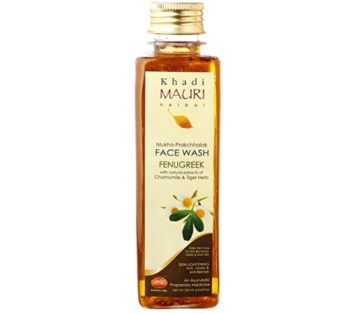 The herbal face wash is from Khadi. It is suitable for pigmented and patchy uneven skin tone. The product helps to unclog your pores and revise the dull and dark skin tones. It is suitable for all skin types and fades spots to give you even toned glowing skin. It is a gentle face wash that contains fenugreek that moisturizes the skin and reduces inflammation. It has Tiger herb, Basil and chamomile. This cleansing product is one of the best pigmentation removal face wash that is chemical free. You can also try those anti-pigmentation facial kits available in India.
3. Nivea Men Dark Spot Reduction Face wash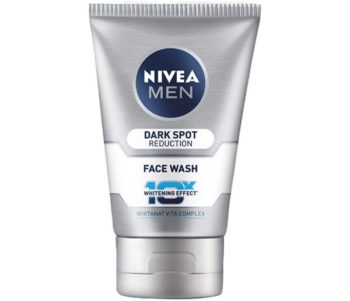 Nivea dark spot reduction face wash is a mild foaming face wash that removes impurities along with the excess oils from your skin pores. It deeply cleanses your skin and makes your face lighter. Not just that the product is rich in Licorice ,Vitamin C, Whitanat, Vitamin E, Pro Vitamin B5,Ginko Leaves Extract, Ginseng Root Extract ,Glycerin, Magnesium Chloride, Glyceryl Glucoside.  It effectively fades the spots and pigmentation from the skin. It is suitable for men with all skin types.
4. Lakme Absolute Perfect Radiance Skin Lightening Face Wash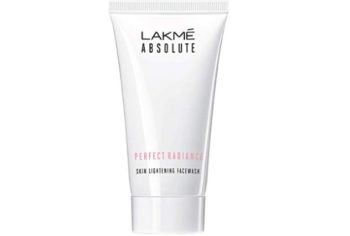 The skin lightening face wash from Lakme lightens the deep pigmentation and spots from your skin but also deeply cleanse the face to make it fair. It fights 6 blocks of fairness like Dark spots, Acne marks/blemishes, Uneven skin tone, Oiliness, Tanning and Dullness.
How to Use: To use this mix small amount of water in the palm of your hand with a drop of this face wash. Gently massage on to your wet face and rinse thoroughly with water. The product is rich in vitamins that fight the dullness causing factors.
5. Himalaya Clear Complexion Whitening Face Wash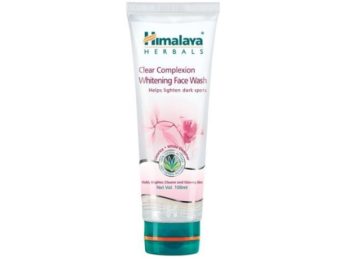 The clear complexion whitening face wash helps lighten dark spots and pigmentation from your face. It is Rich in licorice and white dammar that is a rich source of polyphenols that fights the darkening causing factors. White dammar is rich source of antioxidants like flavonoids and phenols that moisturize the damaged skin and improves the skin complexion.
6. Vedic Roots Papaya Boost Blemish Control Face Wash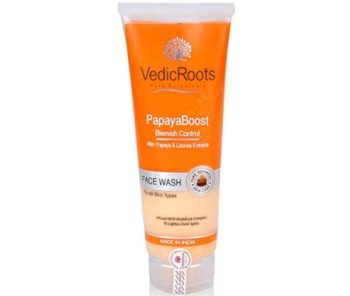 The blemish and pigmentation removal face wash contains papaya and liquorice extracts. It is a face wash suitable for all skin types and can be used two times in a day. It naturally refines your skin tone and clears the spots and blemishes. It also works on the spots and hyperpigmentation. Papaya extracts naturally lighten your skin.
How to use: Just take a pea sized amount of this face wash. Massage on your entire face and neck and wash off with clear water.
7. Olay White Radiance Advanced Whitening Foaming Cleanser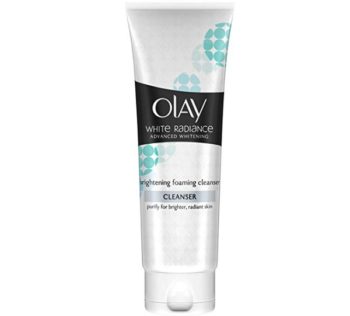 The advanced foaming cleanser gives you blemish-free even tone skin. It brightens your complexion by cleansing the skin layers and improving the texture of your skin. It removes dirt oil and makeup traces without over drawing. This simple process makes your skin brighter and radiant. The skin whitening face wash is also suitable to cure hyper-pigmentation and melasma.
How to apply: You can dispense small amount of this product and massage on your wet face for few seconds. Then, focus on the oily areas. Rinse thoroughly after that.
8. Jovees Herbals De-Tan Face Wash Helps Removing Tanning & Dark Spots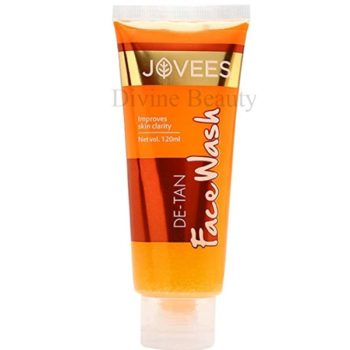 Jovees De tanning face wash improves the skin clarity by fighting the blemishes, spots and hyper-pigmentation. The product is free of parabens and is a cruelty free product available in India. It helps in removing tanning that we accumulated due to extreme UV exposure and this tanning can sometimes lead to pigmentation when untreated.
9. Leovea Lemon Tomato Face Wash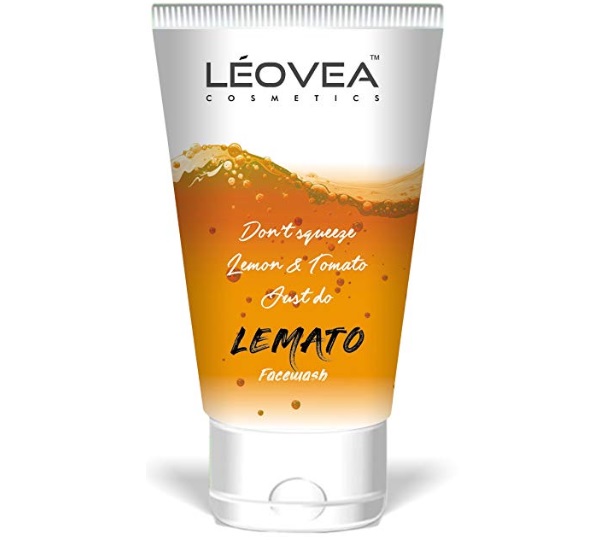 The tomatoes are rich in enzyme lycopene that works wonderfully to cure pigmentation. The pigmentation removal product also helps to shrink pores and fight against acne. The product is a gentle gel based cleanser that removes the blackheads stunning and excessively that can make your skin blemished by adopting the acne during the hot summer season. This is one of the best affordable facial cleansers for oily skin that remove dark spots and pigmentation.
10. Oriflame Optimals Even Out Cleansing Foam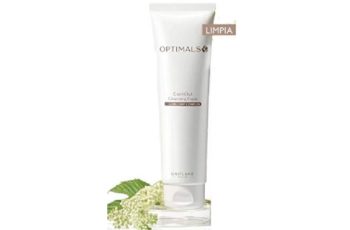 Oriflame Even out cleansing foam has a rich lathering formula.  The product works to fight the dark spots and dullness. It is a dermatologically tested product that is suitable for all skin types. The gentle nature won't make your skin dry after the application but its lumilight Complex and anti pollution active formula shields the skin from day to day pollution bad effects. This is the best face wash to fight hyper-pigmentation and pollution dullness.
So, wrapping up this list of the best pigmentation removal face washes in India. Hopefully the list will get you the best one for yourself which can lighten the skin tone and darkness.