Perfume for men helps to make the statement for many men as it's kind of that invisible grooming essential which can be really powerful. Skinn by Titan is a well known and popular brand amongst men of all age groups in India. Be it your budget, specific fragrance liking, this brand has it all. While a perfume helps to mark memories, it also enhances your look and personality. A well groomed men is always remembered and praised. At a meeting, event or party, a signature scent will help you create a distinguish personality and statement even when you meet new people. Let's take a look at the best Skinn by Titan perfumes for men.
List of the Best Men's Skinn by Titan Perfumes in India
1. Skinn Raw Perfume for Men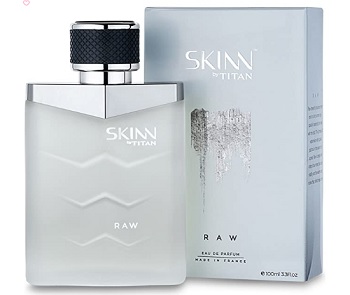 Skinn Raw perfume for men has a long lasting and sensual fragrance that matches the confidence and your elegant persona. It's one of the best men's perfumes at within reach price for most people. It has the top notes of bergamot, Citrus fruits and Apple Green. Middle or core has strong and stable notes of walnut leaves, carnation and geranium. Base notes have Indonesian Patchouli, Cashmere and Guaic Wood. It's a perfume that elevates your charm and creates a style statement. The citrus notes of bergamot and lemon have that affect to keep your mind clear and senses fresh.
2. Skinn by Titan Steele Perfume for Men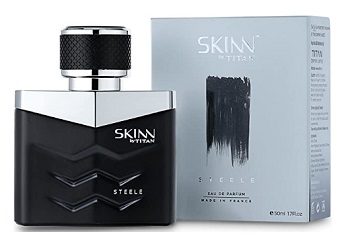 Skinn by Titan Steel perfume for men has a rug and beautiful black coloured bottle. This is a magnetic impression perfume that combines the Charisma with confidence. The Perfume body looks really good with a nice and attractive. It has the charismatic woody undertones with the notes of pepper along with the unique Vanilla. When you spray it, the top notes consist of the powerful explosive fresh accords of Sparkling Citrus, Bergamot and Pink grapefruit. It's blended with fruity green rhubarb notes. The middle notes are the co-ordinates of this perfume have the Elegance and spicy Accord of pink paper, payment oh, nutmeg mix with floral notes of geranium. The complex background of trailing nodes is extremely seductive with Woody undertones, Tonka beans and cedarwood.
3. Skinn By Titan Amalfi Bleu Perfume EDT For Men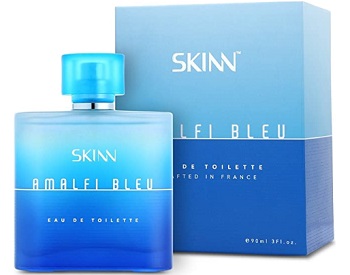 Skinn by Titan Amalfi Bleu perfume for men has a nice bottle that looks really amazing and masculine. The top notes have citrus, lavender and galbanum. Heart notes have flower with base notes of Moss Oak. It is basically a woody perfume for men that are inspired from the fresh Mediterranean Breeze flowing through the aromatic herbs. It's one of the most long lasting and affordable perfumes for men. However some men claim that it may not last long.
4. Skinn Verge Perfume for Men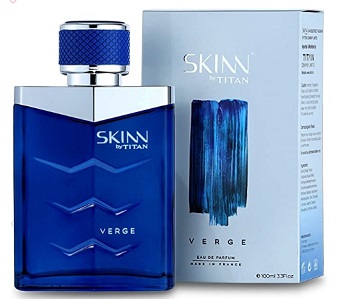 Skinn by Titan Verge perfume for men has a nice blue packaging that looks really amazing. It is a classy outdoor perfume for men, with sparkling lemon coupled with fresh aromatic accords of leather and fresh grass. It is a perfume for men, has top notes with Lavendin oil, Lemon oil and Rosemary and Basil oil. Middle notes or heart notes have top best notes, composed of Patchouli, Leather accord and vanilla. It's a fragrance suitable for the classy and outdoor inspired men. So if you are going for outdoors and adventure sports in this perfume. It has that long lasting feeling of sophistication and elegance.
5. Skinn Forest Rouge Perfume for Men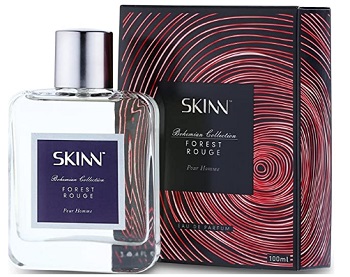 Skinn by Titan Forest Rouge perfume for men is for that aromatic and eye catching fragrance that has the enduring scent. Top notes have nutmeg and lemon oil. Heart notes have Sandalwood, Violet Green and Lavender while the base notes have Smoked Vanilla. It is a perfume that has amazing long lasting time span and is for suitable for daily use. It is basically an Oriental Woody floral fragrance for men, crafted exclusively by the best perfumers. The fragrance opens with warm nutmeg and fresh lemon and settle down with rich Vanilla and smoke accords to make it lastly longer.
6. Skinn By Titan EXTREME For Men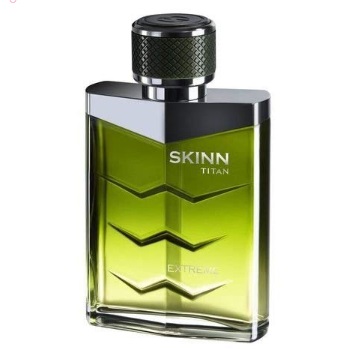 Titan extreme perfume for man has an ombre bottle. It is a perfume that evokes the confidence because of its captivating fragrance. Lemon and Basil combined to form the energetic and fresh top notes of this men's perfume for everyday use. The core of this perfume has the bold essence of Geranium, contrasted by the Cedar wood while the base notes of this perfume has Indonesia Patchouli, Sandalwood and a touch of Vanilla from Madagascar. The Perfume has a rich masculine woody scent that makes it very amazingly.