Oily skin is tricky to take care of when compared with other skin types. Oily skin also struggles with multiple skin problems that are faced by people with every season change. In fact, during summer season excessive secretion and pollution leads to frequent breakouts, blackheads, whiteheads and a greasy stickiness which attracts more dirt.
So, if you have oily skin, then that calls for extra care and attention. If you are looking for the best soaps for oily skin, there are several soaps available in the market that helps to treat the oily skin condition. These oil control soaps are rich in ingredients which are known to put a stop or regulate the excessive production of. So if you are still wondering which are those soap suitable for your oily and acne prone skin, then our tops picks for effective oily skin care soaps will definitely help you. The list includes the soaps for face and body both when your skin is oily.
List of Top Best Soaps For Oily Skin in The Market (2023)
1. Dove Go Fresh Oil Control Moisturising Soap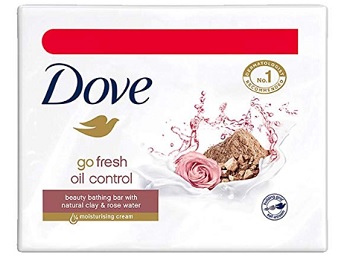 Dove go fresh oil control moisturizing soap is made to control oil production and to balance the sebum regulation. While cleansing your face and removing deep seated impurities, it contains rose water and natural clay. These ingredients nourish the skin and help to uproot the impurities which get embedded deeply in the skin layers. Making your skin soft and supple, it also reduces the oil. This is one of the best oil control soaps in the market at reasonable prices.
2. SebaMed Cleansing Bar for Normal to Oily Skin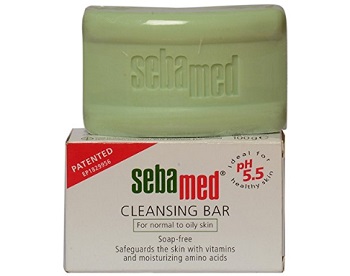 Sebamed soap for oily skin is yet another good option, known to give you fairness and relief in acne and pimple infection. So, this oily skin soap can be applied on your face as well as body. With the rich antiseptic ingredients, it helps to minimise the skin infections and removes the blackheads and blemishes. You can apply this soap everyday twice in a day and is certainly one of the best daily use soaps for oily skin.
3. Bombay Shaving Company Oil Control Bath Soap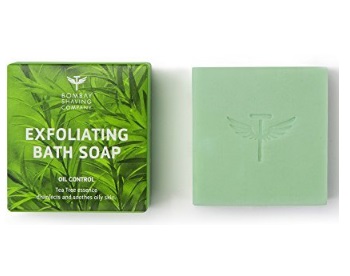 Bombay shaving company Soap is rich in tea tree oil and essential oils. Tea tree is by far the best ingredient to treat oily and acne prone skin. It is one of the best natural anti inflammatory, antiseptic and antifungal ingredient to cure the common issues that oily skinned people struggles with. So right from controlling the excessive oils on your skin, this also regulates the sebum production. While giving you clear and pimple free skin, this soap helps in skin glowing and blemish free. This is why this soap is the best soaps for oily skin in the Indian market.
4. Himalaya Herbals Neem and Turmeric Soap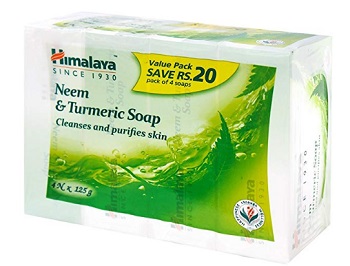 Himalaya Herbals Neem and Turmeric soap contains the essence of power anti-septic botanicals. Cucumber and neem as we know is wonderful in curing the oily skin condition. While turmeric is the best organic ingredient this Himalaya soap for oily skin. It helps in patchy skin tone and clarifies the complexion. It's a really popular Indian soap brand that is very affordable and is easy to buy from shops and online.
5. Vaadi Herbals Neem Tulsi Soap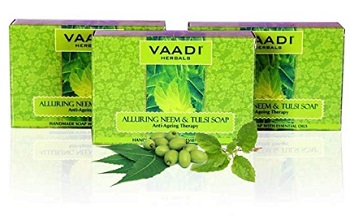 Vaadi Herbals soap for oily skin with Neem and Tulsi is there a best rated product. Enriched with Neem and Tulsi along with other herbal botanicals, this helps to keep the skin supple while getting rid of the impurities and pollutants. It keeps the skin moisturized and removes the excessive oil off the skin surface. It does not dry out the skin completely, therefore, it protects your skin from the pollutants while giving oil control benefits So, if you are looking for the best Ayurvedic soap for oily skin in the market, then this can be a good choice for you.
6. Pears Oil Clear and Glow Soap Bar
 
Pears soaps are very popular and this Pears soap for oily skin is yet another product that helps to cure excessive oily skin condition. If you are a teenager or an adult who's suffering from excessive oily skin during summers, it's a really good option for you. It controls the oil production, but also hydrates the skin. After the wash, you do not feel that your skin is getting completely dehydrated, but it maintains the pH balance and glow. Its key ingredients are lemon and glycerine, widely known to make skin brighter and fresh.
7. Medimix Ayurvedic Classic 18 Herbs Soap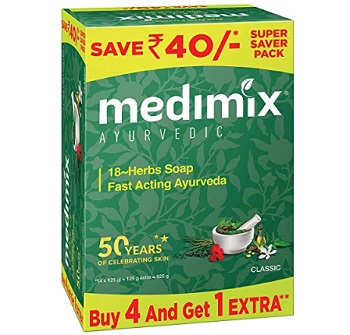 Medimix Ayurvedic soap is a rich blend of 18 herbs. If you would like to have a herbal soap for oily skin, then choose this for sure. This soap contains the Ayurvedic ingredients like Neem, Basil, and turmeric. So clearly this is one of the best soap for oily skin in summer to cure infection such as pimples and acne. And even for the body skin, like excessive sweat, rashes, prickly heat etc. The soap has a dark bottle green colour and has a medicinal smell to it. This is yet another best soap for very oily skin to heal not just pimples and acne and their marks as well.
8. Biotique Bio Orange Peel Revitalizing Body Soap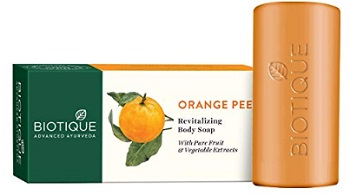 Biotique Orange peel soap is yet another best Biotique soap for oily skin that comes with the goodness of natural extracts and refreshing orange peel. It cleanses the skin thoroughly and retains the moisture. While removing excess sebum, it maintains the much needed natural moisture, which does not dry out the skin. It removes the impurities, pollutants and dust that that accumulates on the skin surface. The soap helps in reducing the breakouts and to attain even tone skin. This is yet another good everyday use herbal soap for people with oily skin.
9. Clinsol Soap For Oily Skin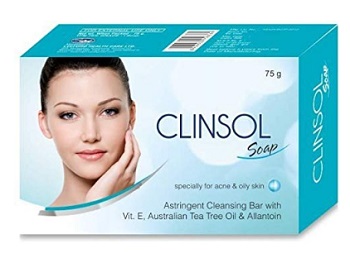 This is a natural soap for oily skin that you can pick for its herbal nature. The soap is rich in vitamins and natural ingredients, which does not disturb the pH balance rather helps to maintain the glow. Rich in antioxidants and ingredients, it nourishes and improvises the skin complexion. This is effective soap bar to treat oily skin. Apply it twice in a day or whenever your skin feels oily would help you get the best results.
10. Nomarks Oil Control Soap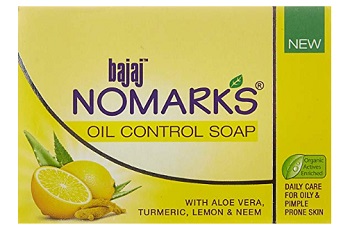 Nomarks oil control soap is made with ingredients such as aloe vera, turmeric lemon and neem. By the ingredients itself, it's evident, this is among the best soap for oily skin in India. This also the best soap for men's oily face in India. It gives rich lathers and gives antibacterial protection to heal the skin from pimples and blemishes. With the powerful ingredients, it is known to regulate oil balance and gives you matte look.
This is the list of the best soaps for oily skin available in the market and we hope that out of these products you would be able to pick the one that suits your oily skin the best. Most of these are very affordable and are available online. You can purchase them from there and also expect some additional discount.
Oily Skin Care Tips
After using these Face and body soaps for oily skin we would also advise you to follow some skin care tips to combat the oiliness. These tips to treat oily skin will further make your work easier.
During summer season always make sure that you drink a lot of water and apply enough of the sunscreens. It is a myth that oily skin does not need any hydration. However, if your skin is oily, use of an oil-free moisturizer would ensure that too much of sebum does not come up on the skin.
Most importantly when you have oily skin, always choose the makeup products according to the skin type. Always apply oil-free or water based makeup products, specially the foundations and compact powders. Mineral makeup works perfectly fine with oily and acne prone skin.
Other than that creamn based blushes and eyeshadows can make you breakout therefore rather than the creamy product choose oil-free ones.
Not just women but boys equally suffer to cure their oily skin especially when the weather is hot and humid. So scrubbing your oily skin two to three times in a week becomes necessary to keep the pores clean to avoid any breakouts. This is why choosing a good Scrub is also important. Once in a week application of mud mask would treat oiliness.
Now with the steps in mind, it's not very difficult to cure and treat oily skin and to prevent the common issues that you face when you have greasy skin type.