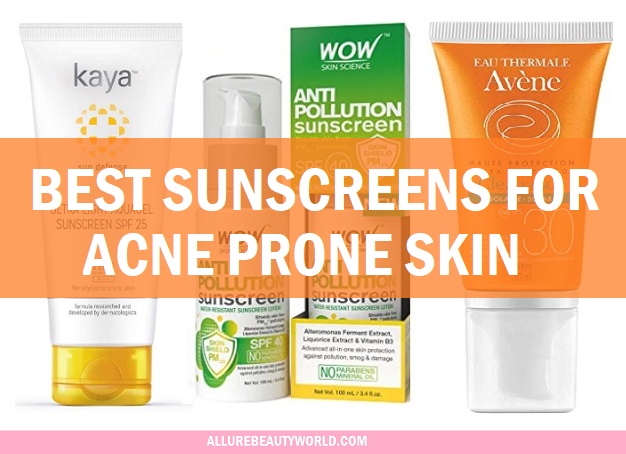 Best sunscreen lotion for acne prone skin? It's a question that a lot of us has, but no clue as break out prone skin is hard to manage. When it comes to using sunscreen for sensitive for Acne prone skin then it is recommended that you use sunscreen with non-comedogenic ingredients. If you are confused, if should you put sunscreen on acne? Sunscreens that can clog your pores by gunk-ing up the facial skin pores are the ones that are totally unsuitable.
Sunscreen lotions may not directly help in reducing acne and scars for many people but yet they help to protect your skin from the harmful UV rays. And this actually helps to minimize the skin damage due to photo radiations. In short, your sunscreen should not be very greasy, thick to coat your entire face however, there should be light weight and non-greasy, when you have skin that is prone to breakouts. You need to choose the skin care products based on ingredients, formulation and effectiveness.
How to choose the best sunscreen for Acne prone skin?
If you're wondering, why does sunscreen make me break out? While you are suffering from acne and zits on your skin, you must try the skin care products that should not contribute towards the breakouts. If you just applying any sunscreen on your face, then you are layering up a greasy layer on your skin. And that call for the break out.
Choosing the best sunscreen for acne prone skin, call for the best ingredients to look for in your sunscreens. And they would be: zinc oxide and titanium oxide. These two ingredients also help to treat acne on your oily face. Formula should be light and must not clog the pores with its ingredients. The white residue or layer can be often seen, when you apply sunscreens containing zinc oxide and titanium oxide. It is something that is common with majority of sunscreens that we use. If you are someone who wears a foundation or makeup base every day, you can also go for a foundation that has at least SPF 15. Furthermore, you can also apply oil absorbing compact powder with extra SPF in it. They would also help to prevent the excessive oiliness on your skin all throughout the day.
How to properly use sunscreen?
Non-Comedogenic
If you think, is the sunscreen clogging my pores? Your sunscreen should be oil-free and non-comedogenic in formula and nature. Oil-free product, means you are not putting more oil on your skin rather using something that is free of oily ingredients and grease that doesn't block your pores and. Non-comedogenic means that it does not contain any ingredients that can block the pores and break you out. This is the main feature that helps you in picking the best sunscreen for acne prone skin.
Formula
You can also use gel, fluid and spray sunscreens, if you have very extra oily skin. Such products are not very sticky and thick rather has light weight feel with sun protection. One thing to remember, one should never use a sunscreen that is made for the body on the face. This is because sun cream which are formulated for your body skin are generally thick, creamy and more greasy. This is why; they can make you break out, once you apply them on your face.
Broad Spectrum Protection
For maximum sun protection, you must try a product which has "broad spectrum". This term actually mean that your sunscreen will act and protect your skin against both UVA and UVB Rays.  UVB rays are the ones that burn and tan your skin. However, UVA rays damages the skin and causes premature aging. Over exposure to UVA rays can also lead to skin cancer. Therefore, we must avoid these two types of rays and for that, a broad spectrum sunscreen product is a must have, regardless of your skin type.
Sun Protection Factor (SPF)
A lot of men and women have queries like, how much SPF is needed for Indian weather and summers? For everyday, use SPF 15 or more. However, if you are someone who stay a considerable amount of time under the sun, then using at least SPF 30 sunscreens everyday help block 97% of UV rays. And you should apply sunscreen every day even if it's raining or cloudy outside.
Acne Treatment Products
Even when you have cystic or severe acne and your topical acne treatment is going on, then too you must not avoid sunscreen. Rather apply acne treatment products first and then wait for 20 minutes until they are completely absorbed in the skin. Then follow up with your sun protection product.
Moisturizer with Sunscreen
For someone who dreads excessive oiliness on your acne prone skin then you can follow a simple routine. You can go for a facial moisturizer that contains considerable amount of sun protection. This means that your moisturizer should be light weight and don't make your skin oily yet gives you broad spectrum protection. And ideal facial moisturizer with sunscreen for acne prone skin, is the one which is non greasy, oil free, with at least SPF 30.
This is how you can choose the best sunscreen for oily and acne prone skin.
List of The Best Sunscreen for Acne Prone Skin in India: (2021)
1. RE' EQUIL Sunscreen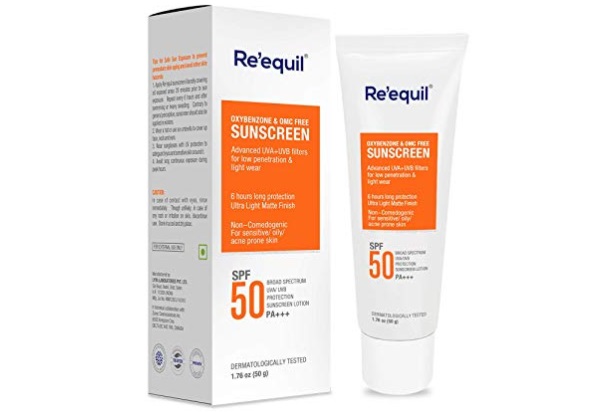 Free of Oxybenzone, this is the best sunscreen lotion for sensitive and acne prone skin in india. The non-comedogenic sunscreen lotion is dermatologically tested and is extremely lightweight. It gives UVA and UVB protection with broad protection spectrum. It is a SPF 50 sunscreen that gives 6 hours long protection. By for this is the best sunscreen for Acne prone and oily skin in India. It is a paraben free product that is ultra light in texture.
How to use:
You can apply it liberally on your clean face and neck and other exposed areas. Repeat it after every 5 to 6 hours or in case you sweat heavily or after the swimming. It spreads like a very thin lotion and feels like a matte cream so it gives you the benefits of a lightweight product which does not clog your skin pores.
2. Neutrogena Ultra Sheer Dry Touch Sunblock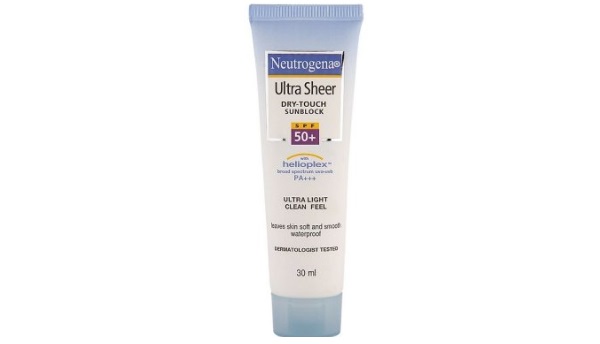 The dry touch sunscreen lotion contains SPF 50. It is one of the best sunscreen for Acne prone skin and oily skinned people. It is oil free, waterproof, sweat-proof and does not get rub of quite easily. It gets applied evenly on your skin without adding a greasy layer on top. It contains oat kernel extract that gives it a dry touch feature which provides matte effect after the blending. It is one of the best unisex sunscreens in India, which a lot of people with oily skin will like. It won't clog the pores and lets your skin breathe freely. Being oil-free and free of PABA, it is a must try product.  However, if you have extremely sensitive skin, then this may not be the best option. Rather use the above option that we have given you.
3. Kaya Skin Clinic SPF 25 Ultra Light Aquagel Sunscreen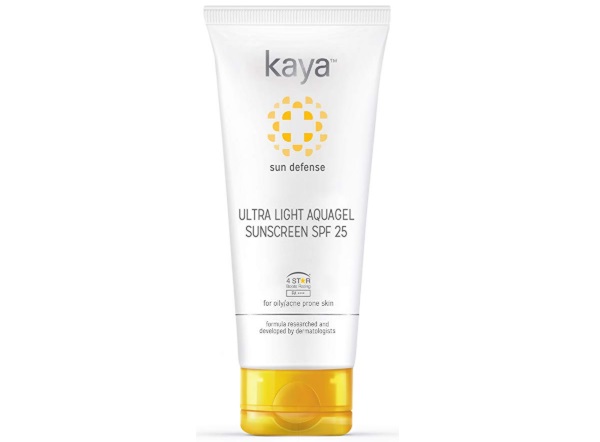 This ultra light Aqua gel sunscreen contains SPF 25. It is perfect to be worn every day by men and women. It is water resistant for up to 2-3 hours and can also be worn under your makeup. The product not pore clogging as it's being specially formulated for oily and acne prone skin. You can apply at 20 minutes before stepping out in the sun. Apply it after every 5 hours. The product also contains bioactive ingredients that help to protect your skin from the environmental damage and pollutants. It has been developed by the dermatologist.
4. WOW Anti Pollution SPF40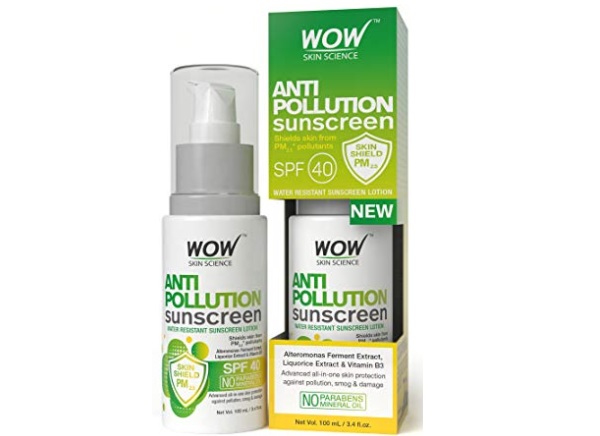 It's water resistant, free of parabens and mineral oils and the best thing is that it protects your skin from the pollutants. The product saves your skin from the pm 2.5 pollutants that can be highly damaging to your skin. These particles are found in the atmosphere in the form of pollution, smog, smoke and other damaging stuff that your skin get in touch with everyday. Such things make your skin look dark, dull and patchy. This product has a very light easy to get absorbed in the skin texture with ingredients like licorice and vitamin B3. It can be your one step solution to protect your skin from the pollution that we encounter on daily basis. This is why it is the best sunscreen for acne prone and oily skin in India. However it is also the best paraben free sunscreen.
5. Avene Very High Protection SPF 50+ Emulsion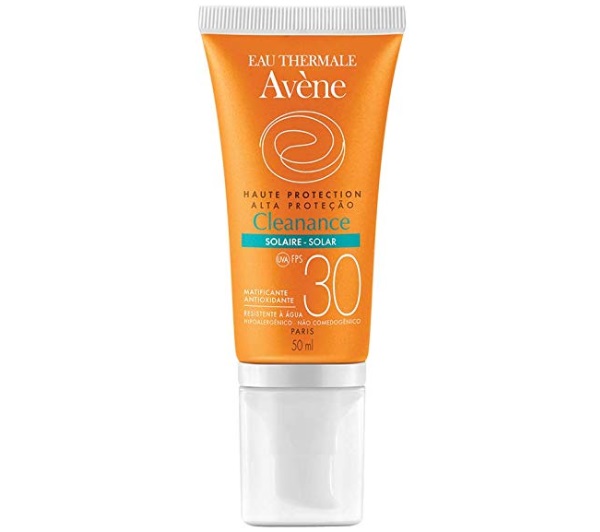 The formula is always considered good for oily skin. It is light and has quick to penetrable formula. The pump dispenser makes you comfortable while using this product. It is non-oily therefore, does not clog the pores or add a greasy thin film on your skin. It can be applied on your face and body both. The product also provides an effective protection against the sun radiations. It is a broad spectrum sunscreen lotion that comes with SPF 50+. The product may leave a light white residue on your skin after the application. For this, we would advise you to blend it nicely until all the white cast has been eliminated. And always keep it at least 10 to 15 minutes, before proceeding with your foundations in case you were one.
6. Greenberry Organics SPF 40+ Sunscreen Spray Lotion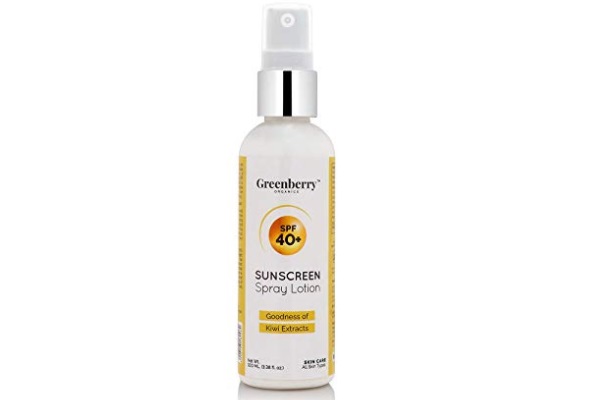 There are a lot of people who rely on organic and paraben free products. For them, this is a paraben and sulfate-free products suitable for all skin types. It is a blend of essential oils and other Bio natural elements that makes it loaded with nutrients at the same time protecting your skin from sun rays. It is loaded with the goodness of kiwi fruit and is rich in antioxidants that work to fight against the free radicals which damage your skin every second. It is a sunscreen spray lotion that you have to spray on your skin. It also protects your skin from the pollution, smoke, smoke and fuel exhaust other than the sun rays. The product is suitable for normal to oily skin. It is a very high rated product which has earned positive reviews from the people who have tried it.
7. Lotus Herbals Safe Sun UV Screen Matte Gel
Lotus Herbals Safe Sun UV Screen Matte Gel contains SPF 50. It gives you broad spectrum with Matte look. Oil control properties of this product helps to get a Shiny free skin for a lot longer. It is perfect for normal to oily and acne prone skin. It contains ingredients like Vanilla and horse chest nut that controls the excessive oils and protects from variety of UV rays. It gives you protection for up to three hours after which you can reply. It is one of the best sunscreen lotions for oily skin in India. It doesn't make your skin sweat or feel greasy, after the application rather gives you shine-free but non matte finish.
8. Lakme Sun Expert Fairness UV Sunscreen Lotion SPF 24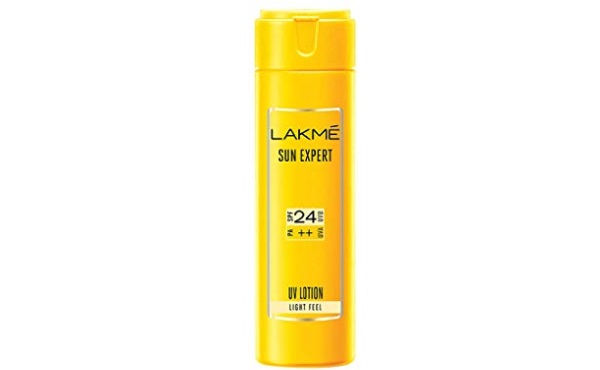 It has SPF 24 and fairness enhancing ingredients. This is the best skin whitening for lightening sunscreen for oily and acne prone skin in India. It gives a good amount of sun protection with SPF 24 and does not make a greasy finish on the skin. Blending nicely on your skin layers, it prevents tanning due to sun rays and instantly glowing skin. It is hypoallergenic and dermatologically tested product that is also very safe for sensitive skin. It comes with a 12 hour protection tag yet we would recommend you to re-apply your sunscreen after every 5 hours at least. This can leave a slightly white film on your face, therefore blend it nicely. If you live in an area that is extremely humid then avoid this sunscreen.
9. Glenmark La Shield Sunscreen Gel SPF 40

With SPF 40 this is water resistant and preservative free product. It doesn't contain any alcohol, parabens, colour additives rather is a dermatologically tested product. It gives you broad spectrum protection and helps keep skin hydrated. It gives sun protection up to 120 minutes before or after every 2 hours, you can apply it to prevent sunburn and tanning. Product is very budget friendly and gives you that amazing experience even though when you stay at a place where there are high solar radiations. Effective enough to protect tanning, this is by far the best sunscreen for sensitive acne prone skin in India.
10. IPCA Acne-UV Oil Free Gel SPF 30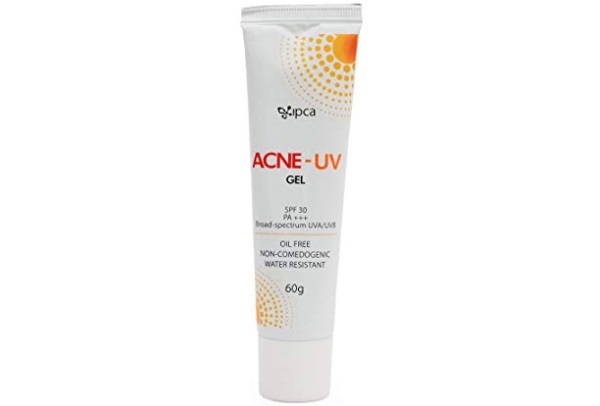 It's a sunscreen that a lot of dermatologists recommend. It is oil free, non-comedogenic and water resistant. With SPF 38 gives you broad spectrum and Shields your skin from UVA/UVB rays. It does not contain any colour additives for ingredients that can disrupt the pH balance and make your skin breakout. It is one of the best sunscreen for acne prone skin that is clinically proven and suits the sensitive skin. Use it every day to keep your skin tan-free in summers.
Choosing the right sunscreen for acne prone skin is not difficult till the time you follow this guide and choose the one that fits your budget and the requirements. Most of these products are very easily available online and we have also provided you with the links in case you would like to consider buying them.  But the most important point is, you must apply sunscreen regularly.
Regular application helps to protect your skin from a wide variety of issues that can be called later on like skin ageing and skin darkening. So choose the best sunscreen for oily and acne prone skin.