Veet is a hair removal brand that needs no introduction. It is a well-known name when it comes to hair removal and they make hair removal strips, cream and more such stuffs. In this article we are going to talk about the best Veet Hair Removal creams and wax strips.
Best Veet Hair Remover Creams and Wax Strips
1. Veet Silk & Fresh Hair Removal Cream for Normal Skin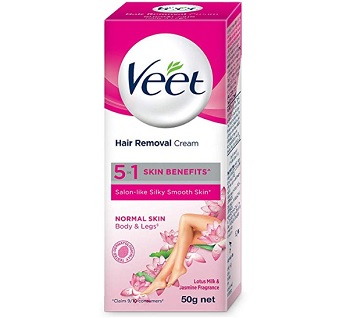 The Veet Hair Removal Cream is formulated for normal skin and comes with 5 in 1 skin benefits. It gives you smooth and silky skin while removing the surface layer unwanted hair. It's enriched with microbeads that help to get rid of the dead skin cells while revealing a smooth and visibly brighter skin logically tested product therefore is safe for normal to sensitive skin as well. It can be applied on legs, arms, underarms and bikini line.
How to use:
Apply cream on the body and leave it for 4 to 5 minutes. Then taking a spatula or sponge wipe it off and then wash the body part.
2. Veet Hair Removal Cream for Dry Skin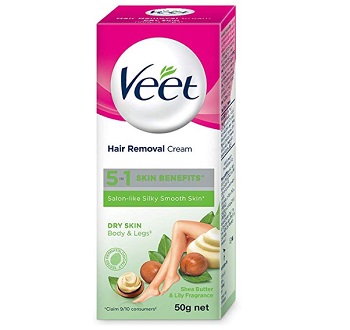 Made with the shea butter, this hair removal Cream is for dry skin. Proven gentle formula works effectively to keep your skin moisturized for up to 24 hours. Well being gentle on your skin it also moisturizers the dryness.  The cream is suitable to be applied on arms, legs, underarms and bikini line. It is perfect for dry skin.
3. Veet Silk and Fresh Hair Removal Cream for Sensitive Skin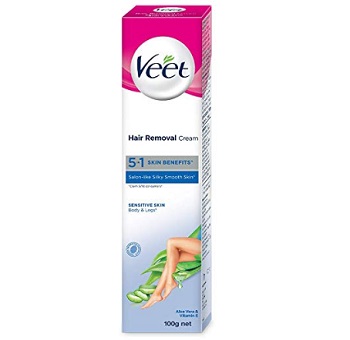 Silk and fresh Hair Removal Cream is a specially made for sensitive skin. If your skin is very sensitive after the use of any Hair Removal Creams, it gets red and irritated then using this cream can work well. It gives you salon like silky smooth skin within just few minutes. Made with aloe vera, it gives skin total moisture. So you just not get moisturized and visibly brighter skin but also get rid of the dead skin cells and unwanted hair. The method of application is same as any other hair removal cream. You have to keep it for couple of minutes like three to five minutes and it will work its best.
4. Veet Nikhaar Hair Removal Cream for All Skin Types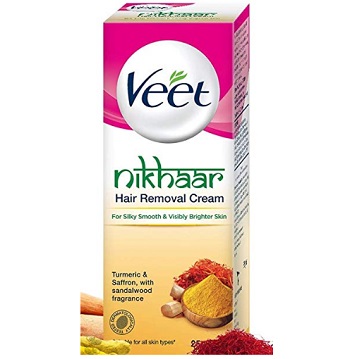 Wheat Nikhar Hair Removal Cream is made for all hair types and skin types of. It is rich in Saffron, Sandalwood and turmeric. It gives of visible and brighter skin with effective ingredients used. It is a clinically proven formula that leaves your skin moisturizer for up to 24 hours. It removes the short and thick stubborn hair from your legs, underarms, bikini line and arms. It also removes the dark spots and dullness from the body skin.
How to use:
Apply Veet Hair Removal Cream on your body part and leave it for 3 to 6 minutes then using a spatula or sponge wipe it of. It improves the hair and gives you silky smooth skin.
5. Veet Full Body Waxing Kit for Sensitive Skin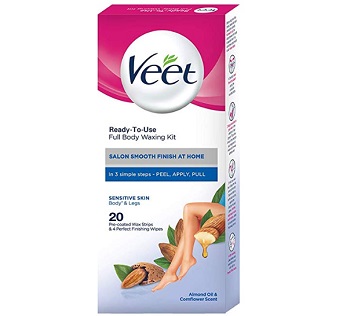 Veet Full body waxing kit is for sensitive skin. Made with almond and aloe vera, this waxing kit also has cornflour. It is suitable for body and legs when your skin is extra sensitive. The pre-coated wax strips are easy to use. You just need to peel it off and apply on the skin. Then pull the strip off. It gives you beautiful smooth skin for up to 4 weeks in just 4 easy steps. At the comfort of your home you can get along like beautiful skin.
6. Veet Full Body Waxing Kit for Dry Skin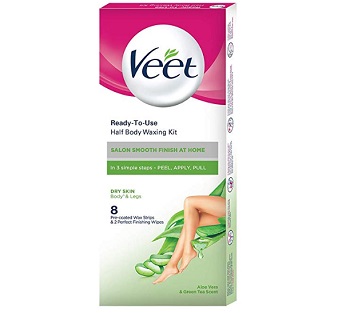 Veet ready to use half body waxing kit is for dry skin and is perfect for your body and legs. It is not for Bikini line. It gives you silky smooth Salon like finish at home in just 3 simple steps and is made with with aloe vera and green tea. Just peel the strip and apply, then pull it off. There is no heating or mess created while using the strips. Even in the shower, these readymade hair removal wax strips can be used. Single strip can be used several times until it loses its wax. You can use some baby oil and get rid of the excess wax sticking on the skin.
Best Veet Hair Removal products available in India. We hope out of that you would surely pick the one that you like. Both hair removal methods like the hair removal creams and Veet waxing strips are wonderful and one of the best in their respective categories.