Fragrances speak a lot about the women. In fact a good scent on women can take her overall personality to another level. And best thing is that it is that invisible accessory that you carry with you making the most impact. So, if you're wondering which are the best budget friendly women's perfumes in India then you reached the right spot. Guess what, we've compiled this list of the best women's perfume under 1000 rupees price tag. Taking this list, you will not experience any problems at all.
Best Ladies Perfumes Under 1000 Rupees in India (2023)
1. Fastrack Beat Perfume For Women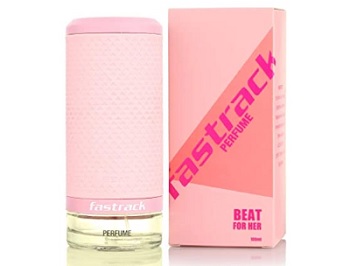 Fastrack has their own name in women's and men's perfumes and grooming essentials other than the watches. This perfume in the Beat version comes in a very attractive looking packaging that is cylindrical and has a really long cap. It is basically a floral and fruity perfume for women, suitable for the summer season. The best thing about this perfume is that it has the bold tones of Amber with citrus notes.
2. Essenza Di Wills Ignite Fleur Eau De Toilette for Women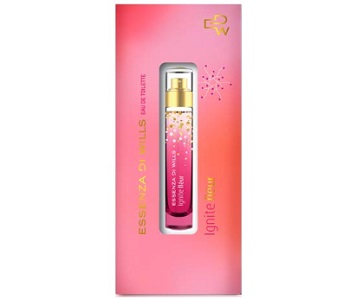 The budget friendly perfume for women under 1000 rupees does not have to be too expensive but only an alluring smell. This has the blooming flowers that are perfect for the bright summer days.  It's a dreamy fragrance that has Pink paper and Brazilian Orange as the top notes while the heart notes are made with the tones of orange flower. Its trailing notes or base notes consist of millions of Indonesian Pancholi and creaminess of vanilla and candy. It is a fragrance for women which is very affordable and has this liquefied essence of joy that evokes the real spirit of youthfulness. It is one of the best perfumes for women which is very affordable and comes in a very travel friendly size that can go in the clutches and purse as well.
3. Lyla Blanc LAVENDER MIST Perfume Spray for Women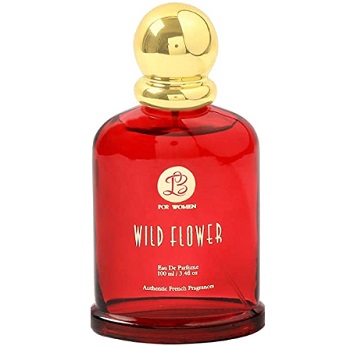 The beautiful looking women's perfume comes in a red coloured bottle with the golden cap. It's a very sturdy packaging that would entice many girls. It has the empowering fragrance that is wild and spicy. The Exclusive perfume for women has dynamic scent with floral and fruity top notes with heart notes made of aura of sophistication mixed by the modern world. Its eclectic base notes are made with musk and vanilla that keeps you lively and energetic all day long. The wild flower is a perfume that has a long lasting freshener so that you do not experience body order or any smell.
4. The Perfumer Fresh and Fruity Shine Perfume for Women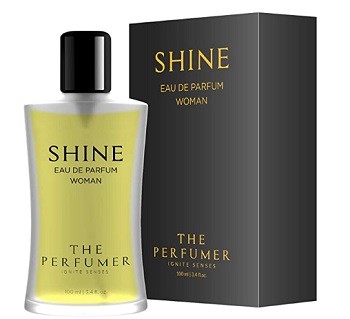 The brand has become one of the best perfume brands for the man that offers very affordable and cheap perfumes with high quality. This perfume for women has the name that says a lot about its inexpensiveness, nice and good quality. It is one of the best floral perfumes for women and girls. It has the elegant and enigmatic fragrance that is mysterious for the modern women.  The Perfume spray has top notes of bergamot, lilly, lemon and Mandarin, while the heart notes or middle notes are composed of jasmine, roses of Morocco and caramel Bass. The base notes are dominated by Indonesian Lillies, Tonka beans, White musk and Mysore Sandalwood. It's a perfume that is inspired by Carolina Herrera "Good Girl Perfume" that means it's a cheaper variant for the high end perfume that you can have. Even on Amazon The Perfume has got quite good reviews considering its price and quality.
5. All Good Scents Evoke Eau De Parfum for Women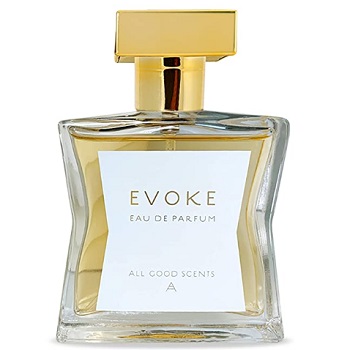 All Good Scents Evoke perfume for women is yet another perfume that is in budget and one of the best under 1000 rupees perfumes for women. It has blackcurrant, Jasmine, white flowers and Vanilla as the main top and middle notes. You can you love yourself with the floral fragrance and spice up your evenings. It is basically is a perfume that is suitable for the evening or party with that can also be applied daily while you go for work, office and even college. The top notes of this perfume have blackcurrant, green notes and bergamot. Heart notes have jasmine, Lily of the valley and white flowers. Base notes are made with vanilla, Sandalwood and Tonka beans. The fragrance for women is really nice and lasts around 7 to 8 hours which is very good for the price.
6. French Fragrance Perfume For Woman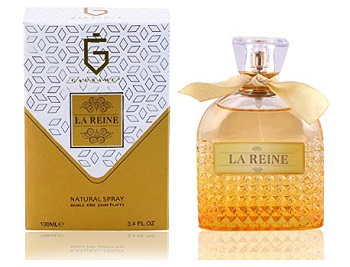 This affordable women's perfume has the long lasting french fragrance and comes in a very attractive looking packaging that reminds you of any high end perfume that you have seen in the magazines. The long lasting smell stays for 10 to 12 hours on the body and on the clothes that it can be detected even of the next day. The top notes are of bitter orange and bergamot, while the heart notes are of tuberose and Jasmine sambac. The base notes are composed Musk, Sandalwood and Vanilla. Overall, it's a floral and spicy fragrance which a lot of women would like to go for during the daytime and even for the evening time. The Perfume has 15% pure perfume essence therefore, it has a long lasting power. Additionally, it is also a wonderful gifting thing if you are confused what to gift to a women.
7. French Factor Soul Original Perfume For Women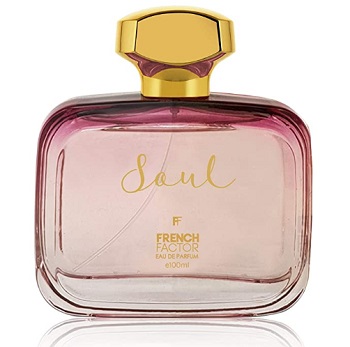 Packaged in a simple bottle, this perfume has the one of the best things, that you would love. It can be used for both body and clothes. The international fragrance is suitable for daily use and for special occasions like parties, weddings and more. It gives your soothing experience all through the day. The perfume enriches rich and exotic and unique experience while you use this. Basically it's more of a spicy and floral fragrance and is suitable for the daily use.
8. Ajmal Diza Fresh Perfume for Women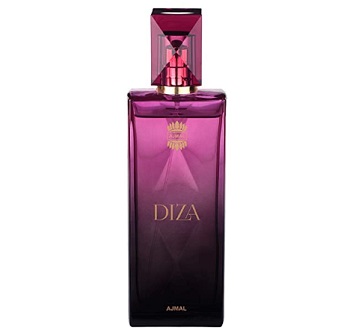 This brand is one of the most popular affordable perfume brands for men and women in India. The high performing perfume is also a body spray that stays longer when you spray it on the pulse points. The top notes are Fruity and Fresh with Bergamot, Peach, Citron and Green rose, where the heart notes of this perfume consists of floral and fruity notes that combines Jasmine, Pineapple, Peach and Roses. While the base notes are musky, blended with powdery wood.  Diza is a variant from the Ajmal perfumes that is early captivating perfume for women that executes quality and seductiveness. It emanates mysterious side of femininity, therefore it suitable for everyday use specially during this special occasions.
9. Engage L'amante Eau De Toilette Perfume for Women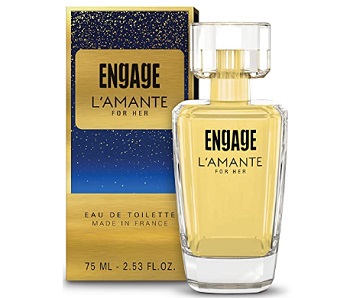 Engage perfume for women comes in an attractive packaging and honestly looks really nice. This perfume has sparkling citrus and Fruity top notes, while the middle notes are of jasmine and tender Rose. The base notes are made with addictive caramel and amber that makes it a very perfect fragrance for special occasions like a formal event, date, wedding, parties and meetings. Overall, it's a very attractive and affordable perfume for woman that adds the final touch to your overall look. Additionally, the price is also affordable and it's among the best women perfumes under 1000 rupees in India.
10. Ajmal Sacred Love Floral Perfume for Women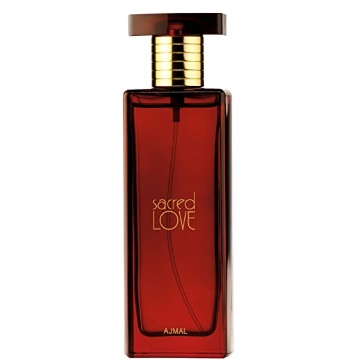 The affordable floral perfume for woman comes in a nice tall bottle with a gold cap. It is crafted by the legendary perfumers and it's amongst the best seller perfumes. This perfume is filled with sensuality and affection and is perfect for women for daily use and even for the special occasions. The Perfume brings lovely top notes of citrus and floral that later on blooms to create the heart notes of warm florals and musk. All this is enveloped in a base of musk and floral that leaves the lasting spell of Romance for women. This invokes a true sense of signature fragrance and it's a scent for formal and casual locations.
11. Jovan White Musk Eau de Cologne for Women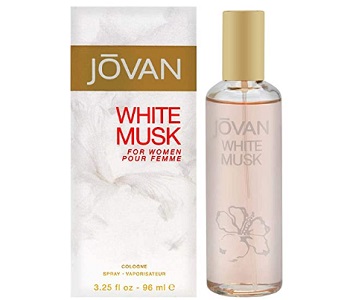 Jovan is known for their cologne, perfume and deodorant spray for both men and women. Jovan musk white perfume for woman is one of the best seller in this category, because the white musk fragrance for ladies is a very enchanting fragrance that has the highest and scintillating scent that has Spicy, Woody and Warm Florals. It is recommended for office wear and for college as well. In fact, it's a perfume that can be used for the special occasions and for the parties. It is classified as the best refreshing and Oriental fragrances for women under 1000 rupees to be precise. One would definitely enjoy this fragrance for your everyday office wear. It is available at good prices online so you can check out that as well.
12. Nike Fission White EDT for Women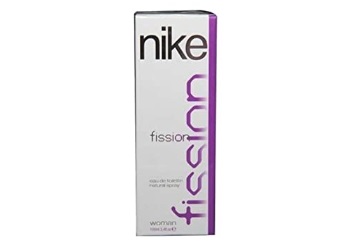 Nike perfumes and colognes are known for their amazing scent yet they have a bit of long lasting issues. The fragrance in Fission is the one that has the fresh spirit of adventure and usefulness. This perfume has the strength and comfort, so that people around get impressed. It's classified as a cool and refreshing fragrance that is more and everyday wear perfume for women. With no Harsh or intense fragrance, it's more like an everyday use perfume for women.
The packaging is also quite beautiful considering it is from the house of Nike. The affordable women's everyday perfume fragrance would surely entice you.
13. Skinn By Titan Pristine EDP for Women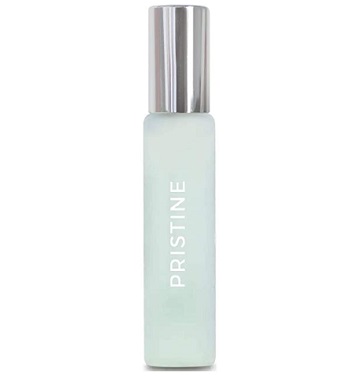 Skinn by Titan Pristine EDP for women is actually a travel friendly smaller pack of the bigger sized perfume. It has top notes of Mandarin, Lemon green records and cardamom while the middle notes are of marine hearts, geranium and clove. The base notes of this perfume are blended with Patchouli, and Musk. This perfume is amongst the best scintillating spicy perfumes for women for special occasions and for everyday use. If in case you like this small packaging, then you can also go for the larger size perfume as well. It has Citrus and Floral and spicy notes all amalgamated to develop with a skin friendly formula.
14. Revlon Charlie Red Perfume for Women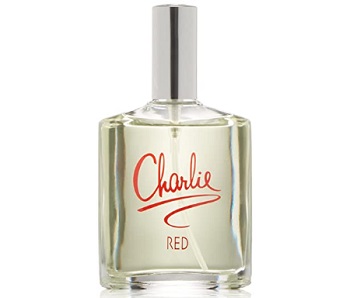 Red Perfume for women from  Revlon Charlie, is yet another popular perfume that lot of women has sworn by. It's a very daily wear kind of Perfume with a mix of Floral and Woody fragrance. The top notes are composed of irresistible mix of blackcurrant, Orange flower, Bay Leaf. The middle notes are of Rose, Jasmine, Ylang Ylang with apricot. The base notes of this perfume contain accords of Sandalwood, Vanilla and Tonka beans. By far, this is one of the most branded and affordable perfumes for women that lasts really longer on most of the women.
These are the best perfumes for women under 1000 rupees in India, so you can choose from any of these and they would be good for you. That best thing about these perfumes is that the perfumes are budget friendly and available online with good discount so that you can save some money while buying the perfume. However also check that while buying the perfume ensure that you are buying the original product and not some fake or artificially made fragrances.