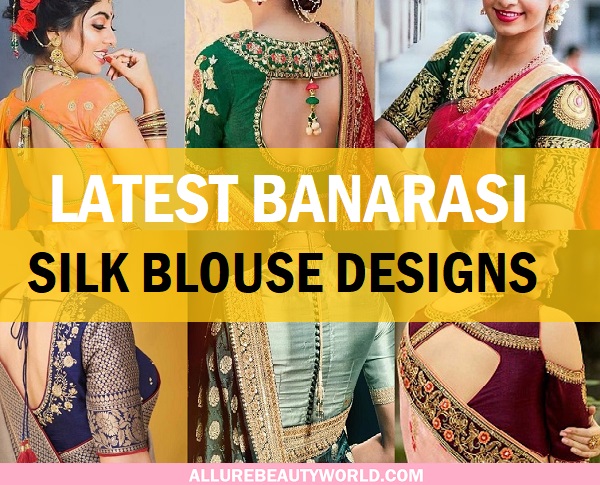 Banarasi silk fabric is a luxurious and very popular fabric which has the elegance and classiness. Silk Banarasi fabric has woven gold, silver or other color thread work. Banarasi silk or Banarasi brocade are some of the fabrics, that are rich and decorative fabrics. Moreover, it looks good for Indian ethnic wear like saree blouses, Sarees, Banarasi lehenga and even the Banarasi salwar suit. The Banarasi sarees or the Banarasi dress materials are made from the high quality pure silk. With the intricate gold and silver Zari threads work which is done through the weaving process is also time consuming that actually makes Banarasi fabric so elegant and full. We have compiled this catalogue, where you will find the different types of Banarasi brocade or silk and even the Cotton Silk blouse designs. These blouses are ideal to be worn with the silk sarees and also with sarees that needs for the Silk blouses.
Different Types of Banarasi Silk Blouse Designs with Images
1. Mustard orange Banarasi woven Silk blouse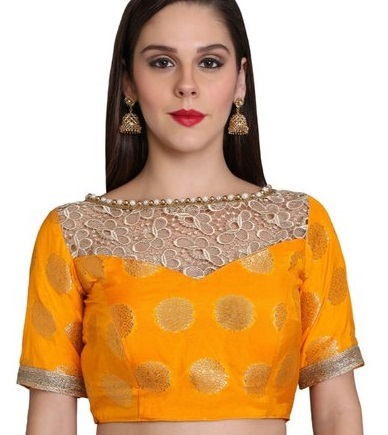 The beauty of this blouse is the lace fabric patch that is used on the top part of the neckline. It is such a gorgeously made boat neck saree blouse that it works as a Banarasi saree blouse as well as a blouse that can be tried with even net saree as well.
2. Simple Banarasi elbow length Silk blouse design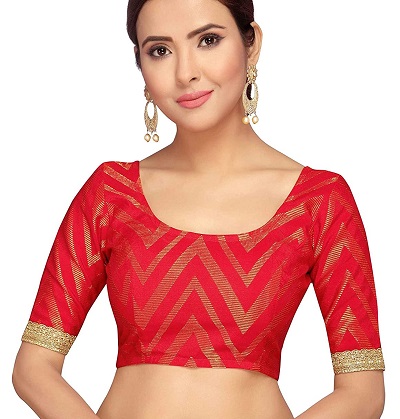 When you think about a simplistic blouse in the Banarasi or cotton Silk fabric, then this blouse would certainly do the work. The blouse is made in a simple pattern with a round neckline and elbow length sleeves that also have Golden lace trim added for more dimension. The blouse is for sure beautiful and gorgeous. It can be paired up with the simple sarees for simple occasions and functions.
3. Dark green embellished Silk blouse pattern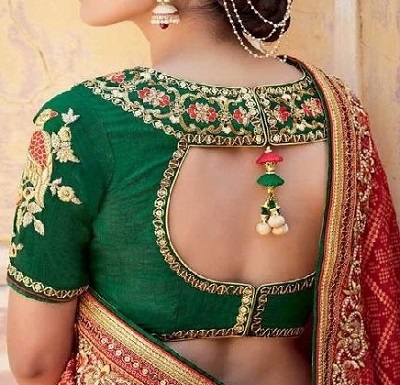 The beauty of this particular blouse is not only its elaborate and detailed embroidery with gold Zari and red thread work but the back neck design. The blouse back neckline design is so beautifully done. Overall as well, this saree blouse is very beautiful, elegant and highly attractive.
4. Green Banarasi simple blouse pattern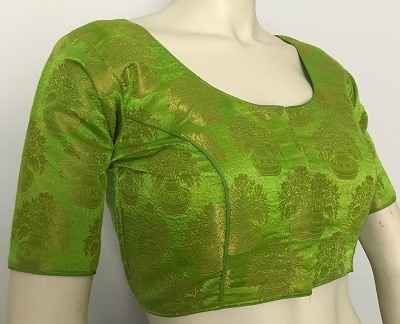 The gorgeous fabric of this blouse is highly beautiful and eye-catching. The blouses made in the regular princess cut design, however the buttons are given in the front part. This blouse is suitable for those sarees that are very heavy or solid plain. Because the blouses is patterned in a simplistic manner and it doesn't ask for too much. With the appropriate jewellery, you can certainly make it a notch up.
5. Green Banarasi silk blouse with jewellery embroidery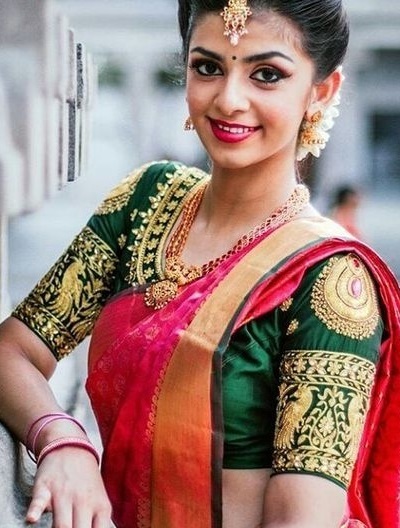 With the silk sarees and in the southern part of India, jewelery inspired embroidery is quite popular when it comes to ethnic wear. The saree blouse has elaborate jewelery design and thread embroidery that actually makes your blouse look beautiful and stand out. The blouse has Zari work and is loaded with different types of beads, sequin or sitara or even heavy Kundan stones.
6. Halter style Banarasi brocade blouse design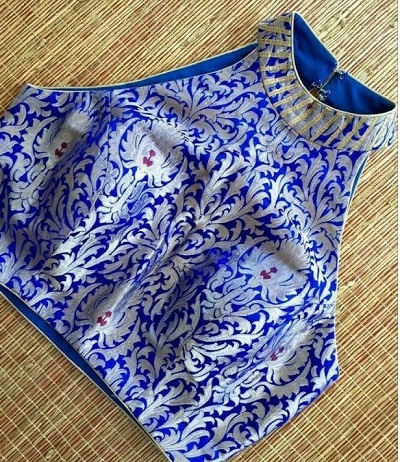 You may have seen Halter style blouse in different fabrics but when it comes to Banarasi fabric than this Halter blouse with a back hook pattern would certainly catch the attention. This blouse design is beautiful and it can be paired up with the solid plain sarees for occasions where you do not wish to be overtly dressed up.
7. New Model Banarasi silk blouse with mirror work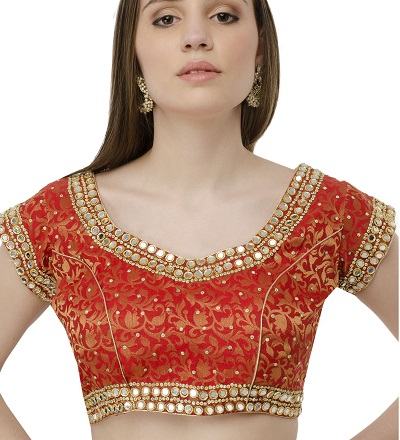 When it comes to blouses, fancy Silk fabric is one of the most used fabrics that can actually make your saree look gorgeously amazing. Without doubt mirror work is a highly attractive embellishment type that is being used to make blouses look better. The beautiful blouse can easily be used as a bridal blouse for bridal lehenga as well as bridal Banarasi silk saree.
8. Peach Designer Blouse Pattern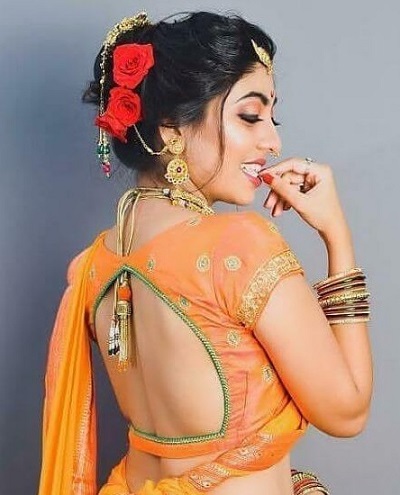 The color of this blouse is so gorgeous that this actually makes the Silk blouse so elegant and sober. The rich looking embroidery and the contrasting colored piping is making this blouse attractive and elegant at the same time. The back neckline design is also quite modern and sophisticated.
9. Peach colour Banarasi fabric blouse with stylish sleeves
The Banarasi peach blouse is combined with a mint green color Banarasi silk saree. And we saying that undoubtedly this is a great combination. Especially, for women who would love to experiment with their blouses, this saree blouse combination would be the perfect to try.
10. Simple red Banarasi brocade blouse design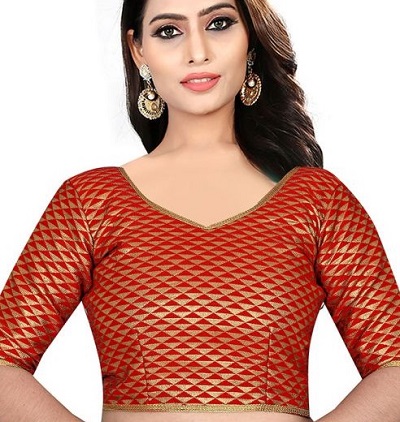 When you think of a simple brocade blouse and this is something that can be tried. As a color is red it can be tried with different types of sarees. Even a simple solid chiffon embroidered saree will also work with this blouse.
11. Stylish Banarasi brocade blouse with silk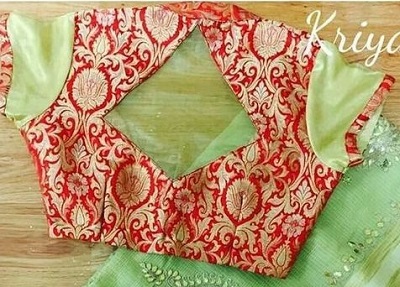 The saree blouse also looks amazing with decent color combination like red Banarasi brocade is matched with a mint green Silk fabric and the saree is so beautiful that it actually highlights the red color of the Banarasi blouse. This is a combination that women would love to try.
12. Dark green Banarasi brocade blouse with button work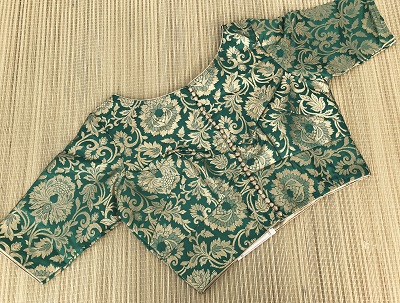 The blouse is made in a choli cut impeccable pattern, where you can see a belt is there. The darts on the bust part makes it more fitted. It has medium length sleeves and a round boat shape Neck line. The front part has lots of Golden buttons that goes all the way to the neck and reaches the waist band. The blouse is superbly made and it certainly looking gorgeous and highly attractive.
13. Designer Silk Blouse With Backless Pattern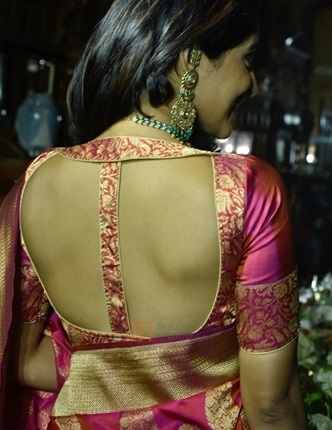 Undoubtedly, when a Banarasi blouse is made in a backless pattern it is going to look perfect. Like a Banarasi silk saree is worn with the Silk blouse with border and a backless pattern. This pattern is actually making the Banarasi silk saree blouse more modern.
14. Black and gold Banarasi silk woven blouse pattern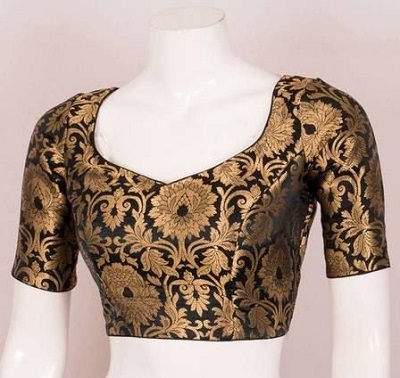 This blouse is also a simplistic blouse which can actually highlight your saree. The blouse has very elaborate work with a sweetheart neckline and medium length sleeves. The blouse is certainly something that you must keep in your wedding trousseau.
15. Simple Black Silk blouse with boat neckline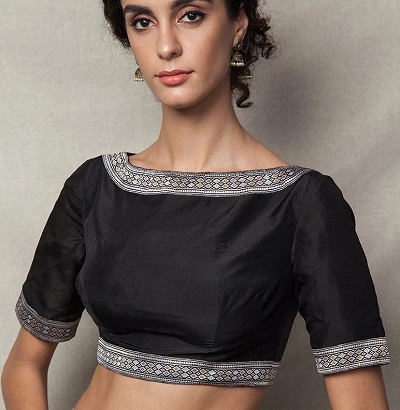 Boat shaped neckline is very much used in the Banarasi blouses and it is also seen in a lot of designer blouses as well. This blouse has Silk fabric border. The Princess cut blouse has padding and buttons at the back.
16. Banarasi silk saree blouse design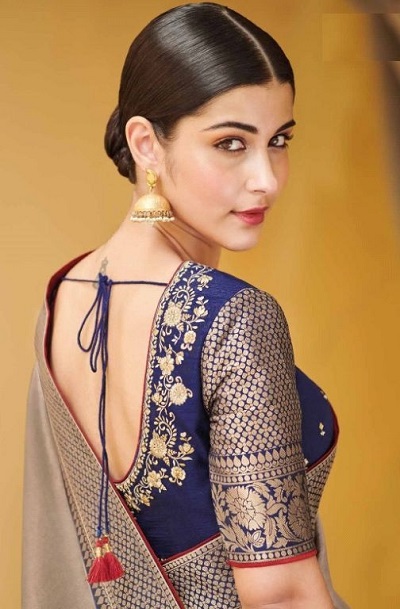 17. Yellow Silk blouse with embellishment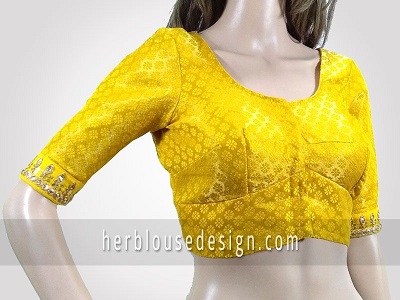 18. Green silver princess cut blouse design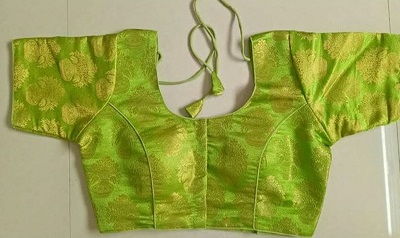 19. Angrakha style pattern Banarasi blouse design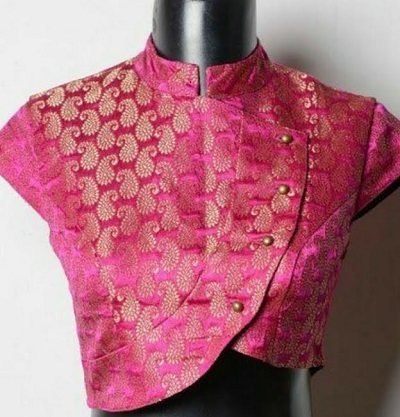 20. Designer lace fabric blouse pattern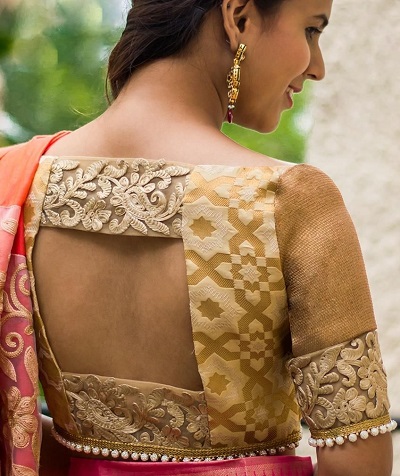 21. Simple Banarasi blouse with front hook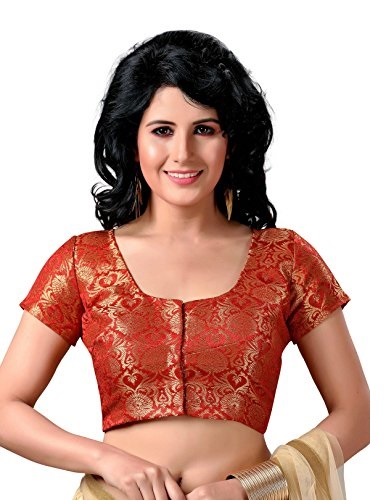 22. Green sleeveless Banarasi blouse design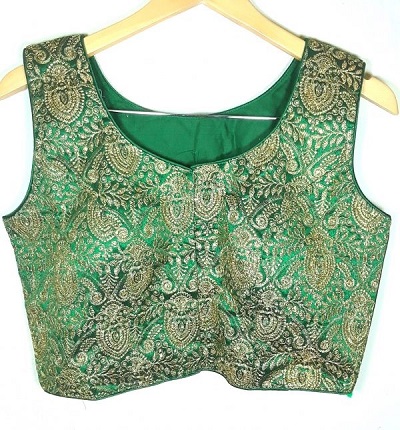 23. Stylish Banarasi blouse with pleated sleeves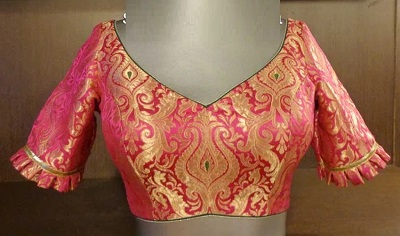 24. Silk blouse with delicate embroidery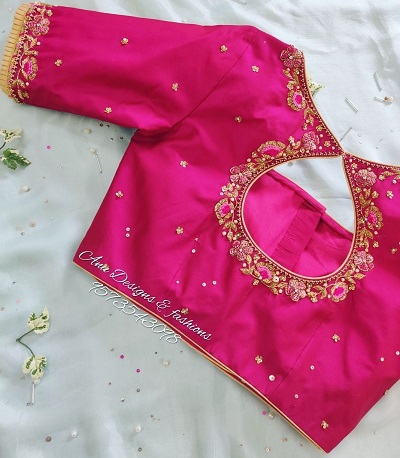 25. Kimono style brocade Silk fabric blouse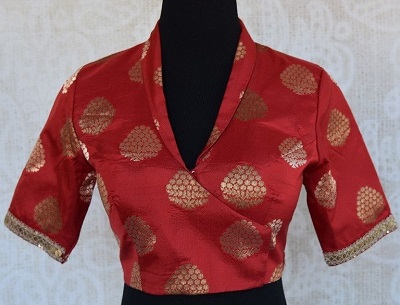 26. Banarasi silk blouse with heavy sitara work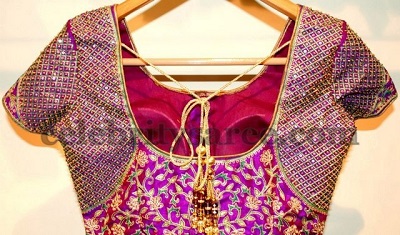 27. Silk blouse with designer back neckline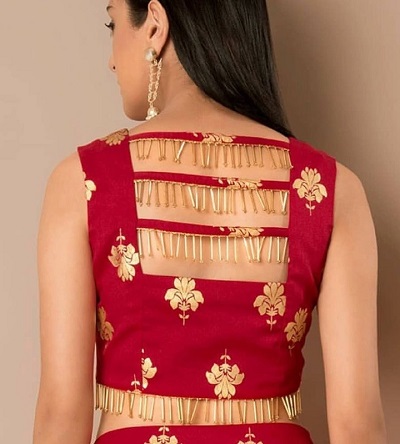 28. Banarasi blouse with back buttons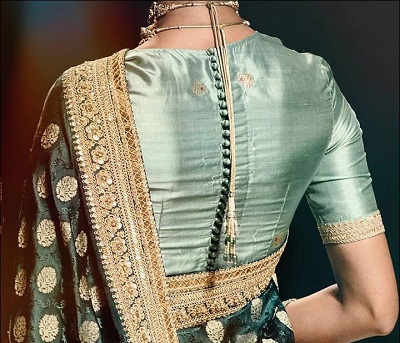 29. Neon green Silk blouse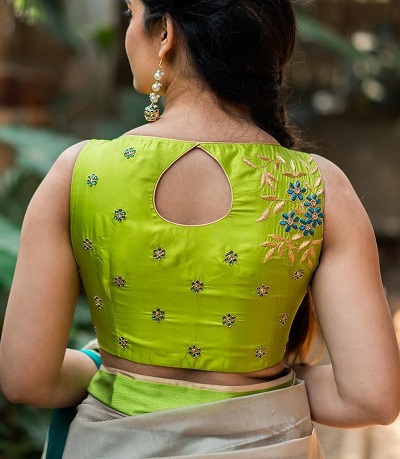 30. Purple Zari work Banarasi blouses border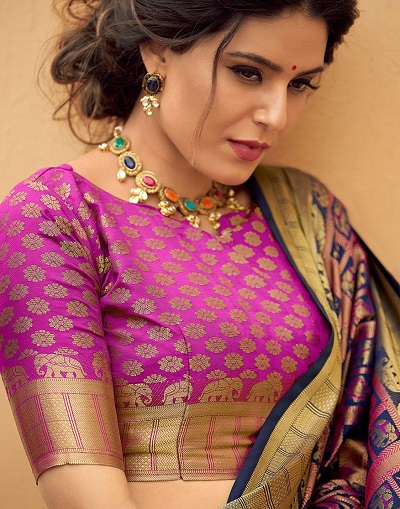 31. Silk blouse with lace trim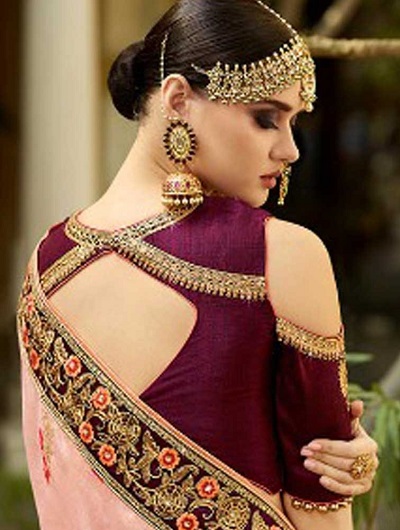 32. Designer pink Banarasi blouse design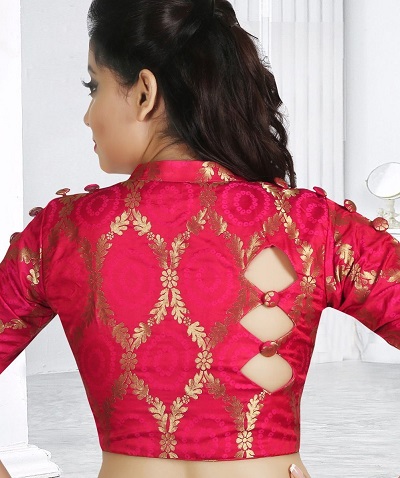 33. Gorgeous v-neckline Banarasi brocade blouse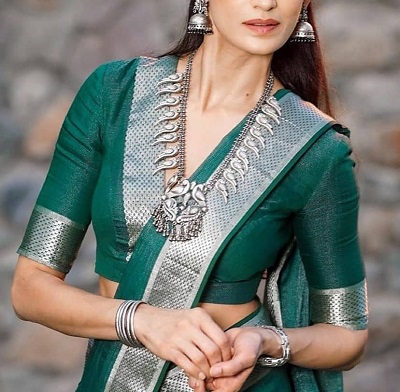 34. Latest blouse design with silk sarees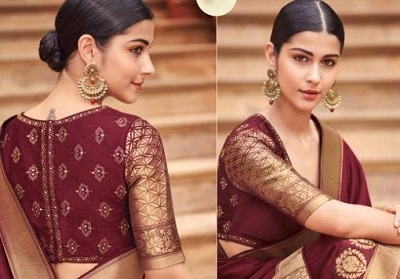 35. Blue Silk blouse with border work silk sarees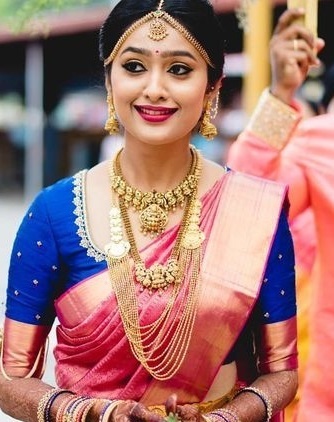 36. Gorgeous blue Banarasi brocade blouse design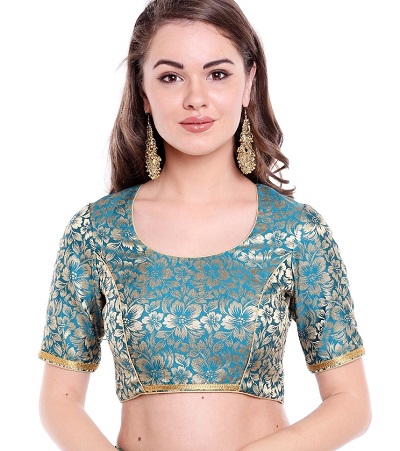 37. Pink backless Silk blouse with bow
38. Bridal red Banarasi blouse with deep back neckline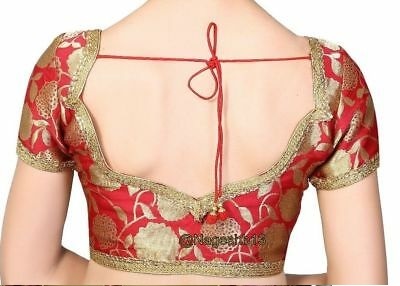 39. Flap collared blue Banarasi woven saree blouse design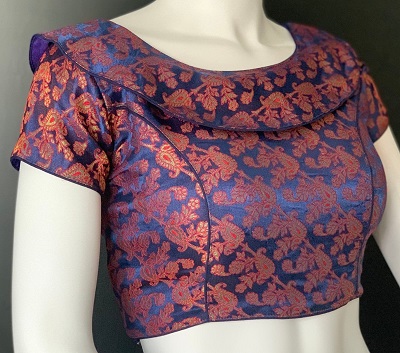 40. Stylish hot pink silk design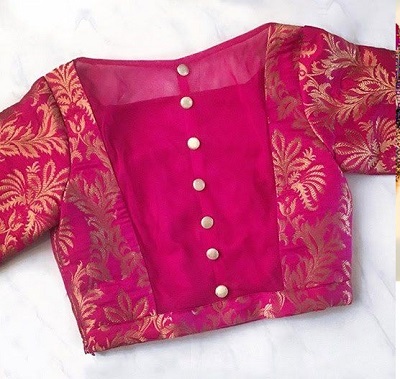 41. Boat neckline brocade blouse pattern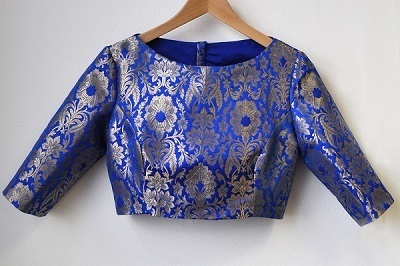 42. Silk saree blue blouse design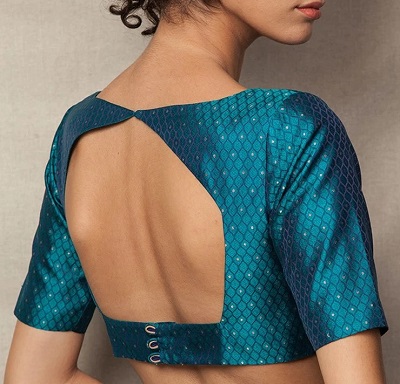 43. Silk and net fabric blouse pattern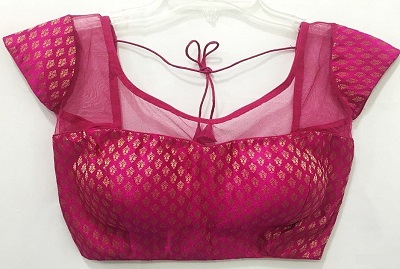 44. Black heavy Zari work Banarasi silk blouse design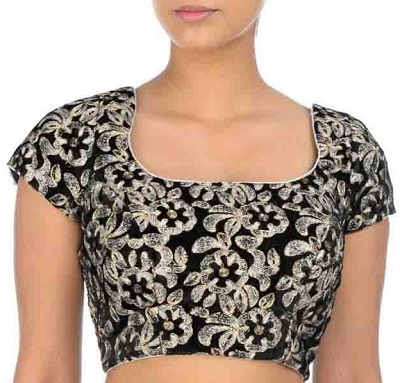 45. Banarasi silk Red blouse with ruffled border work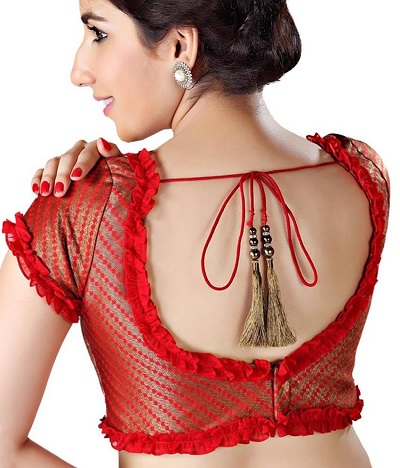 46. Cold shoulder style w Banarasi brocade blouse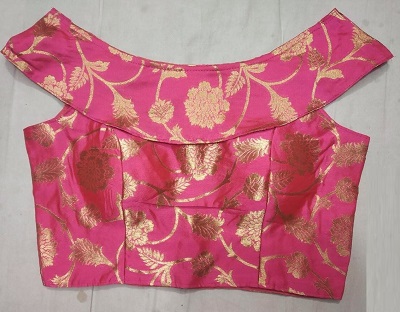 47. Half high neck design Banarasi blouse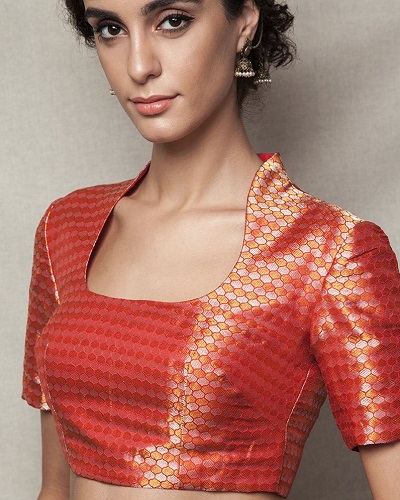 48. Orange exclusive embroidery bridal blouse design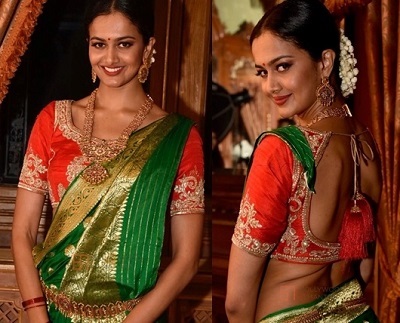 49. Silk blouse design with cut sleeves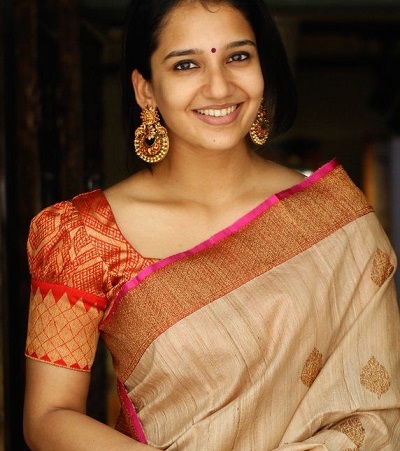 50. Yellow Banarasi blouse with designer back neckline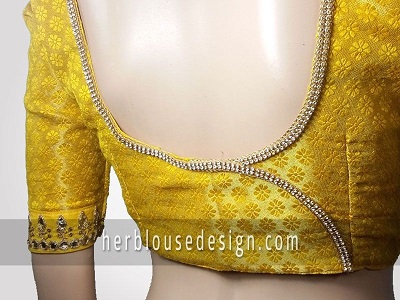 These are the latest models and new look Banarasi silk blouse patterns and Designs. Before trying a Banarasi blouse design check the different types of fabrics available in the Silk variety. Generally the saree would have a blouse piece attached if not then there can be so many different styles and types that one can try. We are sure that this catalogue will give you a low amount of Ideas to go for your next silk saree blouse design.