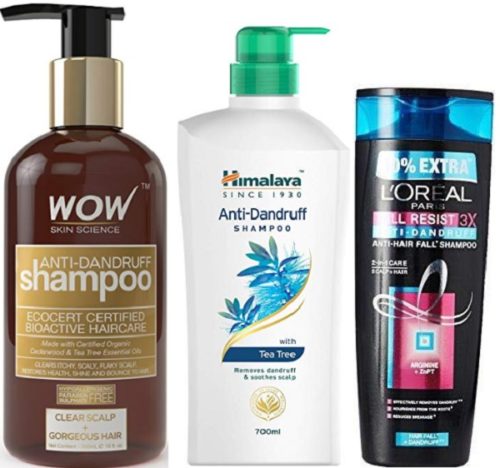 Dandruff white flakes don't look good scattered all over your shoulders, especially when you are wearing black. Dandruff can be a pain that you need to get rid of as soon as possible. In this article, we have compiled this list of the best anti dandruff shampoo in India, suitable for oily scalp and dry scalp and for men and women both. Using the right dandruff control shampoo that can reduce the dandruff flakes is a must have thing.
So, you can go through this list to choose the perfect shampoo suitable for your requirement. It doesn't matter if its summers or winters, you need to have an anti dandruff shampoo with you to fight the dandruff effectively. Because when you are wearing black, dandruff flakes will be all over your clothing. And not to forget the continuous itching that you experience when you have dandruff infection.
Dandruff is a fungal infection that is also an indication of unhygienic scalp health. However, there are multiple products that promise you to eliminate the flakes from the scalp right from the first use though, many of them doesn't work.
Top 10 Best Anti Dandruff Shampoos in India (2022)
To figure out the best anti dandruff shampoo products, we have put together this list, hopefully it will definitely help you. Let's check out the best anti dandruff shampoos available in India. The organic dandruff fighting shampoos are made with ingredients which are antifungal in nature, therefore it will work the best.
1. Head & Shoulders Cool Menthol Shampoo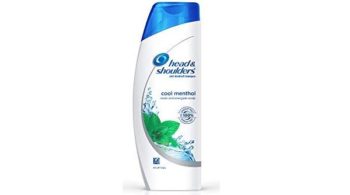 This is number one and most trusted best anti dandruff shampoo for men in India that comes to eliminating the infection from your scalp and hair. The shampoo goes hand in hand when it comes to dandruff. This Anti dandruff shampoo is in menthol variant that helps to get rid of the flakes of dandruff and itchiness. It's suitable for all hair types and is the best anti dandruff shampoo that gently removes the flakes without drying your scalp. Therefore, the product is very gentle yet effective.
2. WOW Anti Dandruff Shampoo with No Parabens and Sulphate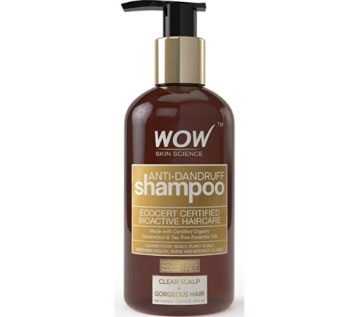 This paraben and sulphate free anti dandruff shampoo is one of the best best shampoos for oily hair and dandruff. It is rich in certified bioactive ingredients that are organic. It gives you clear scalp and gorgeous hair within the first few washes. The shampoo is perfect to cure the dandruff and dryness of your scalp. It makes your scalp flakes-free and visibly cleaner and is the best shampoo for oily hair and dandruff. The product is safe and effective for men and women with all hair types.
3. Himalaya Anti Dandruff Shampoo
Himalaya anti dandruff shampoo contains tea tree that effectively cleanse dandruff and the white flaky residue from your scalp. It is a forming rich formula which is able to clear the dandruff causing fungus and itchiness associated with infection. It gentle on the hair therefore, will not dry your hair or make the scalp more itchy. Fortified with the organic ingredients like chickpea, aloe vera and tea tree oil, is one of the best mild anti dandruff shampoo for men and women in India.
4. L'Oreal Paris Fall Resist 3X Anti-dandruff Shampoo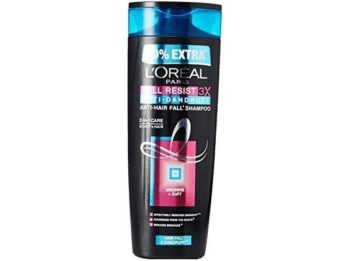 Packaged in a black coloured bottle, this is the best shampoo for hair fall and dandruff control containing Arginine and ZnPT. It effectively removes the dandruff and purifies the scalp. After the application of the shampoo, you do not experience any type of itching for product residue. It also minimizes the hair fall due to dandruff and is suitable for teenagers. The product nourishes and strengthens the hair follicles and finally smoothens them for long lasting conditioning. You can directly apply it to your wet hair and work in to create lathers. Leave it for a minute and rise with clear cold water.
5. Dr Batra Anti Dandruff Shampoo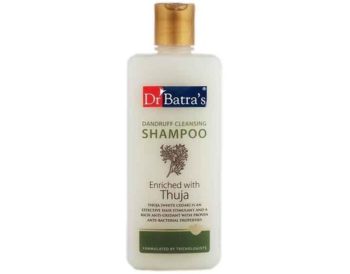 Dr Batra's medicated anti dandruff shampoo is loaded with Thuja.  The richness of Thuja deep-cleanses the scalp effectively yet gently. While it doesn't dry your scalp yet, it controls hair loss and keep the scalp clean and clear lustrous. It removes the flakes and itching and balances the sebum production. The product on regular application, improvises the blood circulation and maintains an ideal pH level. It gently treats your scalp and gives it all the care that dandruff prone scalp needs.
6. Satthwa Anti-Dandruff Shampoo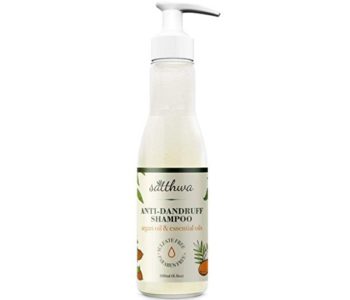 It's a paraben and sulphate-free natural shampoo that contains Argan oil along with other essential oils. It is alcohol-free and as active ingredients like Argan oil, Almond oil, Jojoba oil, Aloe Vera Extract, Lemon oil & Tea Tree oil.  Satthwa anti dandruff shampoo is fortified with goodness of Argan oil along with almond and jojoba oil. It has lemon oil and tea tree oil that keeps your scalp nourished and clear of the dandruff. It comes in a pump dispenser making it easy to use. The product can be used by men and women both. This is by far the best anti dandruff shampoo for thin hair which has received positive results from the customers.
7. Ustraa Anti Dandruff Hair Shampoo for Men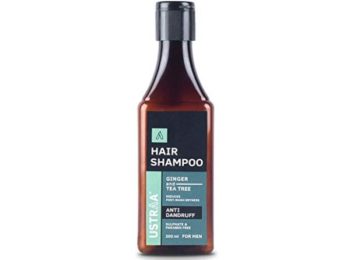 This dandruff controlling shampoo contains ginger and tea tree extracts. It reduces the Post wash dryness and keep the hair smoother. It enhances the shine of your hair with its gentle sulphate and paraben-free shampoo formula. It moisturizes your hair and keeps the scalp healthy. Ginger is rich in antiseptic anti-inflammatory properties that suit the scalp and keeps it healthy looking. It's the best anti dandruff shampoo for oily scalp for men.
8. Ayush Anti Dandruff Neem Shampoo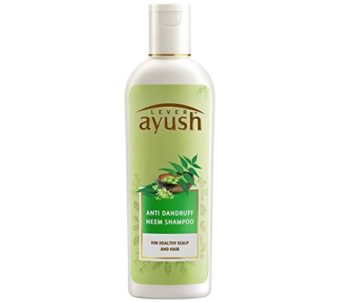 It is a herbal anti dandruff shampoo that contains the extracts of neem. Neem and Rosemary helps to revive your scalp and treats the dandruff causing fungus from the scalp. Rosemary is also known to promote hair growth. When you have dandruff and hair fall, this is a good choice. The organic anti dandruff shampoo gives you good lathers that not just cleanse the scalp only but also initiates the growth of new hair follicles.
9. Himalayan Organics Tea Tree Shampoo Anti Dandruff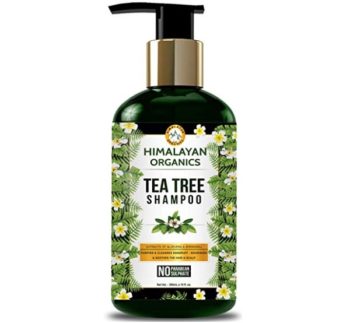 Himalayan Organics tea tree shampoo does not contain any parabens, sulphates, ammonia, silicates or other harmful chemicals for your hair and scalp. It balances the production of sebum and cleanses the impurities that makes the fungus thrives. This antifungal and antibacterial shampoo contains tea tree oil which prevents dandruff and alleviates dry and itchy scalp problem. After the wash you experience healthy and fresh scalp. The herbal anti dandruff shampoo gives voluminous soft and shiny hair. The product improves the brittle hair and oily dandruff hair which increases hair growth, and also improves the texture and shine of your hair.
10. Bella Vita Organic Anti Dandruff Shampoo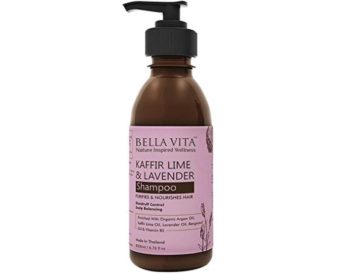 It's an organic product that contains Kaffir Lime Oil, Lavender Oil and Bergamot Oil, it is perfect to control dandruff and reduces scalp infections that you have. The natural oils give the right amount of moisture to the scalp and also helps maintain the right pH balance.  Other than moisturizing your hair and leaving the itchiness, it also makes them super moisturized and shiny. It's the best shampoo for dandruff and itchy scalp, rich in bergamot oil which prevents split ends. It's the best dandruff shampoo for color treated hair and is paraben-free, SLS-free and Mineral oil free product with no side effects.
These best anti dandruff shampoos in India, which men and women can try to get rid of the dandruff from the scalp and hair.