As the pollution levels are increasing constantly especially in the major cities, it becomes extremely important that you take care of your skin, hair and health. The nanoparticles which are floating in the air can make your skin look dull and damaged. These particles also close the skin pores and make skin to breakout. These pollutants and toxins are also responsible to make skin dry and rough. Pollutants lead to free radical damage. No wonder your skin gets dehydrated and extremely dull. For that, you can certainly use the anti pollution skin care products. So here in this article we are going to share the best anti-pollution creams available in the market. The anti pollution skin creams are one of the best possible ways with which you can combat the pollution effects from creating havoc on your skin. You can try antioxidant rich beauty products to minimize the free radical damage on your skin.
List of Best Anti Pollution Creams in India To Get Rid of Pollution Effects
1. Mamaearth Anti-Pollution Daily Face Cream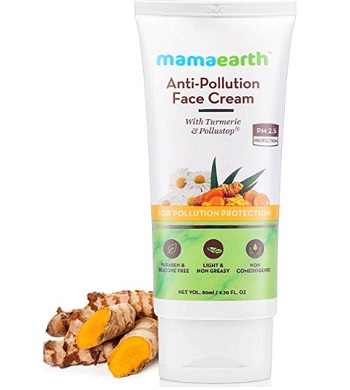 This Anti pollution day cream has antiseptic properties and natural ingredients like daisy flower extracts, turmeric and carrot root extract. It significantly protects the skin from sun damage and the atmospheric pollutants. It also shields the skin from free radical damage to the cells. So it minimizes the suntan caused due to the sun exposure. Additionally, the skin cream prevents hyper pigmentation and remove the bacteria from the skin layer. The best thing is that, the cream is sulphate, Mineral oil, paraffin and artificial preservatives free. It has a non greasy formula which is why it is suitable for even the oily skin types. One can apply it twice in a day and it protects the skin from pm 2.5.
2. Pond's Anti-Pollution Face Cream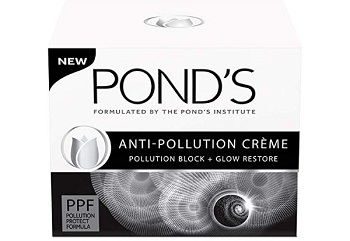 Ponds anti pollution face cream is a very affordable face cream that has a breakthrough technology that helps to restore the glow and protects the skin from pollution. So the anti pollution product protects the skin from pollution induced skin problems like dark patches, dark spots, uneven skin tone and dryness. The non comedogenic formula of this cream does not block the pores but is also a hypoallergenic product. Apply the cream on your face 20 minutes before the pollution exposure. It repairs the skin damage and protect the skin from any particle or antioxidant damage. The texture of this product is a little greasy which is why it is suitable for normal to dry skin. It's the best anti pollution cream in the market currently.
3. UrbanGabru Insta Glow Fairness Cream with SPF 50
Urban Gabru insta glow fairness cream is an anti pollution and acne control product. Containing the effective ingredients, it's also a fairness cream that gives you acne control and sunscreen protection. It balances the oils on your skin and prevents the acne. So it protects skin from UV rays and makes the skin lighter and brighter. It's thee best day cream for men in India for everyday use.
4. Garnier Men Power White Anti-Pollution Brightening Moisturiser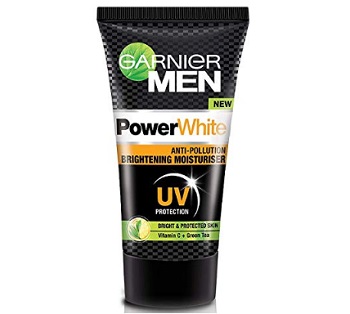 Garnier Men power white anti pollution moisturizer is a skin brightening moisturizer for men that has the power of Vitamin C and green tea. The light weight formula is suitable for all skin types and with the endless goodness of antioxidants from Green Tea, it gives you protection from sun damage and pollution. The best part about the product is that on application it really makes the skin appear brighter. It is a bit sticky during the very hot season, therefore it is best for normal to dry skin. But in winters people with oily skin can try this pollution protecting product. It's the best anti pollution moisturizer for men.
5. WOW Anti Pollution Sunscreen Lotion with SPF 40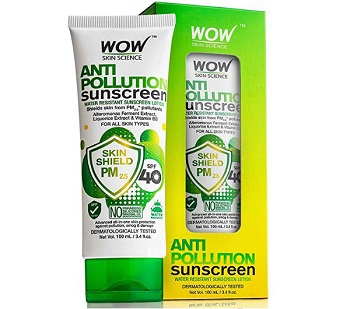 WOW Anti pollution water resistant sunscreen lotion is perfect anti pollution sunscreen for normal to dry skin. It has SPF 40 and a formula that shield the skin from pm 2.5. The paraben and sulphate and Mineral oil free formula is a dermatologically tested, hence safe for even sensitive skin types. It is an advanced All-in-One skin protection against smog, pollution and sun damage. By far, it is one of the best anti pollution parabens free sunscreens available in India. It's clinically proven to safegaurd the skin from 2.5 level pollution, known to cause allergies, dullness and rashes on the skin. In fact, the sunscreen lotion also contains vitamin B3 and licorice that helps to make the complexion brighter.
6. Faces Canada Urban Balance Pollution Defense Day Cream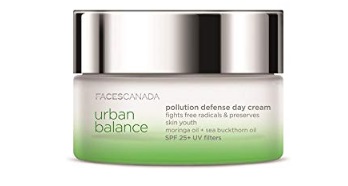 Faces Canada pollution defence day cream is a lightweight product that contains SPF 25 + UV filters along with moringa oil and sea buckthorn oil. It fights the free radicals and preserves the skin's youthfulness.  Sea buckthorn oil is rich in vitamin C and natural antioxidants that fight the free radicals which can cause dullness and premature aging. The mineral and paraben oil free product is safe for all skin types. It safeguards the skin from multiple types of skin damage with a potential blend of antioxidant rich ingredients. The anti pollution face cream is suitable for normal to dry skin.
7. The EnQ Magical Moringa Day Cream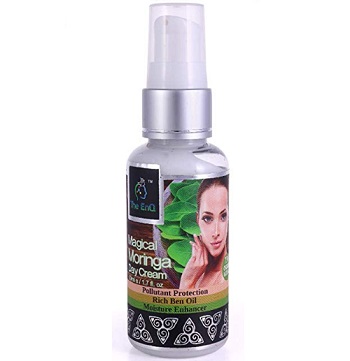 With Organic Moringa Extracts, the moisturizing day cream for face is a pollution defense and radiant glow cream. The day cream is rich in morning extract that are loaded with natural antioxidants. So to fight the pollution and free radical damage this is a tried and tested formula. It has natural oil and 75% natural organic extracts. On application it gives suppleness with non sticky formula. It locks the moisture while you sleep and therefore, works as a day and night cream. It is a suitable anti pollution daily face cream for men and women with normal to dry skin.
8. Organic Smog Block Natural SPF Anti Pollution Moisturizer Cream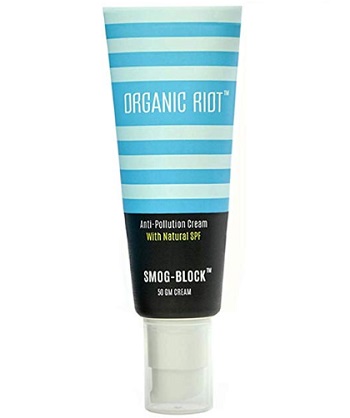 The parabens free anti pollution cream has a natural spf with a smog block formula. It is free of DPA, paraben and is a 100% vegetarian product. It is hypoallergenic and is also safe for sensitive skin types. It is one of the best anti pollution face moisturizers for daily use. It shields your skin from the effect of pollution from the urban stressors. Ideal to be used as a base for makeup and is perfect for dry and dull skin. It is ideal to be applied twice in a day for good results. It is one of the best 100% natural and paraben free anti pollution day face creams in India.
9. Kirikura Vegan Anti Pollution Cream for Men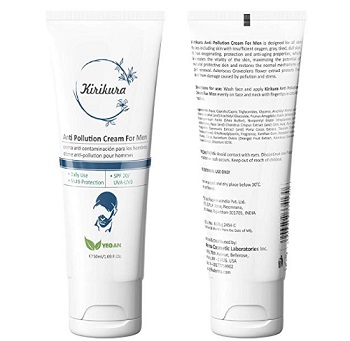 The vegan anti-pollution everyday cream for men has mild formula that has multiple protection for your skin. Suitable for sports people, people living in metro cities which are very polluted, it also has SPF 20. The hypoallergenic formula is not tested on animals and is a paraben free and 100% vegan formula. It prohibits the pollutants, metals and gases to penetrate the skin and minimize the appearance of fine lines and wrinkles. It also improves the overall skin texture and reverses the signs of aging caused by pollution.
10. VedicRoots Anti-Pollution Day Cream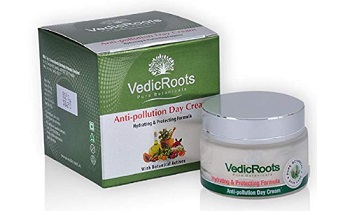 Vedicroots natural protects the skin against environmental toxins for men and women. It contains effective anti-oxidative plant-based active substances. It protects skin damage and prevents early signs of aging , helps your skin stay young, well-cared and ravishing.  It's a super-saviour that purifies skin cells to increase longevity of youthfulness. After cleansing the face, apply the cream in dots all over the face. Blend the cream nicely.
These are the best anti pollution face creams available in India. You can try any of these daily sue anti pollution skin care products that suits your skin type. The best part is that these creams would also act as the natural Sun damage protector for your skin. So it would also protect the skin from the free radical damage and sun damage. As a result the fine lines wrinkles and dark spots can be prevented.