Summer is the time when your skin tends to sweat more and secret sebum a lot more than the other seasons. Even though, you have dry skin, your skin becomes a bit sticky. This is why choosing the right face cream for summers becomes really important to prevent multiple skin issues.
So if you are thinking which are the best moisturizers for summers for which is the best fairness cream that you can apply to prevent the tanning and the dullness on your skin, during the hot and humid season, then you have reached the right spot. In this article, we are sharing the best face creams for summer season available in the market.
Even when someone has combination skin or oily skin, using the light moisturizer for hot season is a wise thing to do. So let's check which are the best facial creams for summer season. Before telling you the list of these skin creams, let us tell you that these can be either sunscreens or can be creams loaded with extra SPF. So let's check the day creams that you can apply during daytime to combat the summer heat and the sun tanning.
Best Face Creams  and Lotions for Summers in India (2021)
1. Lotus Herbals Whiteglow Skin Whitening And Brightening Gel Creme SPF-25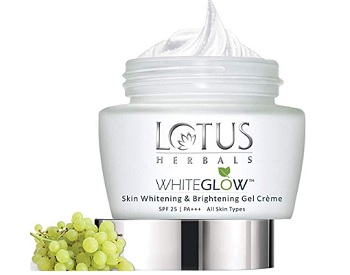 If you are looking for a lightweight moisturizer, Lotus Herbals white glow skin whitening and brightening gel cream is perfect. With the very light translucent texture, this comes loaded with SPF 25. Suitable for all skin types, this is one of the best summer creams that men and women both can apply. Even for teenagers this cream is suitable. It imparts natural fairness to your skin as it includes natural ingredients like saxifrage extract that helps to revive the dullness and take off sun tanning. This cream can be applied everyday and does not have any side effect even when you have sensitive skin type.
2. WOW Fairness Cream SPF 20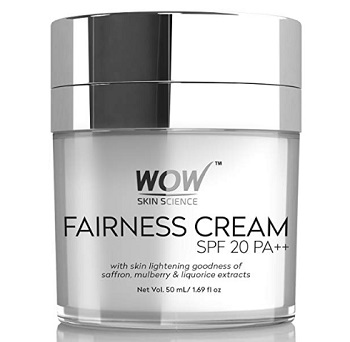 This fairness cream comes with SPF 20 and with no parabens and mineral oils, this cream is one of the best fairness creams in India for all skin type. It has a lightweight texture with does not make your skin sticky or greasy when you apply it during humid season. So even if you stay in a tropical area where skin becomes sticky, this fairness cream is the most effective free skin lightening product. If you are wondering, Can I use moisturizer in summer? Then yes, this is a perfect one.
3. Nivea Soft Light Moisturiser With Vitamin C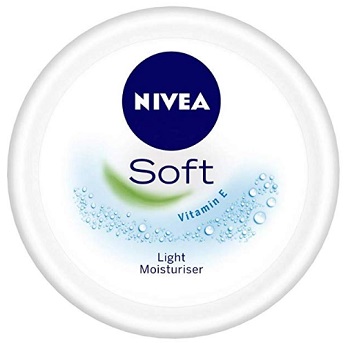 Nivea Soft light moisturiser contains vitamin C but doesn't have any SPF, yet for the summer time, this is a perfect cream. For dry skin, it is suitable since, it gives just enough of the moisture without making the skin sticker for greasy. The best lightweight moisturizer that people with dry to normal skin find really effective for their skin. The summer moisturizer for face is reasonably priced and is available easily in the market.
4. Lakme Absolute Skin Gloss Gel Creme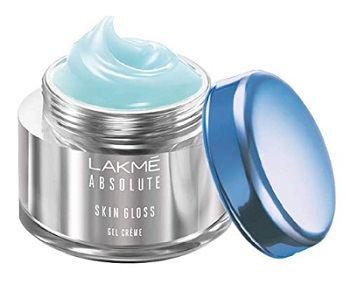 Lakme Absolute skin gloss gel cream also has a gel like texture. This is in fact the best moisturizer for combination to Oily Skin in summer. It's texture blends really nicely in the skin layers and does not leave any sticky layer on the surface. It can be also applied as a makeup base for the skin. Using this gloss gel cream also does not clog the pores, so this is safe for oily skin as well as acne prone skin. It's a decent Lakme cream for oily skin in summer and even the aloe vera Lakme cream is worth trying.
5. Neutrogena Ultra Sheer Dry Touch Sunblock SPF 50+
This is a sunscreen that has SPF 50. Perfect for all skin types, it is a wonderful sunscreen for oily to combination skin. With a dry touch feel, it does not give you any stickiness post application. While majority of sunscreen can make your face sticky or make you sweat profusely, this one is different from that. It keeps a dry finish on the skin while hydrating and providing sun protection. Applying it before the makeup ensures that your skin stays protected from UV damage. Additionally, it also works as a day cream. It's a good moisturizer with SPF for oily skin.
6. Olay Total Effects Day Cream 7 in 1 Normal SPF 15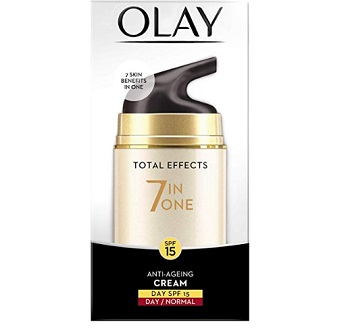 Once you reach late 30s, an anti aging cream needs to be in your skin care routine. Olay total effects day cream fights signs of aging and is perfect for normal to dry skin. With SPF 15, this is a suitable summer anti aging cream that is perfect for keeping the skin hydrated and fighting the everyday stress on the skin.
7. Lakme Sun Expert SPF 30 PA++ Ultra Matte Lotion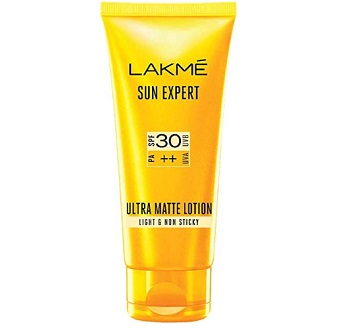 Lakme Sun expert SPF has SPF 30 and with Ultra Matte finish. Matte finish makes it one of the best sunscreen lotion for normal to oily skin. Even combination skinned people can try it to make skin matte and to get the benefits of sun protection factor 30. Perfect for everyday use, SPF 30 shields the skin from ultraviolet rays and prevents the sun tanning and free radical damage on the skin.
8. Lakme Peach Milk Moisturizer SPF 24 PA Sunscreen Lotion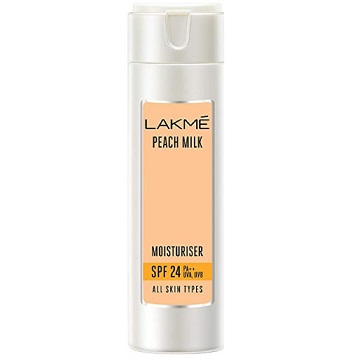 Lakme peach milk moisturizer also contains SPF 24 and is a lightweight moisturizer for all the season. The face cream for oily skin in summer helps to keep the skin moisturized and nourished. With peaches as key ingredient, it also makes skin tone supple and brighter. Daily application of this summer moisturizer for face, makes skin look better than before. Men and teenage boys can also use this daily use face lotion.
9. Lotus Herbals Nutramoist Skin Renewal Daily Moisturising Creme SPF 25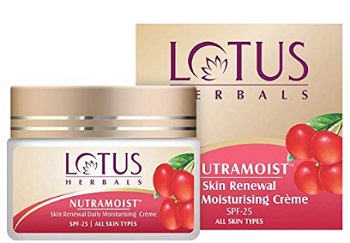 Lotus Herbals nutrimost skin renewal cream is a perfect summer cream for dry skin. While giving the adequate moisturization, it protects the skin with SPF 25.  The product can be applied everyday to stay protected from sun tan while keeping the skin moisturized. With active ingredients, it is safe for all skin types but is best for dry to normal skin. It is a good skin cream for summer season.
10. Garnier Skin Naturals Light Complete Serum Cream SPF 19
Garnier Skin Naturals light complete serum cream has SPF 19 and it is a perfect day cream for teenagers for summer season. The good thing about this cream is, it's lightweight texture which does not clog the pores and as the added benefit of dark spot reduction, it's one of the best dark spot removal cream for teenage skin. Dark spots can happen as a part of acne, pimples and sun rays. While protecting your skin from sun rays it also helps to make the skin brighter. It also fights sun tanning.
11. Plum Sheer Matte Day Cream SPF50 Chamomile And White Tea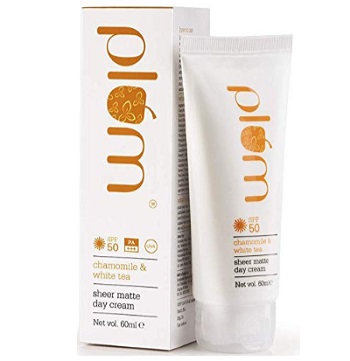 Plum matte day cream has SPF 50 with white tea and chamomile. It is the best day cream for oily and acne prone skin in the market currently. Chamomile soothes the irritated, inflamed and acne prone skin while white tea helps to reduce the sun tanning. This is apt for men and women both and is the best high SPF day cream for summer season for all skin types.
Now that you know about the best face lotion with SPF oily skin, dry skin and combination skin, summer skin care will not be that difficult. You can certainly use moisturizer during summer season, however it should suit your skin type. We have given you enough of the lightweight moisturizer with SPF and the hydrating moisturizers for dry skin types.