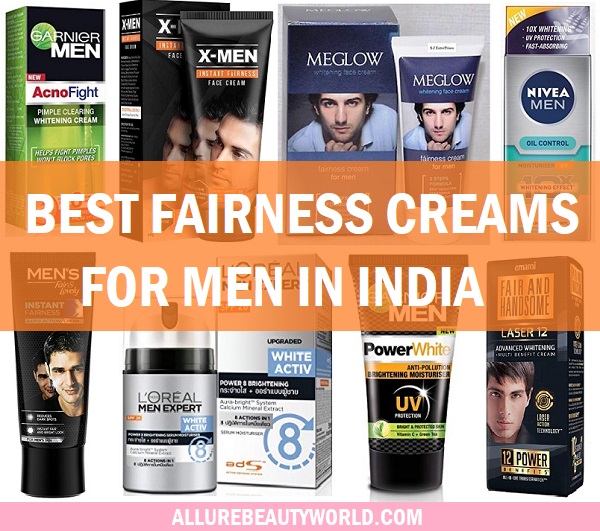 Men's fairness creams are made to enhance your skin complexion and to lighten the complexion by few shades. Most of the fairness cream contains the natural ingredients that tend to reduce the sun tanning and the dead skin cells. This affects the skin texture and brightens the complexion. Having said that we have, compiled this list of the best fairness creams available in India for men. Men stay  lot of time outdoors, this is why chances of Sun damage, Sun tanning, dullness and roughness induced darkness are the major concern. Therefore, application of suitable skin whitening cream for men can help in lightening the complexion and get rid of the darkness from the skin layers. So let's talk about the best fairness creams for men in India from various brands with a reputed and effective.
Best Fairness Creams For Men in India (2022)
Let's check the top men's brands that give various options of the whitening products to get radiance on your skin.
1. UrbanGabru Insta Glow Fairness Cream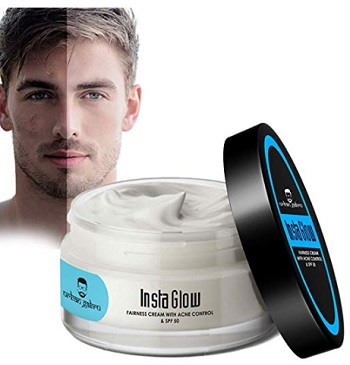 The insta glow fairness cream from Urban Gabru is an anti pimple cream that also contains SPF 50. By far this is the best fairness cream for men with oily and acne prone skin in India. The reason is pretty simple. It has SPF which you need. It's an anti pimple cream that prevents the pimples and decrease their spots and scars. It whitens the skin complexion and also reduces the sun induced darkness.
2. Garnier Men Acno Fight Pimple Clearing Whitening Day Cream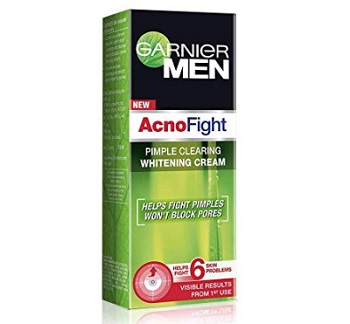 Garnier Men acno fight pimple clearing whitening day cream is yet another best whitening cream for men in India. It helps fight pimples and does not block the skin pores. It gives you visible results right from the first use. We're saying this because we've tested the product and it works really well considering it's very affordable price. It gives brightness to the skin when you apply it and does not leave any sticky or white residue behind. It is yet the best men's fairness cream for oily skin.
3. Fair & Lovely Men Anti Marks Fairness Cream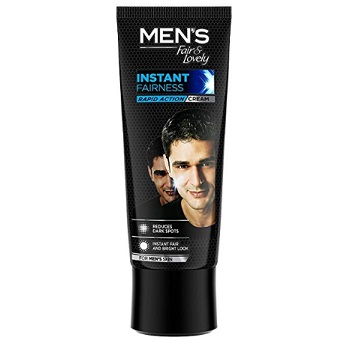 To get away with the marks and scars, fairness cream can also be effective. The Fair and Lovely face whitening cream for men is an affordable option that is a combination of essential vitamins. It works within the inner layers of your skin to give fair complexion. The cream is pleasantly smelling and mild in its formula. It removes the spots and with continuous use, it also gives you fairness when you apply it. The cream is suitable for normal skin as it's not very hydrating or oil controlling in nature.
4. L'Oreal Paris Men Expert White Activ Whitening Moisturing Fluid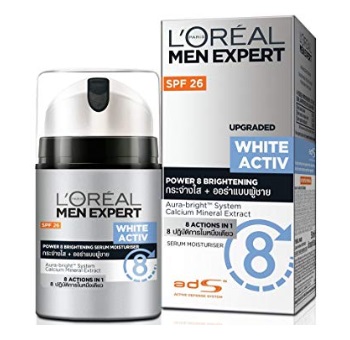 L'Oreal men whitening face cream fluid is amongst the best cream for men with all skin types. It has a Milano block technology and is loaded with Vitamin C. With a speed of 28 protect from the ill effects of Sun damaged. It is a global whitening cream that is extremely popular. It does not have a greasy or sticky formula. It penetrates deeply in the skin and improves the complexion within few weeks. Making your skin fair, it also protects your fairness from the harmful sun rays and minimises darkening of skin. It's also a good fairness cream for men or dark spots removal.
5. Garnier Men Power White Anti-Pollution Brightening Moisturiser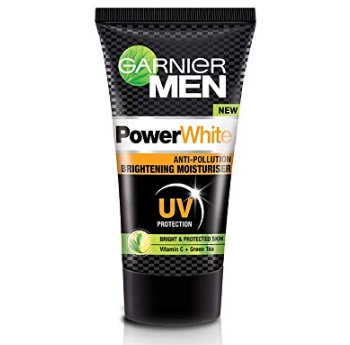 For someone who has skin damage because of the pollution, brightening face product can surely work. Garnier Men power white anti pollution moisturizer contains 10 times vitamin C and green tea extracts. Both green tea and Vitamin C, are effective antioxidants that give brightness and protection to your skin. It has a light weight formula and becomes really invisible once blended on the skin. So even if you spend a lot of time outdoors under pollution and sun rays, this cream can help to get rid of all that.
6. Fair and Handsome Laser 12 Advanced Whitening and Multi Benefit Cream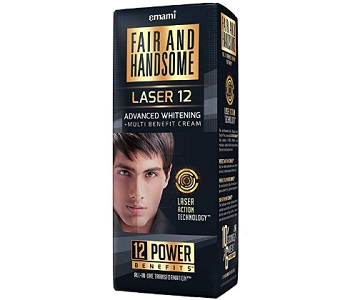 Fair and handsome laser advanced whitening cream gives you multiple benefits. It brightens the skin complexion and has an oil-free formula. The long lasting fairness that this cream imparts stays for long. However, to show you actual fairness it may take some time. Within a month it helps to lighten the dark spots and the dark circles from the face. It can be applied twice in a day. The cream gives you oil free and radiant look without any sticky feel.
7. Nivea For Men Advanced Whitening Oil Control Moisturizer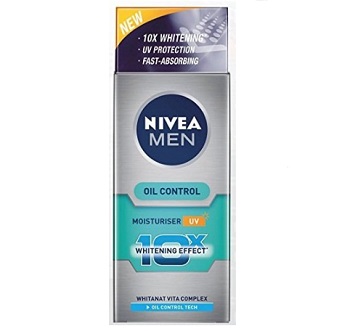 For all the men who are looking for a good oil control fairness cream shall try this option. Nivea men oil control whitening cream moisturizer whitens skin without making it over the top sticky. It has a unique oil control formula based on new technology. Therefore, it reduces the oiliness and gives you 95% pure Vitamin C and hence it improvises the skin complexion and repairs the skin damage. While fighting the darkness and dullness causing factors, it revitalizes and brightens your skin complexion.
8. Meglow Men's Face Fairness and Whitening Cream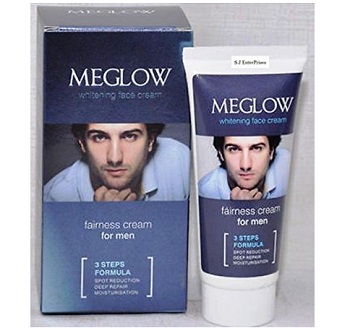 Meglow premium fairness cream for men is yet another good option for men with oily skin. The fairness cream gets blended on the skin nicely without leaving behind bad looking ashy residue. This too can be applied twice in a day and the best way to apply it is after cleansing the skin. Applying it during the daytime, as during the night time you can apply on other night whitening fairness cream.
9. X-MEN Instant Fairness Face Cream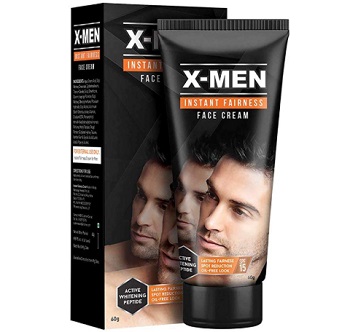 X-Men instant fairness cream has active whitening peptides that give you oil-free look and dark spot reduction. The cream actually works by slowing down the melanin production. This entire mechanism helps to release the melanin in limited quantity, due to which skin does not look as darker. The oil-free formulation make sure that your pores are not clogged after using this cream rather the complexion becomes even toned.
10. Neutrogena Fine Fairness Cream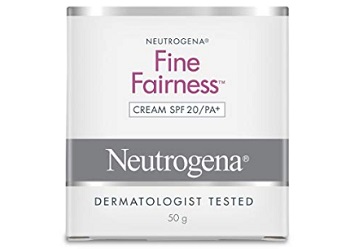 Neutrogena fine fairness cream is a dermatologically tested product that helps to reduce the appearance of dark spots by decreasing the melanin release. Applying it twice in a day ensures that you get not just skin whitening but anti aging benefits as well. It is a fairness cream for men and women both and comes with SPF 20. With Vitamin E and C, it tends to lighten the pigmentation and inhibits the future melanin production. So, it protects the skin from darkness as well as photo damage. It's the best face cream for men with al skin types.
11. Patanjali Saundarya Swarn Kanti Fairness Cream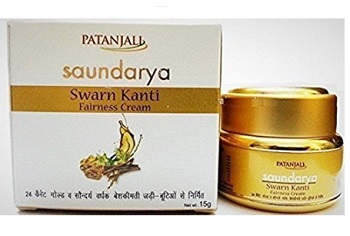 Patanjali Swarn Kanti fairness cream is a Ayurvedic concoction or formula that contains multiple natural and herbal ingredients. It contains ingredients like aloe vera, wheatgerm, licorice, Manjistha extract and more. After using it daily, even tones the skin and also has hydrating effects. It brings back the lost glory of your skin and skin starts to look better. It's the best Ayurvedic face whitening cream for men with all skin types.
12. Beardo Ultraglow Face Lotion For Men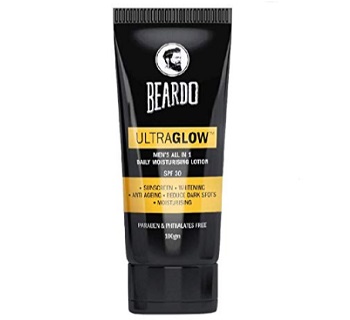 Beardo face lotion for men is an all in one product. First of all it is paraben and pthalates free. It is loaded with sunscreen SPF 30 to protect the skin from the UV rays outdoors. It is a skin whitening, anti aging cream that is suitable for men with all skin types but not for men and boys with oily little sticky. It reduces dark spots and moisturizes the skin perfectly. In short it is one of the best men's fairness creams for dry skin in India. Oily skinned guys can try it as a winter fairness cream, if that works!
These are the best fairness creams for men in India from various brands available in the market.  Other than that I would also recommend you to go through some remedies that will help you maintain the fairness and enhance it. Apart from using the skin lightening creams for men, you must follow some other measures.
Skin Whitening Tips For Men
Applying mixture of lemon and honey in the evening. Massage your skin with this and keep it for 5 minutes. Wash with cold water. Doing it every day or at least alternately improve skin complexion by eliminating any spots or blemishes on the face.
Applying Yoghurt and turmeric face pack once in a week also improves the skin complexion. Make a paste of yoghurt and turmeric and apply on the face. Wash after 20 minutes. The simple step would make your skin look brighter and fair.
To get rid of the dead skin cells, use a good face scrub so that the uppermost dark skin layers are removed.
You must also drink good amount of water to keep your skin hydrated.
If you have dark circles that is making your skin look patchy and dark then applying a fresh cucumber juice every night before sleeping over the dark circles would give you good results.
Last but not the least you must always make sure that whenever you step out of home, you must apply sunscreen. If you are in a habit of skipping the sunscreen then please make sure that you apply a skin cream that contains a sunscreen SPF above 30. This simple step would prevent the darkness that your skin can become because of Sun damage.
You must also you take 7 to 9 hours of sleep every day. This is the enough time to for your skin to get rejuvenated. When you sleep the body repairs on its own and this time is important. Otherwise appearance of dark circles can be seen.