Hi guys, if you are looking for the best whitening face wash for men in India then you have reached the right spot. There are several fairness face washes available in the market. Some of them are for oily skin, dry skin, combination skin and even for the different skin types. However, the fairness face washes for men include ingredients that help to brighten your skin complexion. Such skin lightening face washes helps to lighten your skin complexion by removing the deep suntan settled on the skin removing the dead skin cells and making the skin glowing and supple. When a face wash does all these things for you, obviously you get brighter and radiant skin. Considering that here are the best men's face wash for fairness included in this list.
Best Face Wash for Pimples and Fairness For Men in India
Let's take a look at the best skin whitening face washes in India for men. This face washes are for different skin types therefore you need to figure out your skin type and then choose the cleanser accordingly.
1. Garnier Men Power White Anti-Dark Cells Fairness Face Wash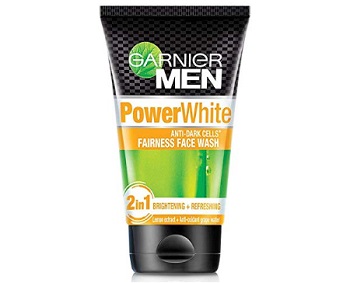 This is the best Garnier Men's face wash for fairness and pimples. It contains anti dark cells and brightening effects. As it's enriched with the goodness of grape water hence, removes the impurities and pollutants from the skin layer. This Garnier men's cleanser also contains lemon extracts that removes the dark dead skin cells thereby revealing healthy skin tone. So the fairness face wash for men visibly brightens your skin tone.
2. Men Deserve Refreshing Charcoal Face Wash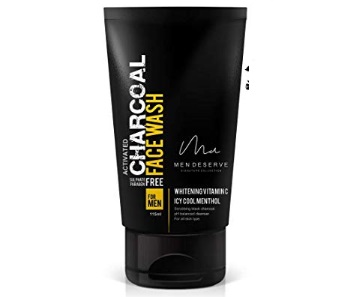 The charcoal face wash has kin whitening Vitamin C and Icy cool menthol. It's amongst the best chemical free and Sulphate free face wash for men. The best thing is, even though, it's an activated charcoal face wash, it helps in controlling the acne and pimples, It's also suitable for all skin types and fairness which you can try at least twice in a day.
3. O3+ Brightening & Whitening Face Wash with Cucumber and Aloe Vera Extracts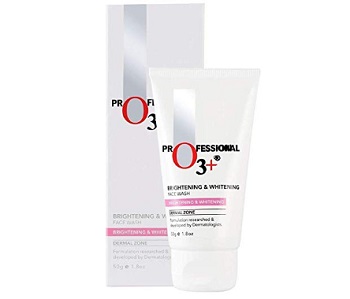 O3 plus whitening and brightening face wash is loaded with cucumber and aloe vera extracts. Cucumber acts as a toner for your skin and makes it fresh and fair. The whitening facial cleanser is creamy and helps to purify the skin on the upper level. It reduces the blemishes and dark spots along with the uneven skin tone. Using this facial cleanser regularly in making skin ultra fresh and even toned. It's a paraben free cleanser that improves the skin texture. Clearly with all that benefit, it's the best face wash for glowing and fair skin for men.
4. Nivea Men All-in-1 10x Whitening Effect Face Wash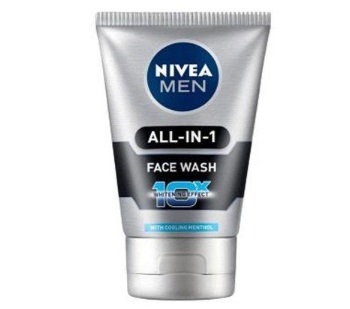 Nivea men All-in-One whitening face wash is one of the best men's fairness face wash in India. It reduces the dark spots and make sure that your skin stays bright and healthy looking. Other than that the facial cleanser for men also improves the skin tone by removing excessive oils and impurities from the pores. It also eliminates the pore clogging dirt and keeps the skin free of acne and pimples. Pimples can make the skin filled with dark spots, therefore this face wash also prevents the occurrence of pimples. Made with charcoal, menthol, and glycerine, it works on the dark spots perfectly. This is one of the best summer fairness face wash for men in India.
5. Lotus Herbals White Glow Active Skin Whitening and Oil Control Face Wash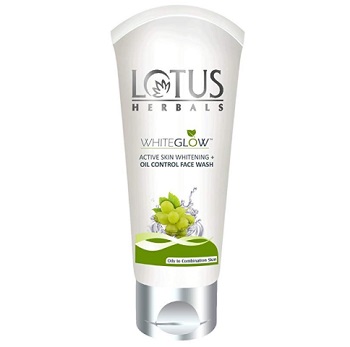 Lotus Herbals white glow skin whitening oil control face wash is best skin whitening face wash for oily skin. So in short it's a face wash that can be used by all skin type, even for combination skin. The men's fairness face wash for oily skin has ingredients such as Green tea and Burberry extracts that brighten skin tone and make the complexion even. It balances the pH level of your skin.
6. Garnier Men Power White Anti-Pollution Double Action Face Wash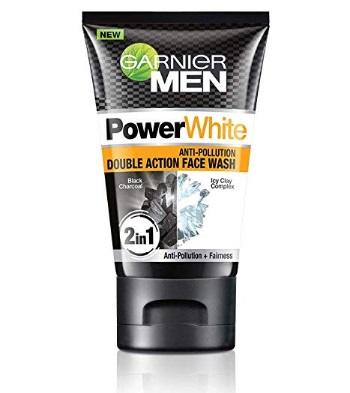 To keep your skin pores clean, you can also try this Vitamin C enriched face wash. Garnier Men power white double action face wash is for those who've oily skin and wants fairness. It has black charcoal extracts along with icy clay that make sure that your skin stays there. So, the product removes the dust and dirt from the pores and skin, as a result your skin also appears brighter. With the goodness of charcoal and clay, it works on the oily skin quite effectively. It's the best men's face wash for pimples and fairness. For after gym facia cleansing, it's also suitable.
7. L'Oreal Men Expert White Active Anti-Acne Volcano Brightening Foam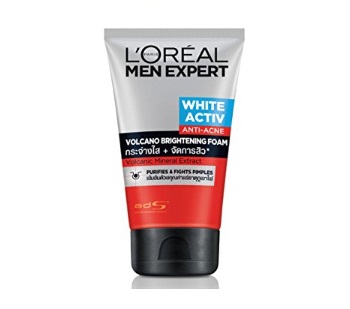 L'Oreal men white activ anti acne face wash is for men with acne prone skin for brightening effect. It helps to reduce acne by deeply purifying the skin and tightening the skin pores. It mattifies your skin by removing the excessive sebum and oils. Containing the volcanic mineral extracts, it dries out the pimples and eliminates them quickly. The whitening face wash works really well on oily and acne prone skin for brighter face. It's the best men's face wash for pimples and fairness.
8. Ethiglo Skin whitening Face Wash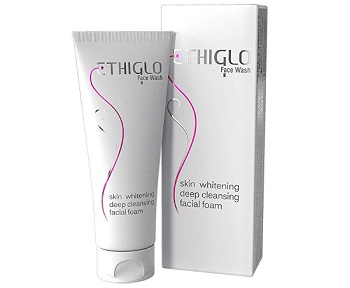 The creamy face wash is the skin whitening face wash for men with dry face. It reduces blemishes and lightens skin tone and does not dry the skin complexion rather it's very moisturizing. The face wash works really well in making the skin fair in just few weeks.
9. Meglow Intensive Whitening Fairness Face Wash for Men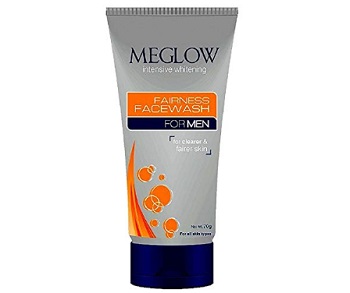 Meglow whitening fairness face wash for men gives you clear skin and soothes all skin types. It removes the pollution particles entering the skin and makes it clear and fair. The good thing is that it does not dry the face after the wash like the other fairness face washes. It's the best face wash for fairness for men's skin.
10. Gatsby Cooling Clear Whitening Face Wash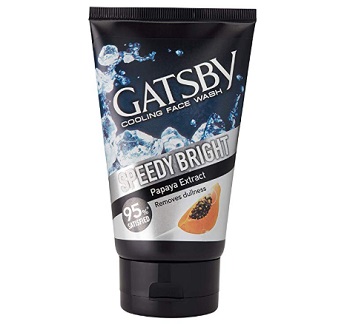 Gatsby fairness face wash has papaya extracts. Papaya contains enzyme papain that is excellent to remove the facial skin darkness and dullness. By working on the dark skin cells, it brightens the skin complexion and works as a multifunctional product. The men's face wash for fairness removes the excessive oils, brighten the skin complexion and moisturizers. Also it gives acne care and scrub or polishes the skin surface. It has a triple whitening system containing the herbal extract that keeps your skin fair. It can be applied twice in a day and your face starts to look matte and bright.
11. Beardhood Caffeine Face Wash For Men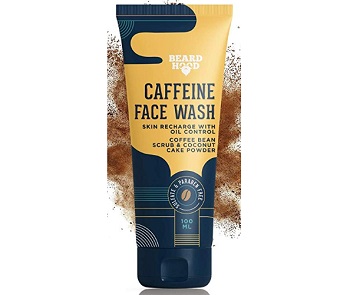 Beardhood caffeine face wash is for men with oily skin who want fairness on the face. The Coffee Bean and cake powder scrub helps to deeply cleanse the skin. It removes the dark skin layer from the skin. It has excellent oil controlling properties that make your skin clearer. Containing no harmful chemicals, this is a sulphate and paraben free product with soap free base. It also contains tea tree oil which is perfect for treating infections like acne, pimples and blackheads. Suitable for all skin types, it's perfect for oily and combination skin. It maintains a healthy pH balance of the skin and naturally your skin starts to look brighter.
12. Trycone L Glutathione and Vitamin C Face Wash for Skin Whitening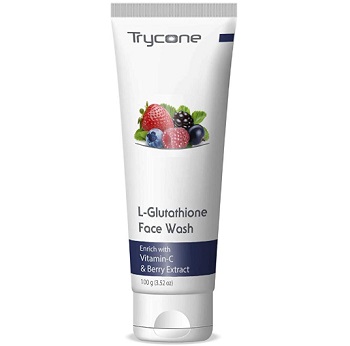 Glutathione is used as a natural skin whitening ingredient. This face wash is enriched with Vitamin C for skin whitening purpose. You must have notice that glutathione, a skin whitening ingredient that is used in the form of pills, skin cream, face washes and much more. So, containing the glutathione and Vitamin C, it's an excellent face wash to whiten your skin. With Vitamin E and Berry extract, it fades the stubborn dark spots that make skin uneven and pigmented. Based on the users rating, this is amongst the highly used face wash for fairness. It's the best face wash for men's fairness in India.
13. Kaya Clinic Brightening Beads Cleanser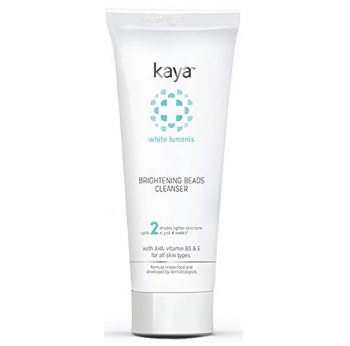 Kaya brightening face wash has micro brightening beads. It contains Alpha hydroxy acids, vitamin B3 and Vitamin E. Safe and suitable for men with all skin types, this is a product developed by the Dermatologists. So it's the best fairness face wash for men with sensitive skin also. A lightweight and non-sticky formula is soap free. Men with combination, dry and normal skin can try this farness face wash. It's a non-foaming face wash which doesn't leave your skin dry.
14. Lakmé Absolute Perfect Radiance Skin Lightening Face Wash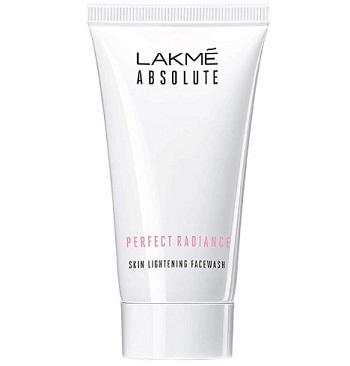 If you want a budget face wash for fairness for men's skin, then Lakme Absolute skin lightening face wash can be used. Enriched with multivitamins and skin lightening ingredients, it gives you visibly radiant skin. It fights dark spots, dullness and treats the uneven skin. With its formula, it's able to get rid of the sun tanning. Sun tanning is also responsible for making your complexion appear dark and pigmented.
15. Neutrogena Deep Clean Brightening Foaming Cleanser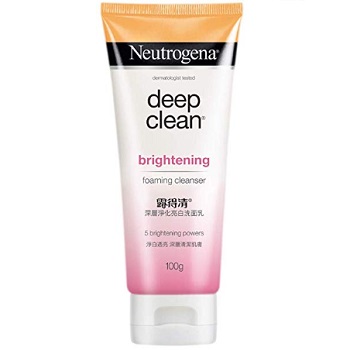 Neutrogena deep clean brightening face cleanser is amongst the best skin whitening cleanser for all skin types. It's an oil-free skin whitening face wash which is also non comedogenic. The dermatologist tested product gives you naturally clean and fresh skin. It contains mulberry extract that helps to whiten with every wash. You can notice the improvement in your complexion. Take some amount of product and lather it. Apply on the face and after 15 seconds, rinse it with clean water.
Out of the list of the best face wash for men in India, hopefully you would be able to figure out the best skin whitening facial cleanser for yourself. Other than using, the face fairness cleansers for men, you must also ensure that you are using a good amount of sunscreen during the daytime. Because it will not be of any use, if you are using brightening skin care products, but skipping the sun lotions and sun blocks.
Sun rays don't just damages can but also darken the skin cells. This is applying sunscreen during the daytime when you step out of your home is extremely important to preserve the fairness and to keep going in improving the skin complexion.