Winter face wash can help keep the roughness away and give glow. A lot of us ask, which is the best winter face wash in India for dry skin? If you are also struggling to keep your dry skin smooth and softer, then these face washes that we have compiled in a list, will definitely help you. Facial cleansing is your first step towards getting a beautiful glowing skin. Therefore, it becomes really important that you use a facial cleanser which makes your skin smooth by boosting moisture.
Before buying the best face wash for winter season in India, you must check certain things. These are the best face washes for dry skin which also minimizes the premature aging which is quite common when your skin is pretty dry and even sensitive as compared with oily skin type. While choosing best face wash for winter in India, Dermatologists recommend that you should go for face washes that contain moisturizing ingredients.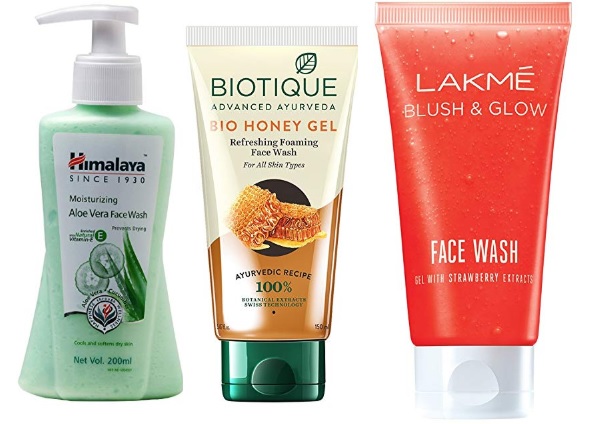 When I say creamy that doesn't mean that gel face washes are bad when your skin is dry but if a face wash contains the moisturizing ingredients then why not. Along with that, ingredients like glycolic acid, or even lactic acid are considered helpful in fighting the aging from showing up on your dry skin. It locks the moisture in place and also acts as a good moisturizer. So, which are the best face washes you can use if you have try, flaky and sensitive skin. Let's check how to choose the best face wash for dry skin for cold season.
Best Face Wash for Winter in India (2023)
Here is the best face wash for glowing skin in winter in India which can be used by both men and women.
1. Cetaphil Gentle Skin Cleanser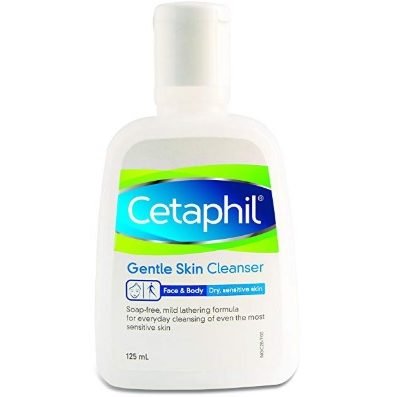 The gentle skin cleanser is specially made when your skin is dry and sensitive. The good thing is that the cleanser is soap free and has a very mild lathering formula. While it is suitable for everyday cleansing of even the most sensitive skin, it also makes your skin look glowing. It is non-comedogenic product which moisturizes your skin while getting rid of the dirt and dust from the face. It is one of the best Dermatologist recommended drugstore face cleanser for dry skin.
2. Himalaya Moisturizing Aloe Vera Face Wash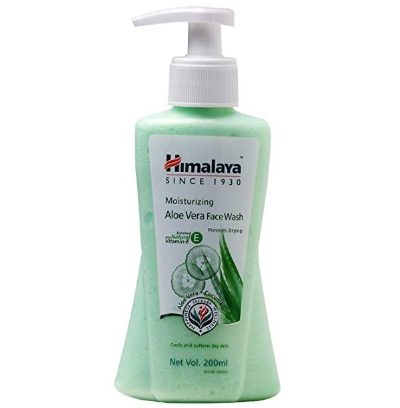 Products which are rich in aloe vera and Vitamin E are extremely suitable for dry skin. The reason is pretty simple, aloe vera is extremely moisturizing and so does Vitamin E. When you apply this aloe vera facial cleanser on your skin, it instantly makes your skin appear smooth and fresh. Vitamin E heals the dry patches during winter season, responsible for making skin appear rough and scaly. It is rich in enzymes, polysaccharides and nutrients to heal the dryness. It is one of the best dry face face wash in India.
3. Aroma Magic Lavender Face Wash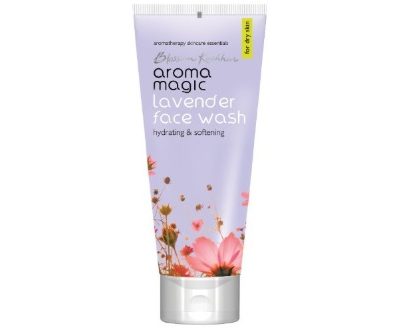 For dry skin, lavender works like magic. The herbal facial cleanser is best for treating the rough dry face. It has a mild formula rich in lavender flower extracts. You just have to apply it on your wet face and massage for few seconds. Use it twice a day morning and night to moisturize your skin and keep it beautiful. It also heals the minor inflammation and irritation, as seen on sensitive skin type. It also contains shea butter that gives extra moisture to your skin. It is the best face wash for dry and aging skin.
4. Biotique Bio Honey Gel Refreshing Foaming Face Wash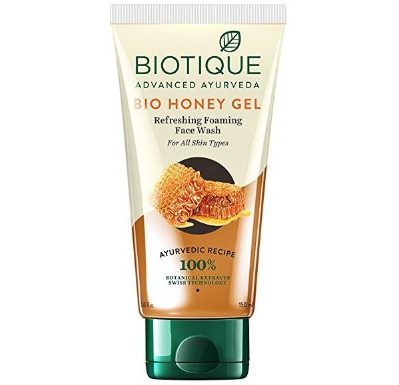 Honey is a moisture retainer and moisture boosting product. The Biotique facial cleanser has a mild formula which is forming in nature yet is incredibly non-drying. It is an Ayurvedic face wash made with 100% Botanical extracts. Applying this daily helps to clear your skin and also boost the moisture levels. It heals and soothes your dry face by giving vitamins and minerals. It is one of the best herbal face wash for dry skin and combination skin during winter season. In fact, we have found that, it's the best face wash for oily skin in winter after using this.
5. Lakme Blush and Glow Strawberry Gel Face Wash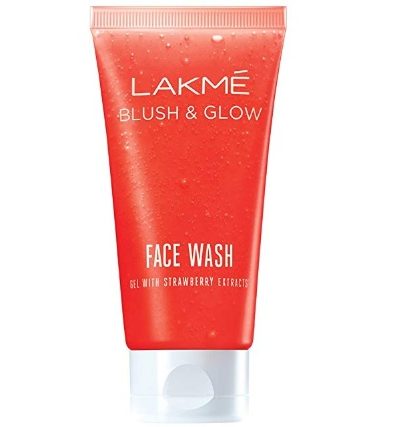 I would rate this face wash as one of the best face wash for dry combination skin to get glow and smoothness. The face wash has a gel texture which is very mild. It clears the skin by washing away the dirt and other types of impurities. Even the pollutant particles that make your skin rough in winters are also eliminated. This contains antioxidants from fruits like strawberries. Presence of micro-beads ensures that the dead skin cells and impurities are uprooted thoroughly. When you use this twice in a day, you are bound to get glowing skin instantly. I would recommend it to use during chilly winter season. Price wise as well it is very affordable.
6. Khadi Mauri Herbals Rose Herbal Face Wash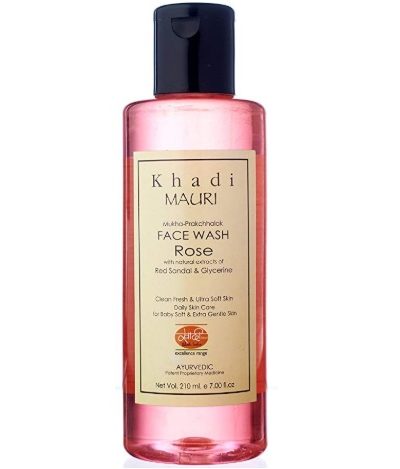 This herbal cleanser is loaded with rose extracts along with red sandal and glycerin. These ingredients are known to keep your skin fresh, glowing and improves the brightness. The extra gentle gel formula rich in glycerine is suitable for sensitive and dry skin. It heals the Rough patches to make your face glow. The cleanser also clarifies the pores and soft once the skin. You can wait your face and apply some gel on your face. Watch with clear water and use it twice a day daily. This is a face wash for all seasons.
7. Plum Skin Revival Chamomile and White Tea Face Wash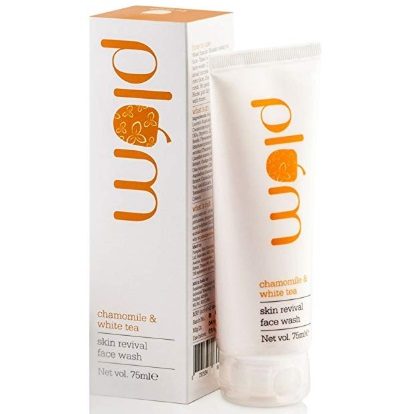 Loaded with the chamomile and white tea extract this is one of the best facial cleansers that we have come across for dry and sensitive skin. On asleep we really like from products because they are PETA certified, vegan and cruelty free products. Additionally, they lack parabens and SLS along with those harmful ingredients that we would like to say NO to. Filled with the natural extracts, this face wash is wonderful for calming down the irritated skin. It also suits the sun burnt skin to help your skin get a repair it easily. Surely, the best winter face wash for dry sensitive skin award goes to this for sure.
8. Oriflame Love Nature Mild & Nourishing Milky Foam Cleanser Oat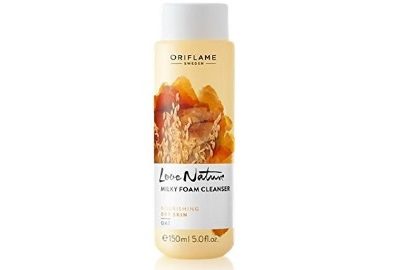 Made for the dry skin for winters to nourish it deeply, this facial cleanser contains oats. Oats have that moisturizing effect on your dry skin. It cures roughness and patchiness making your skin appear lifeless and stealing the glow. The mild cleanser is creamy and makes a skin feel alive after the use. In fact, it also boosts the fairness because of the oats. Even the makeup traces can be effectively removed with this. Do consider this while choosing the best face wash for cold winter dry skin in India, which is safe for sensitive face.
9. ST. D'VENCÉ Moroccan Argan Oil and Raw Honey Face Wash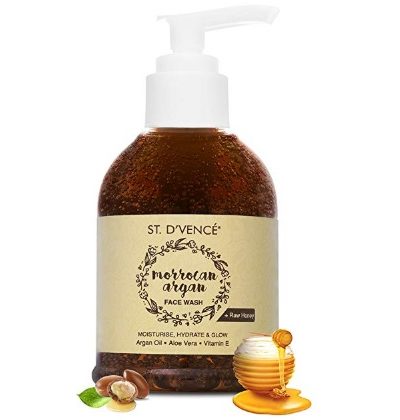 If you like brands which are cruelty free and loaded with natural ingredients, I would suggest that you should go for this brand for sure. The biggest USP of this brand is, the lack of parabens, SLS, SLES and other harmful ingredients. It contains pure Moroccan Argan oil along with the wild Honey. Rich in the aloe vera and Vitamin E this is also yet another best selling face wash for dry skin and sensitive skin which is available in Indian market. It is not contain any artificial fragrances. It maintains your skin pH balance and prevents premature aging hence, I will also call it as a decent anti-aging face wash. Moreover, after using this, we realized that, it's the best face wash for normal skin in winter.
10. Lotus Herbals JojobaWash Active Milli Capsules Nourishing Face Wash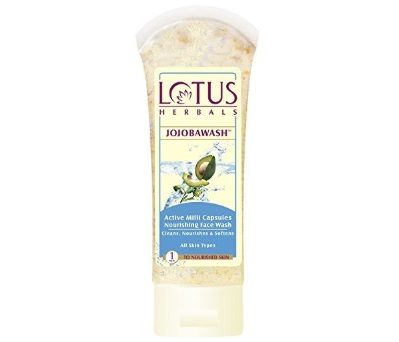 This face wash is from the very popular brand Lotus Herbals. It contains mini capsules that contain jojoba oil. Jojoba oil is highly narration when your skin is flaky dandruff. It makes sure that your skin gets smooth and supple after the use. On the other hand, it's been formulated with natural ingredients, it is also safe for sensitive skin. You can use this face wash twice a day and during all rounder season because it also contains avocado and Vitamin E which protects the skin from premature aging and harsh weather during winters.
Tips To Take Care Of Dry Skin in Winters
Winters can make skin extra dry therefore you must take care of it. When your skin is dry and dull, then these quick steps will help you in getting rejuvenated skin within few days.
Use face wash that is formulated especially to cleanse your dry skin.

Always use a hydrating moisturizer after using the facial cleansers.

During the night time, use a nourishing and rich in Hyaluronic Acid before going to bed to keep the dryness away.

You must also make sure that you don't use very hot or very cold water to wash your face or even the body skin.

For body dryness, you should always use body oils during winters and hydrating body lotions during summer time.
These are the best face wash for dry skin in winter in India. Which is the best facial cleanser that you would like to use? For any queries, please comment us.