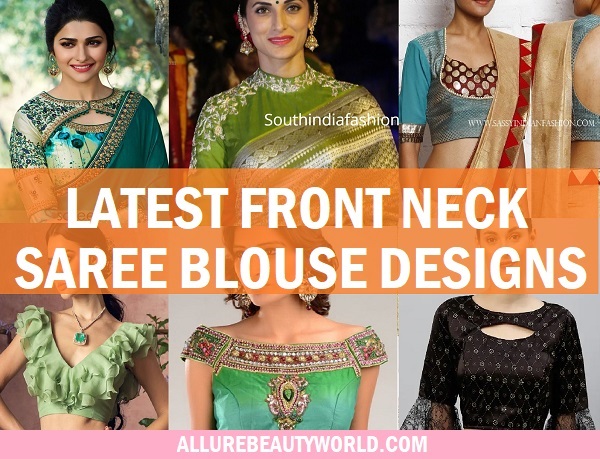 Front neck of the blouse is quite important because it actually makes the saree blouse look amazing and quite different. There are so many different types of patterns for the front as well as the back neck line. Out of which, we have compiled this beautiful catalogue where in you will find the blouse front neck designs. The front and neck designs and patterns are actually the varied shapes and patterns which make the blouse look different and the quite modern. The neckline of the front part of the blouse is of different types. The types of front neck blouses can be square neck, round, scoop neck, V neck, boat neck, ruffled neck, saree blouse patterns and more. There are different types of blouse neck designs and the out of which the most popular designs are undoubtedly the boat neck blouse designs as well as the collared blouses. So let's take a look at this latest collection of front neck blouse design images.
Latest Front Neck Blouse Designs (2022)
1. Collared Patchwork Front Neck Design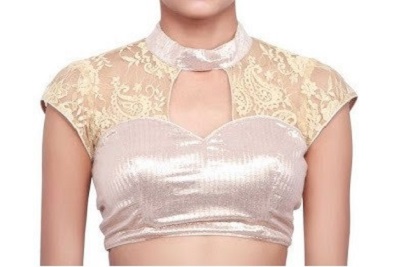 This blouse is an amazing pattern, where you will find the use of two different types of fabrics, like a white pearly and shiny Satin fabric is used for the chest part while for the shoulder part a transparent lace fabric is used. And that transparent lace fabric is put together with a Chinese collar band using the same satin fabric. The great looking blouse is certainly suitable for parties.  Indeed it is one of the gorgeous looking blouses which one can try for different types of Cocktail sarees. As lace fabric and Satin fabric both are used this can also be paired up with lace and Satin sarees.
2. Front Cut Blouse Pattern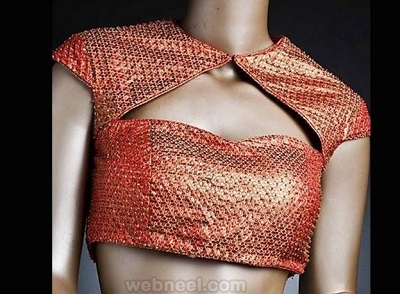 The blouse has quite high round neckline and a triangular cut below it actually makes this blouse very modern and appealing. This is definitely a blouse suitable for modern Indian women who would love to explore and experiment with different types of blouse patterns. It has short cap sleeves which look beautiful and is ideal for the men who have toned arms. Even for the younger women who would like to try such a blouse with their lehengas this is an ideal pattern.
3. Deep Choli Cut Pattern Front Neck Blouse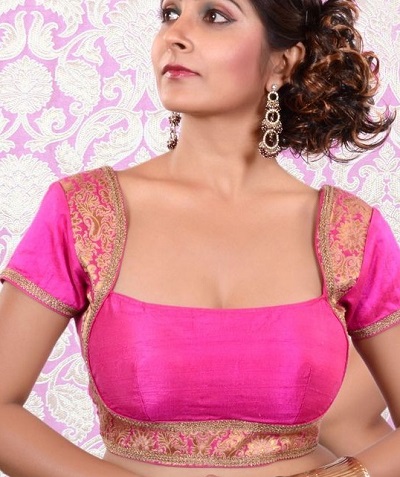 This is truly beautiful and traditional because of the fact that it has been made using the traditional and Old style of next pattern. It looks pretty and charming because of the Silk fabric used. The woven Silk as well as the art Silk fabric and pink color make it a perfect blouse for party wear sarees.
4. Wrap Around Blouse Design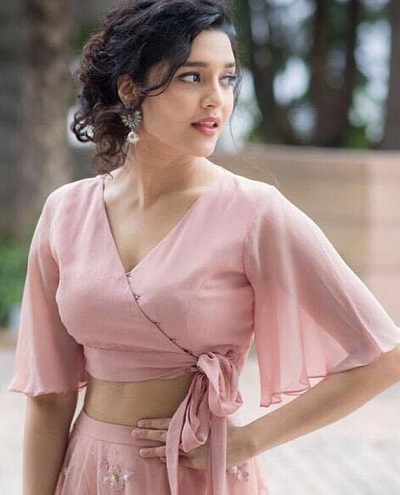 This angrakha pattern blouse like this, is mostly seen in the modern or Indo Western style of sarees. This blouse is undoubtedly a very unique and different looking front neck for the blouses. The V neck also looks pretty good with women who have longer neck even for the women with shorter necklines V neckline is quite helpful. It has flutter sleeves that are made with chiffon fabric and looks quite good.
5. Ruffle High Neck Chiffon Blouse
The ruffled blouse like this is seen lately because of the fact that they are modern and have that Indo Western kind of vibe. For the Cocktail sarees and also for the sarees which are for the formal occasions you can wear such blouses.
6. Broad Collared Hook Neck Blouse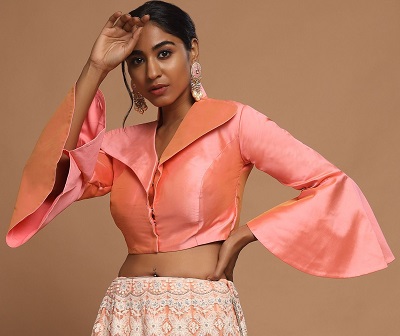 With a very broad collar, this has the charm of the 70s and 80s. The blouse has the neck pattern with front hooks. In the front princess cut pattern is also seen. This blouse has Bell sleeves and is made with the Coral peach Satin fabric.
7. Sweetheart Neck Front Neck Blouse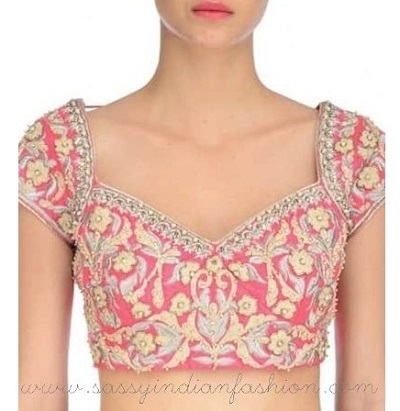 The sweetheart neckline is indeed one of the most popular and commonly seen neck designs. This saree blouse is for the party is as well as for the wedding, however it is also seen a lot in the Indian bridal trousseau. For this blouse, the detailing and the work done on the blouse is certainly the highlight. It is glamorous and glorious looking blouse.
8. Collared Embroidered Front Neck Blouse Design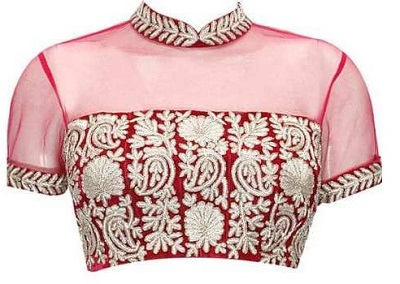 This is a high neck blouse design which is a collar blouse. The velvet blouse has a patch of Red Net fabric which is used for the shoulders and a velvet embroidered fabric is used for the bottom part. The color is also used which is in the same embroidered velvet fabric. Such blouses are pretty modern and because of the fabric and the embroidery used look quite traditional. Therefore, if you would like to try something which is traditional yet should have a blend of modern patterns and design to it then this is really nice and good to have.
9. Chinese Collared Front Blouse Neck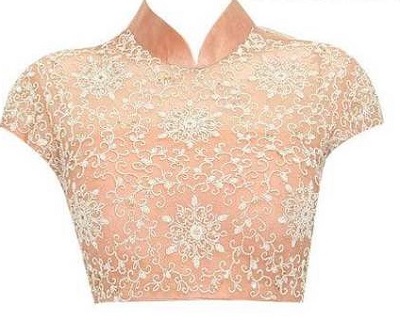 Chinese collar shirt blouses are also popular and the way they look white formal and makes your neck slim and Slender is making them even popular. This blouse is in the lace fabric with aligning underneath.
10. High Neck Keyhole Collar Blouse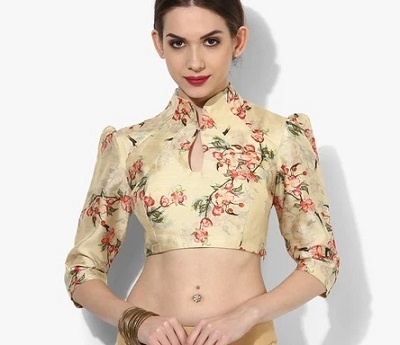 Keyhole and high neck pattern front neck blouse design is not new but it is made in a high neck pattern it looks even prettier. This blouse is so sophisticated and so beautiful that you would simply love to have one such pattern in your wardrobe.
11. Stylish Bridal Blouse Neck Design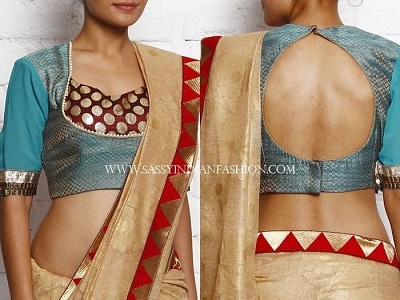 12. Cut Work Inspired Front Blouse Neck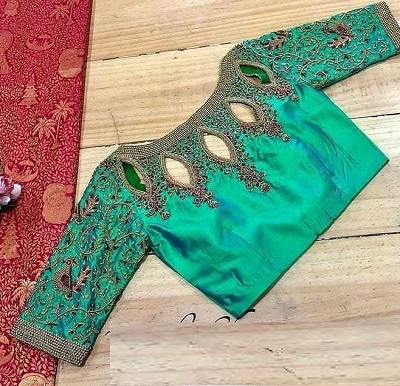 13. Stylish Shrug Pattern Beaded Blouse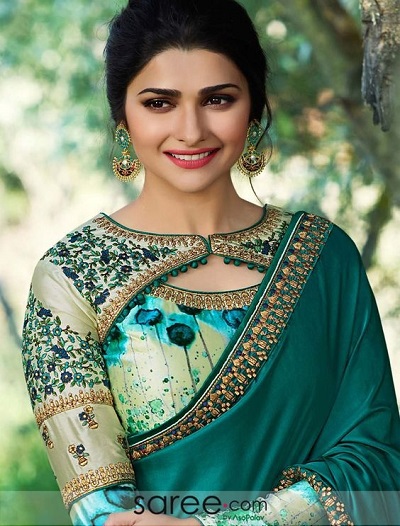 14. Halter Collared Blouse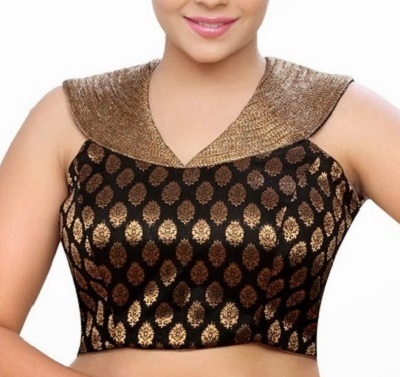 15. Lace Collar Blouse Design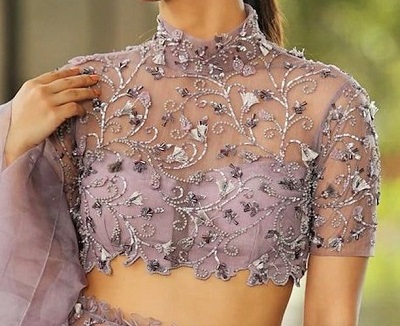 16. Side Keyhole Front Neck Blouse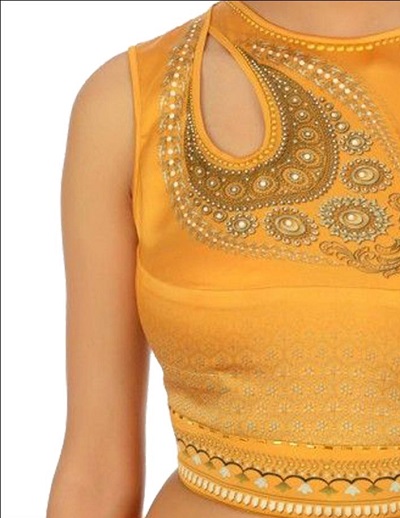 17. Half Chinese Collar Blouse Design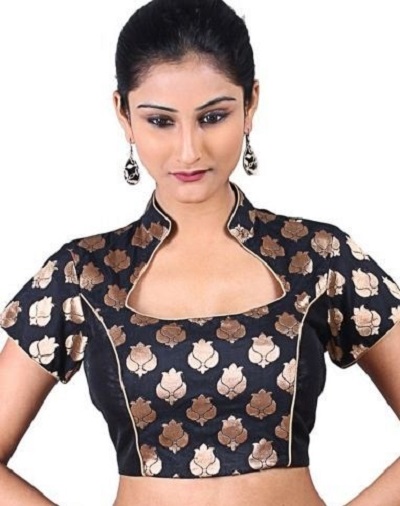 18. Boat Neck Blouse with Embroidery
19. Heart Cut Blouse Design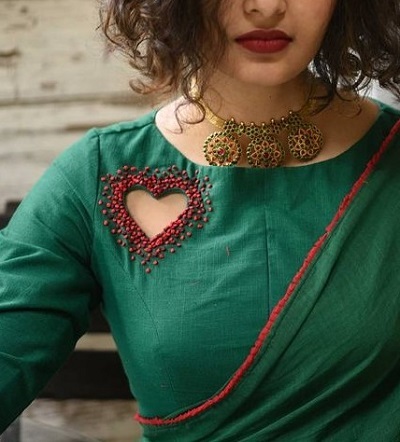 20. V Neck Princess Cut Blouse
21. Sweetheart Blouse Neck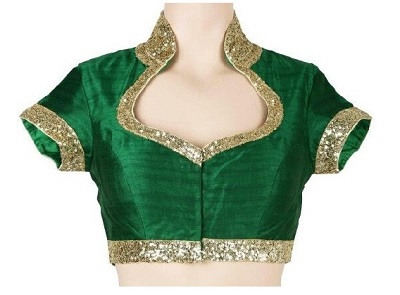 22. Beads And Cut Work Blouse Pattern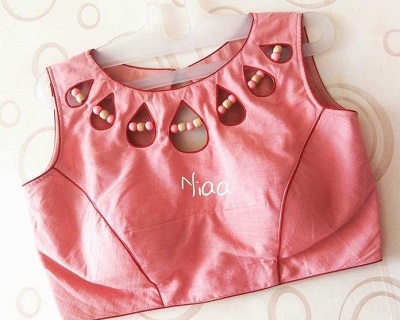 23. Floral Collared High Neck Blouse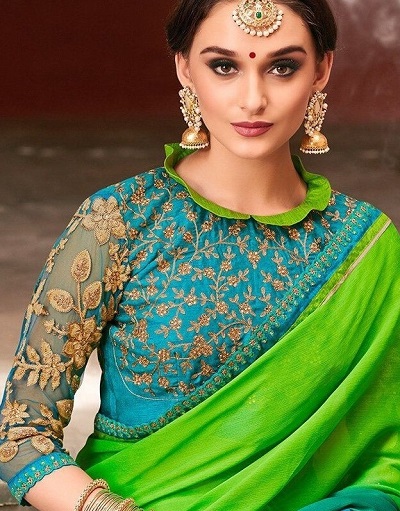 24. Peter Pan Collar Blouse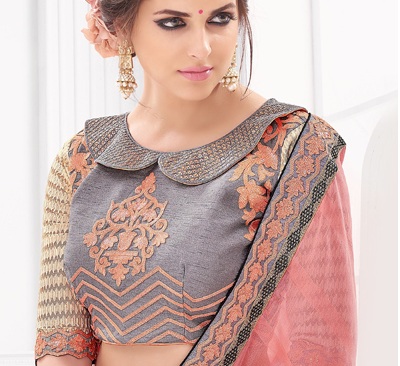 25. Keyhole Halter Front Neck Blouse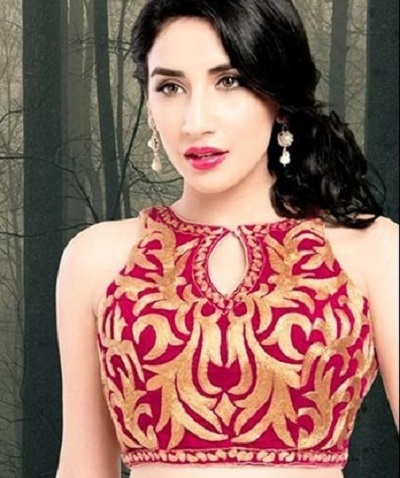 26. Flap Collar Blouse Design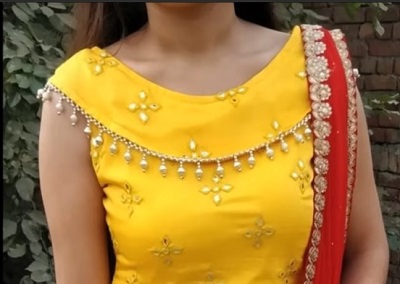 27. Tassel Work Front Neck Blouse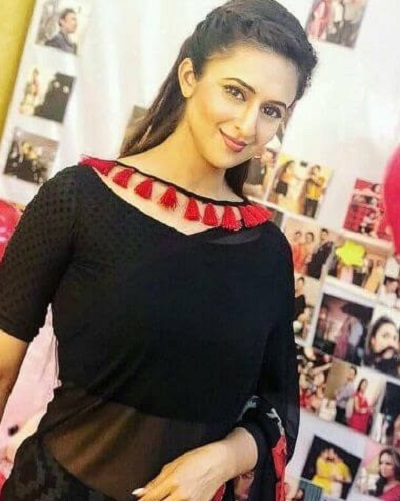 28. Choli Pattern Front Neck Blouse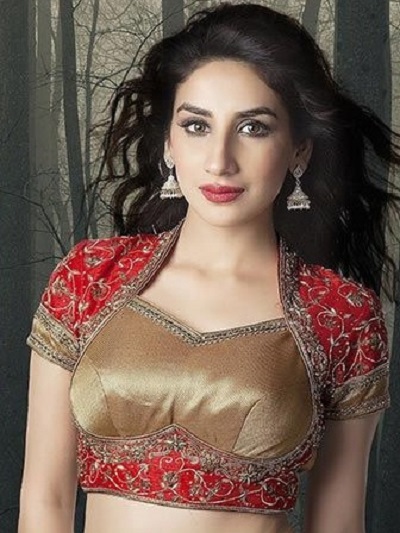 29. High Neck Formal Blouse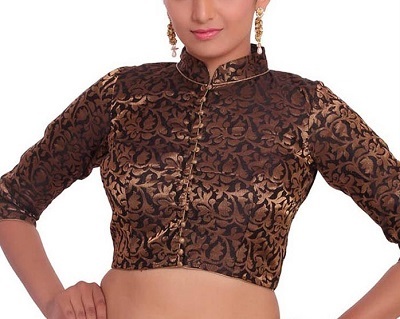 30. Peplum Front Collar Blouse Design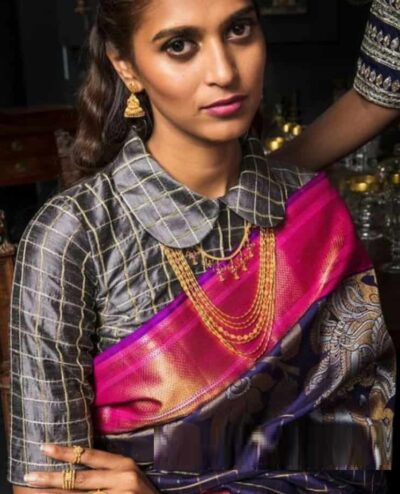 31. Off Shoulder Broad Front Blouse Design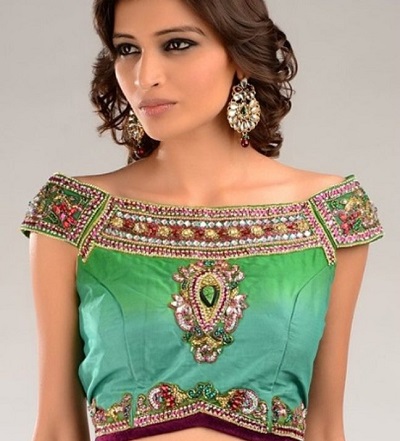 32. High Neck Art Silk Blouse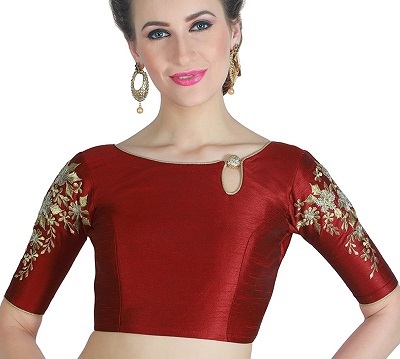 33. Front Net Fabric Blouse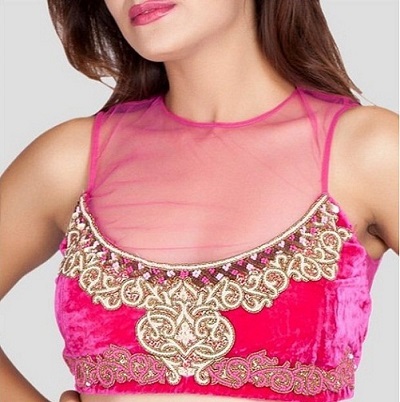 34. High Neck Ruffled Sleeveless Blouse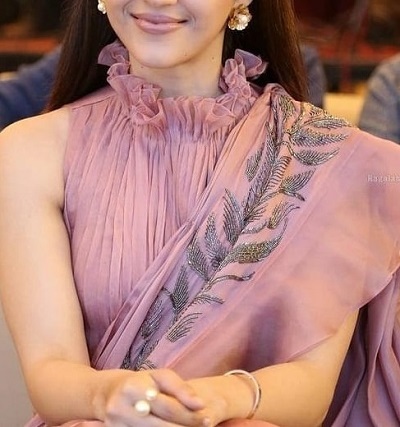 35. Round Neck Side Keyhole Front Neck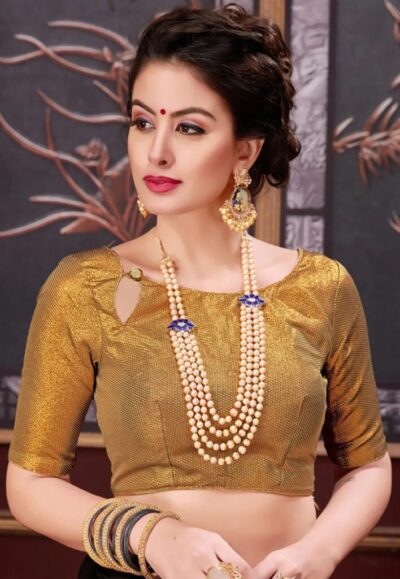 36. Shirt Collar Front Neck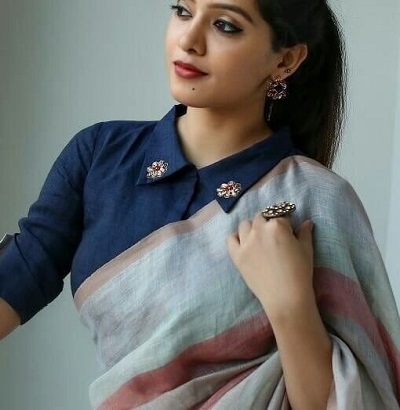 37. Simple Front Embroidered Neck Blouse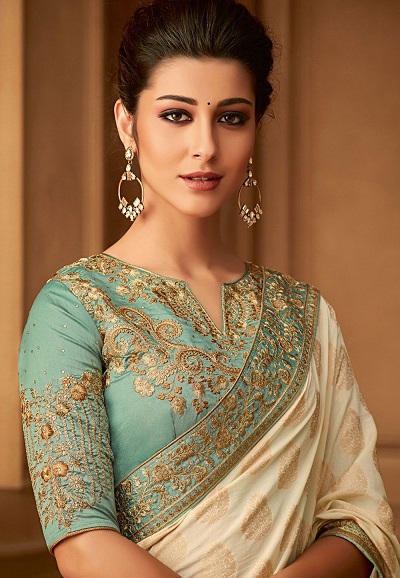 38. Latest Front Neckline Blouse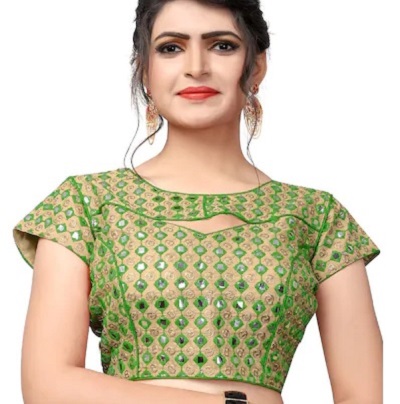 39. Princess Cut Blouse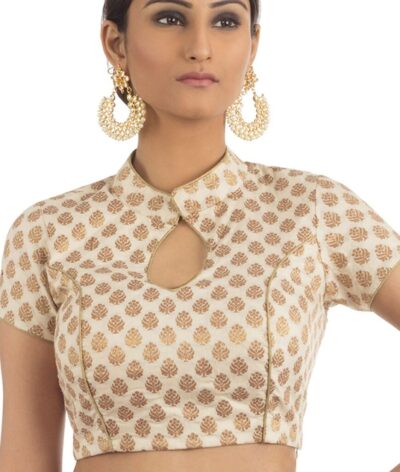 40. Brocade High Neck Blouse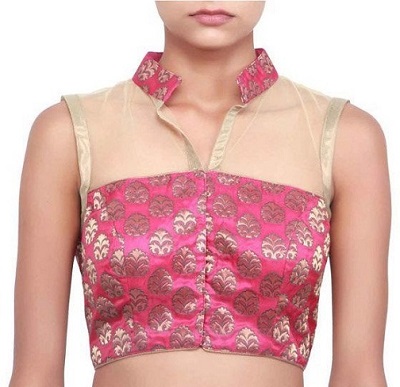 41. Oval Cut Front Neckline Blouse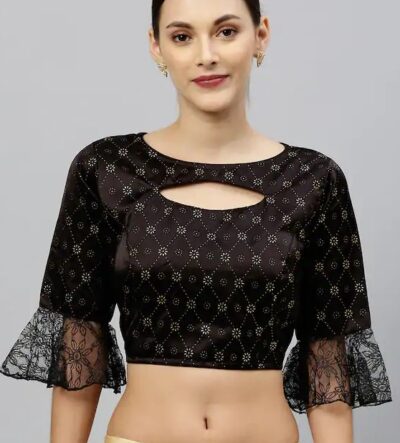 42. Sweetheart Neckline Blouse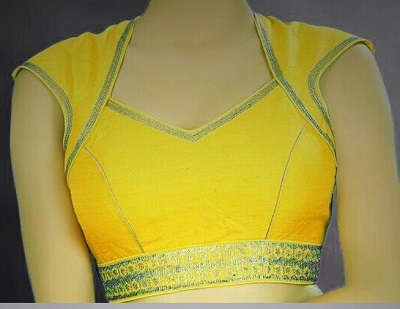 43. Patch Collared Embroidered Blouse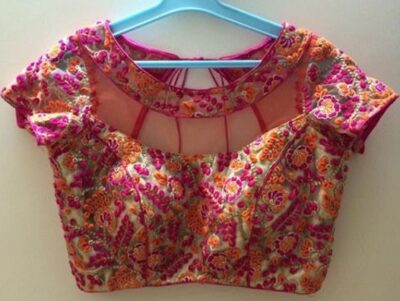 44. Velvet Sweetheart Front Neck Blouse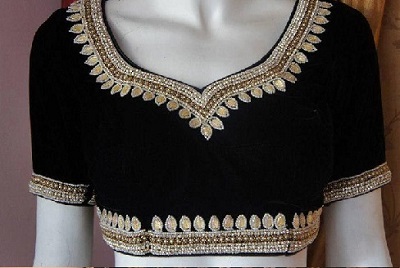 45. High Neck Collared Blouse
46. Jewelery Collared Blouse Design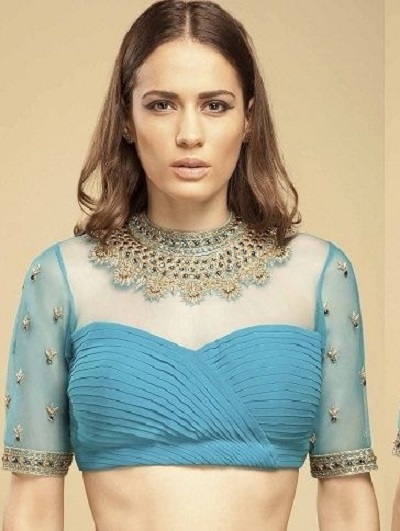 47. Bridal Sweetheart Neck Blouse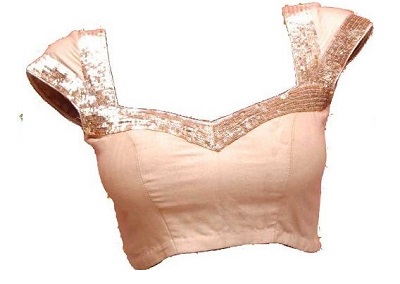 48. Stylish V Neck Ruffle Front Neck Blouse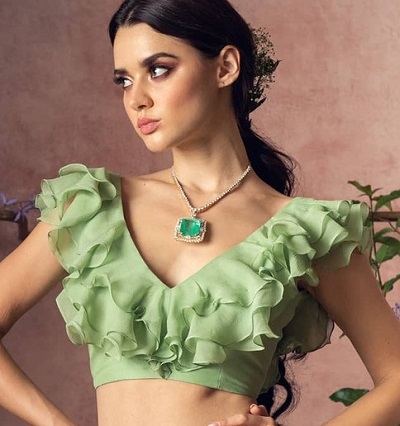 49. Black Halter Style Saree Blouse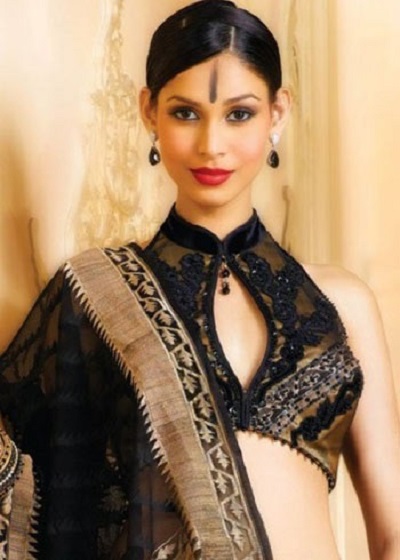 50. Half Chinese V Neck Front Blouse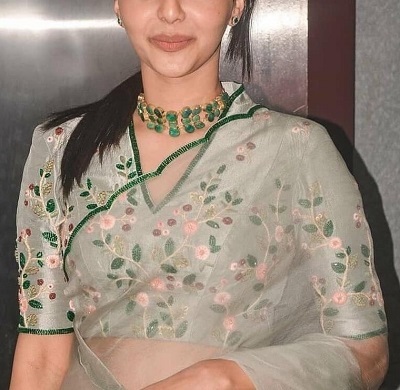 51. Designer Collar Cut Work Blouse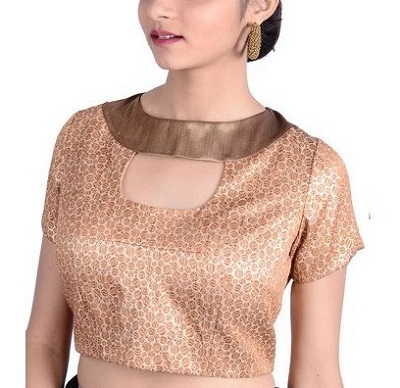 52. Golden Embroidered Patch Round Neck Blouse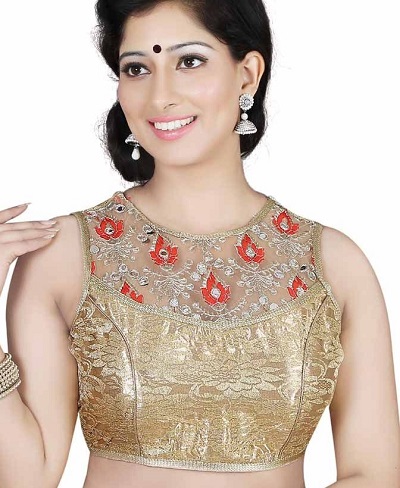 53. Front Collar Cotton Blouse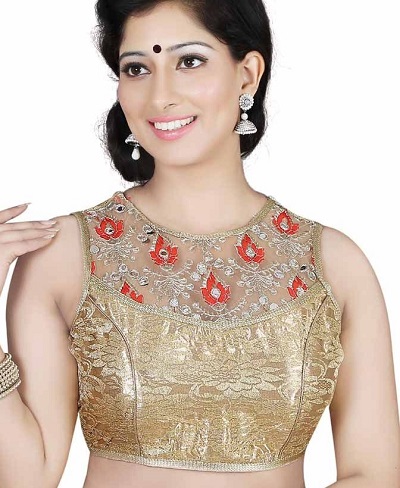 54. Simple Round Neckline Golden Blouse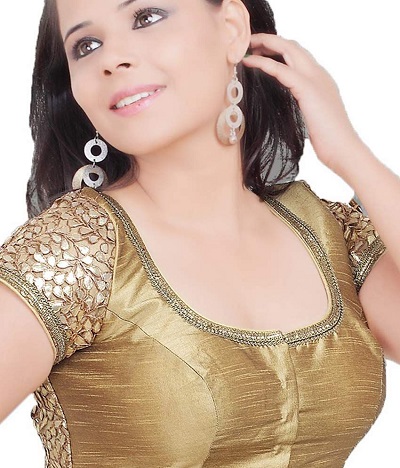 55. Velvet Round Front Neck Blouse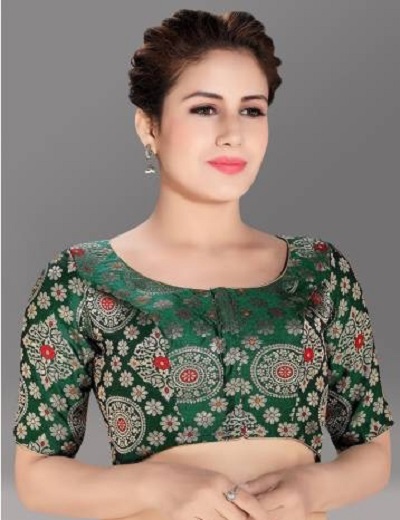 56. Half Chinese Collar Square Blouse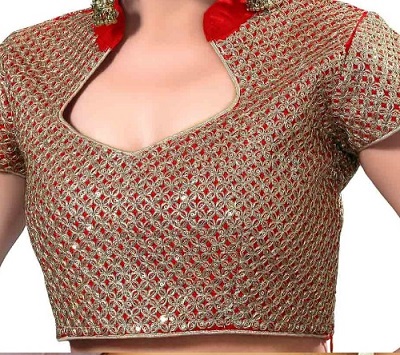 57. Designer Shirt Collar Blouse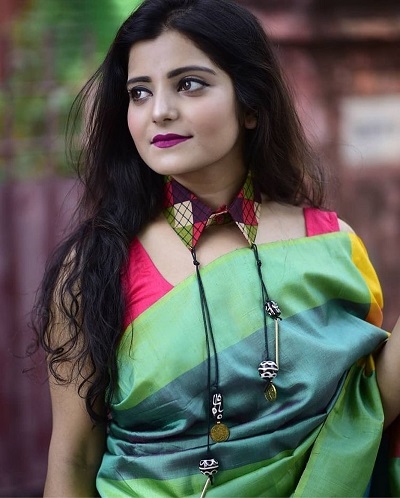 58. Embellished High Neck Blouse Design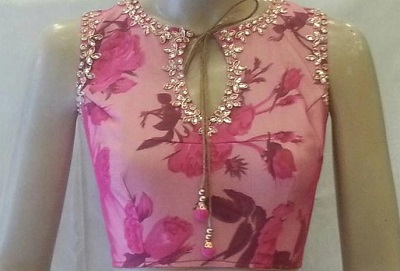 59. Formal Front Neck Design Blouse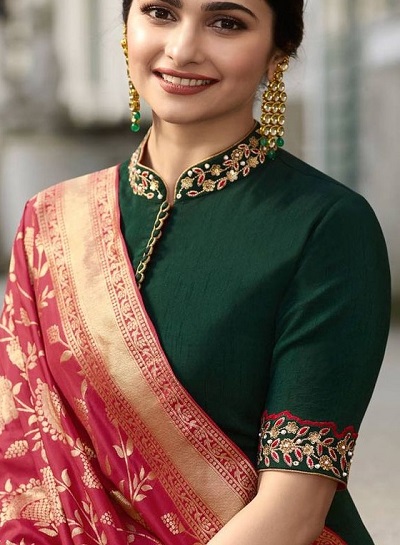 60. Full Sleeves High Neck Blouse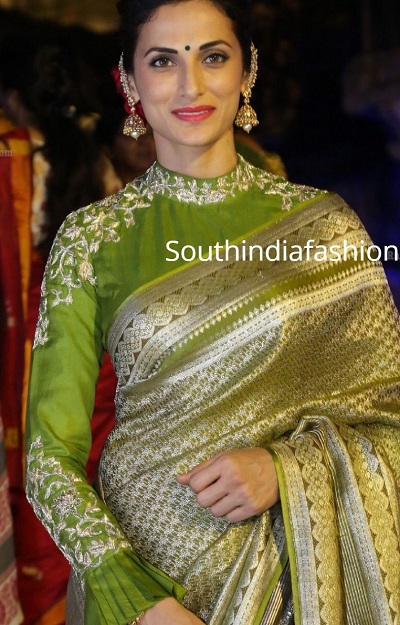 61. Cape Pattern Blouse Design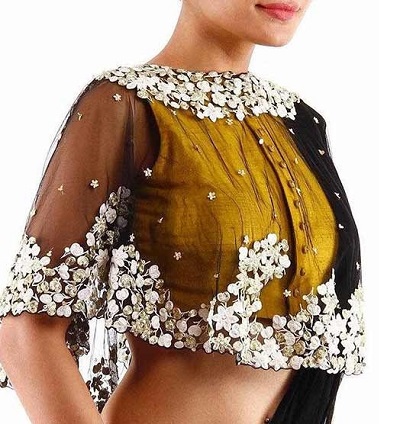 62. Cotton Boat Neck Blouse Design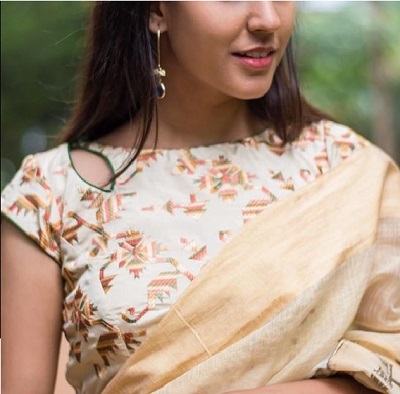 63. Designer Square Cut Blouse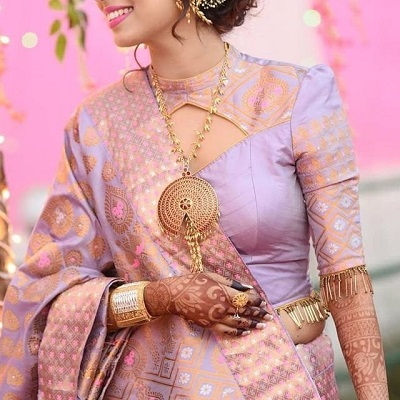 64. Jacket Pattern Blouse Front Neck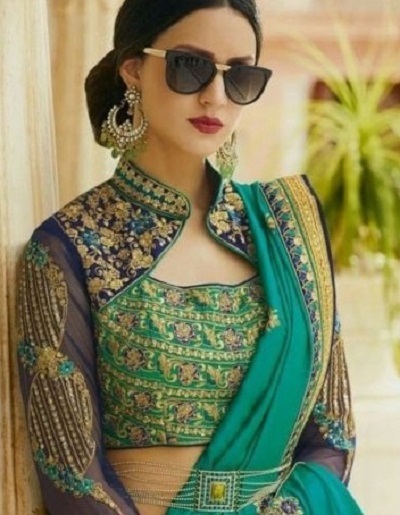 65. Double Layered Choli Blouse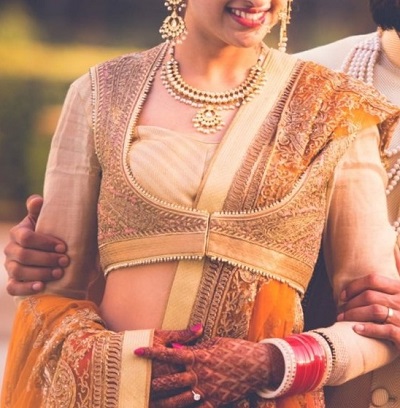 66. Round Front Neckline Blouse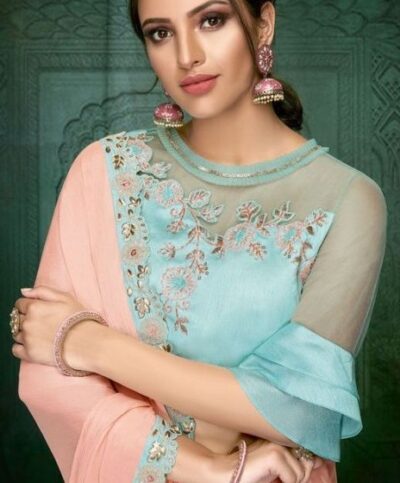 67. Strap Pattern Designer Blouse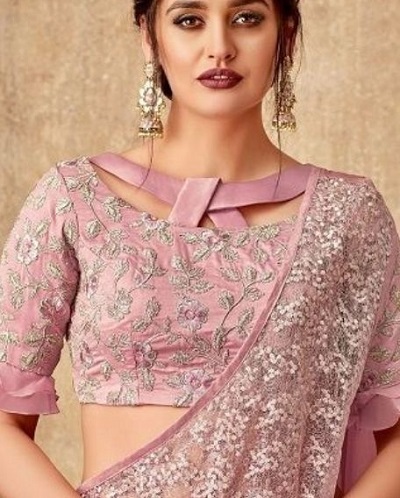 68. Front Hook Peplum Blouse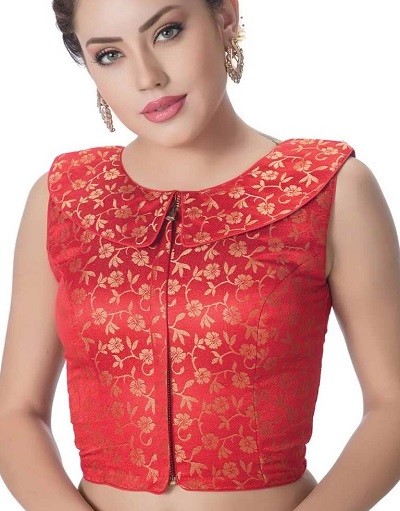 69. Round Neckline Keyhole Blouse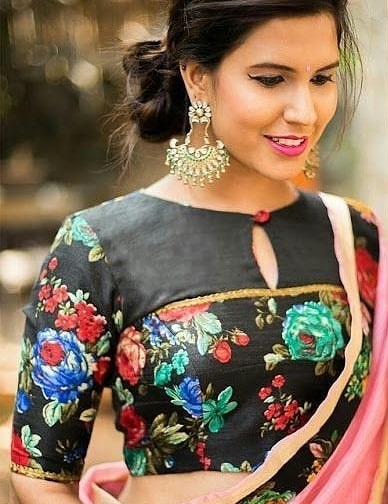 70. Bollywood Inspired Blouse Design