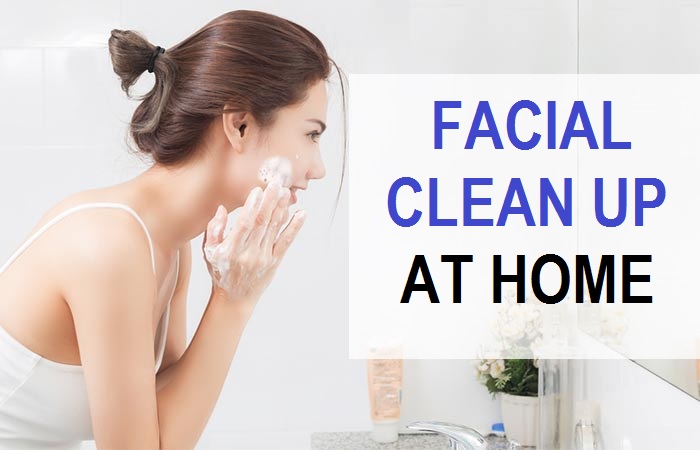 Our skin needs regular care and specific routine to look flawless and radiant. For the purpose, one should opt to get minimum 2 sittings of clean up in a month. Clean up is basically a cleaning and nourishing treatment for the face and skin. It cleanses, exfoliate and pamper our face and increase skin complexion on constant use. Your skin feels soft and healthy to touch and appear glowing like never before. Clean up is mostly done by professionals in a salon by skin experts. Generally, the face cleanup cost is around 300 to 600 rupees. It can be more which depends on the salon. But trust me, it's a very easy to do process and the best way to clean your face. A lot of you have this query about, how face clean up and facials differ? In this article, you will know about the following things:
How clean up at home and facial differ? Benefits of both of them, steps of doing face clean up with natural ingredients, and the detail clean up procedure for the dry and oily skin.
Difference between Face Clean Up and Facial?
How to clean face at home? Whether to choose face cleanup or facial? If you are stuck between these two then first of all know what they actually are.
Face Cleanup
It's a process in which you clean the skin thoroughly by getting rid of the impurities, dust and embedded toxins and dead skin cells. A face cleanup is a process that can be done at least once a week or 10 days at least, if your skin is very oily or you stay outdoors mostly. Men should also try a clean up procedure like this.
However, for sensitive and dry skin, it can be done once in 2 weeks. The face cleaning process involves cleansing, scrubbing, steaming and application of face pack or mask. An average face cleanup takes around 30 minutes and can be done at home easily using some basic products with the guidelines. In short, it's a process that mainly focuses on deep cleansing the skin. However, facial is a more elaborate procedure. Now let's know what a facial means.
Facial
A facial just like the face cleanup involves all the steps like cleansing, scrubbing, streaming, blackheads removal and applying the face pack or mask. However, this is teamed up with a crucial step, which is facial massage. This is a step that ensures that your skin becomes glowing and gets completely hydrated. The process of face massaging is what makes facials luxurious and beneficial. Massage with specific hand movements increases the micro blood circulation, thus improving the skin tone and texture. Regular facials also eliminate the signs of aging like dullness, dark spots, lines and wrinkles. In long term, it also prevents and delays the aging from showing up on the skin. And average time of a facial is around 1 to 2 hours That depends what is the type of facial that you have chosen. It can be done at home or by the professionals at a salon.
So in this post we are going to talk about how to do face cleanup at home using few products. This is not just a process that women can do, other men can also or should do this process at least twice in a week to ensure that the skill no dress the stage healthy but Radiant. For men face cleanup can be advantages in eliminating the ingrown hair which is the problem of irritation while shaving.
Face Clean Up Using Natural Ingredients
When we say natural ingredients, it means that we are doing the face clean up with the herbal or natural ingredients. We can find them in the kitchen rather than using the store bought products. Follow this guide to know how you can do home face clean up with natural ingredients. This is an excellent home remedy to get rid of marks, age spots, dark spots and carrying on your skin. Additionally, you are using everything organic you are not damaging the skin in anyways. 
It's the face cleanup process for all skin types, however the steps that I am describing is for all the seasons. Don't worry, I'll also describe the particular clean up recipes for dry and oily face later in the article. Steps for how to clean your face naturally at home. 
1. Cleansing
How to deeply cleanse the skin? This step throws light on that. Before starting the other steps, initially it is essential to clean the skin and pores deeply so, that all the dirt and dust come out and your face looks clean and full of life. Cleansing is the first step in which you need to apply a good homemade cleanser on your face and massage it for 2-3 minutes to take out any pollution and dust particles. It also removes excessive oil and dust from the face, which is the major cause of acne and blemishes. Follow the cleansing steps below.
How to make a natural cleanser?
Take 2 spoons of yogurt and 1 spoon of raw milk

Dab a cotton ball in this mixture and apply onto the face

Clean your face evenly with the help of this cleanser

Wash it off with water or clean it using a facial tissue.
Benefits: yoghurt is good for the skin. It makes it bright and soft in surface. Milk at the same time, contains fats and vitamins that gently clean your face and nourish it too. 
2. Scrubbing or Exfoliation
This step includes getting rid of the dead skin, sebum and impurities seated in the pores. This step also removes blackheads and whiteheads.
How to make a scrub?
Take 2 spoons of oatmeal

Add 2 spoons of tomato juice in it

Mix 1 spoon of brown sugar or fine sugar

Blend everything well.

Now gently massage it onto your facial skin and neck for 5-7 minutes

And rinse off with water or clean it with soft napkin.
3. Steaming
Steam open your pores and lose all the excess oil from the skin. It makes your pores clean and allow your skin to breathe. This soften the blackheads and they can be extracted easily.
How to do?
Take a big towel and wet it in the warm water(not hot)

Squeeze out the excess water

Keep it onto your face and neck for 1-2 minutes

Repeat it thrice or five times to complete.
Other way:
Take a bowl of boiling water.

Cover your head with towel and bend over the bowl of hot water.

Let the vapors or steam touch on your face.

Do this for 5 minutes, then wipe the face with a  wash cloth

Use a blackhead remover to take out the blackheads.
4. Face Pack
Now that the pores are open and clear, its time to close them and tone the face. For this, we apply face masks and packs.
After following 3 steps, this is the one of the most important steps in the cleanup procedure. It penetrates the skin and give it lost hydration and nourishment. It adds glow to the face and makes it light and shiny.
How to make face pack?
Take 2 spoons of sandalwood powder

1 spoon of lemon juice

Half a pinch of turmeric powder

1 spoon of curd

Mix them adequately and apply it onto the face.

Let it until it dries out and rinse off with water
5. Toning
This basically helps in closing your skin pores so that no dust can enter. It also makes the face supple and super soft.
How to do toning?
Take 2 spoons of cucumber juice and half tablespoon of rose water

Mix them well and apply it using a cotton ball on the face.
6. Moisturization
Last but not the least, give moisture to your face and complete the whole cleanup process.
How to apply moisturizer?
Take a small amount of light moisturizer like Neutrogena oil free moisturizer, Aroma Magic Juniper Moisturizer, if you've oily-acne prone skin. For dry skin, any hydrating moisturizer will work like Lakme Peach Milk moisturizer.
So, this is how you can do face cleanup at home naturally.
Face Cleanup For Oily And Acne Prone Skin
In this step, I will tell you the natural ingredients that you can do for the cleanup when your skin is oily and acne prone.
Cleansing
When your skin is oily, the cleanser to use should be chosen carefully. Take 2 teaspoon of Besan or gram flour. Add half spoon of lemon juice. Add few drops of rose water. Make paste and apply on your wet face. Rub this for 1 to 2 minutes. Wash the face with regular water.
Scrubbing
The process of scrubbing eliminates the dead skin cells and blackheads and whiteheads from the oily skin. This step also regulates oil balance by unclogging the pores. Take two spoons of sugar. Add one spoon of lemon juice. Mix one spoon of honey. Apply this on your face and scrub in circular movements upwards. This should be done for 2 to 3 minutes to but the skin of dead skin cells.
Steaming
Fill a bowl with warm water and add few drops of witch Hazel. It is wonderful for unclogging the clogged pores and to refine the skin pores. You can also add neem oil, if witch hazel is unavailable.
Face Pack
Application of face pack for oily skin is the last step of face cleanup. Take one spoon of fuller's earth in a bowl. Add one spoon of Sandalwood powder. Mix one spoon of neem powder using some rosewater. Apply this paste on the face and wait for it to get dry for 20 minutes. Wash with normal water.
After this, do the regular toning and moisturizing.
For those of you with combination, oily and acne prone skin, you can do face cleanup thrice in a month that is once in 10 days.
Face Cleanup for Rough and Dry Skin
In the next step, I am going to tell you the cleanup procedure when your skin is dry and rough. The procedure remains the same however the ingredients are you have to use will differ depending on the skin type.
Cleansing
For cleansing the dry and sensitive skin, you would need ingredients like gram flour and honey. Mix one spoon of Gram flour with one spoon of honey. Apply this combination on the face and rub for 30 to 40 seconds. Wash your skin with normal water.
Scrubbing
To exfoliate the dry rough facial skin, you would need sugar, honey and rosewater. Take 3 spoons of honey and add two spoons of sugar. Add some rosewater if the mixture becomes too thick. Apply on the face and scrub for at least three to four minutes. Be gentle on your skin otherwise it can disrupt the sensitive skin's pH balance. Rinse the face using lukewarm water.
Steaming
Take a hot water bowl. Add some rose water in it Take the steam for 5 minutes. Then wipe the skin with a wash cloth.
Face Pack
The last step in the face cleanup for dry skin, is applying face pack. Take half banana and mash it thoroughly to get a puree or paste. In that, add one spoon of milk. Add half spoon of sandalwood powder. If Sandalwood powder is not available use honey. Apply on the face evenly and keep it for 30 minutes. Wash with regular water.
This completes your home face cleanup for rough dry skin. This will get you glow and relief in excessive dryness. This is best to be done during winter season.
If you do not have time to do the natural face clean up using the ingredients as I mentioned above, you have other option. What you can do is, you can follow the same steps using the store bought products. Like for the cleansing you can get a suitable face wash. For scrubbing the face, you can get any good facial scrub to remove the dead skin cells. Steaming step would be the same and the face pack and mask would require a ready made product. You can also go with the available face cleanup products.