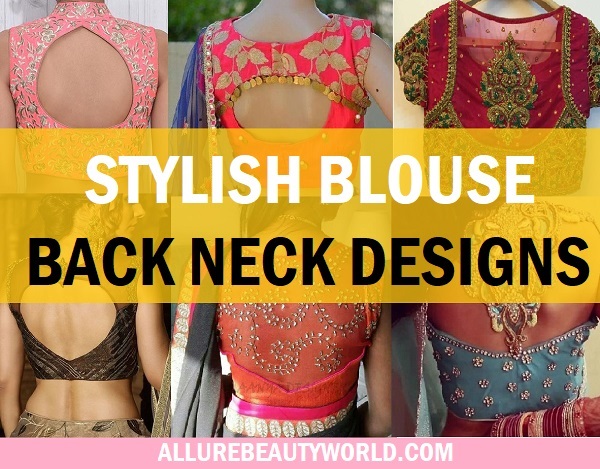 Silk blouses look extremely elegant and royal. For a refined and sober taste in sarees, many women would seek the silk blouses. Silk is a fabric which is definitely one of the best looking and undeniably luxurious. Silk saree blouse designs are selected depending on the style and fashion. One can pair different types of silk blouses, which can be custom design blouses or the readymade blouses for the sarees. It's not that for the silk saree and the blouse is has to be matching but you can also try the Silk blouses which have different modern and contemporary designs. Gone are the days, when the designs of the silk sarees used to be quite traditional and conventional. This is the time when women are investing in a lot of different types of blouse designs, so that they can mix and match. So here we are going to share this catalogue comprising of the latest silk saree back blouse designs. Just like the overall design and the pattern of a blouse the back blouse pattern is equally important. So let's take a look at the latest back blouse designs for silk sarees.
Latest Types of Silk Saree Back Blouse Designs To Try in 2022
1. Embroidered Back Cut Silk Blouse Pattern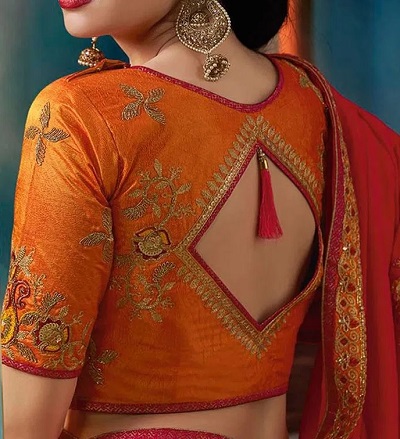 This blouse is highly gorgeous because of the beautiful Orange Silk fabric and embroidery done. The blouse has a rhombus cut at the back which is so beautiful and artistic visually, that it will certainly draw the attention. On the back neck, there is a tassel that is also highly eye-catching. The Silk pattu saree blouse has embroidery with golden and red thread work with sequin to add more dimension to the design. Zari with sequin work is also seen and the back neck has been given boat shape. The blouse is truly an enchanting and luxurious looking blouse design for most of the silk sarees.
2. Cotton Silk Button Work Back Blouse Pattern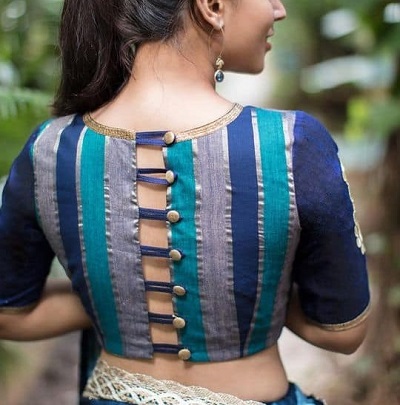 We simply feel that this is one of the best modern and contemporary looking Silk blouse designs. It is made with the Cotton Silk fabric and it is one such blouse design that is not as per the matching sari. It is a blouse that can be paired with a different silk sarees or even with the net and Georgette sarees. This blouse design has button and loop pattern at the back that leaves some amount of room for showing the back. For woman, who would love to experiment and explore different back saree blouse designs, this is suitable.
3. Heavily Embellished Green Silk Back Blouse Pattern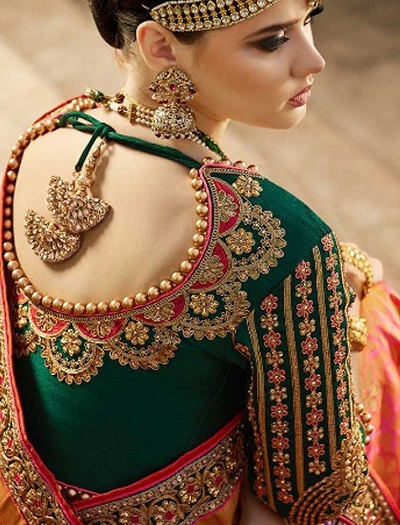 The round cut at the back is not new and it has been since ages. The blouse like this is ideal for bridal functions as well as for the bridal trousseau. For this blouse, there is a scoop back neckline with doris attached. The dori also has Jewel embellished latkans. The golden beaded work along the neckline edge is yet another thing that adds to its detailing. It has a green silk fabric over which pattern of beautiful and immaculate embroidery is made. The golden thread work embroidery is further adorned with the use of sequins and stones. The blouse is certainly one of the best looking blouses for the heavy sarees.
4. Silk Pink Back Blouse Pattern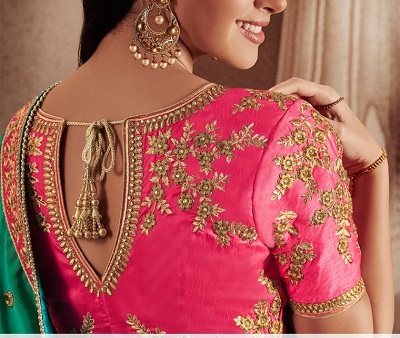 Women who would like to try the beautiful Silk blouses with their contemporary and quite stylish back blouse patterns, shall try this one. It is more like a v neck at the back which has beautiful embroidery as well as the stonework. Doris are also added to create charm to this blouse. This blouse is already a beautiful saree blouse embellished with embroidery and stone work. The best part about this blouse is the pattern and the way it has been designed keeping in mind the luxurious occasions and heavy sarees, one can pair up with this interestingly patterned blouse.
5. Lotus Cut Back Blouse Pattern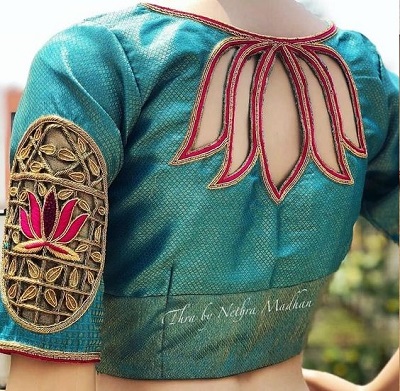 For this blouse, we have seen that it looks lovely and amazing. The blue Silk pattern has that work which is in the shape of an inverted lotus flower. Otherwise, the back neck is given in a boat neck shape. On the sleeves, there is very attractive embroidery work with cut work and the same lotus flower pattern. This blouse is yet another silk saree blouse design which is highly recommended for women who like to try new things when it comes to saree blouses.
6. Bridal Silk Back Blouse Design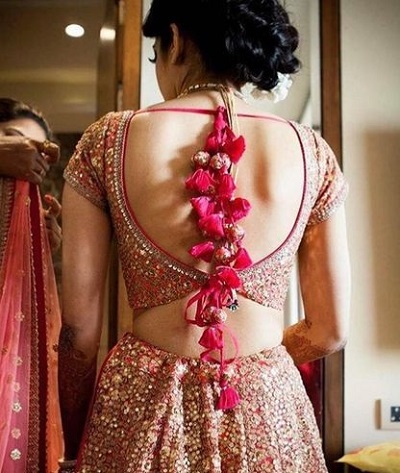 This blouse is definitely for the new age and modern brides who would love to experiment with the deep back neck line. The blouse has such deep back neck line that it is almost like the bollywood style backless silk blouses. There is very heavy latkan that actually covers half of the back but it is surely a gorgeous blouse, which is a designer Masterpiece.
7. Silk Deep Back Neckline Blouse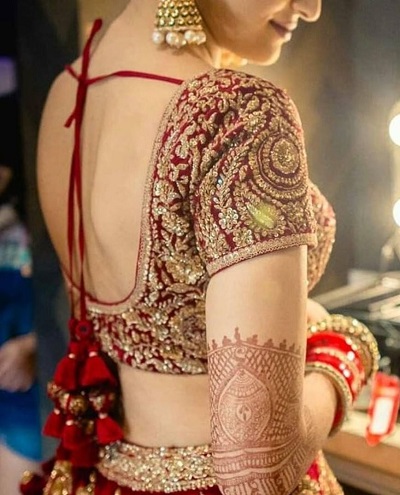 For women who would love to have deep scoop back neck line, this blouse is perfect. For this blouse, the hooks are at the back and there is a deep scoop neck. The blouse has gorgeous Zari work embroidery with stones and sequins. Doris and stylish latkans are also added to create more depth and dimension for this blouse. This is for sure a blouse that has to be there in the bridal trousseau.
8. Cross Strap Back Silk Blouse Pattern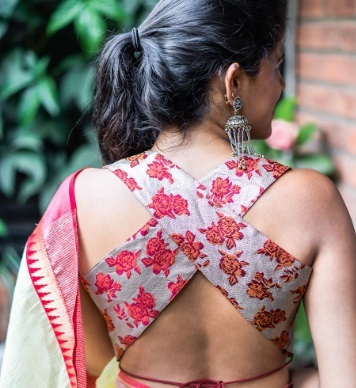 For a blouse like this the pattern is highly modern and contemporary. In fact, for women who like to try these kind of gorgeous modern blouses, it is certainly a must have.
9. Back Silk Cutwork Saree Blouse Design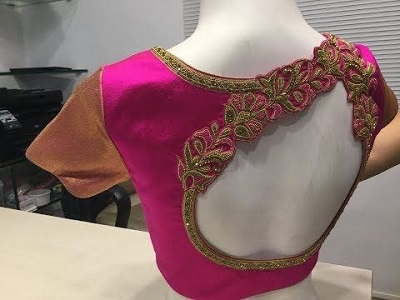 The cut work in the Silk blouse is nothing new and in fact the cut work saree blouses look exceptionally beautiful when done on a Silk fabric. This back saree blouse design with silk is excellently done. The cutwork actually as more beauty and dimension to this blouse. It is a unique back blouse design for silk sarees.
10. Half Moon Back Blouse Design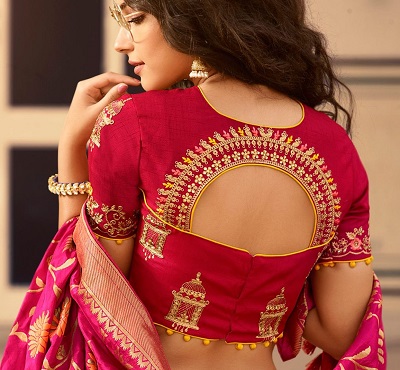 As the name suggests there is a half moon or semi circular shape at the back. This blouse is actually a kind of patch work blouse design. It has a deep round neckline on the upper part and this semicircular cut in the middle that is actually accentuated by the stone and embroidery work. The blouse also has buttons at the back. To embellish and adorn the blouse potli buttons in contrasting colors are further added. This blouse is definitely a saree blouse which looks just the perfect for weddings and Cocktail functions.
11. Beautiful Silk Saree Back Neck Design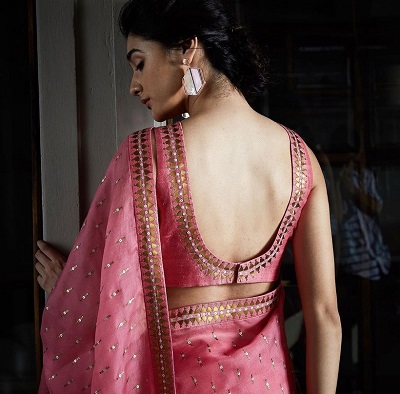 The back neck line pattern of this gorgeous blouse is quite stylish, yet it has a very deep back neck line that leaves only the space for the hooks at the back. It is a deep back neck art silk saree blouse pattern which is ideal for the Cotton Silk as well as Pattu silk sarees. The very heavy sarees this can actually go with different styles of sarees. You can pair with excellent cut at the back for your events where you have to look modern and glamorous.
12. Designer Patch Work Silk Back Blouse Pattern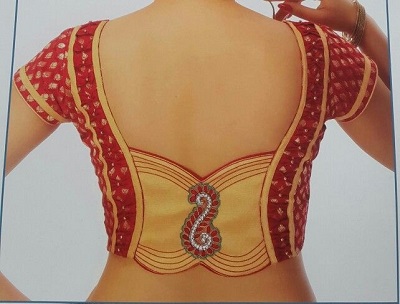 We would rate this blouse pretty high, when it comes to the uniqueness and the designer look. Made with the different branches of the Silk fabric this is a very stylish blouse design which is apparently suitable for the women who wish to tries that you bold and quite attractive design.
13. Simple Casual Silk Blouse Pattern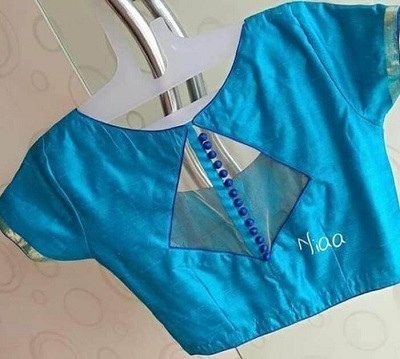 It is made with the Cotton Silk fabric, this blouse is pretty comfortable to wear even during the summer season. There is a rhombus cut at the back which is for the securing the fabric over on which the button placket of stacked buttons is provided. The blouse has short sleeves and is pretty comfortable. It can be worn with different sarees, which are not quite heavy but on the lighter side. There are times when women would like to where simple and casual with lots of comfort kind of blouses and this blouse certainly tops the list.
14. Zardosi work Silk back blouse for parties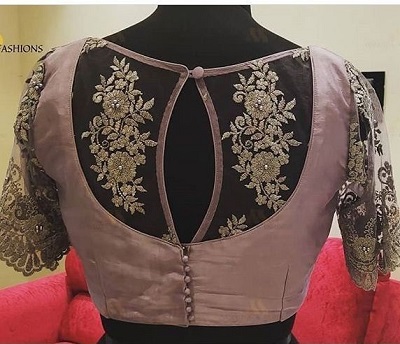 when you look at this embellished and breathtakingly beautiful blouse you would certainly a beat. The credit goes to the beautiful colour of the Silk fabric chosen and the Patchwork and the pattern that it has been created with. It has the patches of net fabric over which the Rosie and zari embroidery is done. This leaves are also given in the same net zardozi fabric. It has potli buttons with hooks at the back. Surely it is a deep back neck blouse pattern which is for the secured with the net fabric. We would definitely give this blouse ful points as a party wear and wedding wear blouse design
15. Stylish Halter Style Silk Blouse Pattern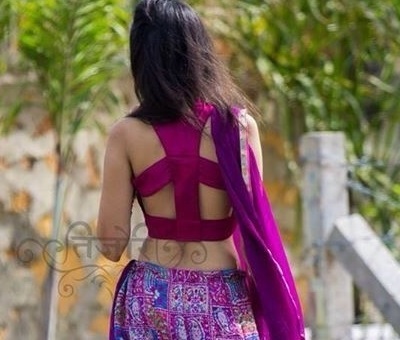 The beauty of this Halter style blouse is the modern look with which this has been designed. The blouse has been made with straps and bands which creates this artistic effect that kind of reveals the back but not in full fledged manner. Younger women will definitely love to explore set saree blouse designs.
16. Red Silk Blouse back design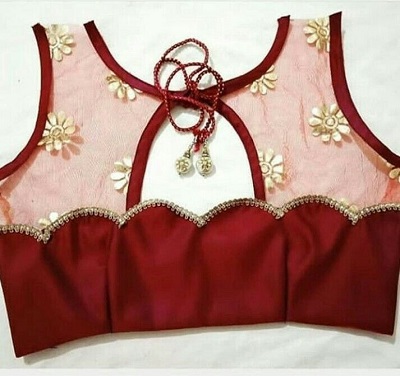 The blouse here has Patchwork and is made with red Silk fabric blended with the net fabric. This is certainly a unique back blouses in silk. Not just for the silk sarees. such amazing looking saree blouses can be teamed up with different types of sarees like net, georgette and tissue. This would definitely make you a head turner.
17. Silk Stylish Back Cut Work Blouse Pattern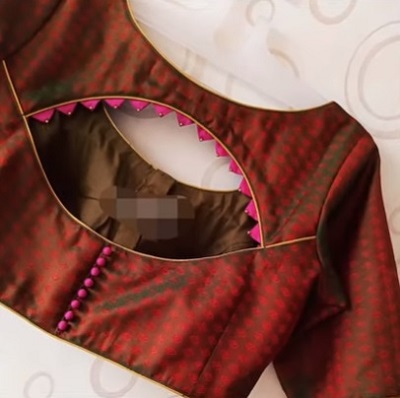 When it comes to the stylish blouse designs, we feel that this patch and shrug kind of design at the back is simply amazing. It's not that we have seen this pattern here but we have seen this exact pattern in lots of other blouses kurtis combo, shirts, women's top and dresses. This design is quite eye-catching and is in trend for sure.
18. Silk overlapping back blouse design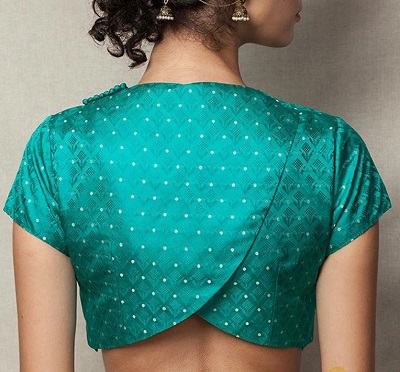 When you wish to try something new then try this type of blouse designs. It is more like a western blouse with a Kimono kind of feel to it. With the short sleeves this Satin Silk blouse is ideal for different sarees to create a different clock.
19. Round cut back silk blouse pattern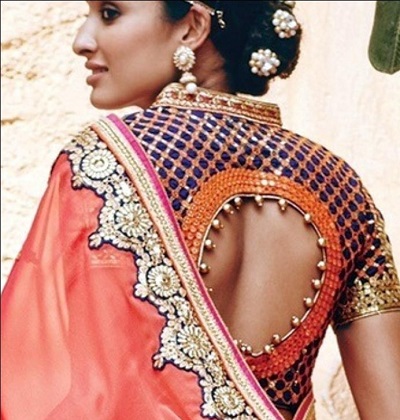 The round cut at the back of this heavily embellished blouse is simply amazing. There are beads also used to make the cut quite attractive and eye-catching. The sequin work on all over the blouse is making this blouse extraordinarily beautiful. It is definitely a collared saree blouse pattern which is highly attractive. No ways, this blouse is a simple blouse because it is heavily embellished and studded with sequin and stones and beads. This is a party wear blouse design for this wedding season.
20. Simple Triangle Cut Silk Back Blouse Design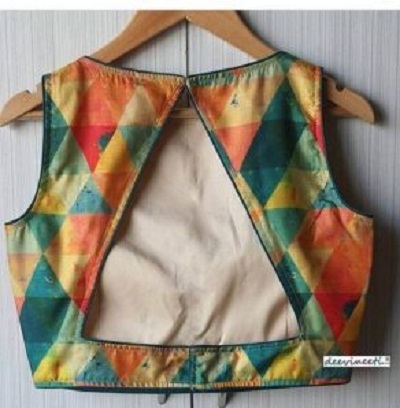 When you need something simple and clean looking, this is a blouse type that you simply want. In this blouse, there is a triangular cut at the back and the back also has hooks on the top and bottom. Padding is also attached to this blouse and it is a princess cut blouse from the front. The simple looking colorful Silk fabric blouse is ideal for younger women who would like to team up different and out of the box kind of blouses, which are not too heavy and embellished.
21. Green Earth Silk back blouse pattern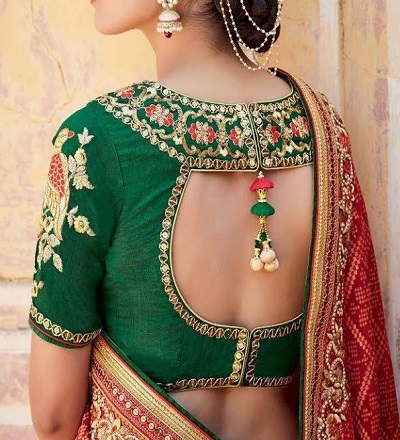 The green art Silk blouse is a beautiful pattern and the back cut is also amazing. It is a very heavy blouse with heavy intricate and intresting embroidery. The embroidery work makes this blouse even more attractive. The work of embroidery bears sequins all over and has a better latkan as well.
22. Multiple cut Silk blouse pattern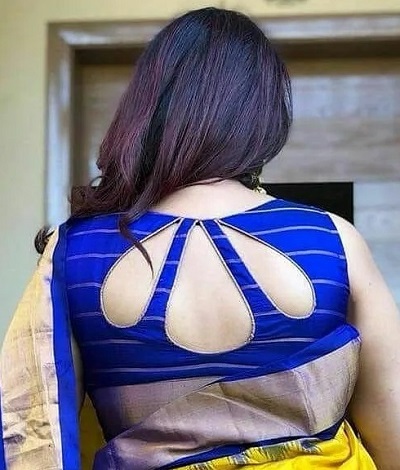 The back blouse design has multiple Petal like cuts that actually makes it quite attractive. It is an eye-catching pattern which will definitely keep all the eyes on you. The best thing about this blouse is it sleeveless pattern and the multiple cuts at the back which is definitely very e you need to look at.
23. Simple Silk Blouse Back Pattern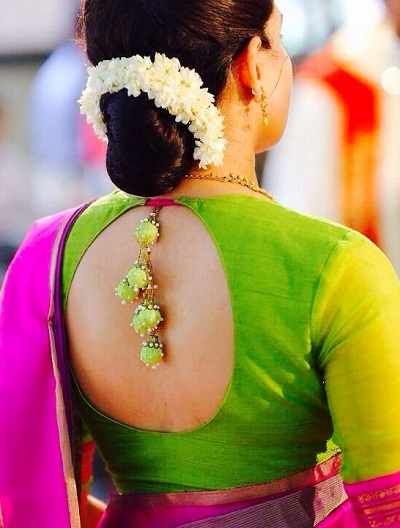 Coming to this very simple round cut at the back of this art Silk blouse, it is a beautiful and simple yet has that charming look that makes it attractive as well. There is nothing over the top in this blouse design except for the fact that it has multiple beads.
24. Beaded Designer back blouse pattern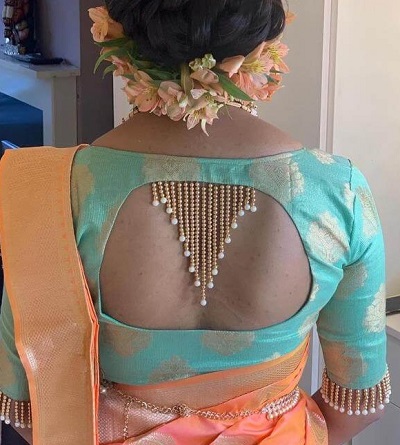 The beaded pattern at the back of this art Silk blouse is simply amazing. The best thing about this extraordinary and apparently one of the best looking blouse is the bead work. The V shaped bead work on this cut at the back is adding more value and charm to this clause. The blouse has a back boat Neck line while in the front it has a round neck. The books are also given at the front only. On the sleeves as well the same rows of beads and pearls is seen.
25. Silk Back V Neckline Blouse Design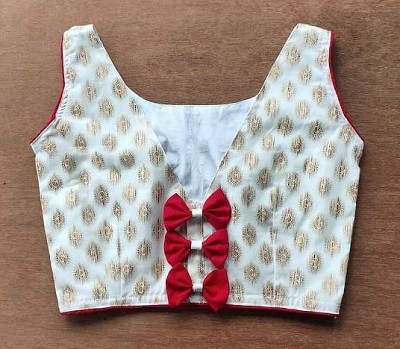 26. Silk Back Big Bow Blouse Pattern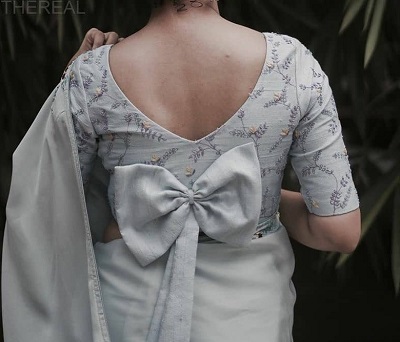 27. Stylish Red Silk Embellished Back Blouse Style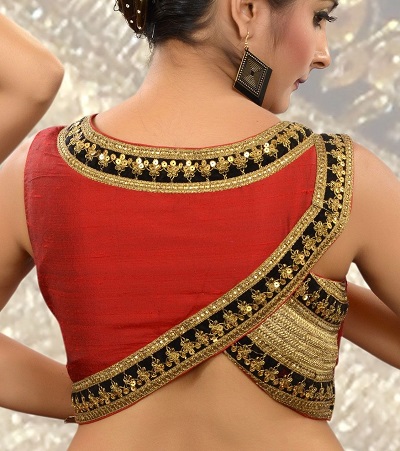 28. Round Cut Blue Silk Blouse Design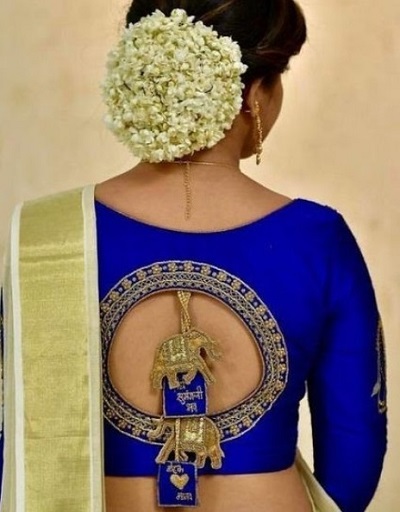 29. Sleeveless Silk Overlapping Back Blouse Pattern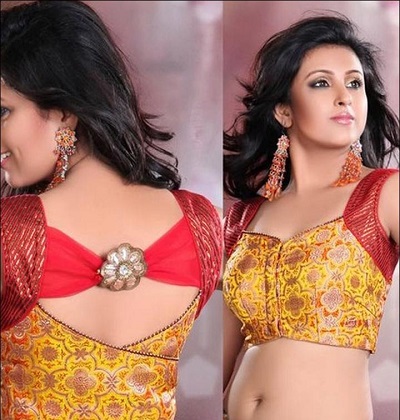 30. Printed Cotton Silk Embellished Back Design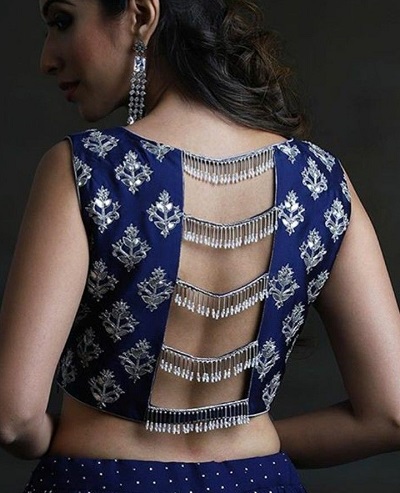 31. Silk Embellished Back Blouse Design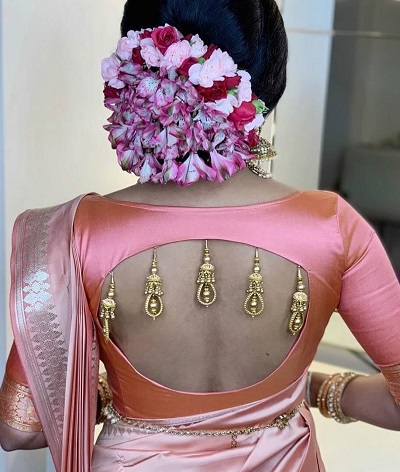 32. Design Of Patch Work Silk Back Blouse
33. Cotton Silk Overlapping Back Design For Silk Blouse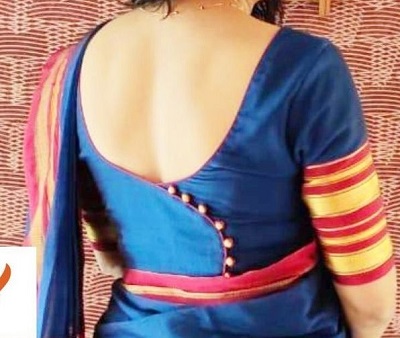 34. Silk Backless Back Blouse Pattern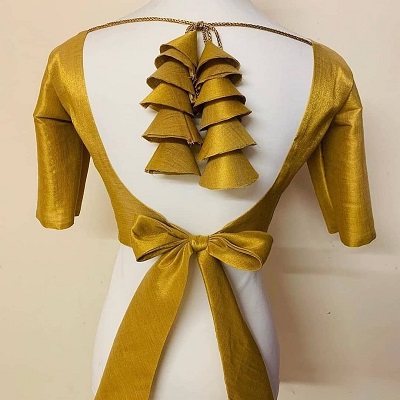 35. Cotton Silk Designer Back Neck Design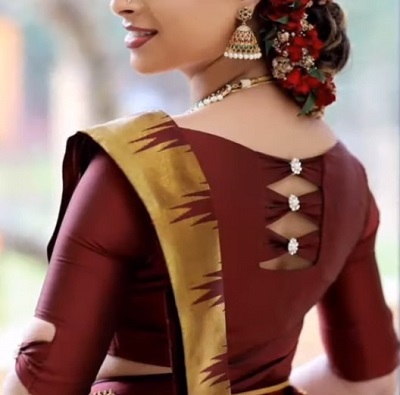 36. Green Silk Back Neck Design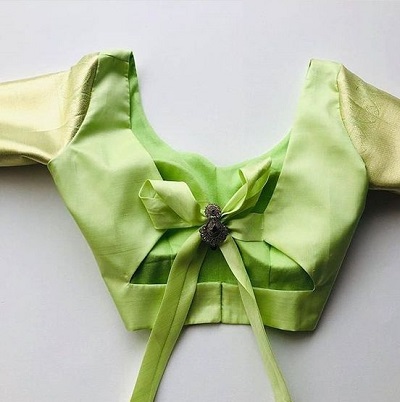 37. Heart Shape Back Blouse Neck Pattern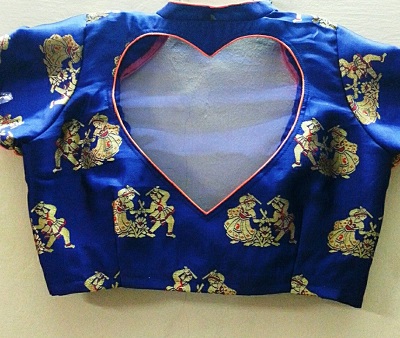 38. Pleated Work Cotton Silk Back Neck Blouse Design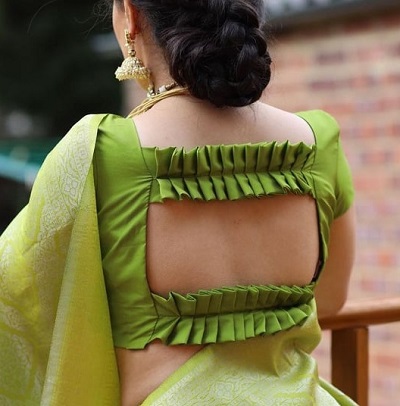 39. Cutwork Cotton Silk Back Neck Design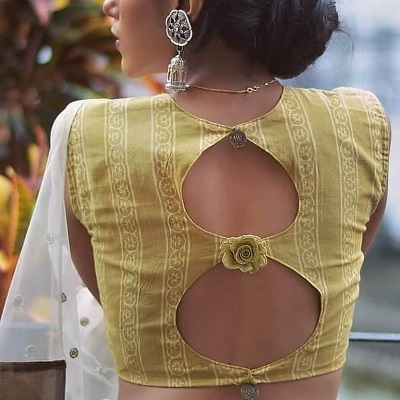 40. Sleeveless Design Back Neckline For Silk Blouse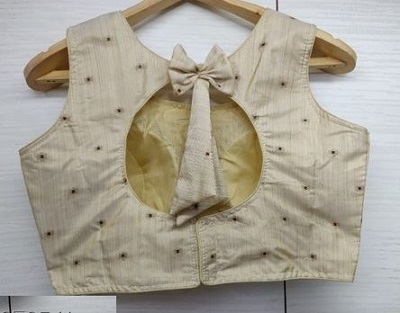 41. Brocade Silk Blouse Back Neckline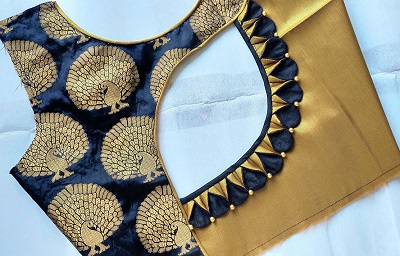 42. Embellished Designer Back Neck For Silk Blouses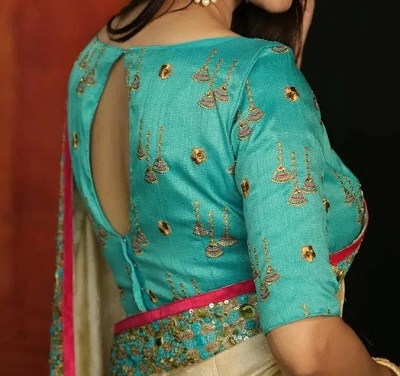 43. Cross Strap Silk Blouse Back Neck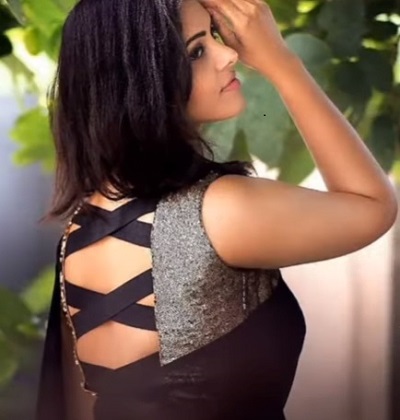 44. Deep V Neck Silk Blouse Back Designs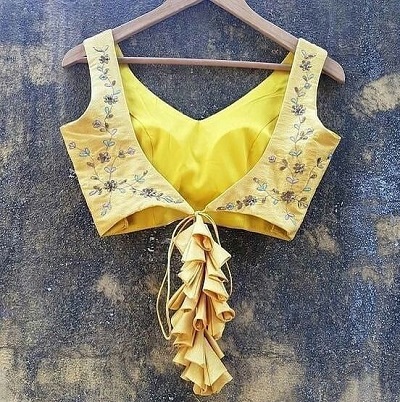 45. Stone Work Back Silk Blouse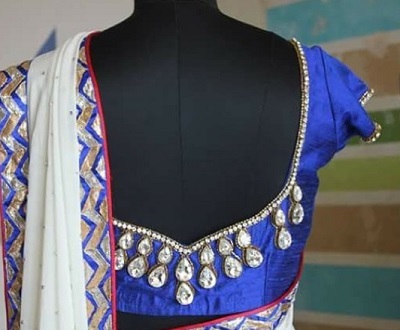 46. Designer Back Neck Grey Silk Saree Blouse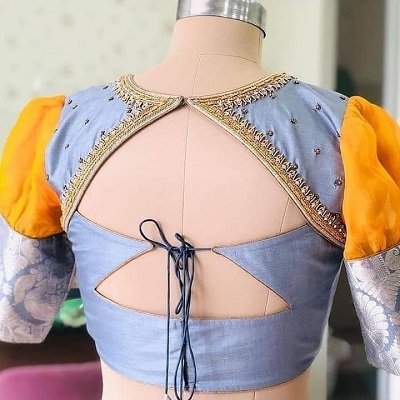 47. Double Patch Work Silk Back Neck Design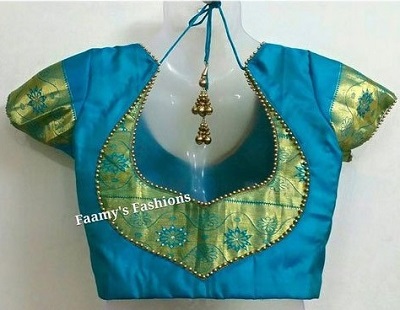 48. Full Sleeves Deep V Back Neck Design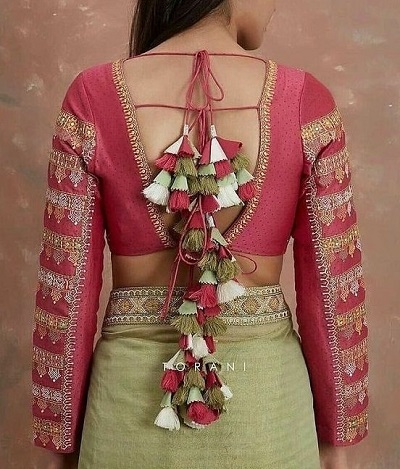 49. Pleat Work Back Neck Silk Blouse Design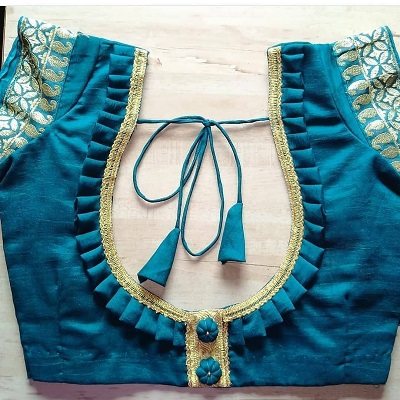 50. Silk Blouse Patchwork And Tassel Back Neck Design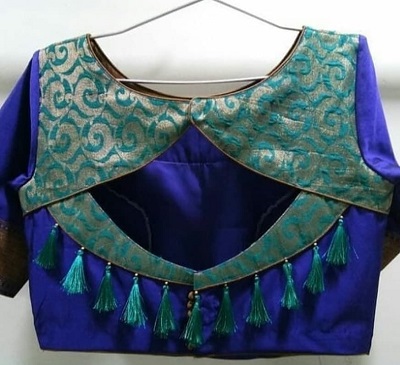 51. Artistic Purple Silk Blouse Design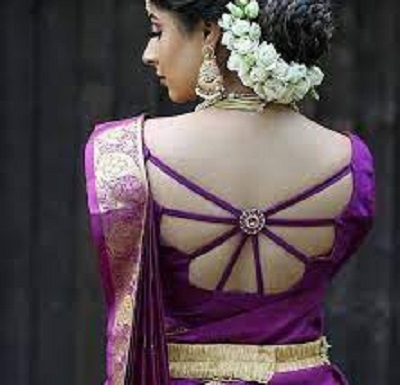 52. Off Shoulder Strappy Designer Back Neck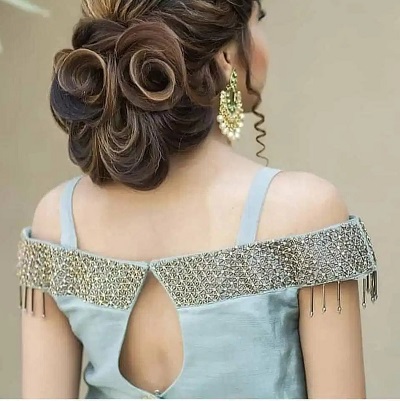 53. Stylish Satin Silk Blouse Design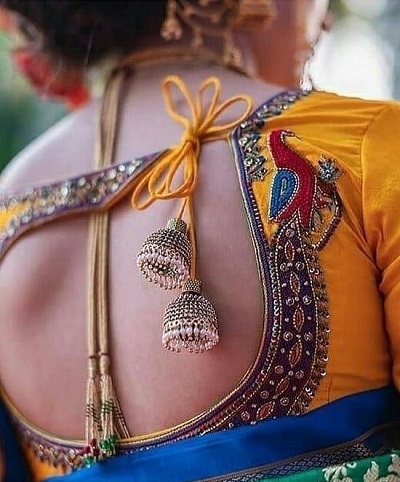 54. Floral Cutwork Cotton Silk Back Blouse Design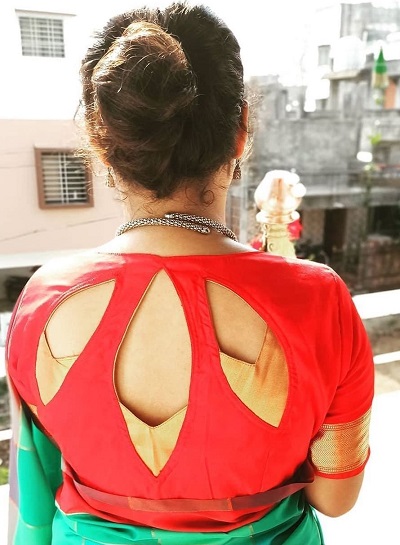 55. Half Backless Full Sleeves Embellished Silk Blouse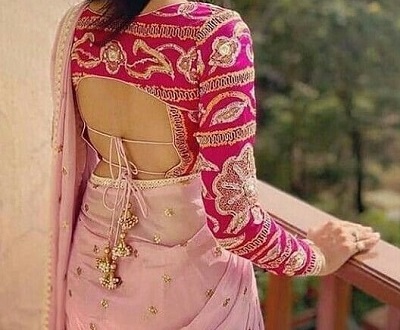 56. Designer Cotton Silk Deep Back Neck Line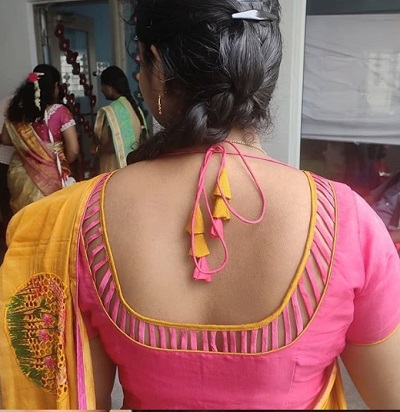 57. Pink Cotton Silk Embellished Back Blouse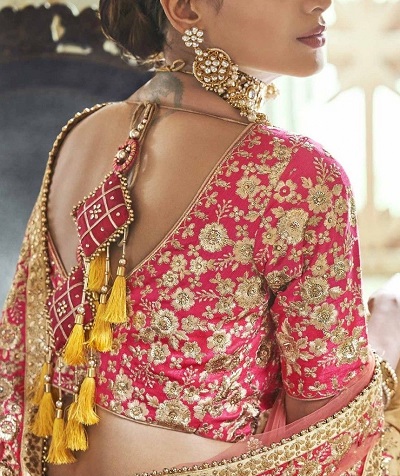 58. Strap Work Cotton Silk Blouse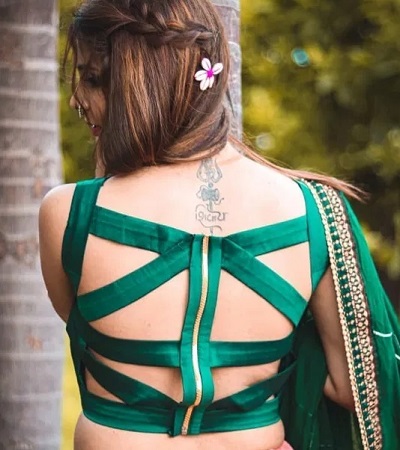 59. Embellished Back Blouse Pattern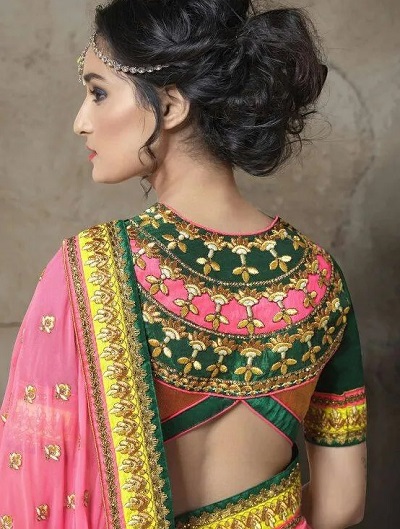 60. Tassel Work Cotton Silk Back Blouse Design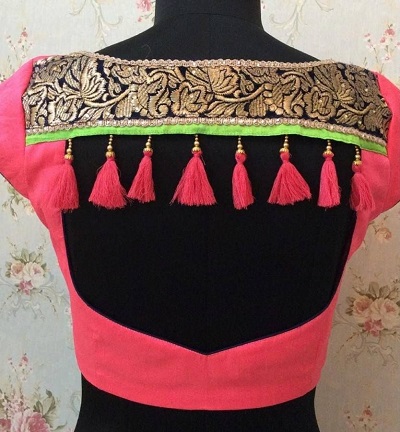 61. Cotton Silk Cold Shoulder Blouse Design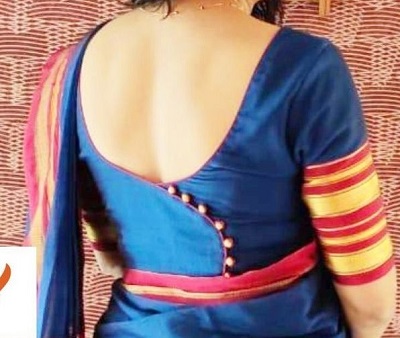 62. Art Silk Patch Work Net Blouse Pattern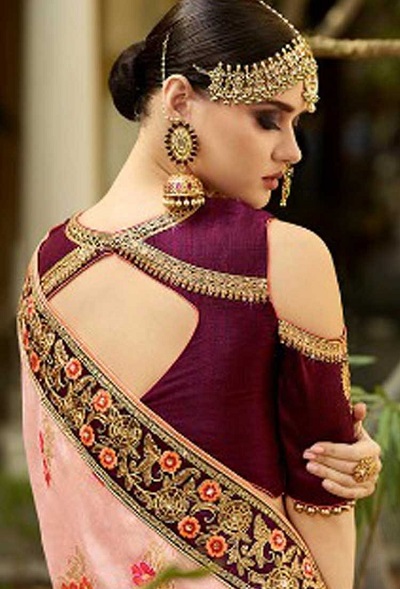 63. Designer Back Blouse Style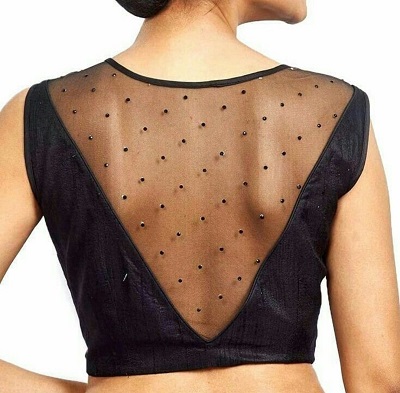 64. Silk Saree Blouse Back Design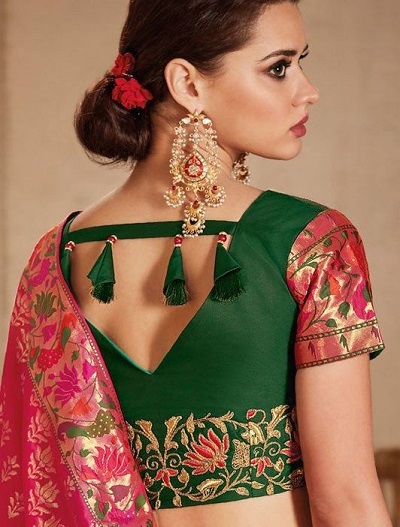 65. Cotton Silk Blouse With Bead Work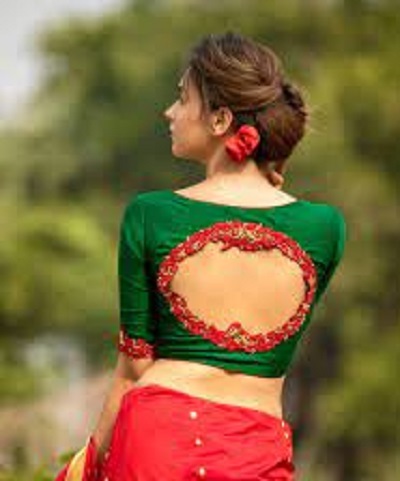 66. Embroidery Work Silk Pattu Blouse Back Pattern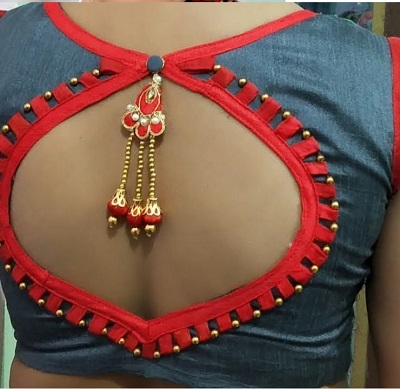 67. Woven Silk V Neck Blouse Design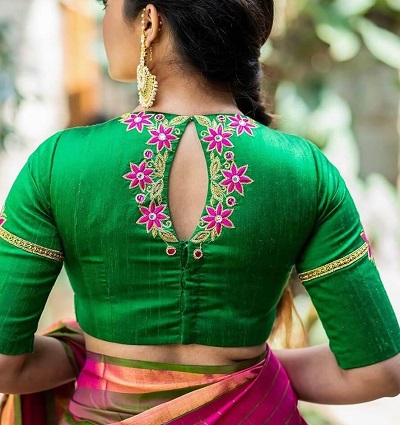 68. Stylish Back Neck Blouse For Silk Border Saree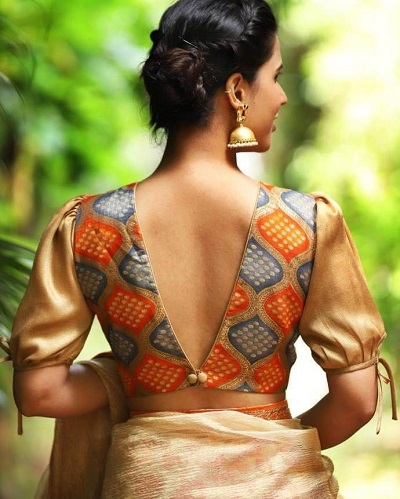 69. Stylish Back Neckline For Silk Blouses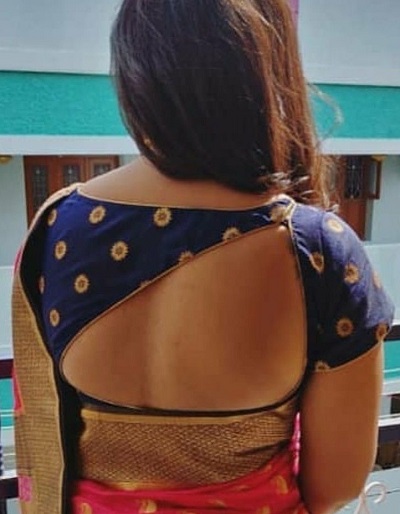 70. Designer Butterfly Pattern Cotton Silk Blouse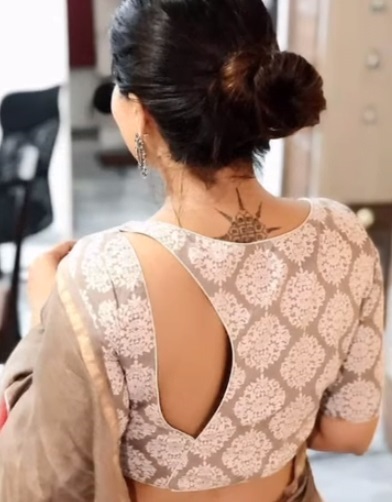 71. Stylish French Work Back Blouse Design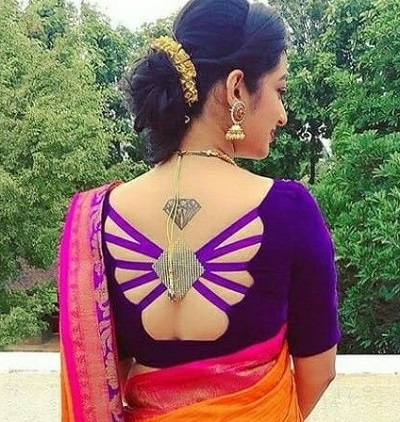 72. Silk Embroidered Blouse Pattern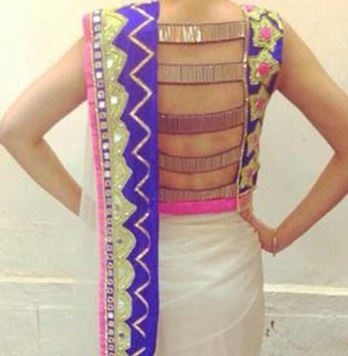 73. Pattu Silk Saree With Border Blouse Design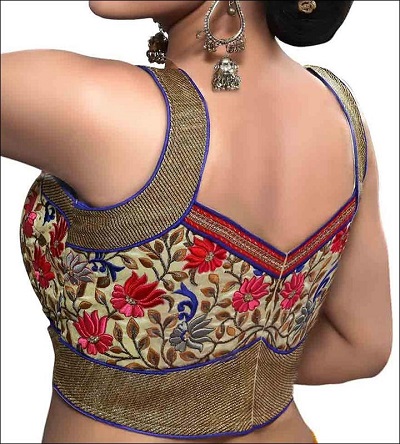 74. Deep V Neck Blouse Design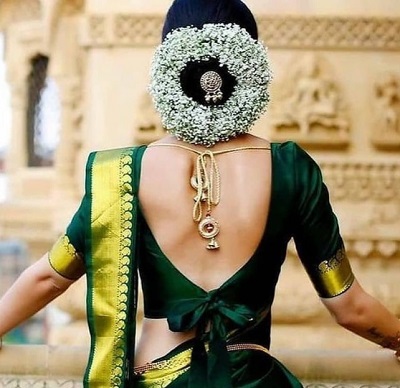 75. Patchwork Silk Designer Blouse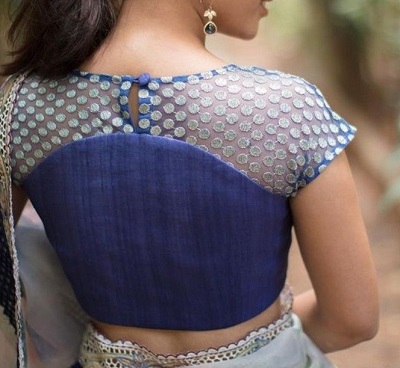 76. Pink Embellished Silk Saree Blouse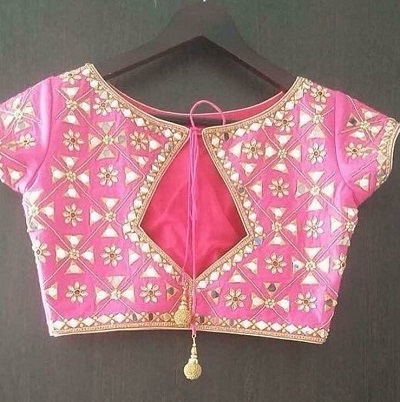 77. Black Art Silk Strap Work Back Neckline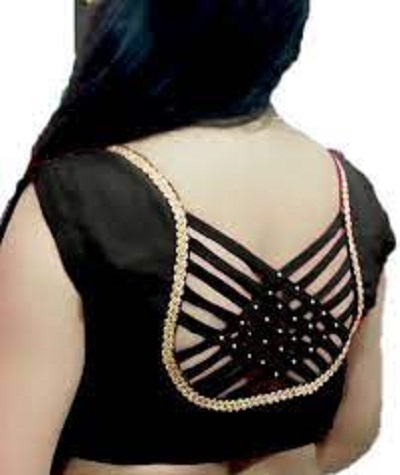 78. Cotton Silk Embellished Pearl Work Blouse Designs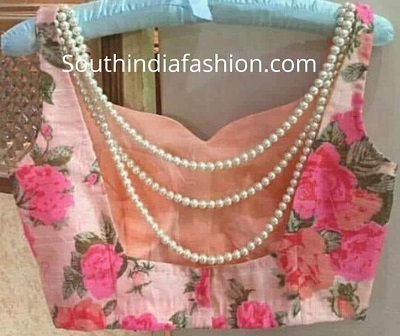 79. Pattu Silk Saree Blouse Pattern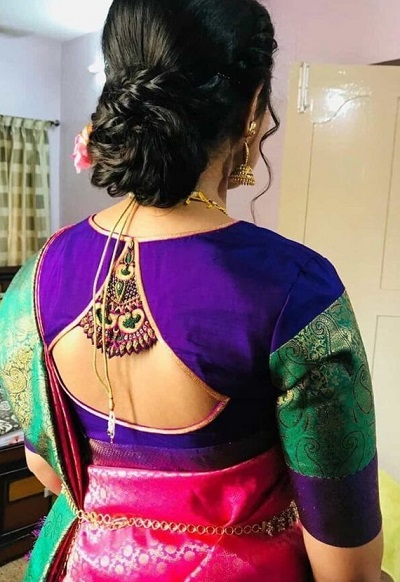 80. Silk Saree Blouse With Bead Work