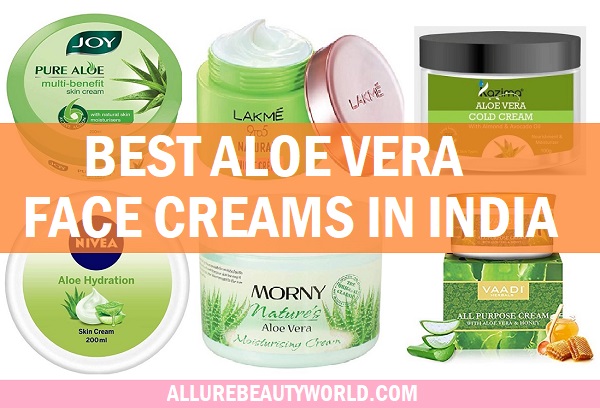 Aloe Vera as we know is one of the most used ingredients in the beauty products. Especially in the skin care products, aloe Vera is used extensively because of its antioxidant rich formula which also has multiple vitamins, minerals, antiseptic and antifungal properties. Not just a good moisturizer but it's also a good skin soothing product for sensitive, dry and itchy skin. Even for the oily skin aloe Vera products have proven to be immensely beneficial.
Aloe Vera has a really good reputation for improving acne scars without clogging the pores. With so many multiple benefits of aloe Vera, the product immensely beneficial for all skin types. We are going to share this list of the best aloe Vera creams available in the market. These best aloe vera face creams in India can be used by men and women of different skin types.
Let's check which are these best aloe vera creams in the market currently. By using these creams, you can use aloe Vera on your face everyday literally and it will bestow multiple benefits as we have mentioned above.
Best Aloe Vera Creams in India (2022)
1. Joy Pure Aloe Multi Benefit Skin Cream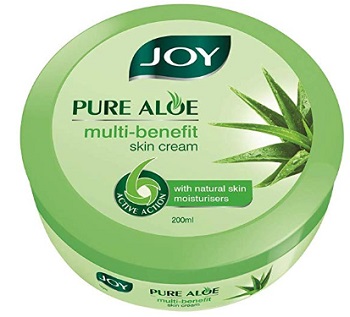 Joy pure aloe vera multipurpose skin cream is truly a multipurpose skin cream. Not only for your face but it can be used on your body skin. It has soothing properties to treat the sunburns, skin inflammation, acne scars and dryness. Apply the cream on your face and body as required. The daily use light face cream is very soothing in its smell and has a non sticky creamy formula. It hydrates and refreshes the skin without leaving it sticky or dry anymore. And it with the Vitamin E and natural pure aloe vera it makes the skin beautiful and glowing. One can even use it as a glowing skin face cream for winters.
2. Nivea Aloe Moisturising Cream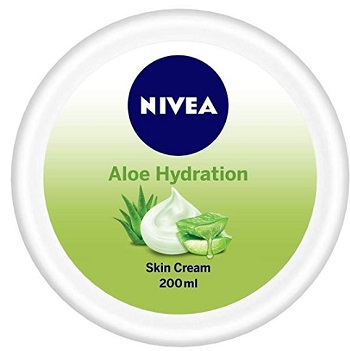 Nivea Soft aloe vera moisturizing cream is yet another best aloe vera skin creams for all skin types and both the genders can try it. With a long lasting softness, it gives protection to the dry skin. The easy to use product is loaded with the goodness of aloe vera along with other natural moisturizers. It is suitable for extremely dry skin and keeps the skin nourished.
3. Elovera Vitamin E and Aloe Vera Cream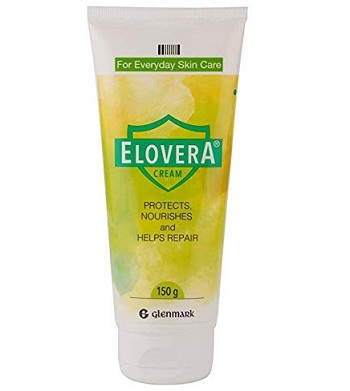 Elovera aloe vera cream provides nourishment to keep the skin looking and feeling fresh, glowing and youthful. It helps to reduce the appearance of dark circles. People with dry and sensitive skin with sun burn can also try this aloe facial skin cream. It's moisturizes the skin without giving it a greasy feel, so it`s perfect for anyone with an oily skin complexion. It's made from natural ingredients which are preservative-free and safe for sensitive skin.
4. Lakmé 9 to 5 Naturale Night Creme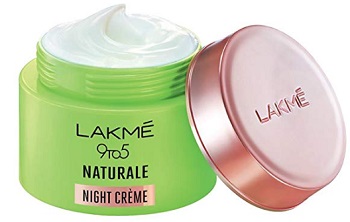 Lakme 9 to 5 light aloe vera cream has a gel cream like formula. Loaded with the goodness of natural pure aloe vera, it helps your skin to look better than before. Apply it at night and wake up with a bright and beautiful looking skin. It repairs pollution induced irritation, dryness and dullness. The pollution control face cream helps to strengthen the skin natural defence mechanism all through the night so that in the morning your skin becomes bright like a mirror. It can also be used as massage cream to revitalize the skin.
5. Morny Nature's Aloe Vera Moisturising Cream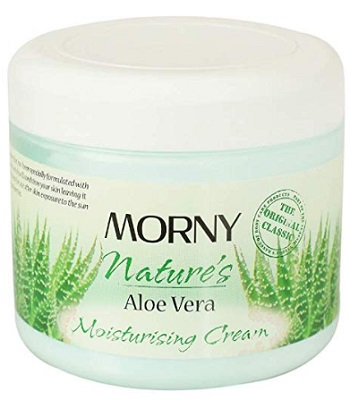 If you need an aloe vera moisturizing cream,  this original and classy product to do the job. It is best rated aloe vera creams that is non greasy and can be worn as a makeup base. The sumptuous face cream for glowing skin restores skin's optimum hydration level. It is a perfect aloe vera face product for dry damaged and sun damaged skin. In fact, it's suitable for both men and women to fight the pollution induced damage on your skin. Loaded with natural extracts of aloe vera, the cream is really good and worth the money.
6. Bakson Sunny Aloe Vera Calendula All Purpose Cream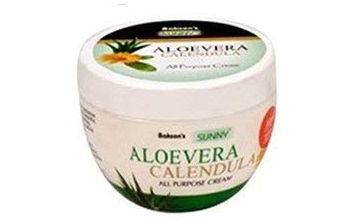 If you ask any sensitive and itchiness prone, aloe vera face cream blended with calendula would do the job better. This cream with calendula extracts is suitable for sensitive skin. It contains light formula that prevent scarring, Sunburn and ageing of skin. It also improves your skin complexion when used regularly.
7. Jovees Aloe Vera Moisturising Lotion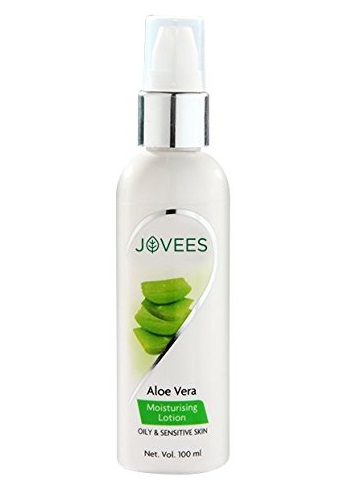 Jovees moisturizing aloe vera lotion is for all skin types however for oily and sensitive skin, it works really well. The lightweight moisturizer retain the moisture without the stickiness however, if your skin is acne prone then I would advise you not to use this product, as it can be a little sticky for the acne prone skin. It has a mild and light scent and a formula which maintains the pH balance. The pump packaging is yet another feature that adds benefits to this excellent product.
8. Kazima Aloe Vera Cold Cream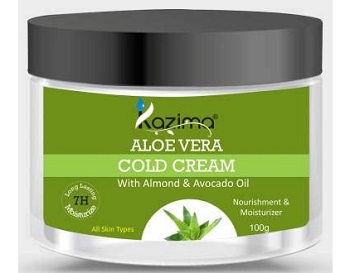 A lot of people would like to use cold creams during the winter season and if you are looking for the best aloe vera cold cream then this is the best example. Kazima aloe vera cold cream comes with almond and avocado oil. It is suitable for all skin types for long lasting moisturization. One can expect sun protection and protection from the winter dryness. Loaded with milk proteins, it improvises the skin complexion and with a rich creamy formula, it prevents moisture loss. With 100% pure natural ingredients and aloe vera, this facial skin product gives total nourishment even during the dry weather.
9. Vaadi Herbals All Purpose Cream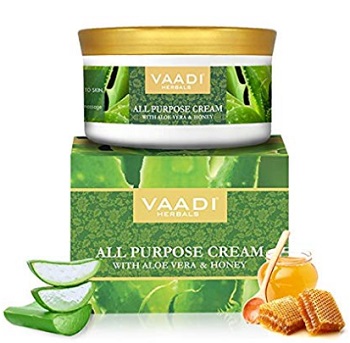 Vaadi Herbals all purpose aloe vera cream comes blended with honey, Manchester, Vitamin E extracts. Honey ensures that the skin stays naturally glowing and soft. Vitamin E on the other hand is a natural antioxidant to fight free radical damage. It is an excellent aloe vera face cream for all skin types but for dry to normal skin, it works just better. Rich in multivitamins and niacin, it can also be used as a pigmentation removal product.
10. Ayur Herbal All Purpose Cream with Aloe Vera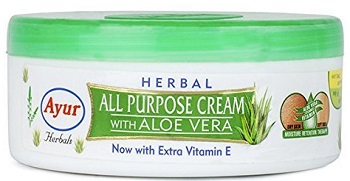 This is one of the most popular aloe vera creams available in India. It is loaded with aloe vera and Vitamin E and gives a healthy glowing skin. Not just for your face but it can also be used as a body cream for the dry body parts. In fact, for the winters, it's the most used product from Ayur.  The cream is the best winter cream with aloe vera in it for winter dryness care. It is not for oily skin for the face at least, but for dry to normal skin it is a wonderful face massage cream also.
These are the best aloe vera products that you can try for your skin however make sure that while using any of the aloe vera products for your skin you check whether the skin is suitable for your skin type or not. For example the creams that we are mentioned above, some of them can be quite extra greasy for oily and acne prone. ,However if your skin is dry, then aloe vera cream can be a wonderful face massage cream to combat the winter dryness and for facial massage.