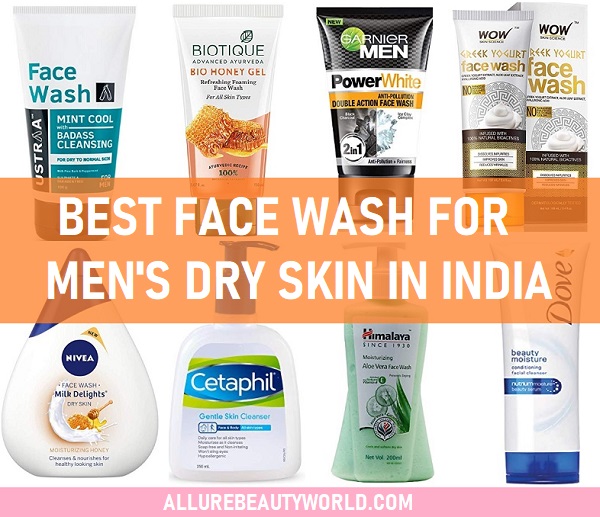 Men with dry face often complain that their skin is getting rough and flaky. Winters and cold season can make this situation worse. To deal with dry skin the first thing that men and boys can do is to apply hydrating face wash for dry skin. Earlier, friends, we've shared the best face wash for dry skin in the market however, in this article, you are going to talk about the best men's face wash for dry skin. Moisturizing facial products helps to soothe the dry patches making skin glowing. This list has best face wash brands for dry skinned men. We can understand that when the skin is rough, flaky and de-hydrated, the first step to take is to apply good facial cleanser followed by a moisturizer. Hydrating products are perfect to improve the skin condition, but also relieves the dryness and roughness. Let's check out the best face washes for men in India suitable for dry skin.
Best Face Wash For Men With Dry Skin in India (2022)
By the way, the list also includes some of the best men's cleansers for combination skin.
1. Ustraa Face Wash for Dry Skin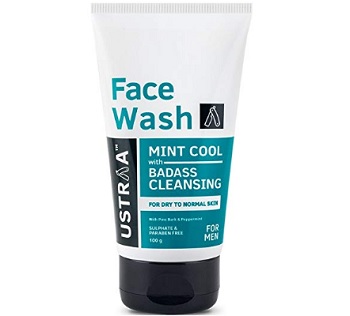 Ustraa face wash for dry skin contains Pine bark, peppermint and mint cool extracts. The face wash is made for men with dry to normal skin. The cleanser is paraben and Sulfate free and able to remove the dirt and cleanses skin perfectly. You get hydrated and moisturized skin after using this men's face cleanser. The cleanser also soothes and calms the skin reducing the itching and irritation which is often seen when someone has dry skin. The glycerine and coconut extracts, also gives intense moisture to the dehydrated facial skin. It is one of the best face wash for men for dry skin in India.
2. Nivea Milk Delights Moisturizing Face Wash For Dry Skin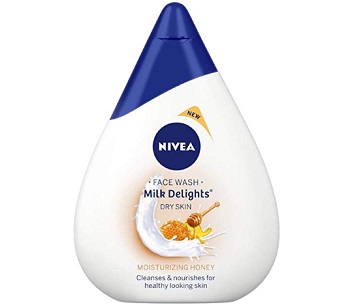 It's the best Nivea face wash for dry skin. When the winter is here, your skin is more likely to experience stretchiness, even if it was normal during summer season. Considering that honey and milk extracts are wonderful to cure dryness. Nivea milk delight face wash is formulated for dry skin and contains milk and honey extracts. The moisturizing honey retains the skin moisture and gives you nourished glow. The Nivea face wash for dry skin cleanses the skin and imparts suppleness and healthiness. Use it twice in a day and experience smooth and hydrated skin. It's the men's facial cleanser for dry skin.
3. Cetaphil Gentle Skin Cleanser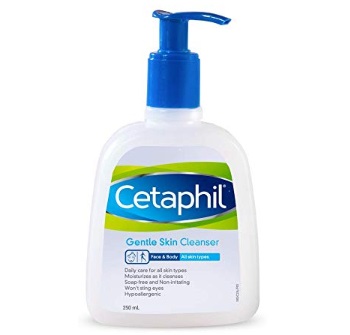 It's one of the best medicated cleanser made for all skin type and for your face and body. This particular variant is a soap-free and not irritating skin cleanser that is suitable for dry skin. It's like a gentle daily care for your skin that does not sting eyes and is hypoallergenic in nature. It is an affordable product which is also suitable, if you are facing some sort of skin issues like skin irritation and sensitivity. It's a dermatologically tested and dermatologist recommended product. For roughness and sensitivity cure, it's the best face wash for men dry skin.
4. Himalaya Moisturizing Aloe Vera Face Wash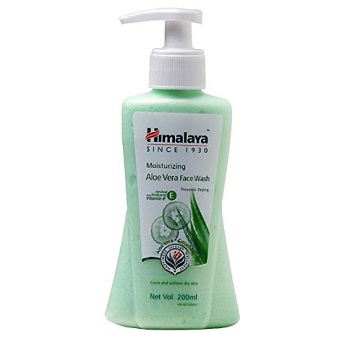 Aloe vera is known to give you gorgeously healthy skin and retains moisture, so does this Himalaya aloe vera face wash. With natural Vitamin E and aloe vera extract, the dry skin face wash for men also prevents dryness after the wash With aloe vera and cucumber, it also lightens complexion and gives you a moisturized face. Try this men's cleanser for dry skin once or twice in a day to get healthy skin.
5. Garnier Men Power White Anti-Pollution Double Action Face Wash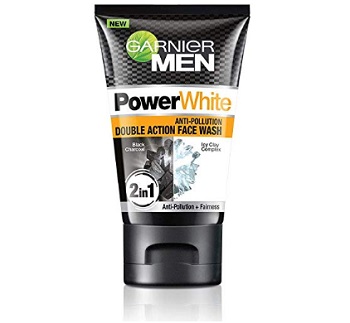 Garnier Double Action Face Wash is for men who want to get rid of the dryness and get some brightness. It contains black charcoal extracts and Icy clay complex. It's the best men's face wash for dry oily skin. The cleanser gets rid of the pollution effect from your skin while making it fair. It's not that oily skin experiences pollution effects and dullness, even dry skin is equally affected by the pollutants and toxins. To purify your skin and cleanse it deeply, you can apply this Garnier men face wash for dry skin.  For very dry skin, it can be a bit drying. Therefore, for keeping it for the summer season while for the winter season, it is suitable for normal to mildly dry skin. You can also take a look here at the best men's grooming kits in Indian market.
6. Biotique Bio Honey Gel Refreshing Foaming Face Wash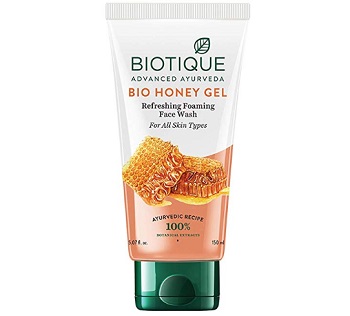 This Biotique honey face wash is made for all skin types. With the honey rich formula, it retains the hydration on the dry skin and makes your skin healthy and glowing. It is an Ayurvedic preparation that does not contain any parabens and chemicals. The foaming face wash does not dry the face after washing and ensures you get to enjoy a healthy looking skin. It can be used by men and women both. It's yet another best rated face wash for men's dry skin in India. It can be used by all skin types available for dry skin.
7. WOW Greek Yoghurt Face Wash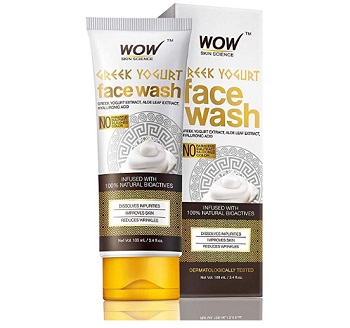 WOW Greek yoghurt face wash contains aloe vera leaf extract along with hyaluronic acid. With no paraben and sulphate or colorants used, this product is 100% Botanical and all those of you who are looking for an organic face wash for men for dry skin and other skin types shall try this variant for sure. It dissolved impurities and improves your skin complexion and reduces the wrinkles. In anyways,  Greek yoghurt is excellent for curing dry skin and rough patches on the cheeks. It's also a good face wash for men for dry skin glow specially in the winter season.
8. Dove Beauty Moisture Conditioning Face Wash Cleanser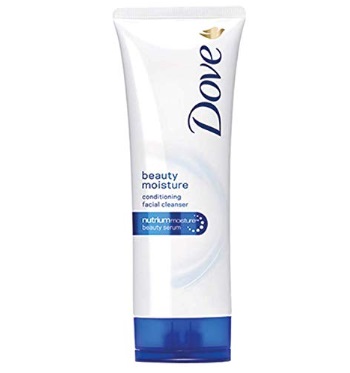 This one is also an effective men's face wash for dry sensitive skin. Dove conditioning face wash contains the beauty moisture and nutrient moisture technology. Basically the face wash is made for only normal to dry sensitive skin. As it contains the intensive moisturizing ingredients, it replenishes the moisture and secures it back to the skin during the cleansing process. So what it does? It cleanses your skin but does not make it dry after washing. It is one of the best men's face wash for dry face in the market.
9. Mamaearth Ubtan Natural Face Wash for Dry Skin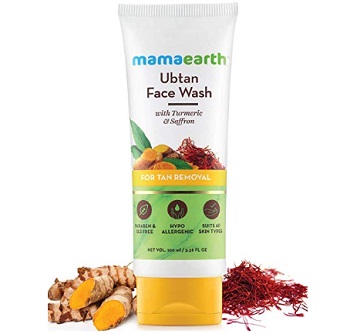 Mamaearth brand is known for their sulphate, paraben and hypoallergenic products for skin and hair. It is an ubtan face wash and with that it does not mean that men cannot try it. It is suitable for men with dry skin as well and also has the tan removal properties. For winter season, it's  affordable face wash for dry skin that would give you beautiful and healthy skin. With turmeric and Saffron extract, it's made to calm the irritated dry skin.
10. Lotus Professional Phyto Rx Whitening and Bright Face Wash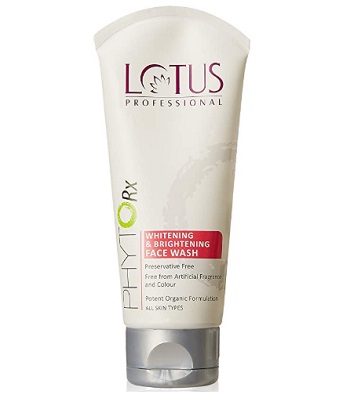 If you are looking for a whitening face wash for men's dry face, this Lotus phyto whitening and brightening face wash is a good option. It is antioxidant rich product that boosts the moisture and promotes the skin health. It promotes lighter and uniform looking complexion therefore works on the uneven skin tone. It prevents the over secretion of melanin pigment that can make your skin look patchy and darker. For dry skin, it works like a charm and gives you satisfactory results day by day. You can also call it as the best cleanser in India for combination skin.
How to Take Care of The Skin
By choosing any of these best face wash for dry skin for men, you would be able to not just hydrate your skin but also improve the skin complexion. Make sure you use the face washes at least twice in a day, once in the morning and then at night, before going to bed. A proper dry skin care regimen is also required when you have dry face. If your skin is dry, then moisturisers would be your best friend, we agree however, you need to also ensure that you use face scrub on your dry skin at least once in a week.
Exfoliation plays an important role when your skin is dry and dull. By face scrubbing your skin becomes smooth and glowing because the uppermost dead skin layers and rough flaky skin is removed. And when the rough skin as is removed timely, your skin becomes glowing and it also the cell regeneration. You may know that when your skin is dry, the chances of wrinkles and fine lines increase.
Also make sure that you apply hydrating night cream. Night creams play extremely important role when your skin is very dry. During winters and summers make sure you are using a good hydrating night cream, so that in the morning when you wake up your skin becomes smooth and moisturised.
By following this skin care routine for dry skin, we're sure that men can also enjoy healthy skin. There is nothing that we cannot take care of with certain measures. Similarly taking care of dry skin is not difficult, if you follow the advices. Still if you have some questions, you can comment below.