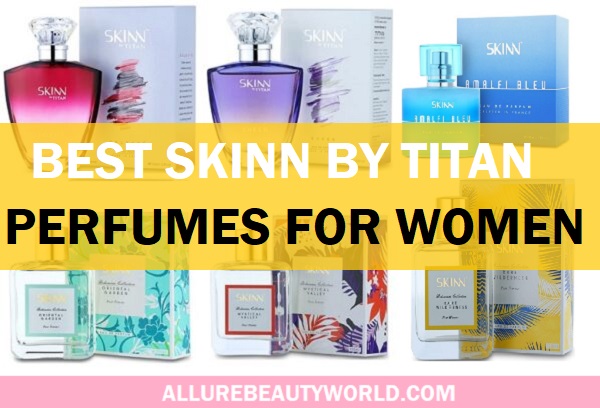 Skinn By Titan is a brand known for their long lasting and wonderful perfumes fitting perfectly in the budget even for the day use. Doesn't matter, if you're a daily perfume user or use them occasionally for events, festivals, parties, dates or meetings, still getting a good perfume for women is a must have for every women. At least, when you are someone who's into grooming impeccably and have this thing to smell good. Considering this, a lot of women think of a budget friendly women's perfume or a perfume that stay long. There can be different criteria a woman chooses her perfume based on price, scent and even the staying span. So, to make your task easier to find the best Skinn by Titan perfumes for Indian women, we've compiled this list. Here you will see a lot of different fragrances offered by the House of Skinn by Titan.
Best Skinn By Titan Perfumes For Women in India (2022)
1. Skinn by Titan Celeste Perfume for Women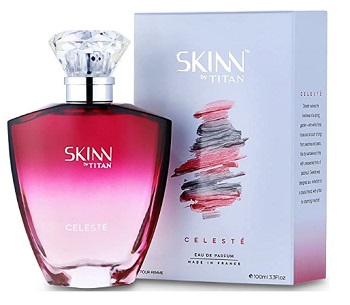 Skin by Titan Celeste perfume for women is basically a Floral and Woody perfume. It is a genuine product, which is amongst the best ladies floral perfume in India. It embodies a playful floral nectar with exotic white flower heart. Basically Celeste Perfume opens up with Grapefruit, Green Peer, Ginger and Blood Orange top notes. Heart notes have Jasmine Sambac, Orange flower, Floral nectar and Water Lily. The base notes or lasting notes of this best selling perfume has Apricot Nectar, Amber Sandalwood and White Musk. The best rated female perfume creates a lasting impression and is one of the amazing perfume that last really long.
2. Skinn Nud Fragrance For Women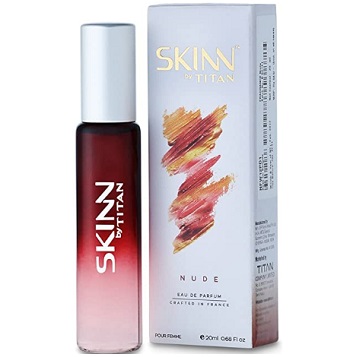 Skinn by Titan Nud fragrance is basically more of an oriental fragrance, with the mix of beautiful Woody base. The top notes have Litchi, Bergamot and Raspberry, while its heart notes have fresh flowers like Rose petals, Water Lilies and Honey Suckle. The floral perfume has the citrusy and floral  upper notes while the trailing nodes are beautifully composed of Sandalwood, Tonka beans, Firewood and Musk. It lasts even more than 24 hours as claimed by many women. Quality is just great and mostly a fresh flower fruit blended with musk scent.
3. Skinn By Titan Women's Amalfi Bleu Perfume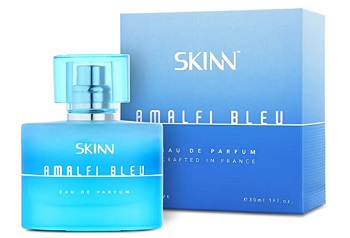 Skinn by Titan Amalfi Bleu perfume for women is a beautiful bright blue colored bottle, cute and refreshing is the one word that comes to the mind after looking at this. It's a magical perfume that has a fresh spirit and captivating scent. The fragrance comes across as a Blooming Flower Field Valley which has the fluttering orange leaves with the cool Mediterranean Breeze. It is crafted in France by the best perfumers in the world. So this perfume is inspired by the fresh flowing lush orchids to create a statement.
4. Skinn by Titan Oh So Glam Kissed Perfume Mist For Women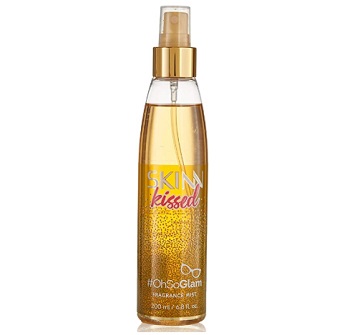 Skinn by titan Oh So Glam Kissed perfume mist for women comes in an attractive packaging. It is a very suitable pack for travel, that you can keep it inside the bag. Oh So Glam intoxicating body mist has a Raspberry, Jasmine and Vanilla top notes with aloe vera and chamomile which also moisturizes the skin. The bottle is sturdy and a value for money kind of product.
5. Skinn By Titan Pristine EDP for Women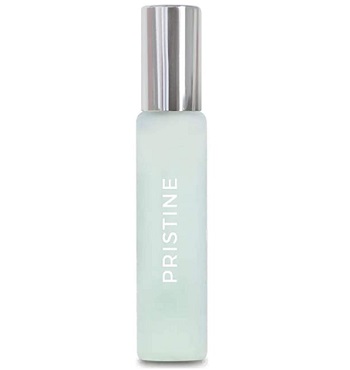 Coming to the most beautiful perfume from the Skinn by Titan perfumes for women. Pristine perfume open with the top notes of Mandarin, Lemon, Green Accords and Cardamom. Middle notes have Marine hearts, geranium and Clove. Base notes are dominate dwith the whiff of Patchouli, Gauiac wood and Musk. The perfume showers you with an amazing fresh blooming flowers kind of feel with the wood inspired trailing notes. It is a skin friendly perfume with dermatologically approved ingredients. The bottle also has a refreshing mint green colour. Pristine Fruity women's perfume is designed for the modern Indian women.
6. Skinn Sheer Fragrance for Women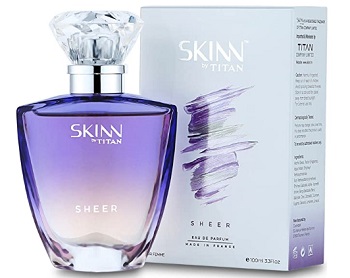 Skin by Titan Sheer fragrance has the amalgamation of fresh leaves of mint flowers and fruit notes. The top notes have Green Pear Accord, Clementine oil and Pink Pepper. Heart notes have Jasmine Petals, Peony and Magnolia. When it settles down after 2-3 hours, it oozes out the notes of Musk, Sandalwood, and Vanilla. The perfume spray has a nice feel lasting for 8 to 10 hours. For some women, it can last even the next day. The perfume has a bold spirited go get a kind of fragrance. So if you are someone who wants a perfume to unveil your charm and sets your class apart, then this perfume can be tried.
7. Titan EDP Skinn Oriental Garden Perfume for Women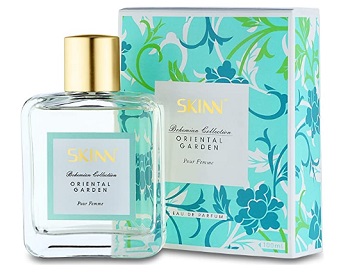 When you're someone who like Oriental Garden fragrances a lot, then Skin by Titan has an Oriental Garden perfume. Its packaging has a very simple bottle but the perfume itself has an amazing fragrance. It opens with top notes of Lemon Oil, Freesia and Violet Leaves. Heart notes have floral accords like Jasmine, Lotus, and Jasmine. Trailing Notes have Cederwood, Plumeria, Amber and Wood.
8. Titan EDP Skinn Mystical Valley Perfume for Women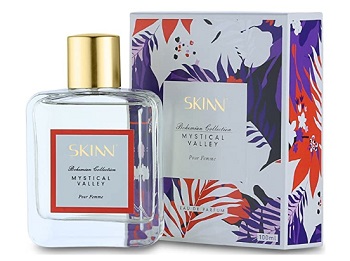 Mystical Valley perfume for women is more of a fresh floral Garden kind of smell. So it has a Tuber Rose fragrance that accompanies the Jasmine and Mogra flowers. The scent gives you that good long-lasting smell and is a perfect thing to go with your everyday thing. The fragrance opens with bright Citrusy Mandarin, Red Apple and White floral. It ends with the musky smell rich of white tuberose blended with mask. Musky smell has the richness of white tuberose blended with musk.
9. Skinn Rare Wilderness Perfume for Women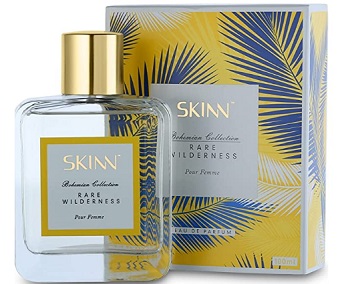 Lastly, Skin by Titan Wilderness perfumes is packaged, which is very simple with top notes of orange and star anise oil. Middle notes have carnation and Ylang Ylang oil whereas its base notes are simple with Sandalwood and Vanilla. So its fragrance that does not have too many notes or ingredients it just have clear cut ingredients that makes it one of the best perfumes for ladies which is simple and perfect for every day used as well as for the parties.
These are the best perfumes for women by the very affordable brand Skinn by Titan. This brands have highly budget friendly perfumes which you can buy online and in stores. Online you can expect some good discounts during the sale season.