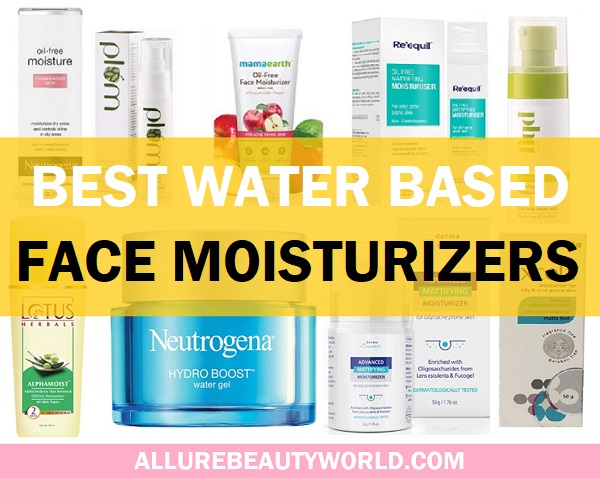 Water based moisturizers are best mate when you've oily and acne prone skin. As they make your skin moisturized without slathering a greasy layer over the skin. These moisturizers have light consistency and so thin in formula that they are able to penetrate deeper in the skin layers. So, if you came here looking for the water based moisturizers, here are the best and popular hydrating water based moisturizers suitable for oily skin. The best thing that an oil-free moisturizer can do for you is to make the skin secrete lesser oils as they go deep in the skin layers.
Even when you've acne prone skin, application of light-weight oil-free moisturizer is must have as you do not want your skin to secrete a layer of sebum every now and then. While choosing a good face moisturizer or hydrator for your skin, look for Aloe vera, chamomile, hyaluronic acid, are such ingredients which are known to hydrate the skin without making the skin greasy.
Top Best Water Based Moisturizers in India Reviews (2022)
1. Neutrogena Oil Free Moisture For Combination Skin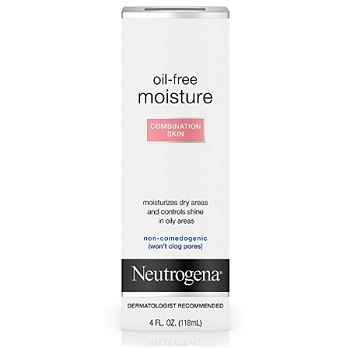 Neutrogena oil-free moisturizer is one of the best water based products for oily and acne prone skin. Indeed you would like it! It moisturizes the dry skin and with a non-comedogenic formula, it doesn't clog the pores. This is the best thing! While the product controls shine in oily skin area, it also maintains proper hydration. Being an alcohol free, fragrance free and allergy tested product that is suitable for dry to combination skin. It's a clinically proven product that has oil absorbing micro-sponge system that controls the oils for long time. The lightweight moisturizer for oily skin is developed by Dermatologists and is a perfume free and non-comedogenic formula. Try it once!
2. Khadi Natural Herbal Refreshing Orange Face Gel Moisturiser 
Khadi orange face gel is a lightweight gel that contains the orange extracts. It also has turmeric and aloe vera. The light and non-greasy gel moisturizer is fantastic for acne prone and oily skin. The 100% organic product doesn't contain any parabens or sulphate. Appling it overnight makes skin fresh and glowing. In fact, it can be used as a makeup base. It's ultra lightweight formula that blends easily in the skin layers. It can be applied for all skin types and it really works good for oily and combination skin. You can't have a better product than this.
3. Plum Green Tea Mattifying Moisturizer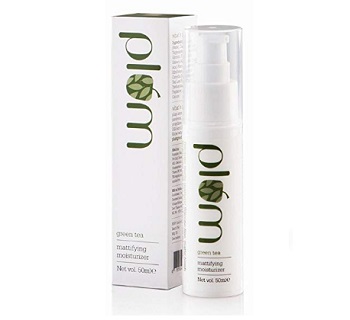 When you say a mattifying moisturizer, it means that it's specially formulated for oily and acne prone skin because this is a skin type that needs the mattifying products the most. The product comes in a very easy to use pump packaging and with green tea extracts. Green tea is loaded with so many antioxidants that it also fights the photo damage and free radical damage. Apply it twice in a day to make sure your skin stays hydrated and no stickiness. Customers simply love this product and we have tested it too!
4. Mamaearth Oil-Free Moisturizer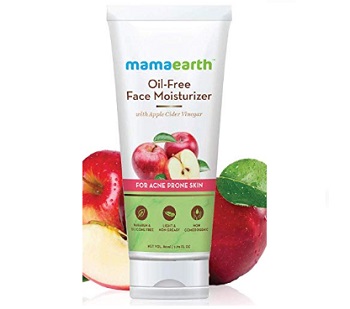 Mamaearth light water based moisturizer for face comes with apple cider vinegar. This is paraben, sulphate and fragrance free moisturizer. The product feels light on the face and doesn't look sticky or shiny when applied. So while getting rid of the existing pimples and zits from your face it also minimises there re-emergence. Apply it too soon after washing your face or even before applying makeup. Boys and girls both can try it. Actually teenage skin is prone to acne hence the product is ideal. Do try it!
5. RE' EQUIL Oil Free Mattifying Moisturiser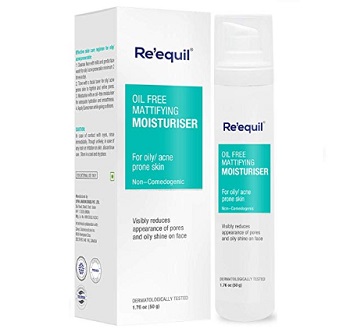 This is the best moisturizer is oily and acne prone skin in India. The non-comedogenic formula visibly reduce pores and shine on the face. In fact, it's one of the best moisturizer for open pores in India. It's a dermatologically tested product that's yet another best product when you've oily and acne prone skin. Take a pea size amount on your fingertips and apply it nicely all over the face. It contains green apple and tea tree leaf extract for shrinking the pore size. With the matte look it also acts as a perfect makeup primer or base.
6. Lotus Herbals Alphamoist Alpha Hydroxy Skin Renewal Oil Free Moisturizer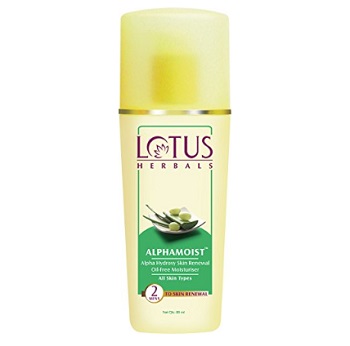 With Alpha hydroxy acids from the fruits and aloe vera the oil free moisturizer is for all skin types. However, it works best for normal to combination skin. It delivers good amount of hydration which is why skin doesn't feel as oily and sticky. With an easy to blend on the skin and lightweight formula, it absorbs really quick. It doesn't cause any breakouts but gives a vibrant glow on the skin. It can be applied whenever your skin feels the need to apply moisturizer.
7. Neutrogena HydroBoost Water Gel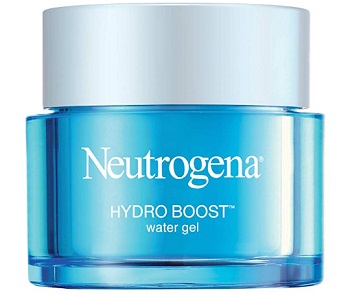 Neutrogena hydro boost water gel is extremely lightweight gel and is amongst the best product for oily and acne prone skin that helps to moisturize the oily skin without adding a greasy layer. It's light therefore, doesn't attract any dust, pollution and toxins on the skin, responsible for causing acne and breakouts in the future. It's a hydrating product which is designed not just to moisturize but to increase the water content of the skin. The lightweight feel instantly felt soon after it gets absorbed. It has ingredients such as Hyaluronic acid, Olive extracts and Glycerine. It's one of the best non-comedogenic lightweight moisturizers for oily skin. The water loaded moisturizer is a water based moisturizer that comes in a jar packaging. It's formulated to work with all types of skin and keep the skin hydrated. It contains vitamins that not just but adds glow to otherwise lack luster skin.
8. Derma Essentia Mattifying Moisturizer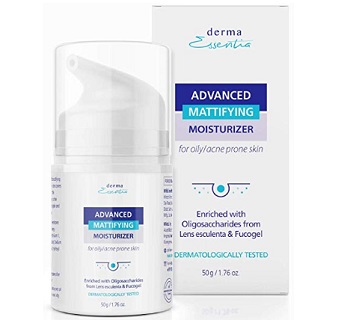 If you are looking for the best moisturizer for oily and acne prone skin, then Derma Essentia mattifying moisturizer is a must try. It's enriched with oligosaccharides therefore, helps to moisturize the skin. The oil free moisturizer for oily and acne prone skin helps in pore tightening. This is the best non comedogenic and dermatologically tested product when you've oily face and sensitive skin.
9. Phy In The Clear Superlight Moisturizer For Men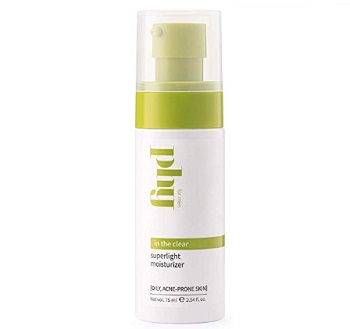 The super lightweight moisturizer is made for oily skin and acne control. With handy pump packaging it helps to keep a check on acne and over production of sebum. It's a quick absorbing formula with the non sticky and matte feel. The silicone and paraben-free formula is ultralight and moisturizing with a blend of lemon and green tea. The Dermatologist approved formula helps to moisturize skin and brighten it. Lemon and green tea are known to have loads of antioxidants while licorice is known as the skin brightening one.
10. Cipla Excela Moisturiser for Oily & Acne Prone Skin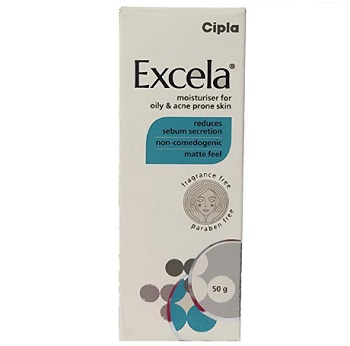 Cipla moisturizer for oily and acne prone skin has a matte feel and a non-comedogenic formula. It reduces the sebum secretion which is why the skin stays oil free for long time. It's a paraben and fragrance free product which moisturizes the skin along with reducing the pores size. So, not just for controlling oils, it's one of the best pore minimising moisturizer for oily skin in India.
11. Aroma Magic Juniper Berry Oil Free Moisturiser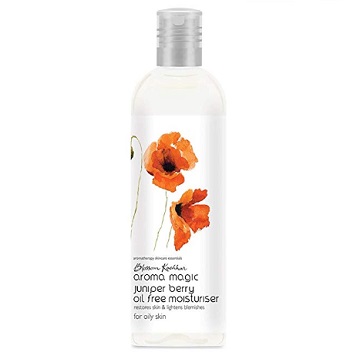 If you need an oil-free moisturizer loaded with antioxidants, then Aroma magic Juniper Berry oil free moisturizer is a must try. This is a herbal and safe to try product even when you've oily and acne prone skin. Within non sticky gel formula this helps to heal acne and lighten the blemishes. For refreshed and brighter looking skin, this helps to photo damage and harmful free radicals. It's a blend of Lemon Essential oil, Juniper Berry, cucumber and aloe vera. Free of toxins, parabens, sulphate and artificial colorants, it 's one of the best water based moisturizers with SPF15 for oily skin in India.
12. WOW Organic Apple Cider Vinegar Face Moisturizer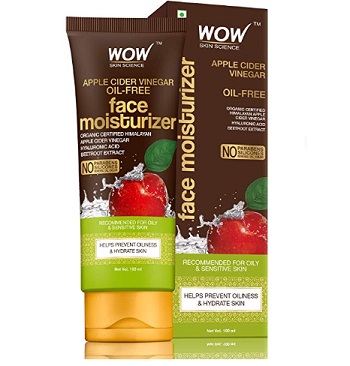 The Apple Cider Vinegar oil free moisturizer is made for normal, oily and acne prone skin. It's one of the best paraben free moisturizer for oily skin in India. It also suits sensitive skin and with a formula blended with apple cider vinegar and hyaluronic acid. Providing enough of hydration the product helps to balance and controls excessive sebum synthesis. To keep skin oil-free for a long time, it ensures it stands true to its name. It's one of the best oil free non sticky face moisturisers in India. It also shrinks the pores.
13. Paula's Choice Ultra-Sheer Daily Defense SPF 30 Oil-Free Moisturizer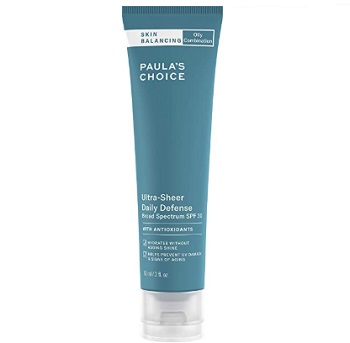 Paula's Choice oil-free moisturizer comes with SPF 30 to shield the skin from daily damage. Made for oily and combination skin, it's rich in antioxidants to safeguard skin from free radical damage as well. It can be applied once or twice in a day or whenever you need. It's the best oil free moisturizer with SPF 30 in India for oily and combination skin.
14. Ryaal Zero Oil Free Moisturising Gel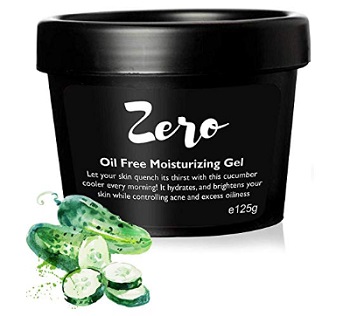 With the real cucumber extracts and hyaluronic acid, this is an oil free moisturizer gel that quenches the thirsty skin and brightens. The best part is the acne controlling feature and pore minimization. It's one of the best water based moisturizers for acne prone skin that heals acne and heals sunburn. The gel formula is easy to blend and doesn't feel greasy or sticky at all after the application.
15. The EnQ Aloe Vera and Moringa Hydrating Facial Gel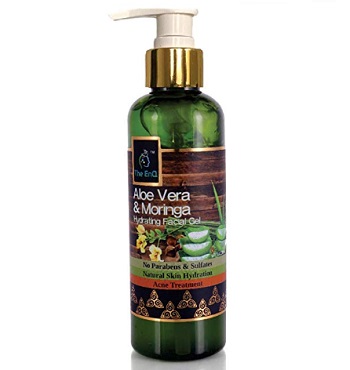 Last but not the least, this aloe vera and moringa infused facial gel is water based and is made to treat acne while hydrating the skin. With no parabens or sulphates, this is loaded with Vitamin C, Vitamin E and beta carotenes. With enough for the anti-aging and antiseptic properties, it gives nourishment in during winters. It's one of the best acne control water based moisturizer in India. The super light weight formula is rich in aloe vera that hydrates the skin and makes it supple. If you are looking for a decent moisturizer to just hydrate the skin daily than this can be tried. For sure, it can be your daily face product to keep skin looking wonderful.
That's all folks! These are the best moisturizers with water based formulations. Undeniably, they are ideal for the oily and prone to acne kind of skin type.