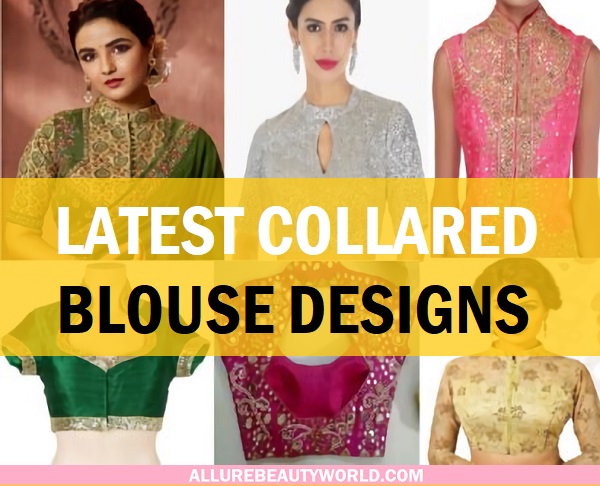 Collared saree blouse designs looks really nice. The make your neck looks longer and elongated. There are so many different designs of collared blouses that one can pair up with sarees and lehengas. In fact, the collar blouses can also be worn with the full traditional maxi skirt. So, here we have compiled this catalogue that has the latest designs of collar saree blouse designs, which can also be paired up with the lehenga.
Paring your blouses with different variety of a sarees is not difficult when you know the trick. If you are going for a grand event then wear a highly embellished blouse with a heavily embellished saree, however if you are going for a Cocktail function, then heavy saree can be paired up with a lighter blouse for a full studded blouse can be worn with a light chiffon or net saree. This is just the quick trick that you can have. The collared blouses are available in different fabrics and material like Chiffon, Georgette, silk, cotton silk and even velvet. Velvet is a very luxurious looking fabric that is suitable for the weddings and parties.
Latest Collared Blouse Designs For Sarees and Lehengas
1. Chinese Collared blouse with front zipper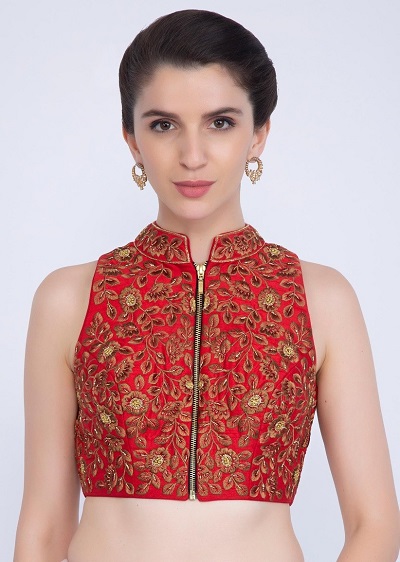 This is a beautiful collar blouse which has full heavy Golden thread embroidery and zipper and front. The sleeveless blouse is for the parties and is best suitable for the lighter sarees and lehengas.
2. Half Chinese collar saree blouse neck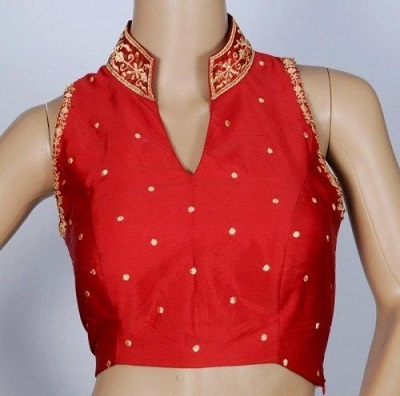 This is yet another beautiful blouse in red color and sleeveless pattern. It has mild gold embroidery and is look really beautiful. It's made with the Silk fabric and is suitable for the festivals and functions
3. Long jacket style blouse with Chinese collar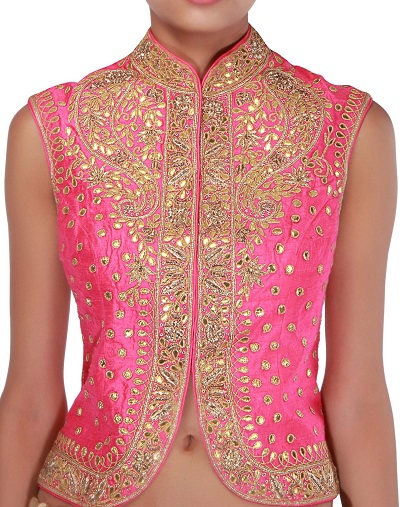 This is a beautiful pink embroidered silk blouse with Gota Patti work. It is a long blouse pattern which is highly in trend currently. It has a sleeveless pattern and a gorgeous hot pink colour.
4. Collared high neck blouse with net fabric
The blouse is made with a stunning sleeveless pattern and lace fabric. The red lace fabric makes it very westernized and suitable for your Cocktail function sarees.
5. Cotton sleeveless Chinese neckline saree blouse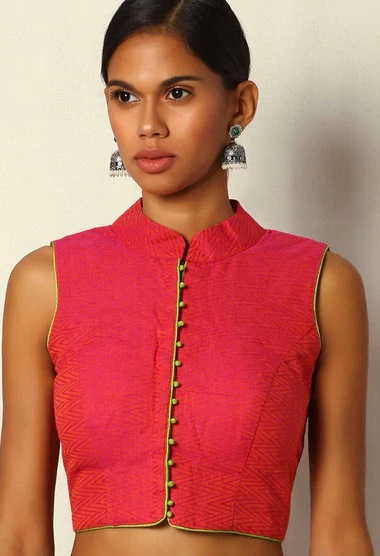 This is yet another gorgeous blouse that has the front opening and potli buttons. It has piping in contrasting color and is suitable for the Cotton silk sarees. The blouse is made within nice elegant design that makes even a cotton blouse look fantastic.
6. Brocade net collar blouse pattern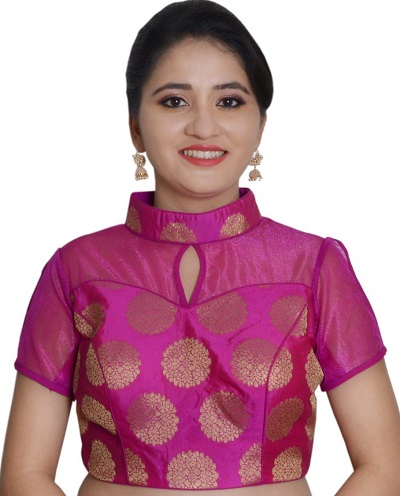 The brocade blouse is for festive and wedding wear. The blouse in magenta color is made with brocade and net fabric. It has high neck Chinese collar with half sleeve. The blouse is suitable for bulky as well as thin frame women.
7. Chinese Satin angrakha style blouse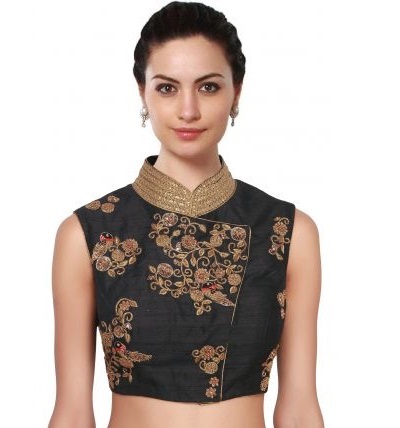 The gorgeous blouse has a high neck Chinese collar with golden embroidery and mirror work. The blouse is an art Silk black fabric with embroidery work all over. The angrakha style pattern makes it really beautiful and it would look stunning when you pair it as a crop top and skirt design.
8. Half collar sleeveless cotton blouse design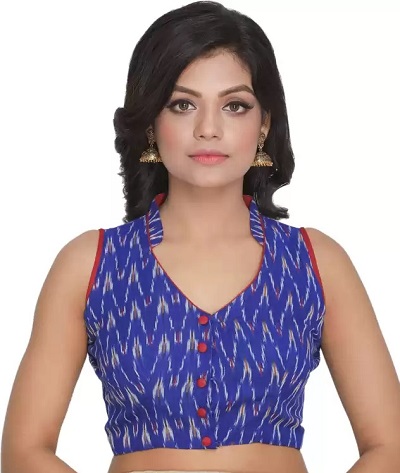 The gorgeous blouse is made with a front opening buttons and sleeveless pattern. It has a V neckline and half collar at the back. It is suitable for the daily use cotton sarees.
9. High neck Chinese collar pattern blouse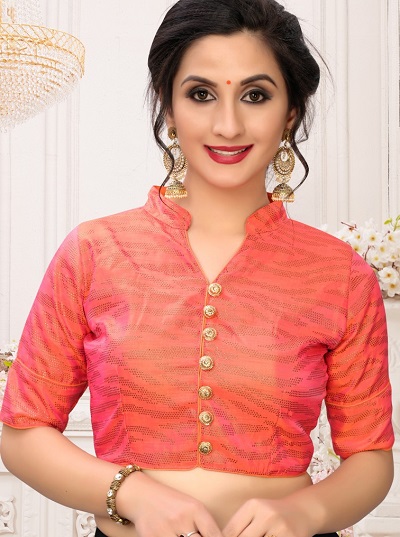 The stylish blouse has high neck collar and V slit neckline. It has Golden buttons in the front and medium length sleeves. It is a festive wear blouse that you can wear with the festival wear sarees.
10. Cotton printed collared blouse with buttons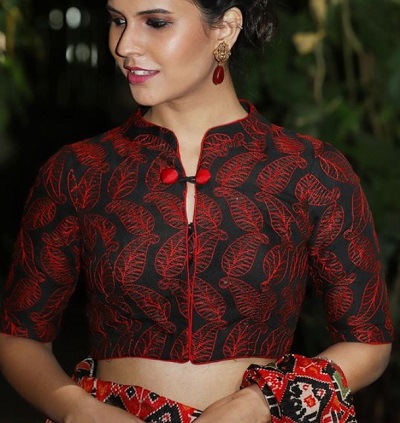 The red and black cotton printed blouse has medium length sleeves and two buttons are given over the neckline that creates a beautiful pattern. It is a very designer looking blouse that can be worn for some function or even for the daily use.
11. Stylish cotton collar dress saree blouse with slit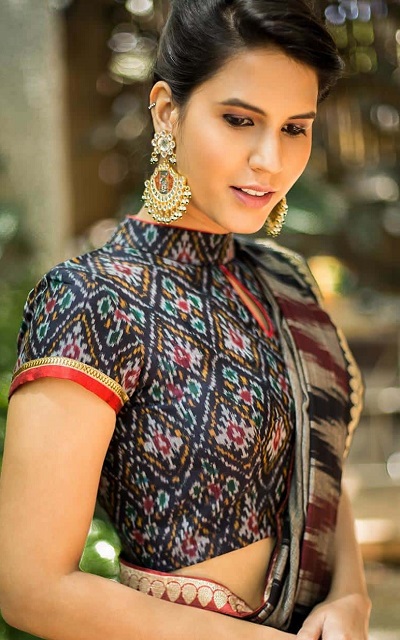 12. Golden high neck collar full sleeve saree blouse design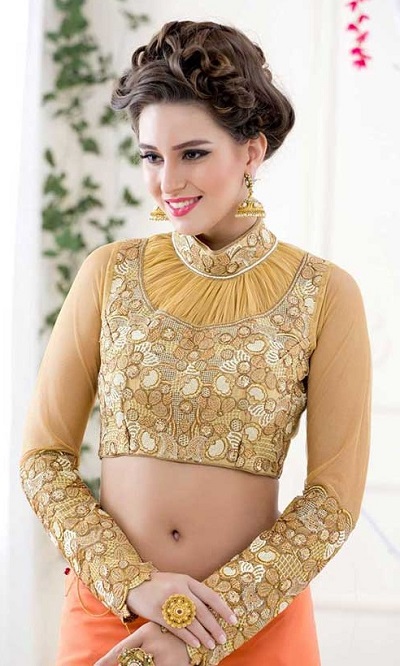 13. Golden front zipper collar blouse pattern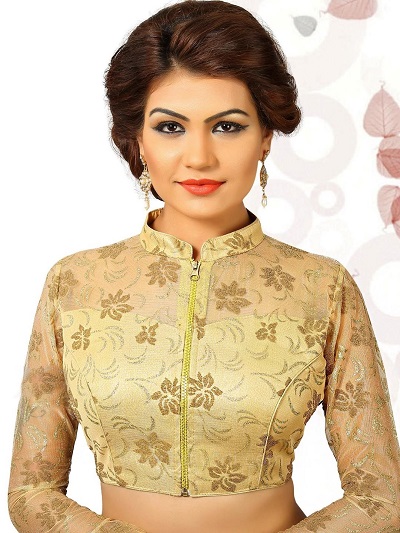 14. Sleeveless Black and Gold embroidered front zipper blouse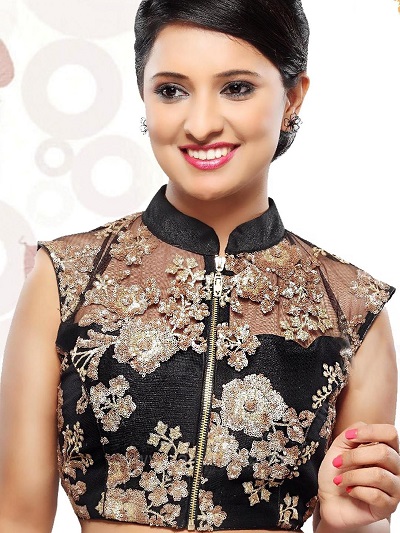 15. Sweetheart Neck Green Golden embellished saree blouse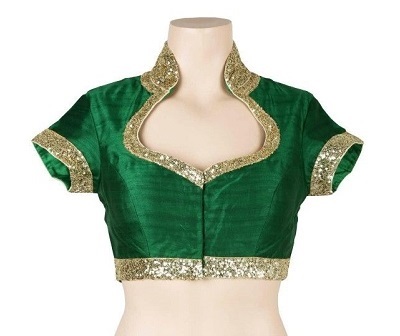 16. Printed high neck blouse with full sleeves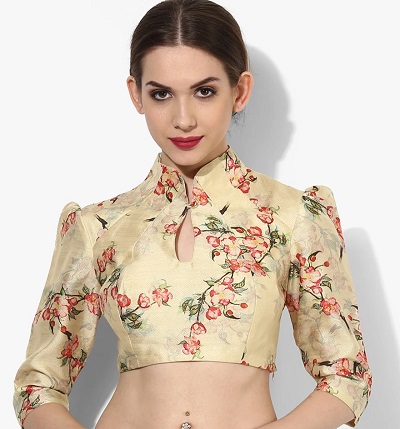 17. Stylish red Silk high neck blouse with front slit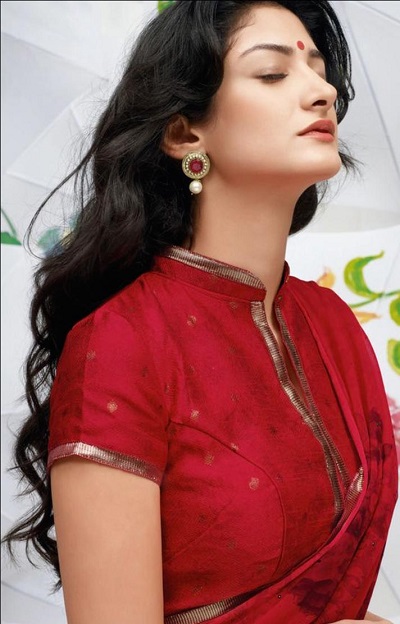 18. Cotton high neck purple saree blouse for daily wear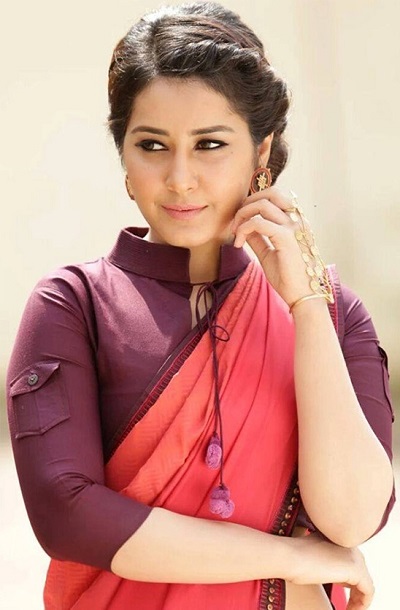 19. Embroidered Wedding wear high neck blouse with front opening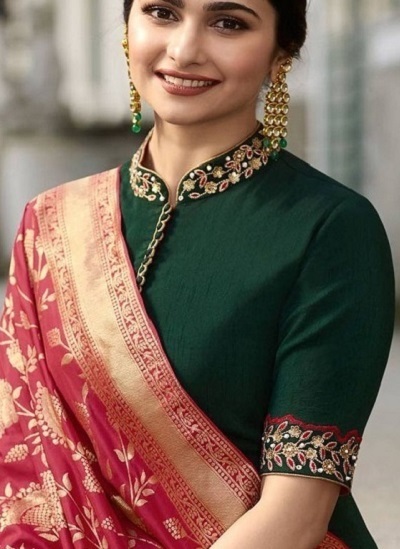 20. Halter style high neck blouse with shoulder cut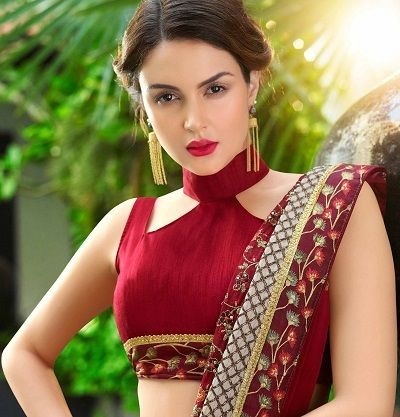 21. Halter printed Chinese collared blouse design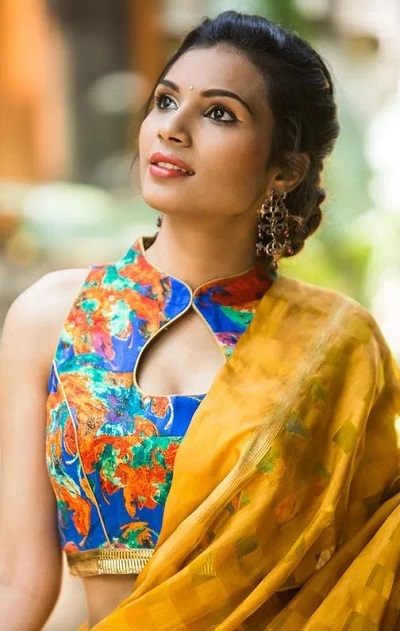 22. High Neck Chinese collar Angrakha wrap pattern blouse design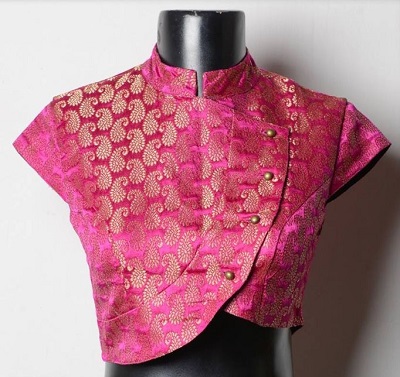 23. Stylish full sleeves Brocade Silk embroidered Blouse design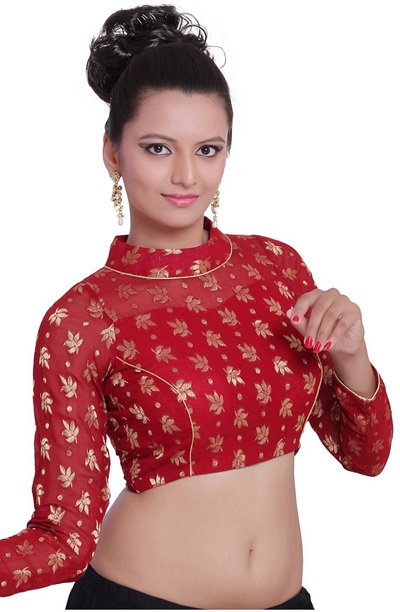 24. Cotton everyday wear sleeveless blouse with collar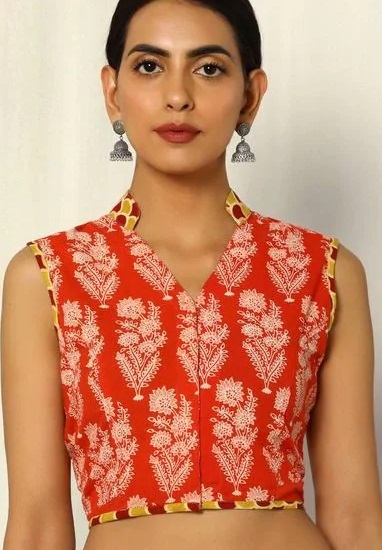 25. Front opening button collar blouse design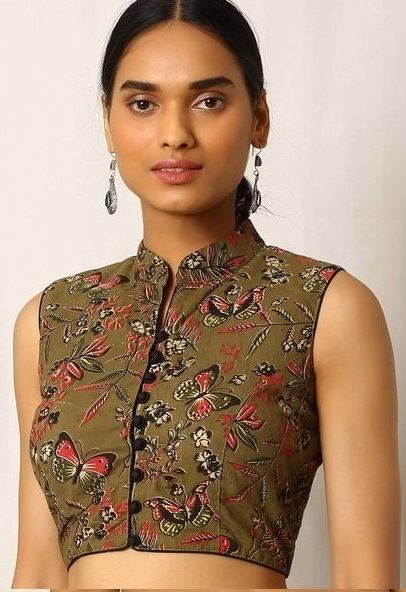 26. Embroidered black coloured blouse with front zip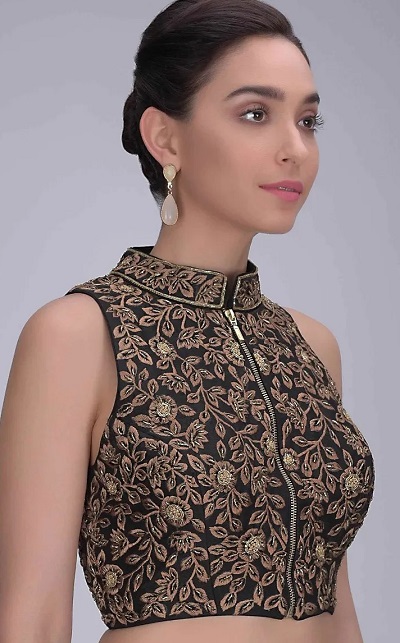 27. Ivory white high neck saree blouse with medium sleeves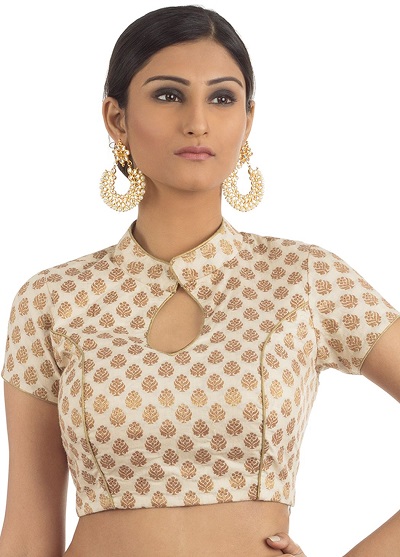 28. Longline blouse with peplum and front buttons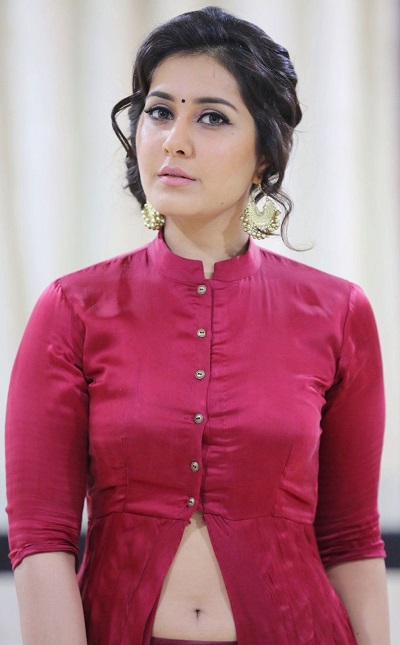 29. Multicolor Silk blouse with Chinese collar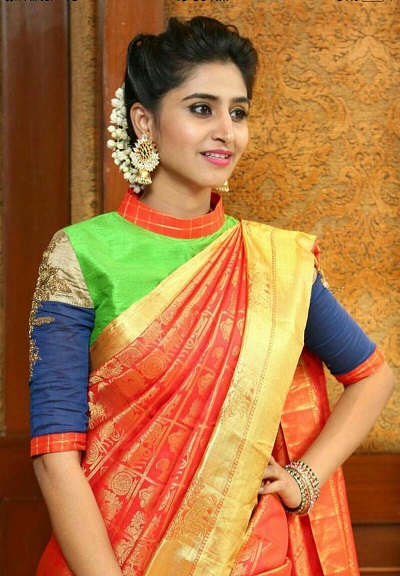 30. Patchwork wedding wear high neck blouse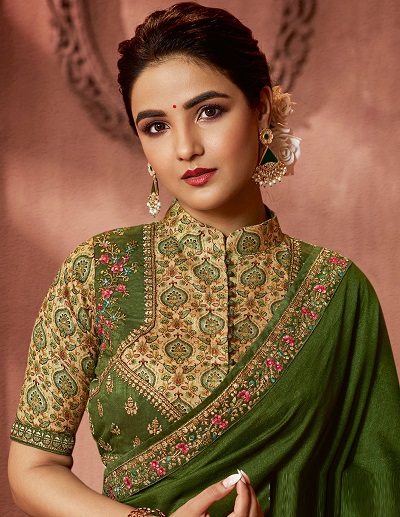 31. Stylish saree blouse with designer embroidery work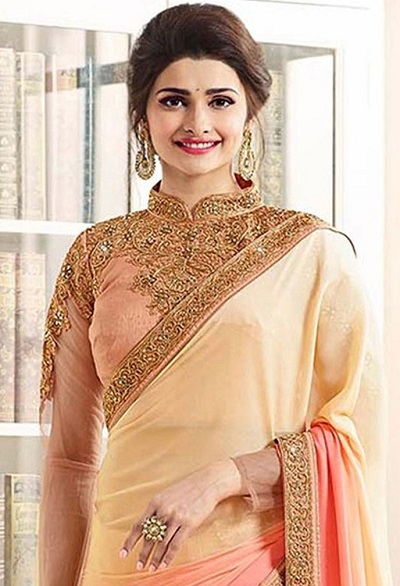 32. High neck blouse with printed fabric and Back Round cut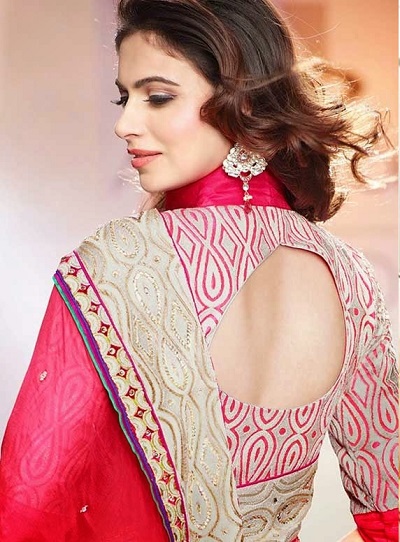 33. Collared saree blouse with net Cape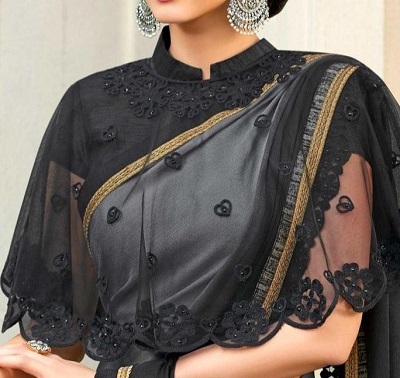 34. Stylish designer front opening saree blouse with collar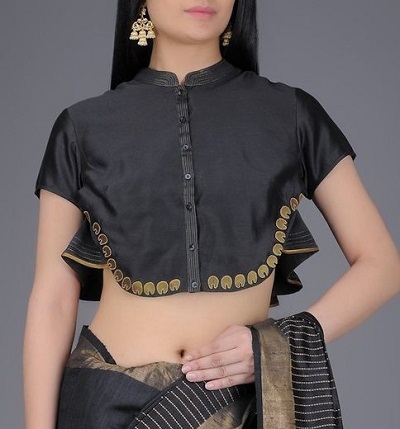 35. Patch Work White embroidered high neck blouse with zipper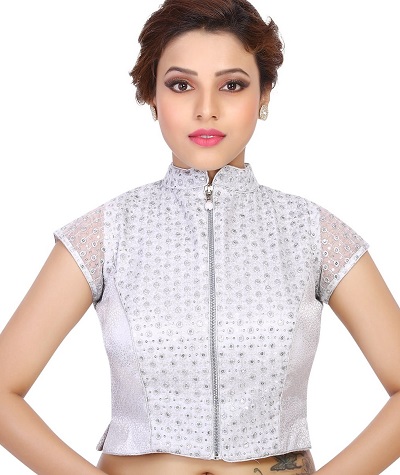 36. Silver glitter saree blouse with keyhole collar design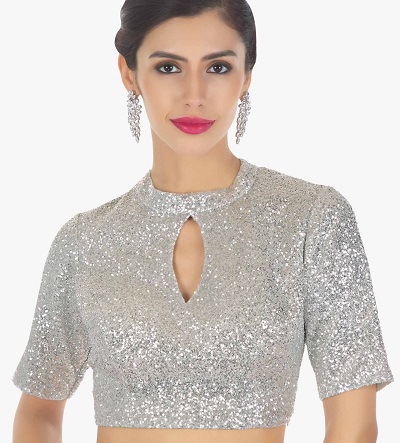 37. Bow at the back saree blouse pattern
38. Highly embroidered full sleeves velvet red saree blouse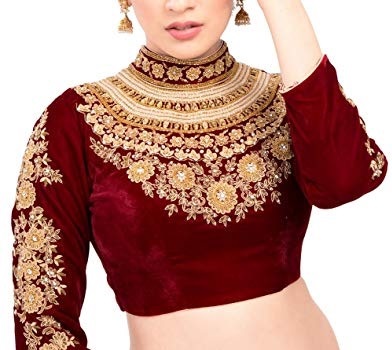 39. Mirror work collared saree blouse pattern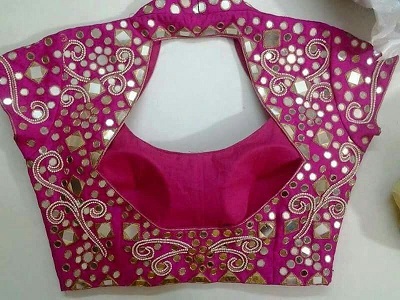 40. Long peplum collared Ruffle saree blouse design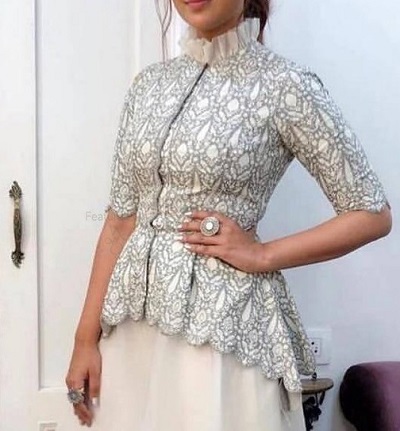 41. Cold shoulder collar red saree blouse pattern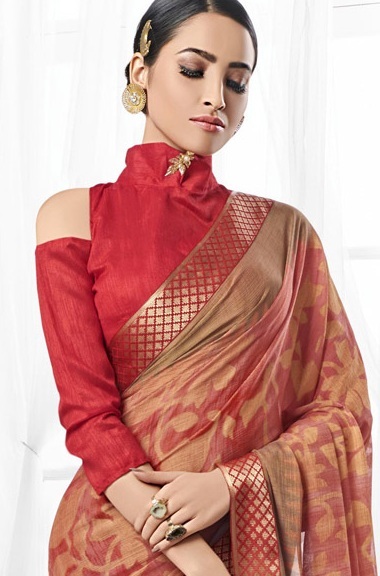 42. Mirror work collared orange saree blouse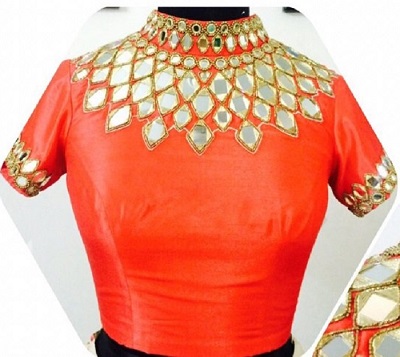 43. Heavily embellished sleeveless black collared blouse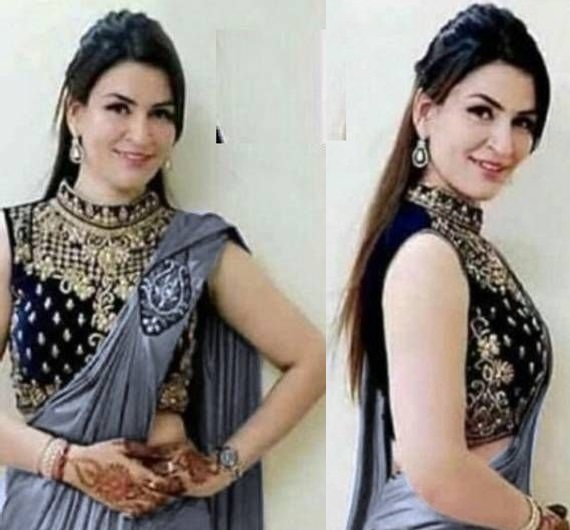 44. Brocade Party wear Chinese Collar Blouse Design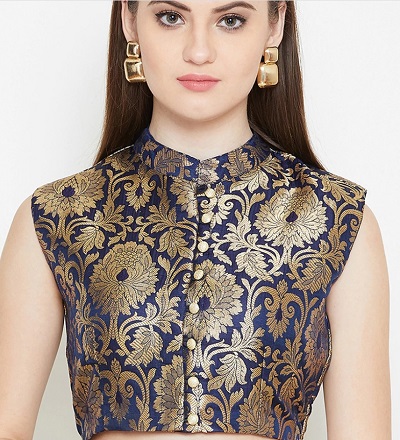 45. High neck blouse designs for cotton sarees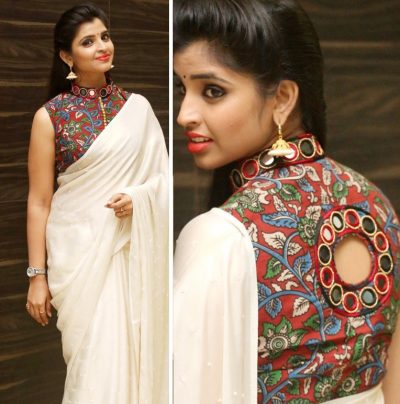 These are the latest collared saree blouse design. The collar can be really high or low. It can be a Chinese Mandarin neckline collar or the half collar that runs behind the neck. In fact, these collared saree blouse patterns are really beautiful looking and unique. One can pair different sarees with these collar blouses. Another thing that a collar blouse makes you look really elegant and amazing. The best sarees that you can pair of you with your collared blouses are the silk and net sarees. A lot of women would like to have the blouses made fashionably, so with a collared blouse, you can opt for making it either a sleeveless pattern or with a cold shoulder pattern.
Other than that while going for blouse stitching, you must remember to give the accurate measurement and make sure that your blouse is comfortable to wear. So these were the latest collared saree blouse designs that you can go for.