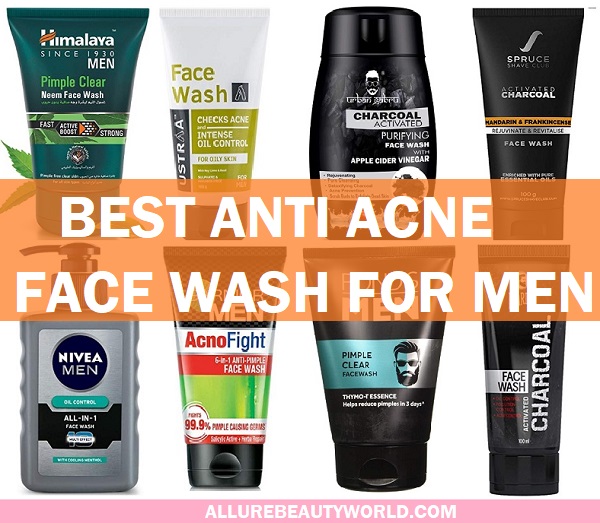 Pimple and acne are not only painful, but they also leave their marks behind. This is why, facial cleanser for men are known to eliminate the pimples and acne from the skin. In this article, we are going to share the best face wash for men with pimples in India.  Men's Facial wash for pimples, contain anti acne and anti bacterial ingredients which are far better than using the other regular face washes. Because the anti septic products aid in killing the bacteria causing pimples on the skin in the first place. So here  is the list of the best anti acne face wash for men in India.
Best Men's Face Wash for Pimples, Acne and Dark Spots in India (2022)
Let's take a look at these facial cleansers which are quite effective which helps to eliminate the acne and their infection.
1. Himalaya Herbals Men Pimple Clear Neem Face Wash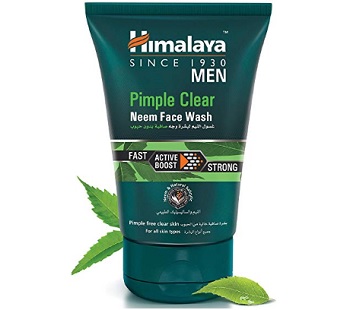 Himalaya Herbals men's face wash contains neem. Neem is an excellent antibacterial and natural product that comes with loads of antibacterial benefits to hide pimples. In fact it also has natural salicylic extracts that the rapid action of acne elimination. This affordable face wash for boys works against the skin infections, pimples and even dark spots. It is a soap free, herbal preparation and best facial cleanser for men with oily skin.
2. Nivea Men Oil Control Face Wash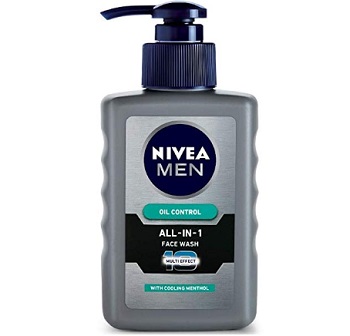 Nivea men oil control face wash is for men who've got excessive oily skin. Often too much oils and skin cells became the major culprit for the bacterial infection causing more and more pimples. This gives you long lasting oil control effects and reduces acne. Furthermore, good men's face wash like this also fights dark spots and brightens the skin over the time. It also has mild cooling effect on the skin when you apply. It deeply cleanses the skin and prevents the whiteheads and blackeads.
3. Garnier Men Acno Fight Anti-Pimple Face Wash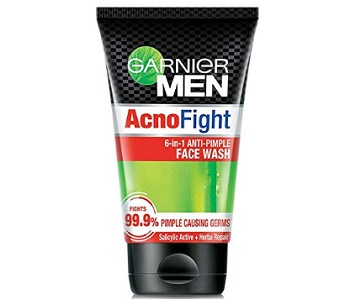 Garnier Men acno fight pimple face wash is one of the best face wash for men's acne in India. It contains salicylic acid and herba repair formula. Because of this, it fights 99.9% of pimple causing bacteria and germs. The anti acne cleanser also dries the pimples fast so that it gets healed quickly. It uproots blackheads and tightens the open pores on the skin. While reducing the dark spots and marks, the face wash also controls the oils for couple of hours. Having said that, many guys with acne would agree that this is best men's face wash for pimples and dark spots.
4. Pond's Men Pimple and Oil Fighter Face Wash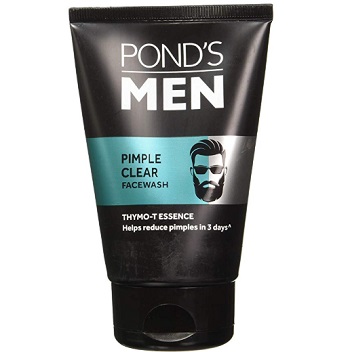 Ponds men pimple face wash is made to reduce the pimples in just 3 days. It contains "Thymo T Essence" to clear the acne. It is one of the best face washes for men's oily skin. So it leaves your skin soft and specially developed for men, it works really well. While using anti pimple face wash, you will experience that it first dries your skin as a part of the pimple curing process. Therefore, take the face wash in limited quantity. This is because the oil-free face wash for men peels the top most dead skin cells mildly. You can apply some oil-free moisturizer to combat the dryness.
5. Beardo Activated Charcoal Acne Oil and Pollution Control Face Wash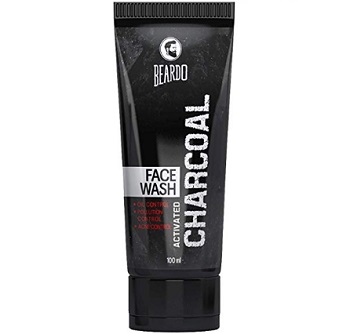 Beardo men's face wash is an activated charcoal face wash which highly benefits, when you've oily skin. It gives you oil control benefits for few hours and pollution control for the entire day. In the long run, it also controls the acne and reduces dark spots. With aloe vera, it also calms and soothes the sunburn and detoxifies the skin. It gives you value for money and keep the skin oil-free for long. It's also a good detoxifying face wash for men. Activated charcoal is known to detoxify the skin deeply and uproot the blackheads. Reviews say it all that, this is amongst the best face wash for men in summer because of its oil clear action.
6. Spruce Shave Club Charcoal Face Wash for Men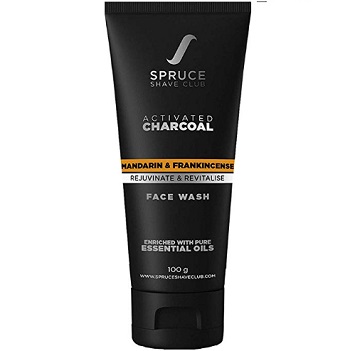 We've another activated charcoal face wash for men. It has Mandarin and frankincense extracts. Revitalizing your skin, the face wash is also enriched with pure essential oils and contains natural honey for acne and bright complexion. Honey, in fact retains the moisture and helps in reduction of the dark spots and is also known as a powerful antioxidant. Additionally, it also contains ingredients like Mandarin and Clove. So you get relief not just in acne and pimple but their marks and scars as well.
7. Ustraa Face Wash for Oily Skin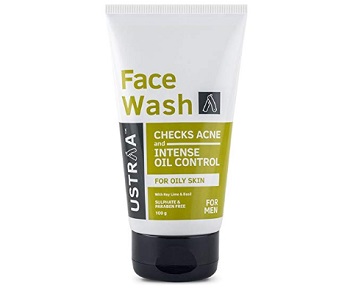 This face wash for oily skin keep the acne and excessive oil secretion from the glands under check. The face wash has key lime and basil extracts with salicylic acid. The natural herbal formula gives you intense oil control keeping skin matte for hours. It removes the excess oil from your face leaving the skin feel refreshed. Formulated for the oily skin, it doesn't make your skin feel greasy or sticky. There are no SLS, parabens or harmful chemicals in this drugstrore men's face wash. So it also fights the darkness and dullness. Suitable for summer season, it has mild cooling fragrance for that feel good post wash and is very effective for male acne.
8. UrbanGabru Charcoal Face Wash with Apple Cider Vinegar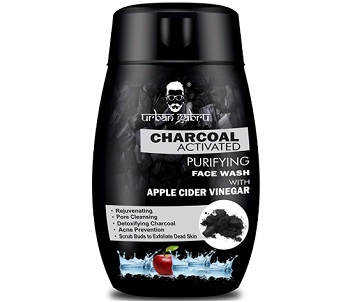 Urban Gabru charcoal face wash with apple cider vinegar is one of the best pimple and acne control face washes for men. While doing the intense pore cleansing and detoxifying, it scrubs to exfoliate the dead skin cells. In short, it eliminates all the causes likely to contribute in the pimple formation. It penetrates deep in the skin and unblocks even the clogged pores. Apple cider vinegar is known to chemically peel the skin cells to keep the face clean and clear. It is suitable for the oily sensitive skin as well and moreover, it minimises the open pore size. You can also call it as the best charcoal face wash for Indian men. Your skin feels fresh and younger making this amongst the top face wash for men in India for acne and pimples. It's also a good face wash for guys with beard also.
9. RE' EQUIL Oil Control Anti Acne Face Wash for Oily Sensitive Skin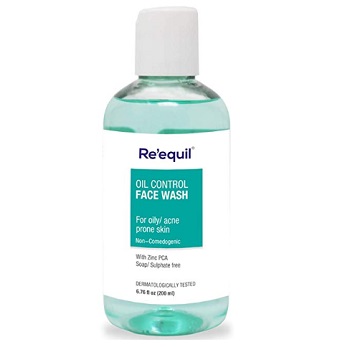 This oil control face wash is the best face wash for oily and sensitive skin. The oil clear formula based face wash Clans is the dead skin cells and help prevent breakouts. While regulating the sebum production it also the itching and redness of the skin. The ingredients in this retains the moisture balance of the skin, therefore you do not experience any dryness after using this cleanser. Free from the sulphates, paraben and silicones, the face wash is non comedogenic. It is everything that a person with oily and acne prone skin would need. This is why we have rated it as the best men's face wash for oily skin and pimples. You can read the ratings and reviews and you will be quite satisfied by what other people have to say about this amazing cleanser. It also works on combination skin too, if you have this question in your mind.
10. L'Oreal Men Expert White Active Anti-Acne Volcano Brightening Foam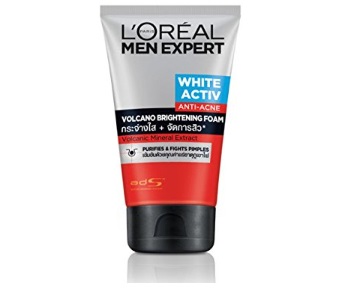 L'Oreal Men white Activ anti acne brightening forming face wash is yet another popular option to hide pimples on men's skin. Containing the volcanic mineral extract, it dries out the pimples and prevents the future acne formation. The facial foam reduces the acne size and inflammation. By deep cleansing your skin, it also reduces the open pores to make skin less oily. This deep pore cleanser for men can be applied two times in a day to keep your skin sebum-free and satisfactory relief in pimple control.
11. Fair and Handsome 5 in 1 Pimple Clear Instant Fairness Face Wash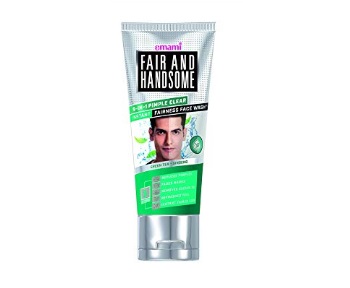 Fair and Handsome pimple clear face wash is one of the best face wash for pimples and fairness for men. It has a breakthrough formulation for men's skin. The face wash reduces pimples, too much oil secretion and acne scars. So, you get oil-free skin and no pimples. With regular usage, you can expect the marks to get faded within few weeks. It is enriched with green tea and ginseng extract that makes it so effective in its functioning. Males with sensitive skin can skip this option. It can be tried during cold winters.
12. Bombay Shaving Company Charcoal Face Wash, Pollution And Oil Control For Men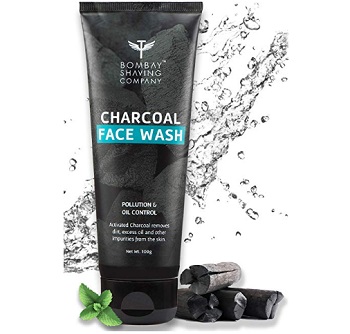 Bombay shaving company charcoal face wash is an oil control face wash for men. Eliminating and dislodging the excessive oils and other impurities, it brightens the skin surface. The product is SLS and paraben free, therefore is also one of the best paraben free face washes for men in India. This face wash also contains pomegranate extracts, papaya extracts and turmeric. So keeping your skin clean and bright, it also gets rid of the dark spots and removes the oil on your face. By this entire process your skin gets fairer than before. Guys with oily skin, shall try it twice in a day to get better skin and is one of the best men's daily face wash for oily skin.
13. Neutrogena Oil Free Acne Face Wash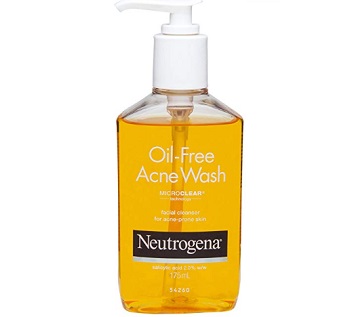 Neutrogena oil free acne face wash for men is yet again another face cleanser for boys which you can try. It is oil-free and alcohol-free therefore is safe for acne prone sensitive skin for men. Gently apply the face wash on your face and make it lather. Then cleanse it with clear water. It has micro-clear technology that is composed of three ingredients that works in the process and gets rid of the blocked pores. Use it twice in a day to make your skin beautiful, clean and clear. It's yet another best salicylic acid face wash for men in India.
14. WOW Activated Charcoal infused with Activated Charcoal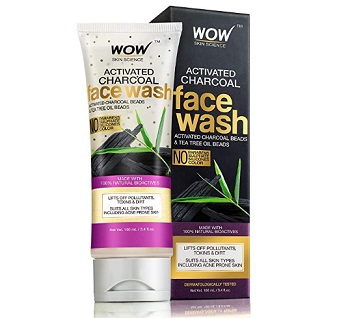 Wow activated charcoal face wash is the best face wash in India for oily skin, pimples acne and dark spots. If you don't believe us, you can have a look at the reviews and ratings of people who have tried this face wash. Amazing, is the word for this cleanser. It removes the pollutants, dirt and toxins and is also suitable for all skin types. The gritty texture of this face wash is good for skin exfoliation acne scars and blemishes.  It has natural ingredients like coconut oil, Orange peel oil and aloe vera extract. So it's kind of Ayurvedic in nature with the latest technology.
15. The Man Company Activated Charcoal Face wash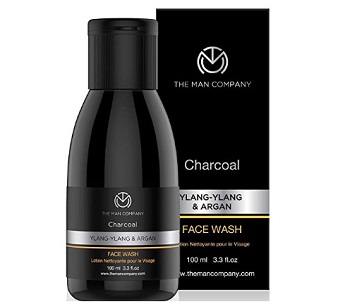 This activated charcoal face wash contains ylang ylang and Argan oil. It also has Rosemary oil and with its antibacterial properties it not only kills germs but also cleanses the skin. It banishes pimples and toxins from the skin to give you manly glow. The product is not paraben or fully chemical free but can be tried, if you wish. But all those of you, who want chemical free face wash can try the above options, where we've mentioned.
These are the best men's face wash for oily and acne prone skin in India. Using these face wash for men, you'll be able to get clear skin. Additionally, you can follow some tips to increase the fairness and glow on your skin by getting rid of pimples.
Tips for Men with Acne and Pimples
Besides using a good acne face wash, it's also important that you take care or follow a daily skin care regimen for acne prone skin. Keeping the pores clear and to heal the existing marks and blemishes a proper skin care routine is required. So use a gentle face wash for pimples and then apply a toner or astringent that contains the antibacterial ingredients like Basil, Tulsi, salicylic acid and more.  Apply the anti acne treatment gel oil free moisturizer. For the night time as well you can do the same steps.
Always make sure that you exfoliate your skin at least twice a week so that the dead skin cells, excessive oils do not get a chance to settle on the skin layer. Exfoliation alone would not be helpful, if you do not go for a clay or mud face pack. We apply a clay mask or charcoal peel off face mask to get rid of all the impurities which are deeply seated that cannot be exfoliated using the face scrub. Following this easy men's skin care routine, would surely help you in achieving clear skin.