An affordable and budget hair oil is a staple for every household. Without doubt, hair oil is a daily use product that everyone needs. We may use oils for getting and dealing with different issues like thinning, hair loss, hair fall and more, but choosing a good and budget friendly hair care oil is the priority. Like some of us use hair oils, especially men, for keeping the hair strands in place and few of us can use hair oils to tackle hair loss and other hair care related issues. having said that, there are hair oils available that can make your hair thicker and longer faster. People suffering from hair loss can use the hair growth boosting hair oils. Out of so many popular brands, we have put together these best inexpensive (affordable) hair oil brands available in India. Hopefully the list will help you to pick the budget hair care oil that you need and suits your requirement the best.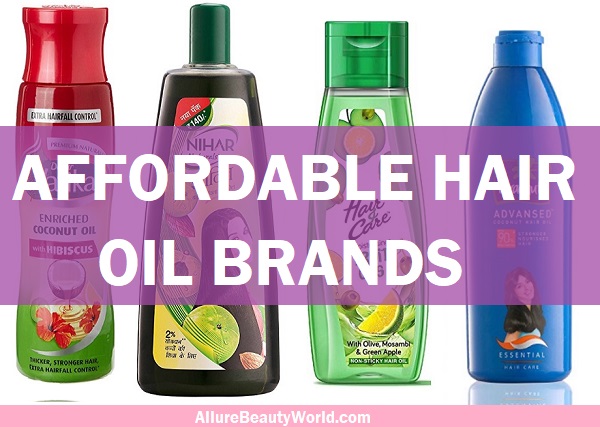 List of Top Best Affordable Hair Oil Brands in India 
1. Parachute Advansed Coconut Hair Oil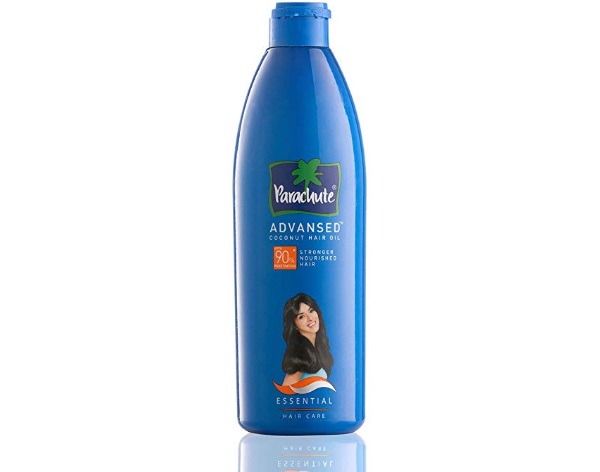 Parachute is a very popular and old brand that makes this basic coconut hair oil. It makes your hair thick and healthy with regular application. The coconut oil is pure and get solidifies during winter season therefore, you need to make sure that you put the bottle in warm water to take out the oil. The packaging is just the only downside. This is the cheapest hair oil for inducing moisture and shine and also it is used to give yourself regular hot oil massaging.
Price: 160 rupees for 300 ml
2. Dabur Almond Hair Oil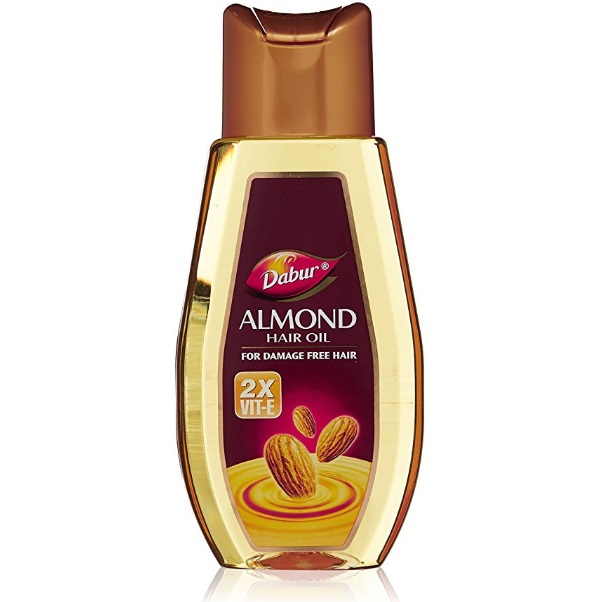 Dabur Almond hair oil is yet another popular hair product. The almond oil contains two times more vitamin E than any other hair oil. The richness of vitamin E and fatty acids make sure that your hair gets fortified from roots to tips. It ensures that your roots stays stronger and less hair fall is experienced. A lot of women face hair fall during pregnancy and other time of their life. Using Almond hair oil can drastically reduce that. It is not pure almond oil by the way. The non-sticky hair oil is perfect for men as well.
Price: 255 rupees for 500 ml smaller bottles are also available
3. Hair & Care Fruit Oils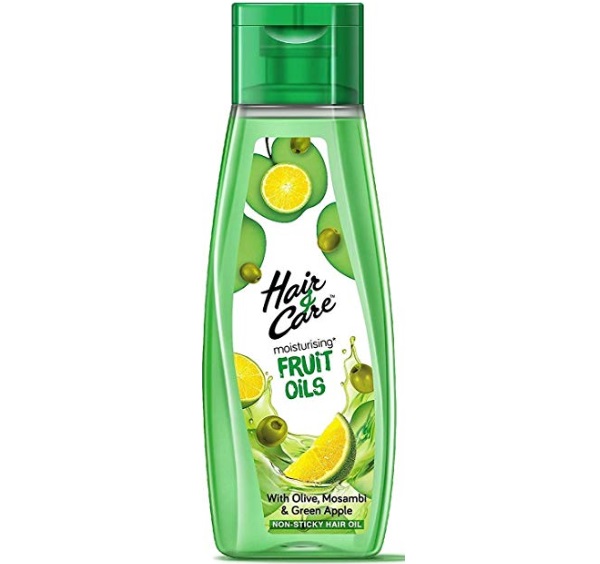 This is a relatively newer version of this oil. Hair n Care is a trusted brand but this particular variant is quite new. It is the fruit oil which means that it has oil like olive oil that has been infused with the fruit extracts. It contains fruits like grapefruit and green apple. Certainly, the hair oil is very affordable and can be bought from any nearby local stores. Other variant which is the orange colored bottle is also available.
Price: 150 rupees for 300 ml.
4. Parachute Advansed Jasmine Hair Oil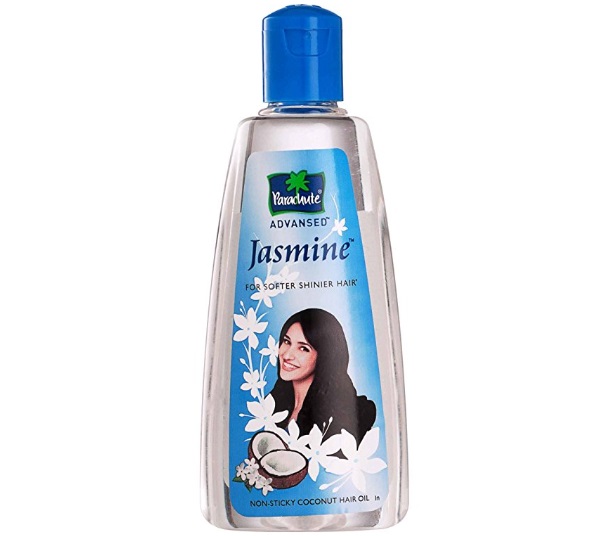 You can also get parachute hair oil in a combination with jasmine. It smells nice and is a good daily use mild oil. Massaging with this oil helps to nourish your dry hair and stimulate the hair growth. As, it also deeply conditions your dry hair ends, it ensures that split ends are also cured.
Price: 49 Rupees
5. Kesh King Scalp and Hair Medicinal Oil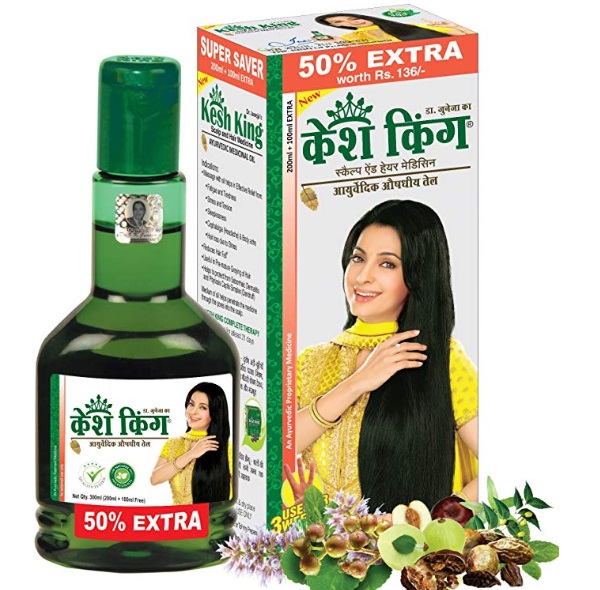 This is a blend of Ayurvedic Herbs. To name a few, there are bringraj, Amla, Reetha, shikakai and Other herbs. Oil is green in color and smells ok. For some people, its fragrance can be too much. It reduces hair-fall and also useful in preventing the premature graying of your hair. The oil helps to protect seborrheic dermatitis and dandruff.  You can massage your hair in a week to reduce hair loss and thinning. It is suitable for both men and women. You can also try applying onion juice for hair growth, if you've hair loss problem. This is my favorite hair oil brand so far. 
Price: 150 rupees for 100 ml
6. Himalaya Herbals Anti Hair Fall Hair Oil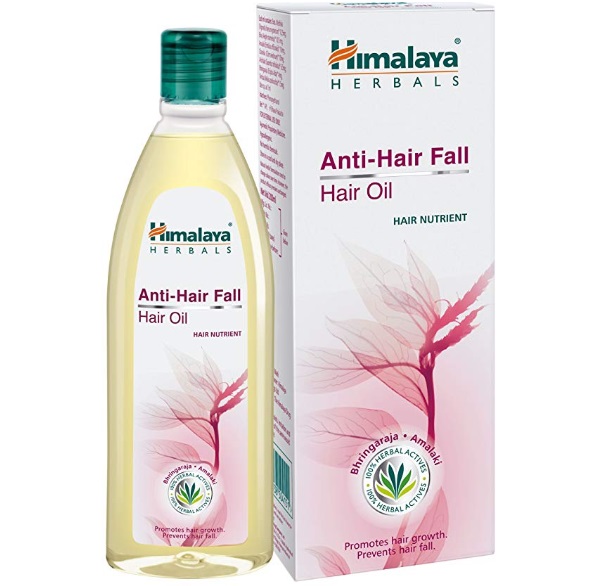 Himalaya Anti-hair fall oil is also very popular from this brand. It promotes hair growth and prevents the hairfall. It is a rich blend of bhringraj and botanical extracts. The oil is light and works on the hair roots to make them stronger. It also improves the renewal of cells of your scalp so, that new hair growth is seen within few months. Application of this product at night also delays the premature graying and split ends. It is medicinal oil that helps to cure the itching and the dandruff infection. Fenugreek in the oil is known to prevent hair thinning in men and women.
Price: 166 rupees for 200 ml
7. Dabur Vatika Enriched Coconut Hair Oil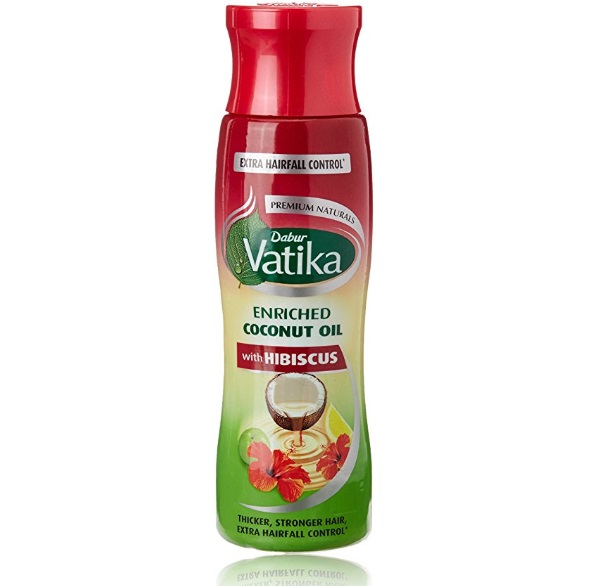 Vatika enriched coconut hair oil is suitable to get hair fall reduction up to 15%  in just few weeks. It's made using coconut, Amla, neem, and other Ayurvedic Herbs that aggravate the hair strength and balances the oil production. Excessive oils on your scalp can results in hair loss and makes hair shed faster. It has Kapur that boosts the hair growth and lemon that controls the germs, and preventing the dandruff. The Ayurvedic hair oil brand is very affordable and can be bought from any local shops. I really like this brand a lot.
Price: 160 Rupees for 300 ml smaller packs are also available
8. Nihar Naturals Shanti Badam Amla Hair Oil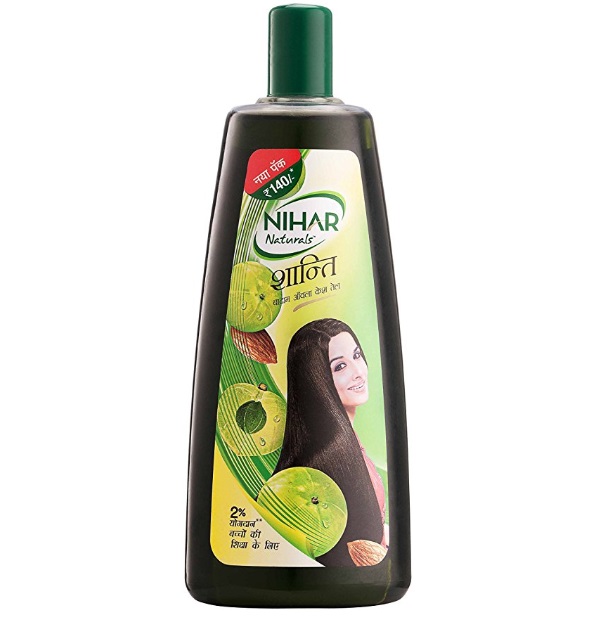 Nihar Shanti Oil is another very popular budget-friendly hair oil brand that is rich in almond and Amla. Both of these ingredients are suitable to get fast growing hair. It's light and non-sticky hair oil that also gives the mild cooling sensation upon application. It is suitable to get hot oil massage for yourself at night. Use of it, 2-3 times in a week makes your hair thicker.
Price: 55 rupees for 175 ml
9. Dabur Vatika Enriched Coconut Hair Oil with Hibiscus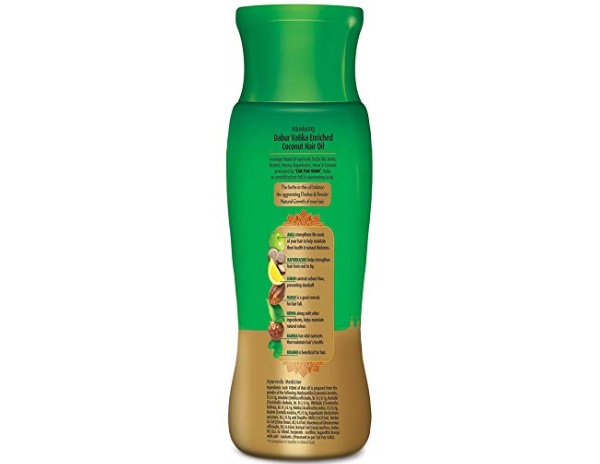 For those, looking for hair fall control and hair growth, can try this variant. It is rich in coconut oil along with Hibiscus. As we all know, Hibiscus is known to give rise to new hair follicles and stimulates the strength of your hair roots. This is the best hair oil in India for hair loss. The packaging of this product is quite attractive. It promotes the smoothness and also works to prevent the dryness of your hair specially during winter season.
Price: 167 rupees for 300 ml
10. Patanjali Coconut Oil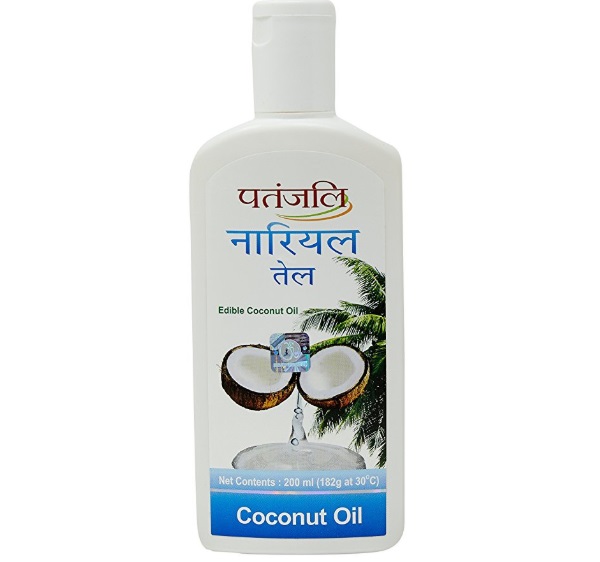 Last but not the least, Patanjali coconut oil is a suitable product to massage your hair at night. Coconut oil is wonderful cure to get rid of the split ends and dryness. It can be used two to three times in a week. It is a bit thick and sticky therefore, is not the best option for everyday use but for hot oil massage, this is one of the best pure oil.
How to use:
Mix this oil with almond oil or castor oil. Warm it up lightly. Apply to the roots and hair. Give yourself gentle scalp massage, using the finger tips. Keep it overnight. This process 2 times in a week helps to reduce hair fall.
Price: 75 rupees for 200 ml 
These are the best hair oil brands available in India that men and women can use. Out of all this while we liked Dabur Vatika coconut and Hibiscus hair oil and Patanjali coconut hair oil the most.