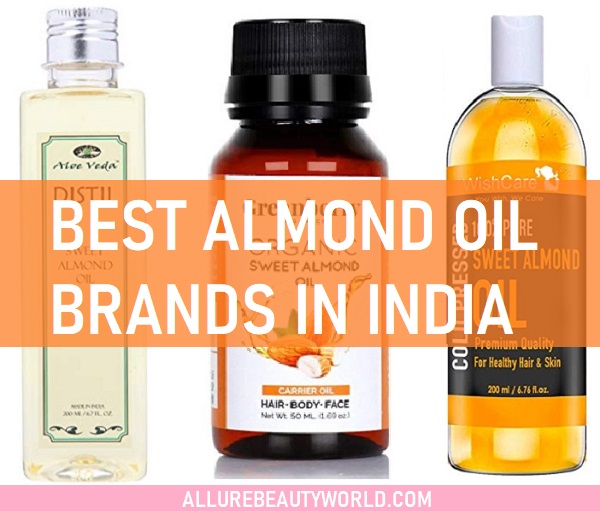 Almond oil is not just highly nutritious but beneficial for your skin and hair as well. Vitamin E is found in ample amount in almond oil that gives you antioxidant benefits along with long lasting moisturization. In this article, we are going to talk about the best sweet almond oil brands in India. These are the brands which makes extra virgin or pure cold pressed almond oil in India. You can apply almond oil in multiple ways to increase the smoothness and beauty of your skin and hair. Let's take a brief look on, how you can include almond oil in your skin and hair care regimen .
Benefits of Almond Oil For Skin And Hair
Smoothens skin
Application of almond oil daily at night gives you smooth and soft skin. This oil is suitable for sensitive dry skin during all seasons. Take few drops of this oil in your palm and apply it on your face and neck. In addition, it also works to increase the clarity of the sun damaged skin.
Cures Dark Circles
Almond oil is miraculous in lightning the dark circles and minimizing eye bags. Apply some almond oil under the eyes and over the lips every night. This must be done before going to bed. Within just few weeks, you will see satisfactory results in brightening under eye area. This is one of the best treatments for getting rid of the dark circles.
Relieves Eczema and psoriasis
If you are suffering from the skin issues, like Psoriasis and Eczema, almond oil has proven to be extremely beneficial for that. The oil is hypoallergenic and is safe for irritated skin as well. Apply almond oil on the affected skin area at night .
Body Moisturizer
It has been used as body moisturizer since ages. The vitamin E in this oil helps to smoothen and soften the dry skin. Apply almond oil after the shower to make the skin appear glowing and soft.
Anti-aging benefits
Regular application of almond oil on your skin, neck and other body parts makes the skin stay smooth and wrinkle-free. It increases the skin tightening and prevents the free radical damage on your skin. Other than that sun damaged skin suffering from premature aging, is also treated by the use of almond oil. Take some almond oil on your palm and gently massage on the face using fingertips. You must try anti aging products when you reach 30s. Check out this post on best anti-aging serums in India.
Skin whitening
Almond oil can also be used to lighten the skin complexion. Take few drops of almond oil and mix few drops of lemon juice in that. Apply this mixture on your face and keep it for 10 to 15 minutes. This is the best product to cure dark spots and to increase skin whitening.
Almond Oil for Stretch Marks
As almond oil is rich in vitamin E and other substances, it really helps reduce the stretch marks. Take some almond oil and massage it directly over the stretch marks. This has to be done twice a day to get maximum benefits in lightening the stretch marks. This process of fading the stretch marks with almond oil can take around 1-2 months .
Hair Growth
Almond oil is wonderful for making hair grow faster and thicker. It is the best hair growth oil which is natural. Take some almond oil and mix with onion juice. Apply this mixture on your hair roots and scalp. Keep it overnight, then wash hair in the morning. This remedy has to be done thrice in a week for better results. This is the best way to use almond oil for hair. additionally, it reduces the hair loss and increases hair growth.
Lip Softness
Application of almond oil over your lips every night gives you relief in dark lips and lip pigmentation. Apply almond oil mixed with some milk every night over your dark lips. This easy remedy will lighten the lip color and give you rosy pink lips.
Makeup Remover
When you run out of your makeup remover, almond oil can definitely help. Take few drops of almond oil on cotton pad and wipe off your makeup using this. It will get rid of even the stubborn and waterproof makeup traces from your face and neck.
Almond Oil Hair Serum
If you hair is frizzy and rough, almond oil hair serum can give you soft and smooth manageable hair. Take few drops of almond oil and mix with two to three drops of argan oil. Apply this mixture over the hair ends and semi dry hair. This works fabulously in making your hair shiny and manageable .
Best Sweet Almond Oil Brands in India ( Unadulterated and Undiluted)
Here are the best almond oil brands available in India. You can use these for different beauty purposes.
1. Forest Essentials Organic Cold Pressed Almond Virgin Oil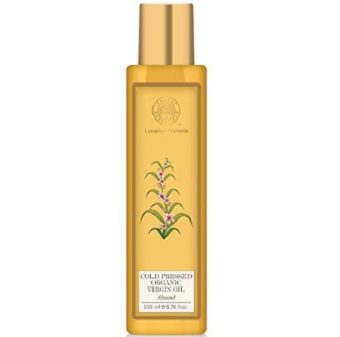 This is the best extra virgin almond oil, extracted using the cold pressing method. This method is a natural way of extracting the oil without damaging the essential fatty acid content or any of the nutrients present in the oil. It is rich in vitamin A, vitamin B like B1, B2, B6 and vitamin E. It is non-greasy and gives you extremely high moisturization. It is rich in protein and can be used for skin and hair easily. The oil comes in a sturdy bottle that makes it convenient to use and carry. It can also be used to lighten stretch marks. I had stretch marks which I removed with some really effective products, you too can take a look at the best stretch marks removal creams in India.
2. Dabur Badam Tail 100% Pure Almond Oil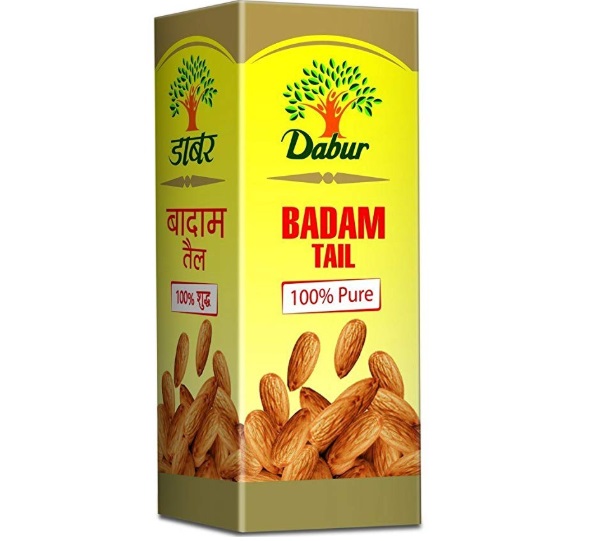 Dabur badam tail is 100% pure almond oil. It's one of the best and most popular almond oil available in India. It can be used for your skin and hair. The oil keeps your skin and hair beautiful and radiant. Use it during the winter season on your skin to keep it glowing and supple. The facial oil is is easy to get absorbed in the skin layers and gives you glossy skin complexion. It comes in a glass bottle and can be applied to get rid of acne scars, stretch marks, dark circles and even hair fall. Read more on how you can make the skin glowing in just one week.
3. Distil Aloe Veda Sweet Almond Oil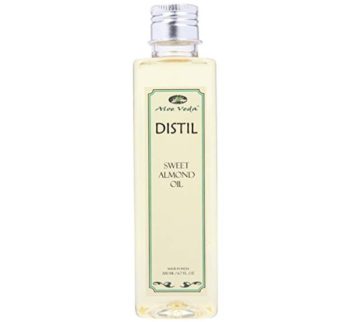 Aloe Veda distilled sweet almond oil is pure in quality and can be used as a body oil and luxury aromatherapy oil. It is suitable for all skin types and is the best almond oil for dark circles in India. The high grade almond oil does not contain any mineral oils and is not tested on animals. Evenly apply it on your hair and scalp to keep it free of dandruff and to minimize the hair loss. For baby massage, almond oil is considered as one of the best massage oils. It does not clog pores and is easily absorbed in the skin layers. For dandruff too, you can try this.
4. Greenberry Organics Organic Sweet Almond Oil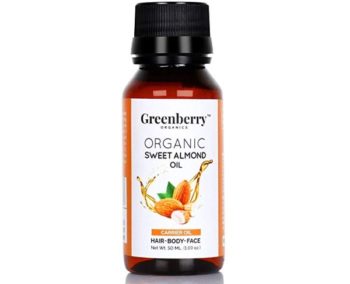 Greenberry Organics sweet almond oil is 100% organic and natural. It can be used for hair body and face. It is a carrier oil that can also be mixed with other oils like argan oil, avocado oil, oil, castor oil and many others. It is extracted from cold pressing method. Regular use of almond oil on the skin helps to delay the aging and wrinkles. The non-greasy texture is non-sticky and gets applied easily on the skin. It relieve skin itching and irritation on the skin. To get rid of the dark circles, apply few drops of the oil on thee skin. Application of sweet almond oil regularly also protects the skin from UV damage. This brand is very reliable and is the best almond oil for hair growth in India.
5. UrbanBotanics  100% Pure Cold Pressed Sweet Almond Oil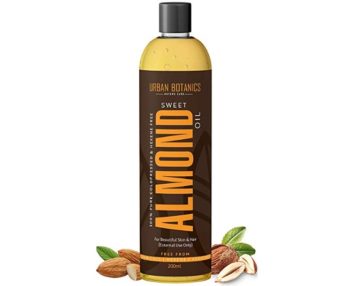 It's so cold pressed sweet almond oil which is suitable for hair and skin. It doesn't have any odor and is free of adulterants and chemicals. It promotes your hair growth and fights the dandruff effectively. Application of this almond oil every night relieves dandruff and itchiness of the scalp even during your pregnancy. It also miraculously work in minimizing the excessive hair fall. Almond oil aids in hair growth by stimulating the hair follicle. Apply it like a hair serum to control frizziness. It is also used for oil cleansing method to have a smooth skin tone and complexion. It is perfect to be blended with your other essential oils. The oil is hexane-free and 100% natural, therefore, is the best almond oil for face glow.
6. WishCare Pure Cold Pressed Sweet Almond Oil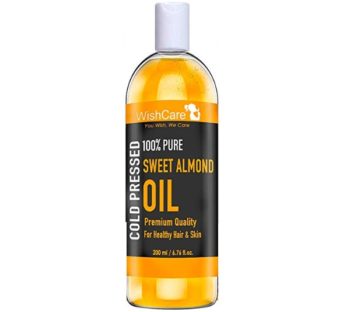 Wishcare pure gold sweet almond oil is extracted by the cold pressing technique that does not disrupt the nutrition and vitamins present in the oil. It comes in an easy to use flip top cap bottle and a comb applicator that is given as a separate attachment. The unrefined sweet almond oil is great for skin massaging. It makes your skin smooth and soft. After the shower, applying almond oil on the skin makes it not just glowing but also lightens the marks and blemishes.It fights aging effectively by increasing the cell renewal and accelerates the formation of elastin and collagen in your skin layers. This is the best almond oil, free of chemicals and preservatives and does not contain in artificial fragrances of colorants.
7. Morpheme Remedies Cold Pressed Sweet Almond Oil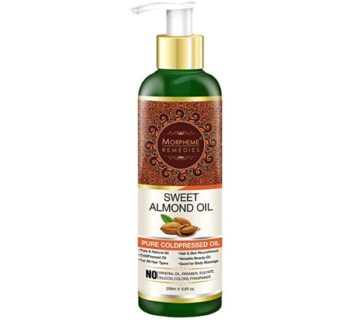 The versatile beauty oil is cold pressed and is a quality almond oil. It can be applied on your hair and skin. Both men and women can take help from the wonderful good qualities of this cold pressed almond oil. It is a natural oil which you can use as a body massage and face oil in case of dry skin. For relieving the dry and damage, you can apply almond oil every night It comes in a pump dispenser that is easy to use but it should be used with care as the bottle gets coated with oil. This doesn't contain any mineral oil, sulfates, silicone and artificial fragrances for chemicals or additives. It is one of the best purest almond oils available in India which has received good customer reviews. In fact, it's the best almond oil for baby massage in India.
8. Indus Valley Cold Pressed Sweet Almond Oil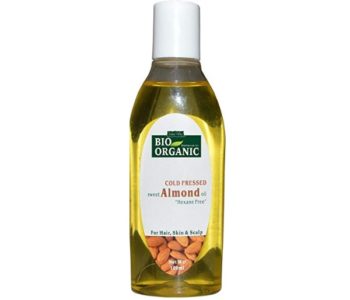 With no harmful chemicals or parabens, this is hexane-free and the best organic almond oil. Being 100% organic product, it's made from the natural and organic elements. It can be used for your hair skin and scalp. It is effective solution for hair loss, glowing skin and for wrinkles. Use this oil instead of your makeup remover to keep your skin smooth and softer. You can apply this almond oil to reduce dark circles and sunken eyes shadows.
9. Khadi Natural Ayurvedic Sweet Almond Oil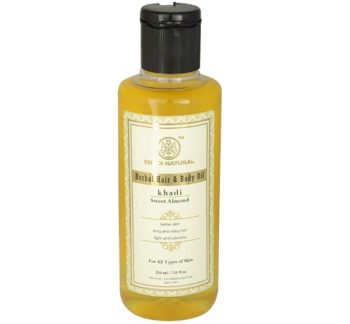 Ayurvedic sweet almond oil helps to give you better skin and long shiny hair. It is the light and odorless oil. Suitable for all skin and hair types, this can be applied to massage your head and scalp every night for a relaxing and rejuvenation affect. Rich in glucosides, minerals, vitamins and proteins, it also acts as an in anti-inflammatory product for your inflamed skin. Apply it every night for getting radiant skin.
10. Aroma Magic Almond Oil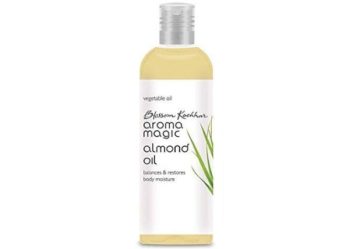 Aroma magic almond oil is a vegetable oil extracted from almonds. It maintains the moisture level of your skin and gets quickly absorb. It does not block pores and hence is safe for all skin types. It is a miracle oil for dry and sensitive skin. For your lips as well, this works like a perfect lip balm and moisturizer. The oil is perfect to nourish dry and damaged hair strands. It leaves the itching and inflammation of your skin and scalp.
These are the best almond oils in India. Have you used any of these almond oil brands? Which is your favorite? And how do you use almond oil? You must also check out the best castor oil brands in India, which is also useful just like the almond oil.