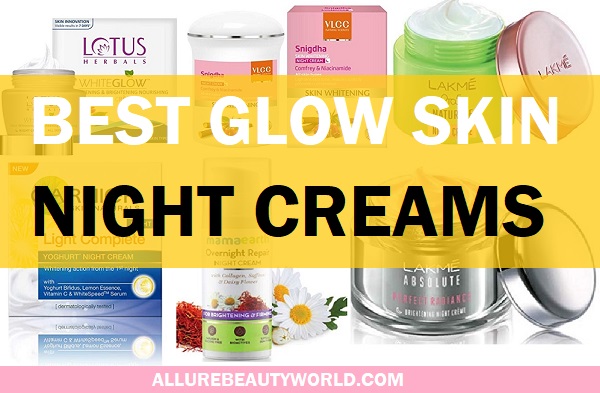 Night creams for glow are made with ingredients that smoothens the skin and help get the brightness. Do you want glow on your skin? Indeed, a big Yes! Glowing skin looks healthy and beautiful no matter what skin color you have. We have put together this list of the best night creams for glowing skin available in the market. Whatever you apply in the night time, it gives best results as compared with the day creams. Having said that, night cream is a key step in any skin care regimen. So let's take a look at the best night creams for radiant skin.
List of Best Night Creams for Glow in India (2022) For Men and Women
Let's take a look at the best night creams to get glow and fairness on the skin. Some of these will give you anti aging benefits, hence can be used by men and women over 30 years of age while some are meant for the younger people due to their skin brightening or dark spots correcting formulas.
1. Plum Bright Years Restorative Overnight Crème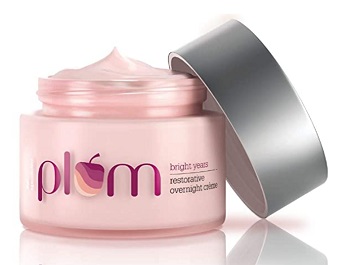 This is a cruelty free and chemical free overnight crème made with plant stem cell extracts, to get the skin intense hydration and cell renewal. With the creamy-texture the night cream adds deep hydration and fights wrinkles. Made with hydration boosting ingredients such as Olive, Argan, Shea Butter, Hyaluronic Acid, Plant Betain and vitamin E, This Plum night cream for dry dull skin, is the best anti-ageing specialist. This cream for glow promotes skin cell renewal and the presence of licorice extracts aids in fighting dark spots and pigmentation.
Skin Type: Dry Skin Type
Gender: Men and Women
Feature: Dryness Cure, Cell Renewal, dark Spots, Pigmentation
2. Cetaphil Brightening Night Comfort Cream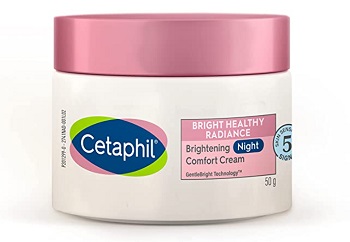 For a glowing skin and visibly corrected dark spots, the cream is a must have for the deep night comfort. the night cream for glow reveals radiant, glowing skin every morning. Powered with the Gentle Bright Technology, the night cream is infused with Natural Sea Daffodil Extracts to reduce the intensity of dark spots. The presence of Niacinamide (Vitamin B3) also helps to even out skin tone. With Hyaluronic Acid, it certainly rejuvenates the skin. It is one of the best night creams for sensitive skin.
Skin Type: Dry and Sensitive Skin
Gender: Men and Women
Feature: Anti Aging, Dryness Cure, 
3. L'Oréal Paris Aura Perfect Night Cream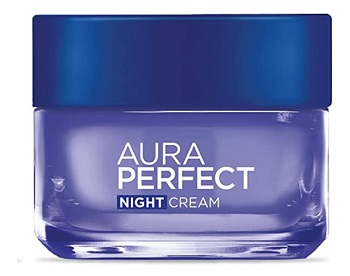 This moisturizing and brightening night cream is an intensive face moisturizer made for the overnight skin brightening benefits for a sizzling radiant look. The L'oreal Night cream instantly hydrates and boosts the skin regeneration process overnight. It has Melanin-Vanish, Tourmaline Gemstone and Vitamin E, that heals existing dark pigments, enhances skin radiance and fights against skin damage by free radical and UV rays.
Skin Type: All Skin Types
Gender: Men and Women
Feature: Glass Skin, Pigmentation
4. mCaffeine Vitamin C Night Cream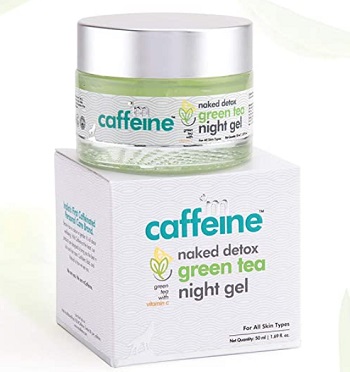 mCaffeine Naked Detox Green Tea Night Gel is one of the best gels for getting the perfect morning glow. This Vitamin C night cream alleviates fine lines, dullness, dark spots, and pigmentation. It is an antioxidant-rich Green Tea and Vitamin C cream which works all through the night to give glossy skin. Simultaneously, this night cream also eases out fines lines and wrinkles. With the presence of Green Tea in this night gel cream, it helps reverse damage due to pollution and acts as a natural detox. The anti-inflammatory property of green tea soothes the skin, making it ideal for normal to oily as well as dry and combination skin. Hyaluronic Acid in this Vitamin C night cream hydrates and helps in skin conditioning. This vitamin C night cream is a Mineral Oil Free, Dermatologically Tested, Cruelty-Free and Paraben Free product.
Skin Type: Oily, Acne Prone, Combination and Normal Skin
Gender: Men and Women
Feature: Dullness, dark Spots, Pigmentation, Glow
5. Blue Nectar Kumkumadi Night Cream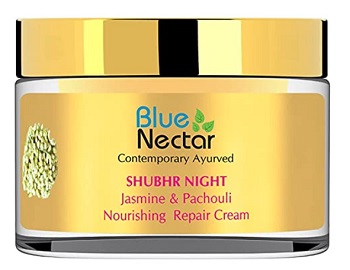 The face night cream is powered with rejuvenating ayurvedic herbs like Organic Ghee & Kumkumadi Oil and hence, it is excellent for dry skin glow. This glow boosting night cream for women penetrates deep into the layers of skin to improve the hydration level and the overall appearance of skin tone. The skin replenishing night cream contains natural nutrients like Turmeric, Almond Oil, Anantmool (Sarsaparilla), Nagkesar (Mesua Ferrea) and Kumkumadi Face Oil for glowing skin.
Skin Type: Dry Skin Type
Gender: Men and Women
Feature: Deep Hydration for Winters, Glow
6. Plum Green Tea Renewed Clarity Night Gel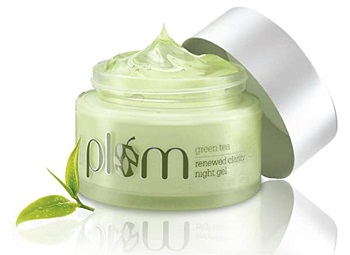 Plum green tea renewed clarity night gel is ideal for oily and acne-prone skin. The light and non-greasy texture is rich in antioxidant green tea extracts that will help in clearing out acne and acne marks leaving behind brighter, glowing skin. The night cream for glow also has Argan oil extracts that provide balanced hydration and helps your skin retain moisture overnight.
Skin Type: All Skin Types especially oily and combination
Gender: Men and Women
Feature: Acne marks, spots, dark marks and glow
7. Lotus Herbals White Glow Skin Whitening and Brightening Nourishing Night Creme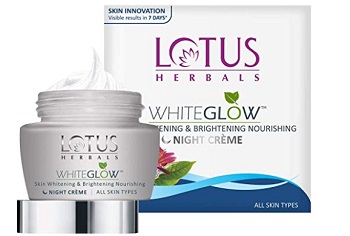 Lotus whiteglow skin whitening night cream is one of the best rated night products in India. The reason is the cream contains micro nourishing ingredients and gives you radiant and fair skin in just a couple of weeks. It's a skin cream that does not have a greasy feel to it. Apply it at the night to get the best skin with no pigmentation, dullness, dark circles and even dark spots. Key ingredients are grapes, Mulberry, enzymes and extracts.
Skin Type: All Skin Types
Gender: Men and Women
Feature: Skin Brightening, Glowing Skin, Even Toned Skin
8. Garnier Skin Naturals Light Complete Night Cream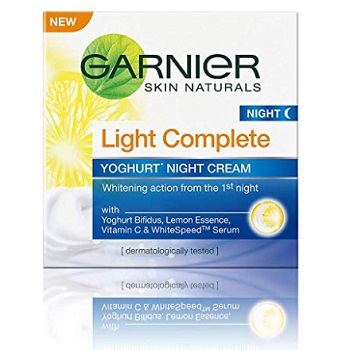 Garnier light complete night cream is rich in Yogurt extracts. As it has lemon essence and lactic acid loaded with Vitamin C. This is yet another glow boosting night cream in India. The best part is, it also diminishes the appearance of dark spots and dark circles under the eyes. The cream is suitable for people up to 25 years of age as after that I would highly recommend that you try using anti aging creams.
Skin Type: All Skin Types
Gender: Men and Women
Feature: Skin Brightening, Dark Spots, Glowing skin
9. Mamaearth Skin Repair Night Cream for Glowing Skin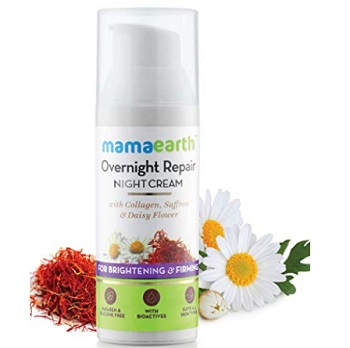 Mama Earth night cream is for making the skin glow. Loaded with kalonji, saffron and daisy flower extracts, this is one of the best skin whitening and anti aging cream that clears pores and restores the skin moisture. As it also contains essential oils like almond oil, olive oil and shea butter and is one of the most hydrating and repairing night cream that works best for dry to normal skin. Its creamy texture is worth enjoying and is a paraben and mineral oil-free product. In short, this is one of the best paraben free night creams for normal to dry skin in India for fairness and age control.
Skin Type: Dry to Normal Skin Type
Gender: Men and Women
Feature: Anti aging, Glow Boosting, Lines and Wrinkles
10 . VLCC Snigdha Skin Whitening Night Cream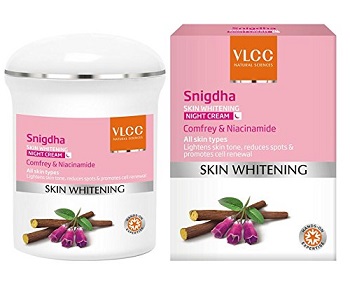 VLCC Snigdha night cream is one of the popular products from VLCC. It is rich in comfrey and niacinamide and both of which works as a skin lightening and anti wrinkle products. It is for all skin types though we feel that this is better for normal to oily skin, when you reach your thirties. It lightens the skin tone and promotes cell renewal. So you just not get bright skin but also tighter and plump skin the next day when you wake up.
Skin Type: Dry Skin Types
Gender: Men and Women
Feature: Anti Wrinkle and Skin brightening 
5. Lakmé 9 to 5 Naturale Night Creme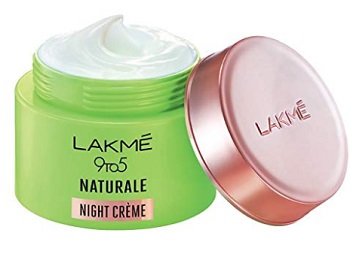 Lakme 9 to 5 night cream is enriched with the goodness of aloe vera. It plumps skin and gives the required hydration. It repairs the pollution induced dullness and dryness and even the dark circles. So while the cream strengthens the skin's natural defence system, it fights aging and dryness. It also reinforces the hydration to deeper level. This is a one of the best night cream for normal to dry skin that does not need any whitening or anything but just the glow.
6. Himalaya Herbals Revitalizing Night Cream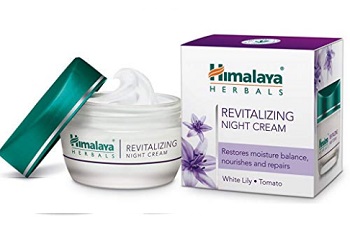 Himalaya revitalizing night cream is for dry to normal skin with white lily and tomato as the key ingredients. The cream restores moisture balance and nourishes the skin deeply. As a result, your dryness is healed and your skin glows from within. It is suitable for all skin types as per the brand but we feel it is more of a night cream for dry to combination skin. With the ingredients like rabble, wheat, white lily, lemon it adds brightness to the dull skin.
7. Lotus Professional Phyto Rx Whitening And Brightening Night Cream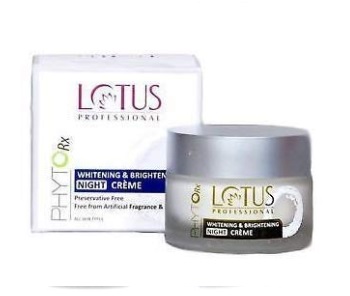 Lotus professional whitening and brightening night cream targets all skin types with its light texture. Mein Do to reduce the dullness and dark spots to even out your skin tone it has an excellent creamy texture which is light and non greasy. As the product gets easily absorbed in the skin, it makes the skin renewed and fresh. Applying a pea sized amount every night ensures that day by day, the skin clarity improves. The key ingredients are Lichi and punnarva root extracts to help heal the damaged suntanned skin.
8. Vita Glow Skin Whitening and Fairness Night Cream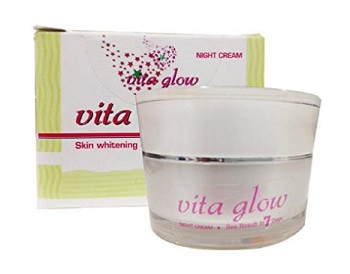 Vita glow night cream is for fairness and glow. The cream is a little expensive but according to the users, it is one of the best creams to whiten and brighten your skin. So, if you are struggling with dark spots, hyper pigmentation, melasma and aging skin, this can be a perfect skin cream for normal to dry skin.
9. Lakme Absolute Perfect Radiance Skin lightening/Brightening Night Creme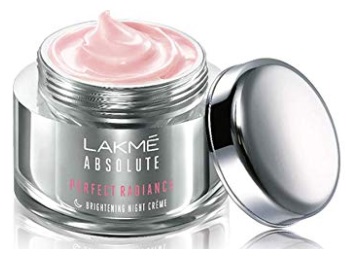 Lakme Absolute Perfect Radiance night cream is the best whitening night cream for normal to oily skin. It gives just the right amount of moisture that greasy and oily skin needs. It reduces the suntan and gives value for your money. So, even if you have spots and acne scars, a product like this would be wonderful.
These are the best night creams for glowing skin in India, which men and women can try to boost the glow on the skin. These are suitable for both the genders and the best part is that other than giving you the radiance, they also boost the skin whitening and brightening. You don't want to ruin the glow and whitening that your night creams, have given you by exposing your delicate skin to the harsh sun rays. So apply sun lotions!