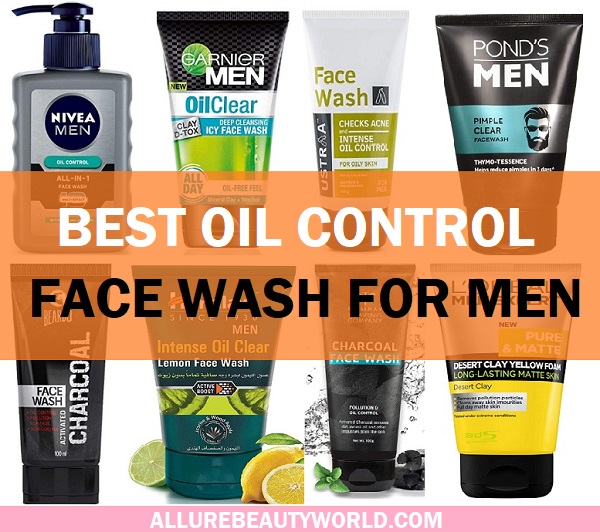 Oil control is the first thing that men with excessive oily skin would want. Oiliness is often associated with the dark and dull skin which happens during summers mostly. Considering this from our dear readers, we've made this list of the best oil control face washes for men in India. In the market there are lots of products that claim to cleanse and control the extra oils. However, some may work wonderfully while others can be a total dud. This is why friends in this article, we have chosen the best oil controlling face wash for men. These work efficiently to give you oil control look for long time. Oily skin is mostly seen over the T-zone and because of that acne, pimples and blemishes happen every now and then. Blackheads and whiteheads are also seen commonly as a result of hyper active sebaceous glands.
Best Oil Control Face Wash for Men in India (2022)
So guys, let's check which are those oil controlling facial cleansers for men in the market. These facial cleansing products for men with sebum control benefits are appropriate to clean the excessive sebum from showing up on the skin and if the oils on the skin get cleared off, one can surely enjoy oil free look for lot longer. Honestly, most of these face washes should wash off the facial oils to keep the skin devoid of oils for up to 3-5 hours. Please note guys that you cannot control the oils from coming back more than that.
1. Nivea Men Oil Control Face Wash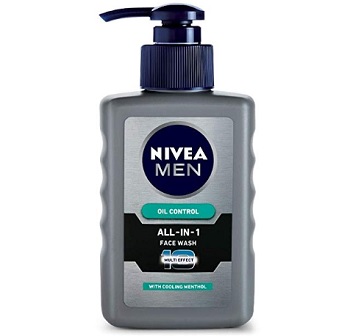 Nivea men oil control face wash contains 10 times more vitamin C with oil control advantages over any other regular face wash. Loaded with the cooling menthol, this face wash has multiple benefits and effects for your skin. It gives you relief from not just excessive oils but impurities and dirt. Ultimately, It's the best face wash for guys with oily skin st very affordable prices.
2. Garnier Men Oil Clear Clay D-Tox Deep Cleansing Icy Face Wash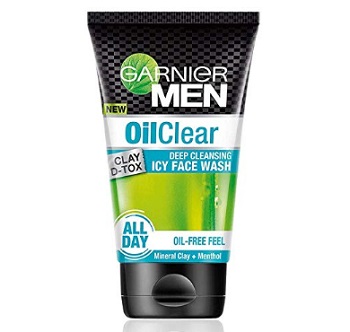 Garnier Men Oil clear face wash is one of the most popular face washes for men with oily skin. It gives you oil-free feel all day long but still cannot stop oils from coming back honestly. It has clay Detox formula that means, it contains the mineral clay that absorbs excessive oils and keeps the skin oil free and matte. This is why, we call it as the best oil control face wash for men. The oil trapping texture eliminates extra oils and sebum without drying the skin.  It gives a cooling sensation to the skin because it contains cooling menthol.
3. Beardo Activated Charcoal Oil and Pollution Control Face Wash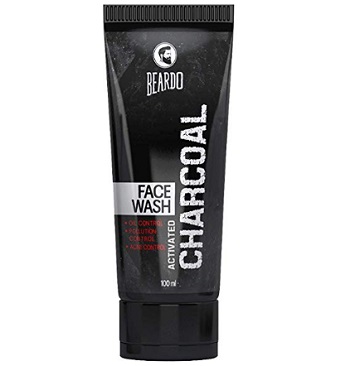 Beardo activated charcoal face wash gives you oil-cleared and extra sebum control benefits.  With activated charcoal, olive oil, tea tree oil and aloe vera, this face wash cleanses your skin and also relieve the skin from the harmful pollution effects. So you get to see beautiful and sebum free skin, it also treats the existing acne and pimples on the skin while preventing them. It can be applied twice in a day and is definitely the best cleanser for men's oily skin with pollution neutralizing benefits. Guys living in heavy polluted cities like New Delhi, Noida, Gurugram will know what we mean.
4. Himalaya Men Intense Oil Clear Lemon Face Wash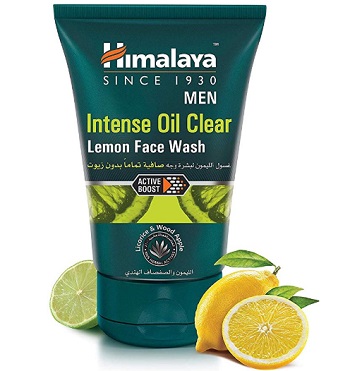 The face wash for men from Himalaya, is the best option for oil clearance from facial skin. With the goodness of lemon, this men's daily face wash for oily skin also serves as an astringent from the skin. It has an active boost formula that contains Licorice and Wood Apple. The herbal face wash is suitable for men with oily and acne prone skin and can be applied two times in a day clearing the excess oils, impurities and deep-seated pollutants making the skin glowing and clear. You may also check these fairness face wash for Indian men available in the market.
5. Ustraa Face Wash For Oily Skin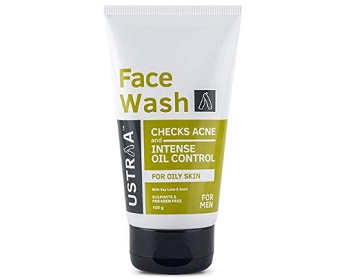 Ustraa face wash for oily skin also keeps a check on acne. This is what men with breakouts prone skin want, right guys? This face cleanser for men contains Key Lime and Basil. The sulphate and paraben free face wash for men is the best product that you can apply even when you have oily sensitive skin. With this face wash you do not have to worry about the pimples and breakouts. The best thing is that it is natural and safe for even the redness prone skin type of men. So if you are a college going person or a working professional, you can still try this facial cleanser.
6. Bombay Shaving Company Oil Control Charcoal Face Wash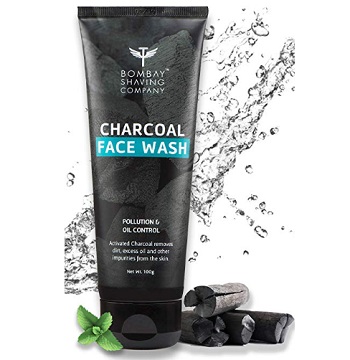 The Bombay shaving company charcoal face wash gives you multiple benefits and one of them is the oil control feature. If you're looking for the best oil control face wash for men, do think of it. It controls the over production of sebum for good number of hours and also keep the skin protected from the harmful effects of pollution, like pm 2.5. The pollution control face wash also gets rid of the extra oils. It's SLS and paraben-free and reduces blackheads and dark spots. This too can be applied 2 times in a day and is suitable for sensitive, oily, normal to combination skin. With papaya extracts and pomegranate extract, it helps you get rid of the dark spots and black pimple marks.
7. Pond's Men Acno Clear Oil Control Face Wash
Oils and pimples go hand in hand. Pond's men pimple clear face wash contains Thymo T essence which reduces the pimples in just 3 days. Perfect for oily skin, it's especially developed for men who constantly experiences pimples and breakouts on their face. It is suitable for summer season when the cream is more likely to experience excessive oil secretion and gets dirty due to that. It is enriched with mineral clay that reduces oil and acne breakouts.
8. L'Oreal Paris Men Expert Dessert Clay Face Wash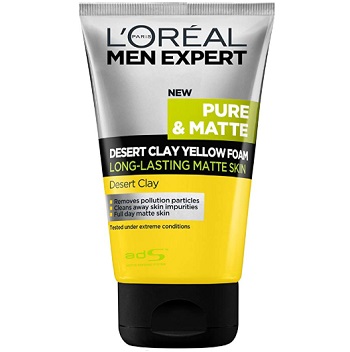 L'Oreal Men face wash with desert clay sucks the extra sebum and removes pollution particles. The oil free face wash for men cleanses extremely well and effectively. It gives you full day matte even though it's not entirely true. Clay based face wash for men are pretty good for men who are experiencing too much of oil production especially during the summer season. Use it twice in a day followed by a good oil free moisturizer and your skin looks way better.
9. Gatsby Cooling Oil Control Face Wash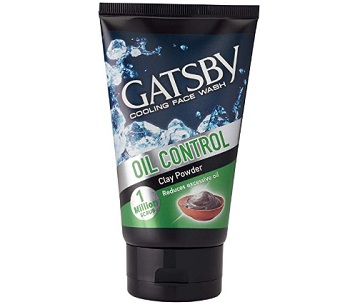 Gatsby Face wash is an oil control facial cleanser with micro beads scrub particles that scrub the skin and polishes it while cleansing. The triple protection system absorbs the excess sebum and prevents skin from shine for long hours. Perfect for men with oily and acne prone skin type, it also soothes the skin. It is really amazing and gives you cooling sensation. The face wash is suitable to be used during summer season.
10. The Real Man Oil Control and Energising Face Wash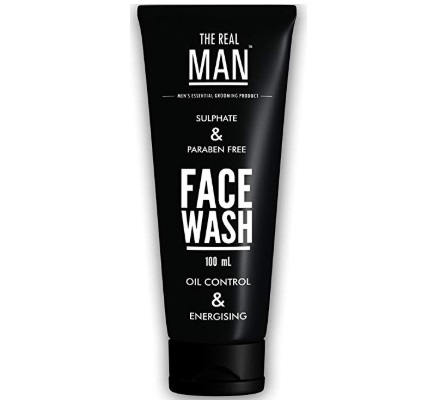 It's a natural and organic oil control face wash from The Real Man. It's a mild product that is sulphate and paraben free. The mild everyday face wash for men is a multipurpose product that gives you various benefits. Giving oil control benefits, it nourishes the skin and gives you youthful skin. With Neem and Tulsi, it makes sure that your skin is free from the breakouts and looks glowing as ever. The Oil control face wash for men can be used during summers and winters.
11. Biotique Bio Pine Apple Oil Balancing Face Wash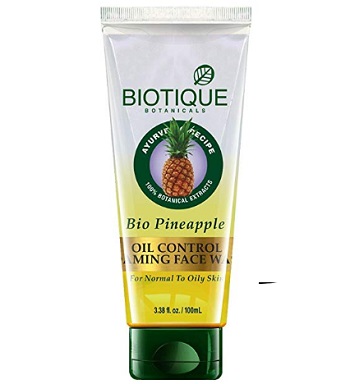 Biotique oil control face wash contains the rich extracts of pineapple. It is suitable for men with normal to oily skin. The gel face wash balances the skin oil production and neutralizes it. The product suitable for boys also has pore tightening properties due to which the open pores are decreased in size. As a result, less oil is shown up on the skin. The face wash comes with the pleasant smell and gives you nice feel when you use it.
12. Fair and Lovely Men Oil Control Face Wash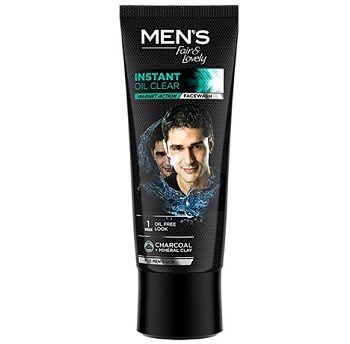 Fair and Lovely instant oil clear face wash gives you quick oil clear look within few seconds as per the name. At work like a magnet that pulls out the extra oils and dirt. It also contains charcoal and mineral clay that works to make skin clear and matte. It does not contain harmful or skin irritating chemicals, however that may not be entirely true but you can surely try this face wash for your oily and acne prone skin type.
13. Emami Fair and Handsome Oil Clear Face Wash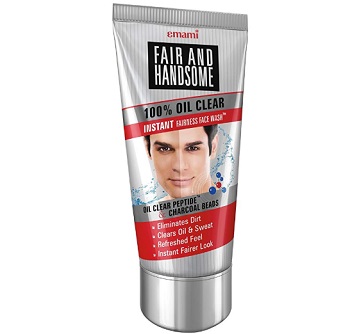 Emami Fair and Handsome oil clear face wash eliminates dust, oils and sweat. For instant fair look, you can try this face wash. It is suitable for normal to combination to oily skin. While it may not give you acne protection because a different face wash for that yet for oil clearance, this is a suitable option that is very affordable and worth trying.
14. MEN Deserve Anti Acne and Oil Control Face Wash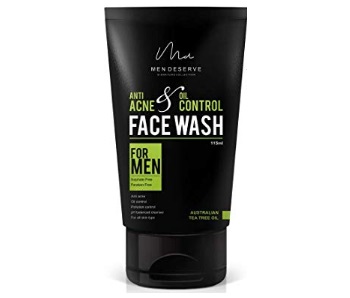 Tea tree oil is one of the best ingredients to fight acne and dark spots on the skin. The organic sulphate-free and paraben-free formula face wash for men is an anti acne and oil control product. This is the best oil clear face wash for men, that fights the pollution and makes your skin pH balanced. Perfectly suitable for oily skin types, it is an anti acne face wash, best for Acne prone skin. It has salicylic acid and vitamin B3 both of which are great for acne and breakouts.
15. Set Wet Studio Oil Clear Men's Face Wash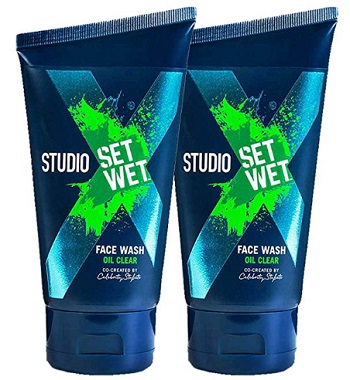 Set wet face wash for men is an oil clear face wash made to give you long lasting freshness. The men's face wash gives you dullness relief from extra oils. It rejuvenates the face and removes the grime that makes the skin dark and terrible looking with pollution effects. It can be applied twice in a day and it safe for even the sensitive oily skin types for men.
Now that you have fair enough idea about the best oil control face washes in India, you can certainly choose the best men's face wash. All you have to do is to pick up the one that you think goes well with your budget and preference the best. Most of these would be able to control the oils for decent couple of hours. Out of the list we liked these 3 face washes for oily skinned males in India.
Beardo Activated Charcoal Oil and Pollution Control Face Wash
Garnier Men Oil Clear Clay D-Tox Deep Cleansing Icy Face Wash
Urban Gabru Apple Cider Vinegar And Charcoal Face Wash