Bridal Blouse Designs For Wedding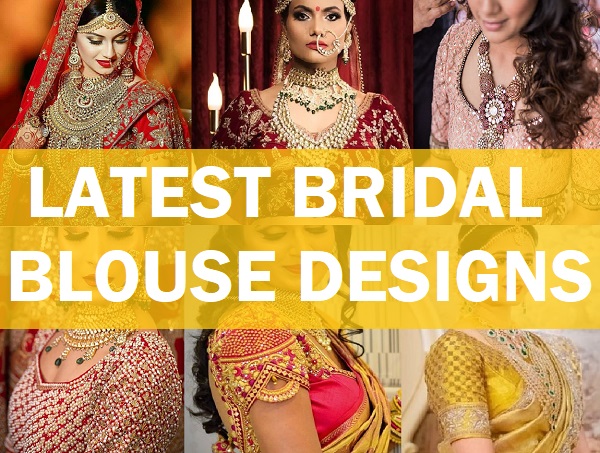 When it comes to the bridal blouse designs, they have to be unique and highly attractive. Bridal blouse is generally heavily studded and has lots of embroidery work, aari, zardosi, maggam and what not. The kind of pattern used for the bridal blouses make them truly fascinating. You can keep scrolling to know about the latest wedding blouse designs for brides-to-bes. While there can be simple bridal blouse designs, there can be heavy blouses too. It all depends on the choice of the bride.
Gone are the days, when the blouses or the attire of the bride were used to be only in red or pink color. However, currently you can see all the beautiful pastel paintings and even blue is seen as a color in the bridal trousseau.
The designs of the blouses can vary and different types of work like maggam, bridal aari work, zardosi blouses and even the Bengali blouse design for brides. The classy red bridal blouse will stay in trend always and velvet blouses are equally popular. At present, there are lots of choices for the bridal wear for the brides. For teh sleeves, brides are also opting for the cold shoulder blouses. We must not forget that wedding day is the most important day, which is why the bride would want to look best. So let's take a look at the bridal blouse design catalogue that we have made for you.
1. Cutwork Zardosi Pink Heavy Bridal Blouse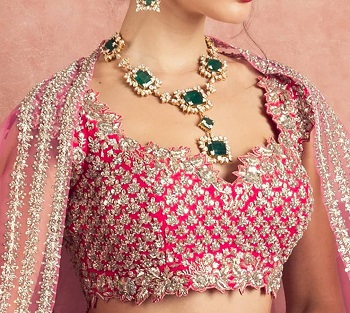 Looking at this gorgeous blouse, you must be thinking the gorgeous and immaculate work done on this. A bride would certainly look amazing with a scintillating blouse like this. The best part about this blouse is the cut work used on the neckline and on the hem.  With the use of sequins and beads, this blouse takes the bridal attire to another level simply by the look of it. It is an excellent work of aari by the artisans. The front design of this bridal blouse is interesting and one can even try an orange and red color lehenga with simply beautiful pink blouse design.
2. Heavy Beaded Maggam Work Bridal Blouse Pattern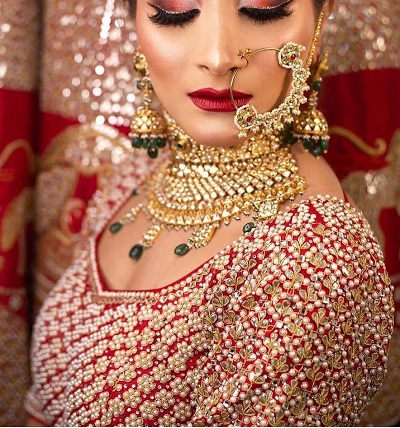 Undoubtedly, the blouse is so beautiful that it can take your breath away. The beauty of this blouse is the very intricate and fine embroidery done with Kundan work. The Pearl beads are added to give this blouse a luxurious and elegant look. The bridal blouses are quite heavy and require special kind of pattern. It is indeed a padded blouse with a side zipper that is hidden under the one of the side stop it is a bridal blouse that is quite unique and rare with the intricate beaded embroidery work, it will certainly make the bridal look cherishing.
3. Maroon Bridal Blouse Pattern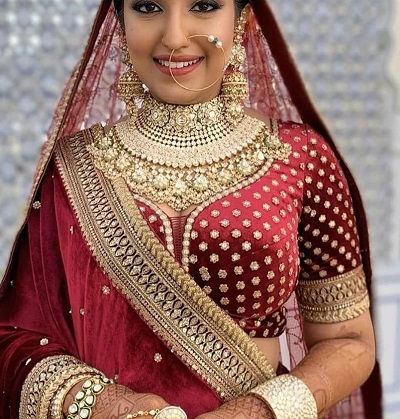 This bridal blouse in the maroon color and velvet fabric is thing that majority of brides, would love to have. The small beads and sequins used all over the blouse gives a structured pattern while the embroidery and lace fabric used on the arms and at the back make it neat. Outline of the Golden lace and the beadwork makes it beautiful and well detailed unique blouse for brides.
4. Stone And Kundan Work Bridal Blouse Design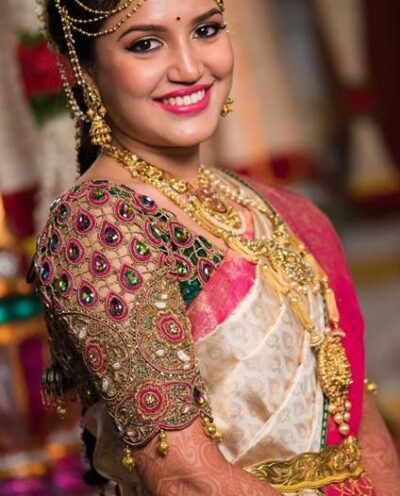 For the South Indian brides, stone and kundan work is quite exquisite and is in demand. There is heavy bead and stone work laid, interestingly over the blouse. Which is why, this blouse is made with the latest bridal blouse designs, which would definitely make up your wedding day even more awesome.
5. Embroidered Maroon Velvet Choli Cut Bridal Blouse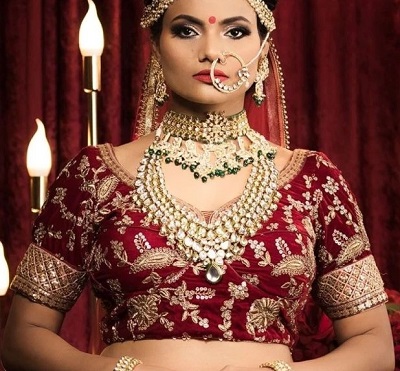 The choli-cut patterns of blouses are not outdated yet because time and again you can see many celebrities and Bollywood actress wearing them. The pattern of the blouse includes a deep back. Golden border embellished with sequins used while, overall the blouse has beautiful intricately done embroidery, which has been detailed with the use of sequins.
6. Aari Work Heavy Peach Bridal Blouse Design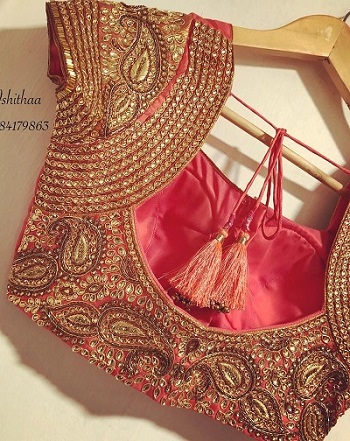 Aari work will never go out of style, especially when it comes to heavy bridal blouses. The party wear silk saree blouse design can also work as a blouse for the brides to wear after a pre-wedding celebrations and functions. Such blouses are ideal for wedding events and also for the functions and festivals. This bridal red aari work blouse has gorgeous deep back neckline and a silk fabric is used.
7. Dark Green Silk Maggam Work Bridal Blouse Design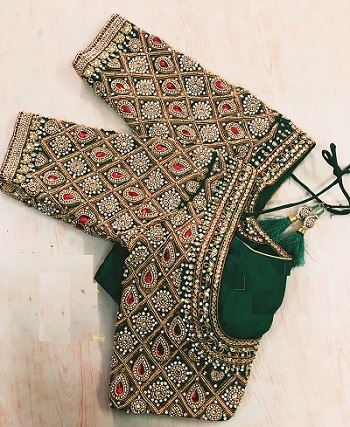 This blouse alone is so beautiful that when worn with the matching lehenga and dupatta, this is going to make the bride look like a goddess undoubtedly. Such blouses are quite heavy and needs special attention while you wear them. The work is highly intricate and visual appealing that definitely, it can make you literally fall in love with this ensemble. As it has a dark deep green color, it can also work as a blouse for bridal mehendi ceremony and even for the ceremonies that generally takes place after the wedding. This is ideal for a woman with broader shoulders because of the pattern on the front and back neckline.
8. Zardozi Work Bridal Blouse Design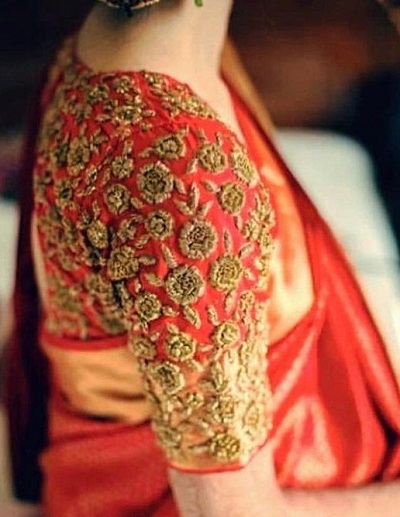 This work has been used in bridal blouses since ages and undoubtedly the work is stunning. The blouse pattern is quite simple but it is the work and the pattern of embroidery done on this blouse which makes it as the best bridal blouse designs. It looks even better with the small thread and stone work done on silk fabric. The golden thread embroidery actually imparts beautiful visual aesthetic and appealing look and multidimensional pattern. Even the small kundan stone work is done on this bridal blouse design. You must try a piece like that!
9. Kundan work silk saree bridal blouse design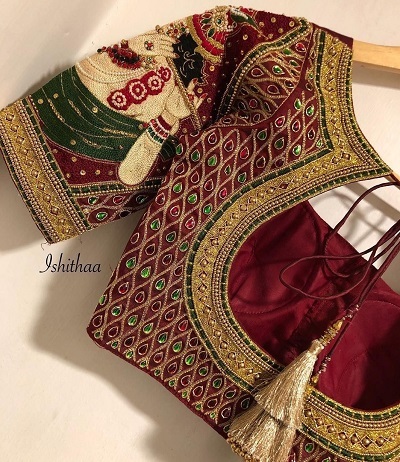 Not that the silk saree blouses has to be plain and boring but the Silk blouses are even heavily embellished considering, the wedding sarees. This is like a fine example of the beautiful silk saree blouse design on which gold embroidery, Kundan stone and aari work is done. The blouse's front neckline is made quite simple with a scoop round neckline, while the back neck line is pretty amazing and gorgeous to look at. It has the pot shape neck line at the back that also bears dori and tassels. Isn't that look highly appealing?
10. Bridal Silk pattu saree blouse design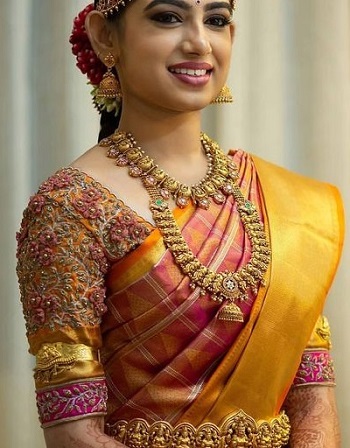 When the bride wishes to wear a beautiful silk saree then bridal blouse in Pattu Silk fabric with heavy embroidery is the best thing to go for. We quite like the elegance of pattu silk with heavy embroidery and stones over it, you see! Beautiful thread embroidery done all over this blouse with some stones and sequins to add some shine and detailing. Beads and stones magically provide a three-dimensional look and it without an ounce of doubt, it looks ravishing. It's for the brides, who want to wear silk blouses for wedding.
11. Maroon Silk bridal blouse pattern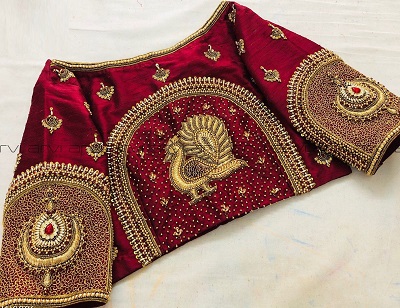 This blouse is so unique that it will certainly make you look amazing as a bride. The jewelery embroidery and embellishments is the latest thing which has been here in trend. It's not that they have been here in the recent time but the jewelery resembling embroidery and embellishments have been here since ages. But these days, they have been reinvented and recreated with different types of materials and embellishments. This blouse is an immaculately embellished piece which has an elegant boat shape neck in the front and the back. It has a zipper on the side to wear the blouse.
12. Maroon Silk high neck bridal blouse design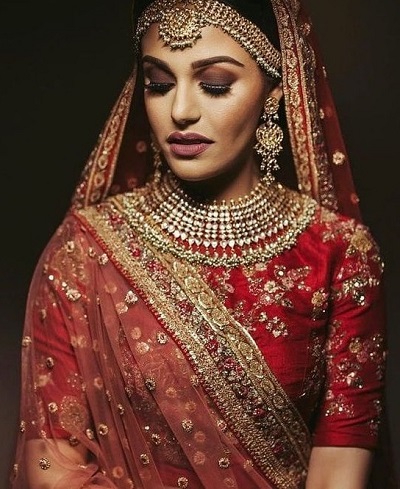 This bridal blouse design need to have the regular front and back neck line but a high round neckline is also quite popular amongst the new age brides. They look contemporary and trendy! This blouse here has lots of embroidery done on the Silk blouse and has a high neck which is further covered with the broad necklace. The sleeves are still the elbows and pretty simple. It is certainly a blouse for brides who want to wear simple blouses but with heavy Dupatta and lehenga.
13. Kundan Maggam work silk saree blouse design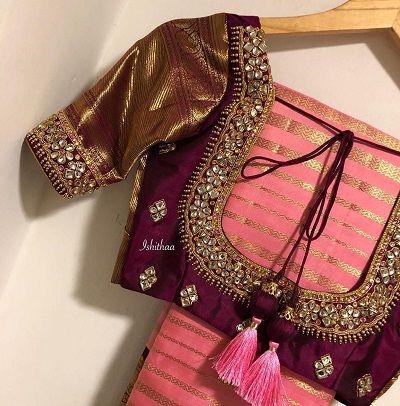 The blouse design here shown in the picture is one of those blouses that come with the interesting heavy Kundan work. The sleeves of this blouse have a silk saree border which makes it a perfect matching blouse for the ethereal silk sarees. The wine colored blouse with golden fabric looks best because of the combination.
14. Heavy work bridal blouse pattern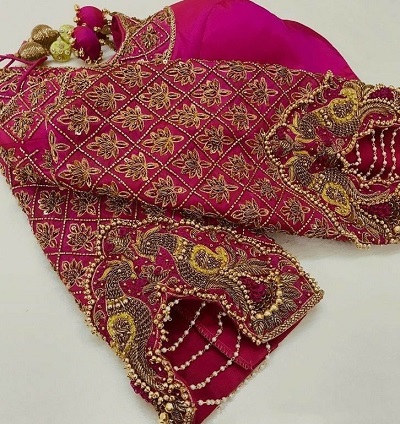 With sequin loaded aari work and the pattern makes this blouse a total package. The zari work on the fabric is done neatly and the bead setting to give it more detailing. This best bridal blouse design can be customized, as per your liking, however, the zari work done on the sleeves with thin ball chain dangling to give it luxurious and expensive blouse look. The elegance is seen!
15. Dark Green Silk Embellished Bridal Blouse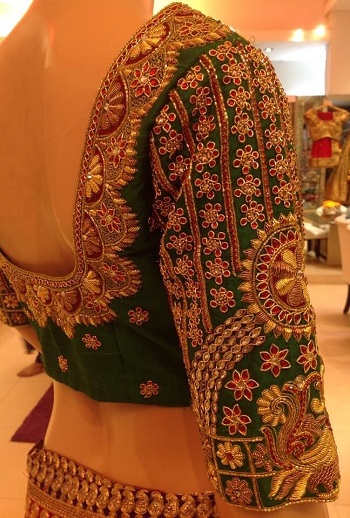 When it comes to bridal dark green colored blouse, it is popular, versatile, cherished and most loved. A dark green blouse is not only limited to the bridal ceremonies but also for the other pre and post bridal occasions like festivals, ceremonies and rituals. Which is why, this heavily embellished blouse is a perfect choice to keep in your wardrobe. The sleeves of this blouse are truly designer and heavy embroidery with jewelery kind of patterns.
16. White Silk embellished heavy blouse design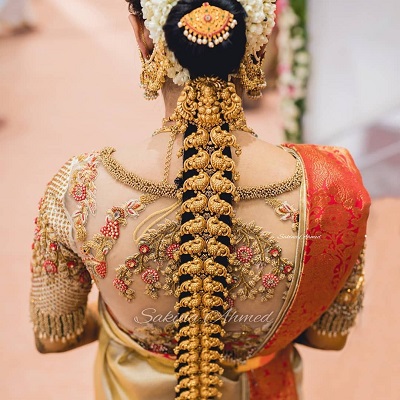 When it comes to South Indian brides, they love their Silk blouses. This ensemble here is equally amazing with the embroidery and the pristine aari work. Maggam, beads and aari work goes hand in hand and which is quite evident in this heavily embellished blouse for brides.
17. Art Silk Red Embellished Blouse Design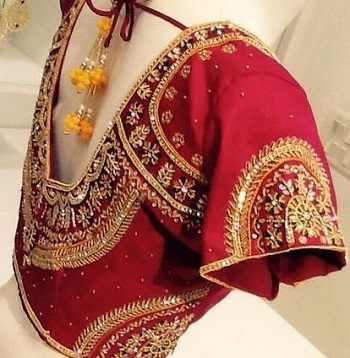 Indeed, this blouse is not as simple as we thought but it is a perfect blouse for weddings and parties. Thread work done on this blouse gives a beautiful pattern to this design and it is indeed a blouse that can be worn for different types of occasions.
18. Deep Sweetheart Cut Velvet Bridal Blouse Design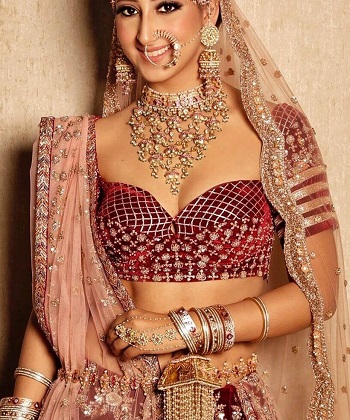 For the modern and adventurous brides, this modern looking blouse is quite appropriate. It has a deep sweetheart neck line with a choli cut pattern of the wedding blouse. The blouses heavily embellished blouse has gota work, beads, thin sequins and kundan. Sleeves are equally beautiful with use of multiple parallel rows on the sleeves. This blouse has a deep front cut as well as the back cut. Indeed a bride who wants contemporary and new age bridal blouse designs would certainly love it.
19. Light Green Maggam Work Blouse Pattern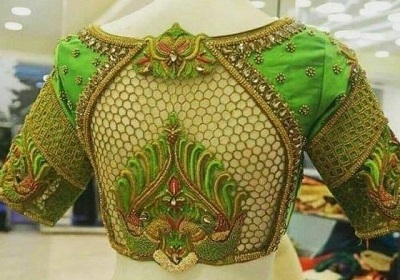 You would be surprised but a lime green color also goes excellently with red and pinks. When the bride would love to wear something different, other than the regular bridal attire colors, like red pink yellow and more, lime green can come to play. This is a bridal blouse which is in a unique parrot green color and also has a back neckline equally unique. With the thread work, this blouse is a beautiful sight for the eyes.
20. Purple Silk Heavy Blouse Design For Ceremonies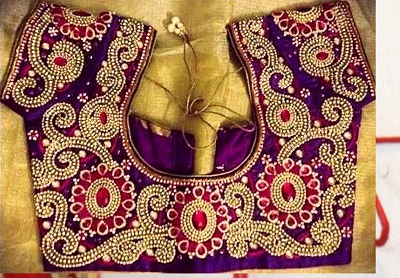 When you lay your eyes on such a designer and exquisitely patterned blouse, you would certainly love it. It is essential that you pair a beautiful saree with such a gorgeous blouse design. Beadwork is the highlight of this blouse which actually makes it unique and shine with modern elegance.
21. Embellished Sleeves Green Silk Blouse Design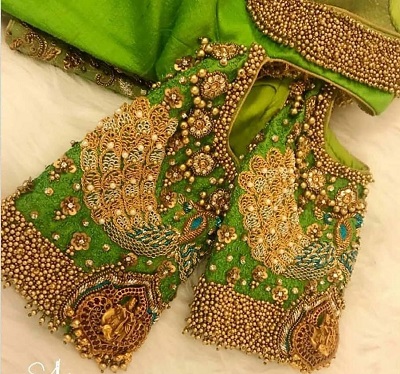 When it comes to bridal or wedding blouse designs, embellishments and heavy work is quite common. The designer and intricately done sleeves of this blouse are very heavy with the traditional work and has this gorgeous look which is created by the use of golden silk thread along with multiple golden colored beads. Even the Radha and Krishna patterns are also used on both the sleeves.
22. Designer Sleeves Silk Saree Blouse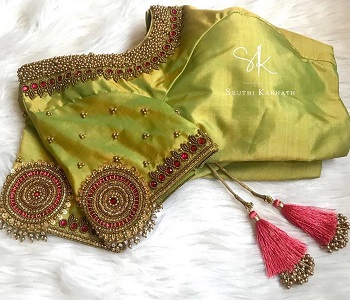 This is a Boutique saree blouse design which is made by a popular designer and we simply love it. It is a design that you would like to replicate for your future sarees for festivals like Karva Chauth, Diwali, and many such festivals. In this new age, definitely, the bridal trousseau is not only limited to the wedding and reception outfits but should also have blouses and sarees for the other occasions. It is quite heavy but not as heavy as the other bridal blouses that we have included.
23. Bridal High Neck Embellished Full Sleeves Velvet Blouse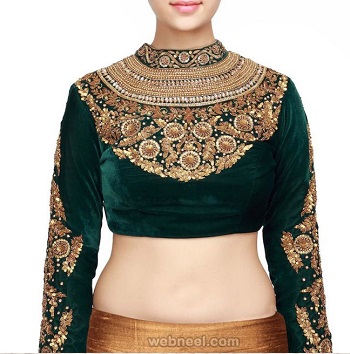 Velvet is certainly a luxurious fabric and a lot of women would love to have velvet for the bridal blouse. In fact, we feel as the blouse is so heavily embellished on the collar and sleeves, that it's certainly leaves no room for the traditional jewelery as much. This blouse can be flaunted on the wedding day as well as for the other ceremonies and rituals that the bride would be performing afterwards.
24. Orange Silk heavy blouse pattern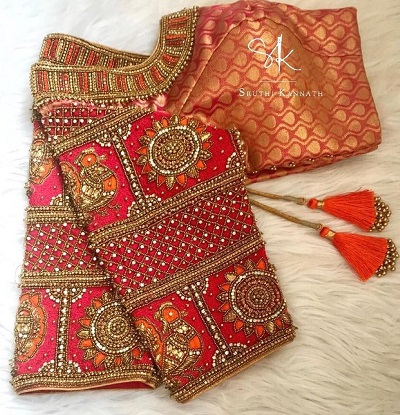 It's not that the regular blouses are in trend for women but also blouses which are in silk Pattu fabric which should go with other kinds of sarees. A Silk blouse is not necessarily a blouse for the silk sarees only, however it can also be used by the other fabric sarees like georgette, net, jacquard and more. We have seen such excellent wedding blouse designs for women paired with different types of sarees that also create a contrasting look. Mix and matching has always been here to create new kind of styles and outfits.
25. Beige And Red Border Blouse Pattern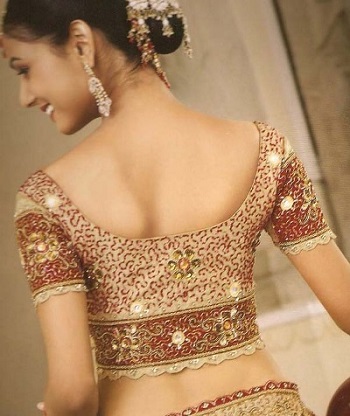 26. Simple Silk Red Embellished Blouse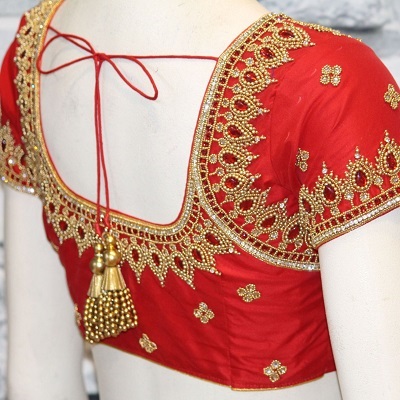 27. Green Aari Wedding Wear Blouse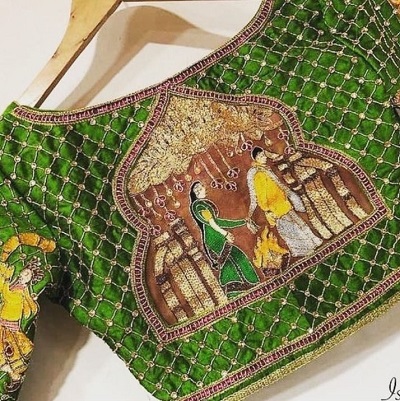 28. Heavy Embroidered Blouse For Brides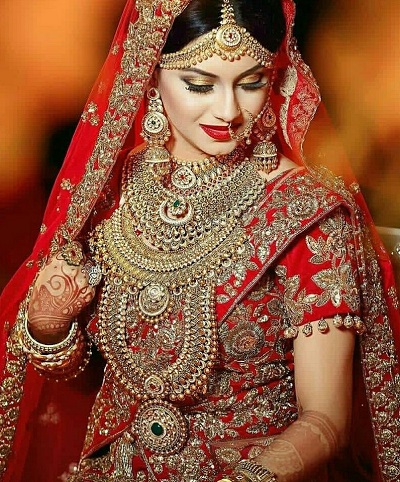 29. Dark Blue Velvet Choli Blouse Pattern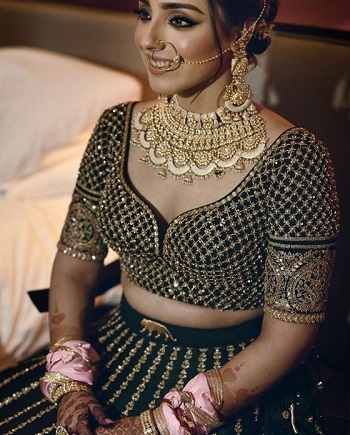 30. Thread Work Bridal Blouse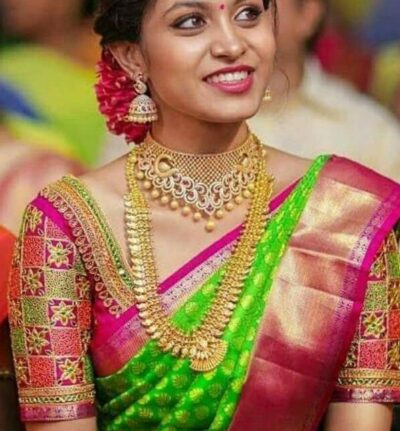 31. String And Tassles Blouse Pattern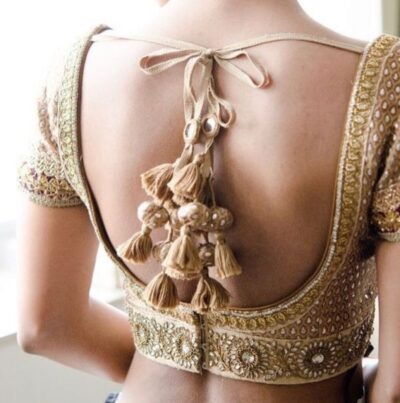 32. Green Bridal Blouse With Strings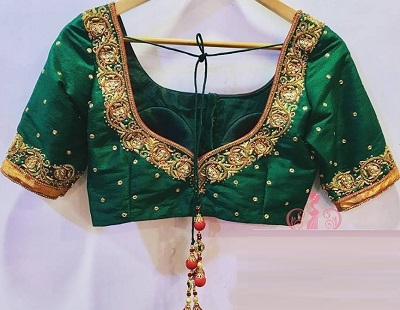 33. Designer Sleeves Heavy Bridal Blouse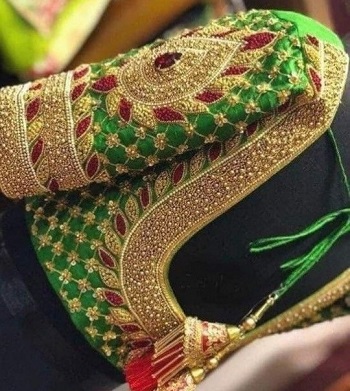 34. Silk Beige Fabric Stylish Blouse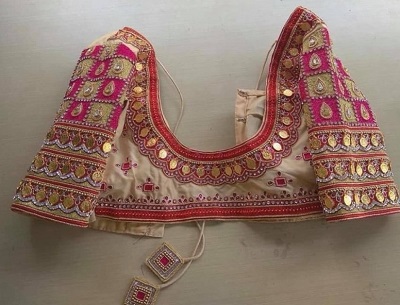 35. Heavy Zari Work Blouse For Brides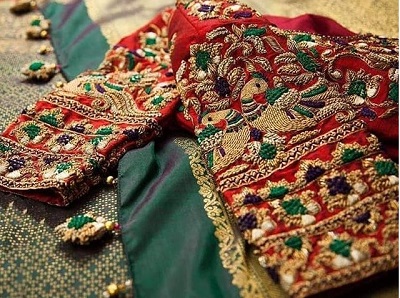 36. Stone Work Simple Bridal Blouse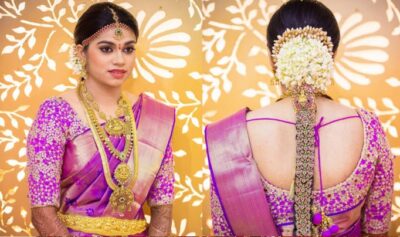 37. Multi Colored Beaded Blouse Pattern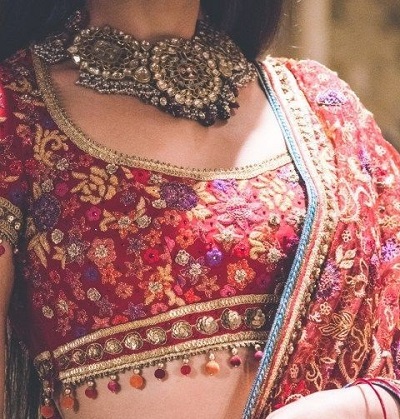 38. Orange Zardosi Work Silk Blouse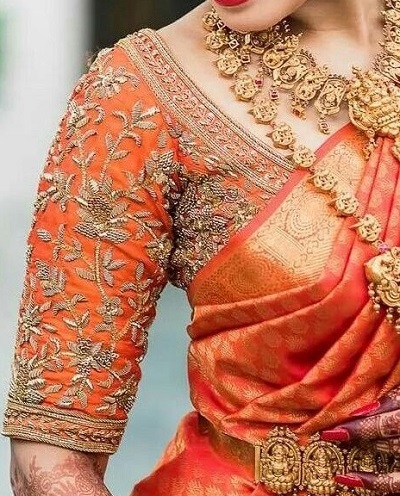 39. Green Heavy Beaded Blouse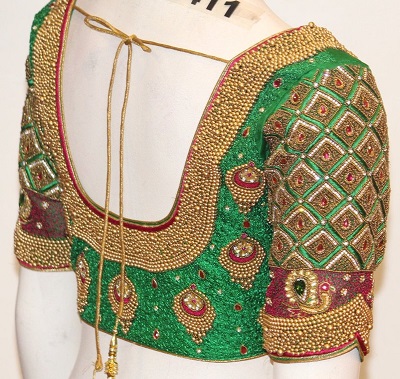 40. Blue Cut Work Blouse Pattern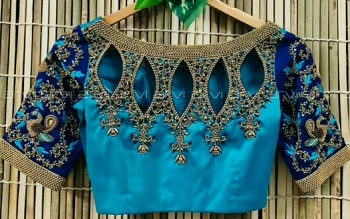 41. Golden Beaded Silk Bridal Blouse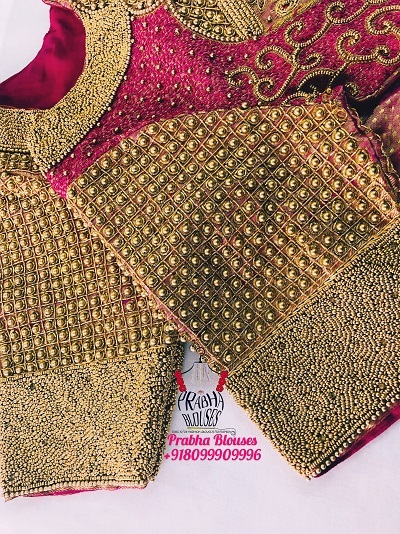 42. Dark Blue Silk Wedding Blouse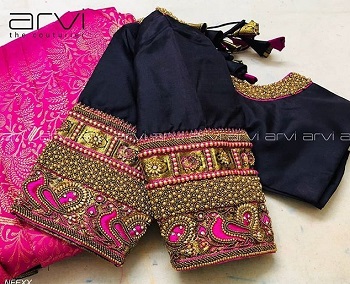 43. Paisley Pattern Designer Bridal Blouse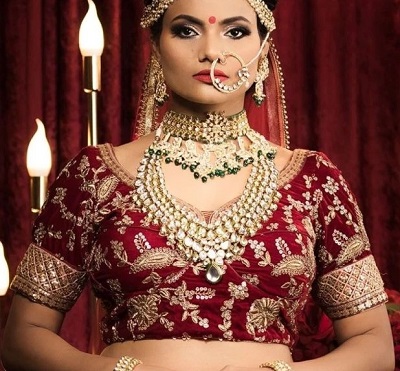 44. Lace Fabric Bridal Saree Blouse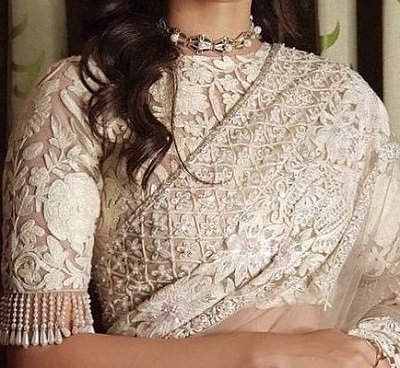 45. Round Neckline Gold Beaded Blouse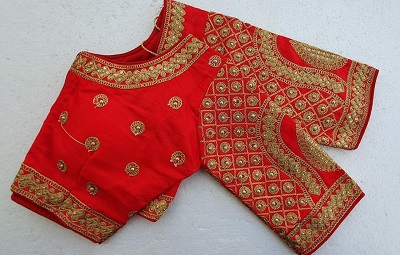 46. Front Deep Neck Multi-Colored Blouse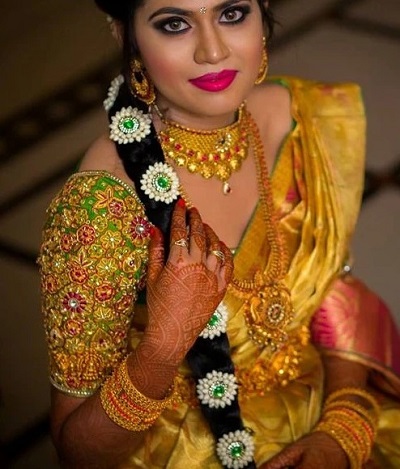 47. Double Colored Kundan Work Bridal Silk Blouse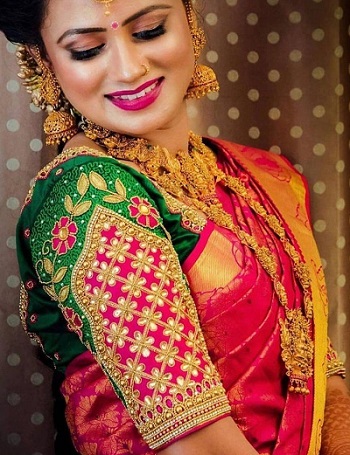 48. Luxurious Maroon Velvet Wedding Blouse Pattern
49. Golden Bridal Blouse Design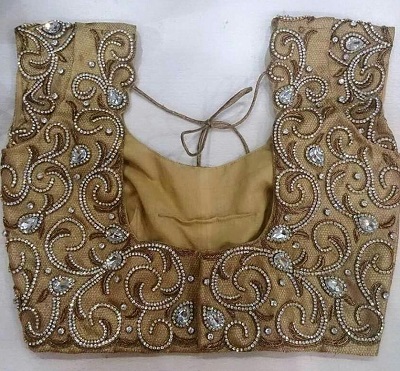 50. Bridal Jewelery Work Inspired Blouse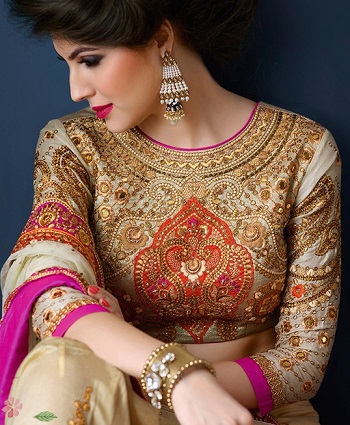 51. Peplum Blouse For Brides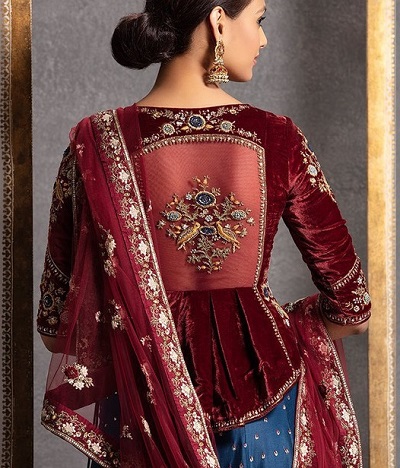 52. Bridal Pink Intricate Embroidered Blouse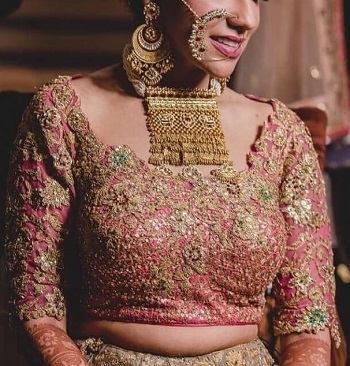 53. Yellow Simple Blouse For Brides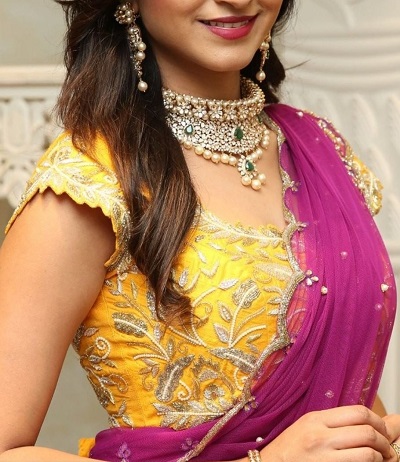 54. Bridal Short Sleeve Blouse Pattern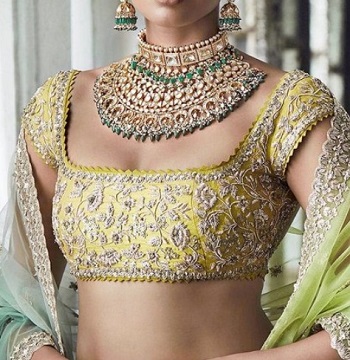 55. Deep Back Blouse For Brides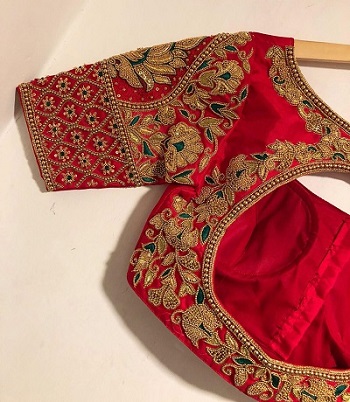 56. Silk Jewelery Cut Work Bridal Blouse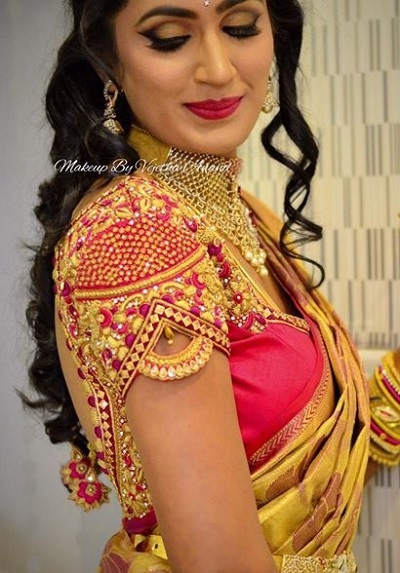 57. Silk And Net Heavy Bridal Blouse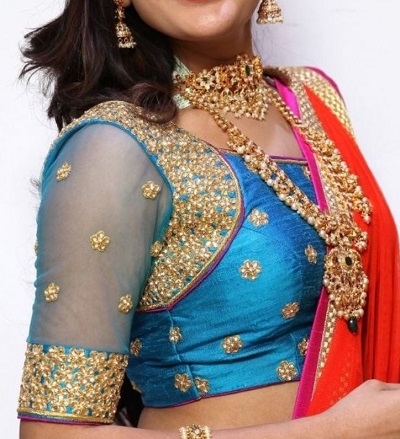 58. Designer Golden Idol Work Blouse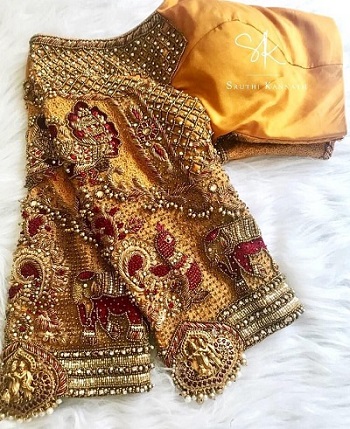 59. Yellow Chanderi Silk Bridal Blouse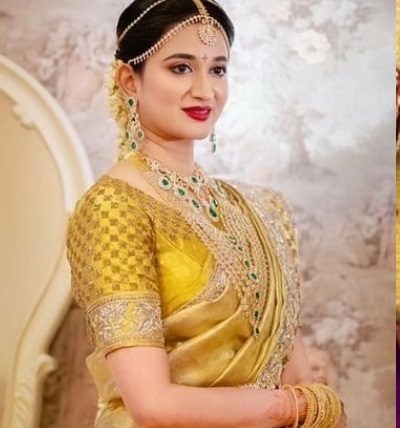 60. Pink High Neck Round Blouse Pattern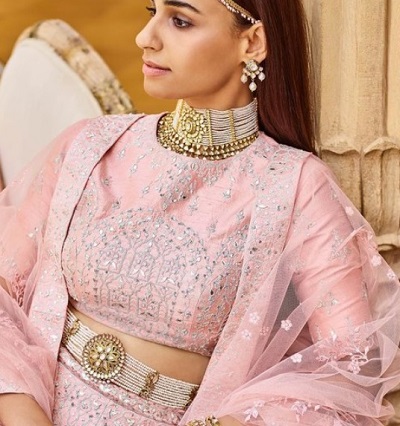 61. Deep Back Neckline Red Blouse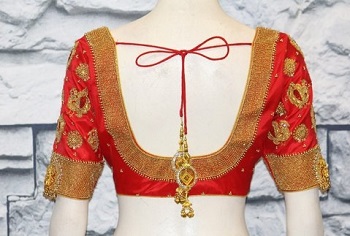 62. Gota And Bead Work Bridal Blouse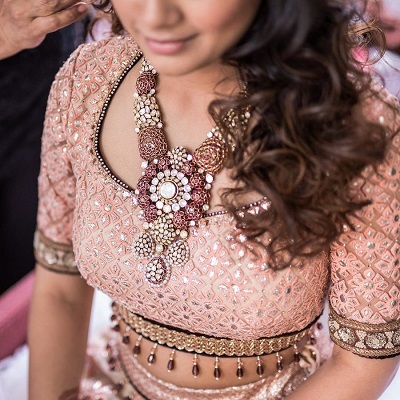 63. Kundan Work Dori Blouse Pattern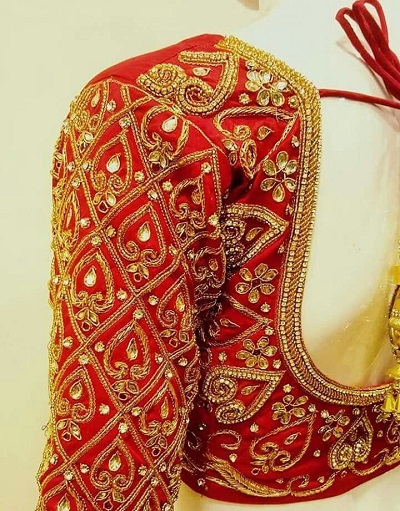 64. Velvet Blue Border Work Blouse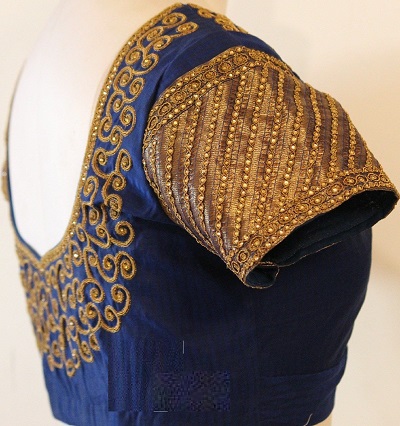 65. Big Kundan Stone Yellow Bridal Blouse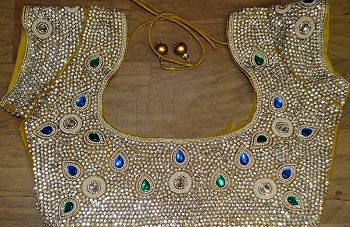 66. Bridal Designer Blouse For Wedding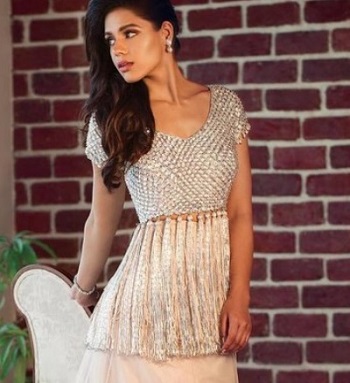 67. Heavy Embellished Bridal Velvet Blouse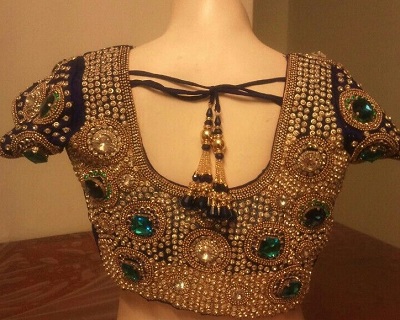 68. Boat Neckline Embroidered Bridal Blouse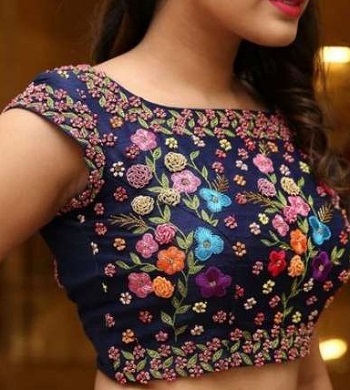 69. Zari Maggam Work Green Bridal Blouse Pattern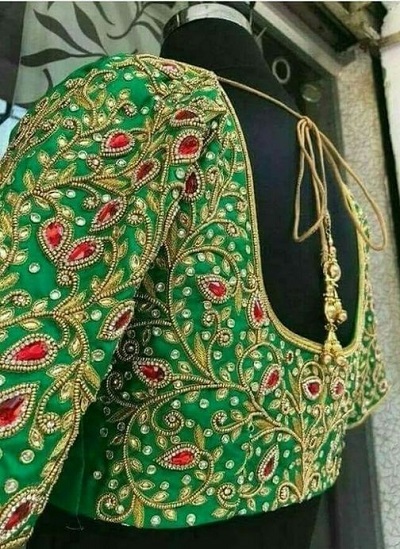 70. Mint Green Art Silk Blouse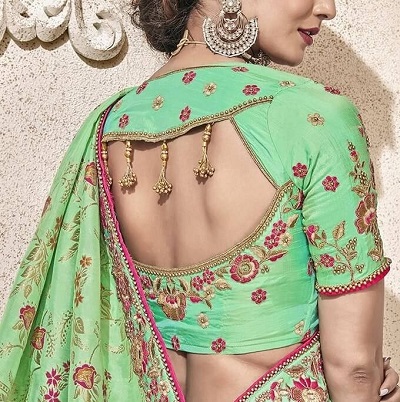 71. Off Shoulder Heavy Bridal Blouse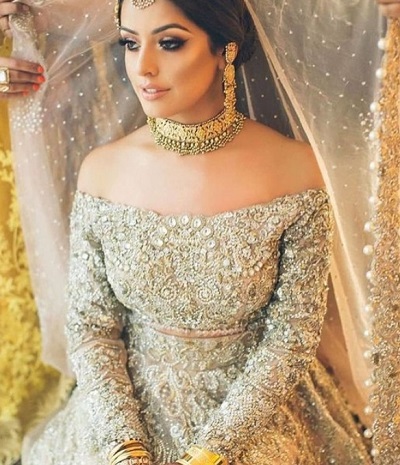 These are the latest trending styles of wedding blouse designs that you can try. We would like to tell you how you can choose a blouse design for yourself.
How to Pick or Shortlist A Wedding Blouse?
Generally, the bridal blouses are provided along with the bridal saree or the lehenga, however to create a unique and new look you can also mix and match things. Choosing a bridal blouse other than the regular blouses is also very much in trend. You will see lehenga and Dupatta in one tone and the blouse in some other color with some different kind of work on it. This style is going a lot in fashion currently and grabbing eyeballs for sure.
If the wedding is in the summer season, you can choose a lighter colored blouse with light embroidery. Because in the summer season, it is already quite hot and humid, heavy jewelery and accessories, will only add on to the bride's uneasiness.
For the winter season, brides can go for deep and dark colors with fabrics which are winter appropriate like velvet and heavy silk. You can choose the designs which suit your personality. Going with the trend without considering the personal style would just be incompatible.
Designs which are not quite comfortable may not be the best because it's not a thing of one to two hours but the bridal ceremonies can last really long. Therefore, we have always suggested that you wear the blouse that suits your personality as well as your style. These were the latest bridal blouse designs which are quite in fashion and very easy to find in the market.
You can make your decision to choose the best bridal blouse for your lehenga or the bridal saree you can pick. Being the bride, you have to look your best but comfortable at the same time.