Almonds are rich in vitamin E, known to reduce fine lines and delays the signs of aging from coming up on the skin. Other than that, almonds are also rich in Omega 3 fatty acids which help to lubricate skin and improvise the texture. Almond face creams are best for glowing skin as they are extremely moisturizing that makes the skin tones supple and even tone. So if you are struggling with dark spots, dry patches and blotchiness, then almond skin creams can be extremely beneficial for you. On the other hand, most of the almond skin creams are quite greasy in nature therefore; they are best suitable for normal to dry skin. However, during the winter season, these almond face creams can be applied by people with combination to oily skin as well. If you've come searching for the best almond facial creams, then in this article, we're going to share this list of the top best almond face creams available in India.
List of The Best Almond Face Creams (2023)
1. Lotus Herbals Almondyouth Almond Anti-Wrinkle Cream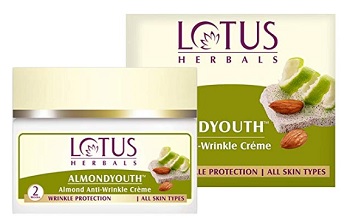 Lotus Herbals almond anti wrinkle cream is one of the best anti wrinkle creams for dry to normal skin in the market. It's rich in almond oil along with other natural extracts. With a hydrating formula, this cream penetrates deeply in the skin layers and maintains the moisture. It also acts as an anti pollution product for your skin because, almonds are also loaded with natural antioxidants to fight the free radical damage. It also contains the Apricot kernel oil which is highly moisturising and has anti-wrinkle properties. Applying these cream like a face massage cream also makes skin glowing as ever and beautiful.
2. SoulTree Saffron & Almond Oil Nourishing Cream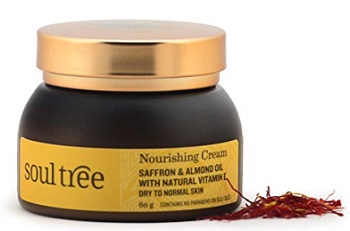 People who are looking for parabens-free moisturizer cream for their dry to normal skin can try the soul tree day cream. This cream not just works as an everyday use day cream but can also be used as a night cream for dry face. It contains Saffron and almond oil with natural Vitamin A. While giving a smooth and even toned skin complexion, it also works on the existing lines on your skin. Moreover, it is one of the best almond face creams for dry to normal skin. It is free of parabens, Mineral oil, SLS, lead, and fragrances.
3. Khadi Natural Almond and Apricot Herbal Massage Cream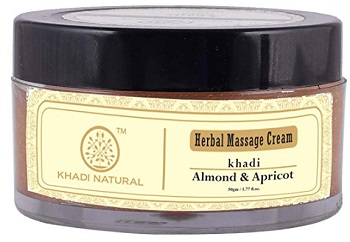 If you are looking for a decent massage cream with almonds then this Khadi natural almond and Apricot massage cream is one of the best to try. This massage cream contains almond oil along with Apricot oil and Sunflower oil. With loads of Vitamin E oil in this, it gives you daily nourishment and keeps the skin soft. It has enough of the moisturization so that it also works as a wonderful face massage cream for people with extremely dry skin. Massaging your skin every day with this cream during winter season not just gives you smooth skin but a glowing face every morning.
4. Jiva Ayurveda Almond Cream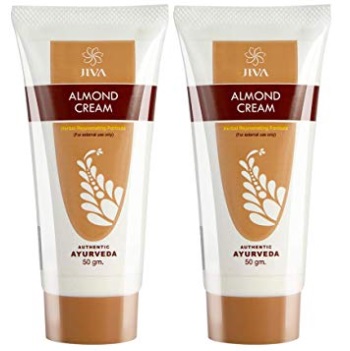 Jiva Ayurveda almond cream is a triple benefit giving cream. It is for dry and damaged skin which is getting lines. During the winter season, when your skin gets extremely dry and dehydrated with cold air, an extremely moisturizing cream like this can do wonders. It is a wonderful moisturizer to eliminate dryness in winters and effectively takes care of the dullness. Apply it twice in a day to achieve smooth and bright facial skin tone. In fact, the cream also removes the dark circles under the eyes and makes the skin brighter. Remembered, vitamin E removes darkness under the eyes. Right?
5. The Body Shop Almond Milk Body Yogurt Moisturizer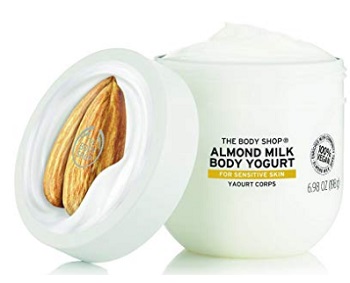 The Body Shop almond milk yoghurt moisturizer is for sensitive and dry skin. 100% vegan formula of this almond skin care product is safe even when you have sensitive skin type. It is ultimate relief provider for dry and cracked skin. It shields your skin from the harsh environment, weather conditions and pollutants. Moreover, it forms a protective thin layer on the skin because of which the skin does not get dehydrated or dry even during the extreme weather conditions like winters. It can be applied daily or as an occasional massage cream to moisturize the skin.
6. Jovees Almond and Ginseng Wrinkle Lift Cream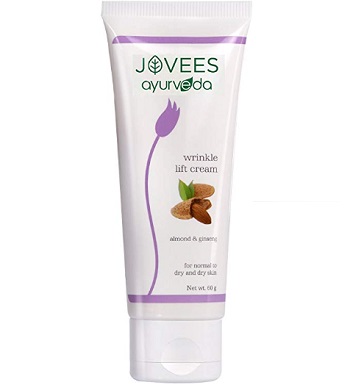 Jovees almond and ginseng wrinkle lift cream is one of the best anti aging creams for normal to dry skin. With the power of Almonds and ginseng, it combats the free radicals and fine lines as effectively as it can. In the long run, it helps to improve the skin elasticity by boosting the synthesis of collagen and elastin proteins naturally. The almond rich skin care product also helps to accelerate the cell renewal process and minimizes the appearance of fine lines, wrinkles and dark spots. It can be used twice in a day and is best suitable for the dry skin types.
7. Olivia Professional Herbal Almond Facial Massage Cream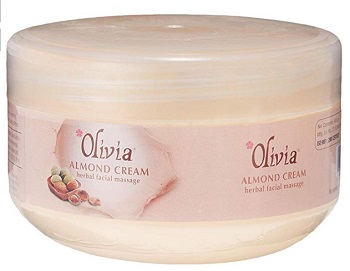 People who want an almond face massage cream can try this Olivia almond cream for Herbal facial massage. It works on the skin which is losing its elasticity. So it restores the moisture and accelerates the process. It helps the facial tissues to relax and smoothens the fine lines. The massage cream gives natural glow to the skin and tightens the sagging skin. Even for mature dry skin, it works as a wonderful face massaging cream that can be applied everyday at night. By minimizing the pollution effects, to naturally make the skin radiant. Use the anti pollution cream twice in a day or as a face massage cream.
8. Joy Honey & Almonds Nourishing Skin Cream with Wheatgerm Oil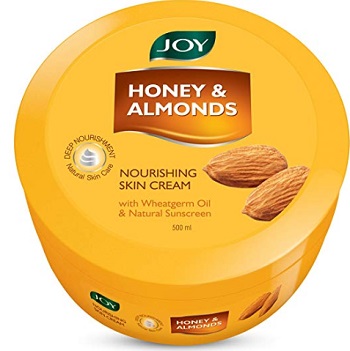 Joy Honey and almond nourishing skin cream is a popular skin product that comes with wheat germ Oil. With natural sunscreen and wheat germ oil, this is one of the most moisturizing and affordable skin creams for dry skin. During winter season, when you need extra moisturization for the dry face, this cream is excellent. With the goodness of Vitamin E and aloe vera along with Honey and Almonds, this protects the skin from dryness. It deeply nourishes and restores the glow and keeps your face and body from getting dry during winters. It is an all purpose cream suitable for men and women. Certainly, it's the best almond face massage cream for dry skin.
9. Aroma Magic Almond Nourishing Cream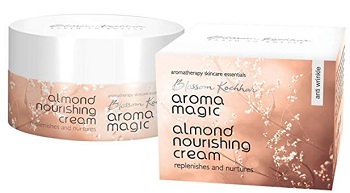 Aroma magic almond nourishing cream is one of the best almond creams in India. It is basically anti wrinkle cream to prevent dry skin and wrinkles. With Alpha Hydroxy acids and ceramides, it contains pure essential oils too. The cream gets inside the skin layers to make it soft and glowing. The nourishing formula of this anti-aging cream is rich in vitamins and minerals along with the Alpha Hydroxy Acids. So with regular use, it minimise the appearance of aging like fine lines and wrinkles.
10. BioCare Almond Cream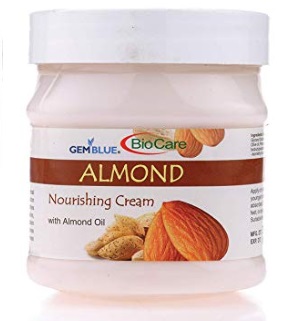 Gemblue Biocare almond cream is for dry to normal skin. It contains almond proteins along with Vitamin E and acts as a perfect facial massage cream for all season. It firms the skin tissues by boosting the college and natural synthesis. Applying it daily restores the suppleness of the skin and makes it clear. The cream is very moisturising and comes with creamy formula that spreads nicely. This is the best face massage creams for dry to normal skin.
Now, you know about the best almond creams in India, you must not get an excuse to not use them in your skincare regimen. Definitely, for dry to normal skin, almond face cream that have proven to be wonderful.