Face wash for dry skin can help you combat your dry skin effectively. This is why a lot of people would search for the best face wash for dry skin in India to buy the best product. Dry skin is a concern for lot of people, especially during the winter season, when the air gets dry and cold. We have put down the best facial cleansers for dry and sensitive skin, which are available in the Indian market. Not just that we have also shared some good to know dry skin care tips to keep your dry skin healthy and glowing.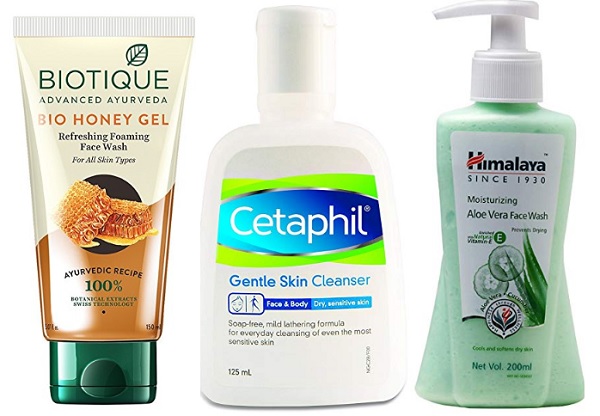 The thing about the dry skin is that, it is not that hard to manage, until and unless you are giving it the extra moisture and hydration that it requires. When you don't do that, your dry skin can become prone to premature aging. Therefore when you use the best moisturizing face wash for dry skin, it reverses the situation. You may not know, even the effects of sun rays, can become extremely concerning, when your face is dry. This is why including the best hydrating face wash in your dry skin care routine is essential. So, let's get started. And check out which are those best face washes that you can use when your face is dry and rough.
Top 10 Best Face Wash for Dry Skin in India for 2023
The list includes the herbal and mild face washes for dry skin which you can safely try for all the season. By the way, using ayurvedic face wash for dry face also works wonders in terms of giving natural ingredients benefits and safety, especially when your skin gets red quickly.
1. Aroma Magic Lavender Face Wash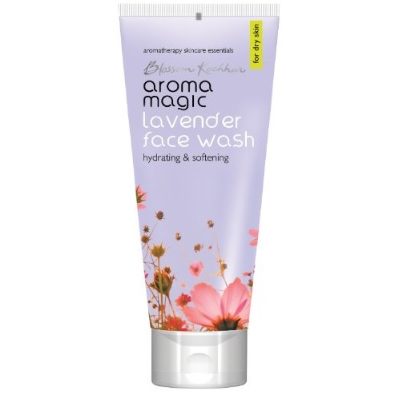 With the goodness of lavender in this herbal face wash, it is one of the best face wash for dry and sensitive skin in India. Lavender extracts along with shea butter helps to nourish and revitalize your dry skin. This extremely hydrating dry skin face wash cures your skin from the minor irritations with a blend of lavender and Rose Essential oil. You can apply this face wash two times in a day to get beautiful soft skin. The antioxidants in this natural soap free product also protect your skin from the winter dryness.
2. Himalaya Moisturizing Aloe Vera Face Wash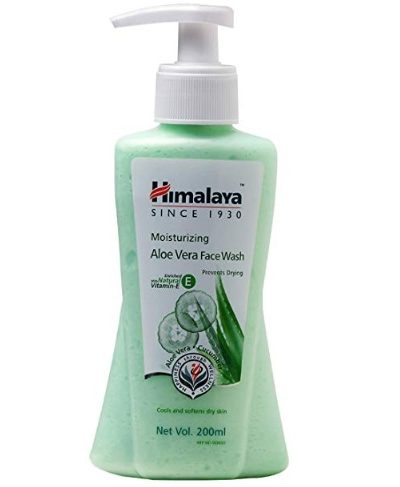 By far, this is the best face wash, when you have dry and sensitive skin type. In India, Himalaya Herbals is a well known brand. The moisturizing aloe vera rich face wash contains loads of Vitamin E that vitalizes your dry face and makes it glowing. It is rich in enzymes, polysaccharides and nutrients that hydrate your skin to make it plump. It is also a very suitable facial cleanser for winter season.
Also look for the best himalaya face wash in India for men and women.
3. ST. D'VENCÉ Moroccan Argan Oil and Raw Honey Face Wash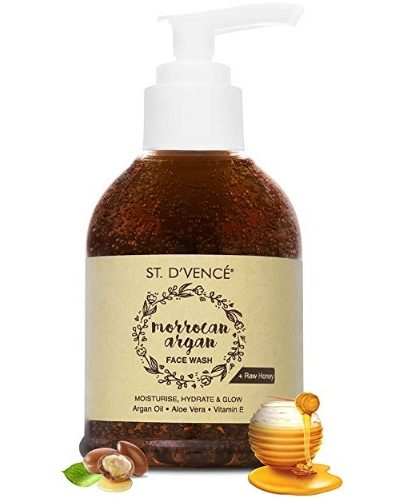 This moisturizing facial cleanser is rich in Moroccan Argan oil and honey. Undoubtedly, this is one of the best selling cleanser for dry skin, as per the reviews on online shopping sites like Amazon. Being rich in Argan oil and Vitamin E with honey and aloe vera, this face wash keeps your skin layers glowing and moisturized. It cleanses the skin effectively and fades away the spots and blemishes, while keeping it moisturized.
4. Cetaphil Gentle Skin Cleanser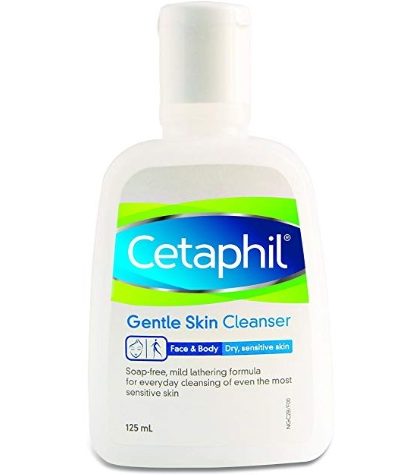 This next product that doesn't need any introduction, is Cetaphil. It is especially made for dry and sensitive skin. It cures and treats the dry patches on your skin and being extremely gentle in the nature It is also the best product to use when you have Eczema and psoriasis. The fragrance free hydrating skin product is a Dermatologist recommended face cleanser that is soap-free and cleanse even the most sensitive skin types. It's one of the best face wash for dry sensitive face.
5. Biotique Bio Honey Gel Refreshing Foaming Face Wash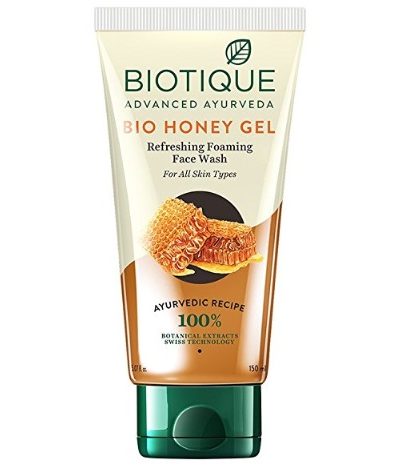 Honey is extremely rich with its moisture retaining properties. This Biotique bio Honey gel face cleanser is perfect solution to treat your dry skin during winters and other season. This is rich in vitamins as well as brightening sugars that can heal and purify your face. You can apply this fairness cleanser during cold season as well because it's the best winter face wash for dry skin in India.
6. Lakme Blush and Glow Strawberry Gel Face Wash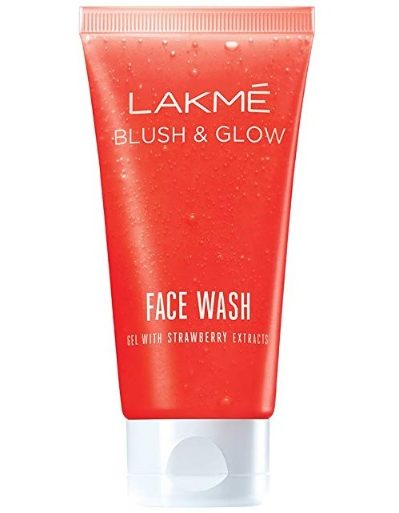 The gel face wash for rough skin is from Lakme. Loaded with strawberry extracts, this gel cleanser relieves dry face and is made with the goodness of rich strawberry extracts. It's the best face wash for dry skin in India for glow and freshness. Fruits are rich in antioxidants that cleanse your skin washing away the dirt and impurities. Use the Lakme Cleanser on everyday basis to keep your skin glowing and free of the dirt and dust. It is very affordable facial cleanser that you can even get from your nearby local shops and stores. 
7. Ustraa Face Wash For Dry Skin with Mint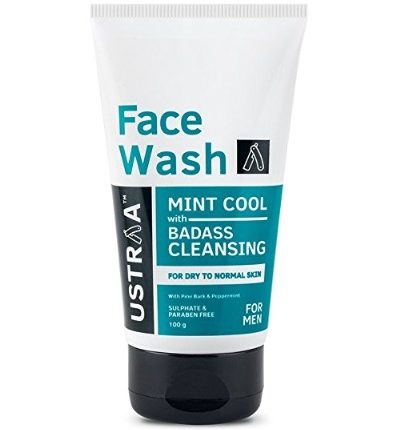 The next option of the best men's face wash for dry skin in India that we have got, is for men's rough and tough acne prone skin type. This is appropriate for men who've very dry to normal skin, even during the summer season. This paraben and Sulfate free face wash for men contains mint that cools your skin and soothes it. Men who go for shaving, can experience irritation and itching, therefore, this face wash helps to soothe that problem. It also gives you deeply cleansed glowing face and with mint in it, it's the best face wash for pimples and dry skin.
8. Oriflame Love Nature Mild & Nourishing Milky Foam Cleanser Oat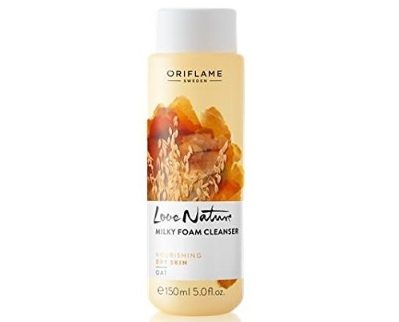 Oats are the main ingredient in this face wash. It is extremely hydrating and very gentle cleanser for your dry face. The effective foaming cleanser works to leave your skin looking dewy and supple without dryness. The affordable and best face wash for dry facial skin in India combats the effects of sun rays and weather effect on your skin.
9. Khadi Mauri Herbals Rose Herbal Face Wash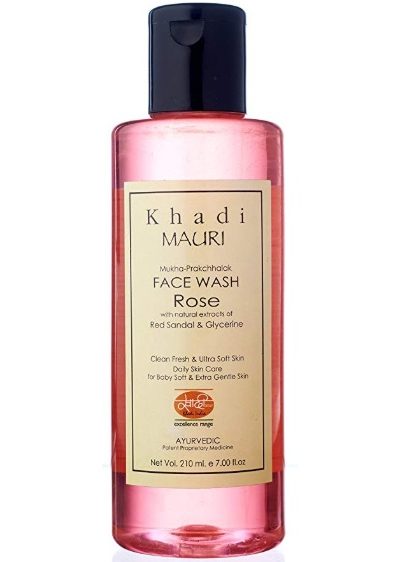 The rose herbal face wash contains red Sandalwood and glycerine. In gives you daily extra care for your dry sensitive face. The paraben-free cleanser contains all the mild ingredients that is doesn't disturb the pH balance, rather keeps your clean and skin clear. The nourishing cleanser is safe for all the skin types.
10. L'Oreal Hydra-Total 5 for Dry and Sensitive Skin Silky Cream Face Wash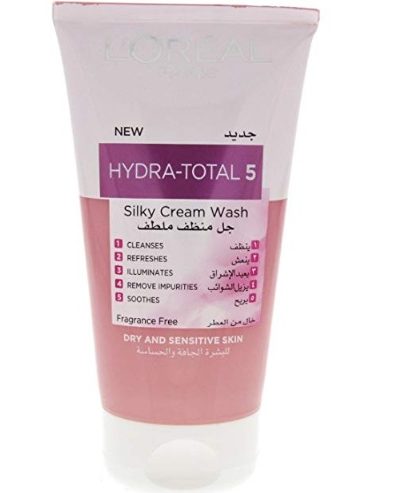 This L'Oreal Paris face wash cleanses, illuminates and removes impurities from your face effectively. Formulated for dry and sensitive skin, the creamy cleanser rehydrates your dry face to make it soft and smooth. It's a good face wash for dry skin and can be used by men and women both and is suitable for easy-to-get red skin as well.
So, these are the effective and best good face wash for dry skin and sensitive skin in India, which you can try to make sure your skin face smooth as face wash is the first step that we use towards a good skin.
Extra Tips for Dry Skin Care
When your face is dry, then make sure that you never used extremely hot or cold water on your face. Doing so, can disturb the pH balance, thereby making your dry face very dry.
Always use moisturizing lotion for your body and face. Use of hyaluronic acid and Mineral oil rich products helps a lot. Creams and lotions rich in vitamin E and wheat germ are suitable to cure the dry patches on your skin. Not just that you should also apply a good night cream every night, before going to sleep to make sure that you wake up with a plump and supple soft skin the next day.
There are a lot of honey and oats rich face mask available in Indian market, that you can try to cure the dryness instantly. So, that while going to a party you can take help of this easy technique to make your skin look fresh and glowing.
If you are a teenager or a young adult who would like to make their skin glowing after using the makeup then the best thing is to apply a rich moisturizing face primer, followed by a hydrating foundation. This will make sure that your makeup looks perfect and face doesn't look dry at all.