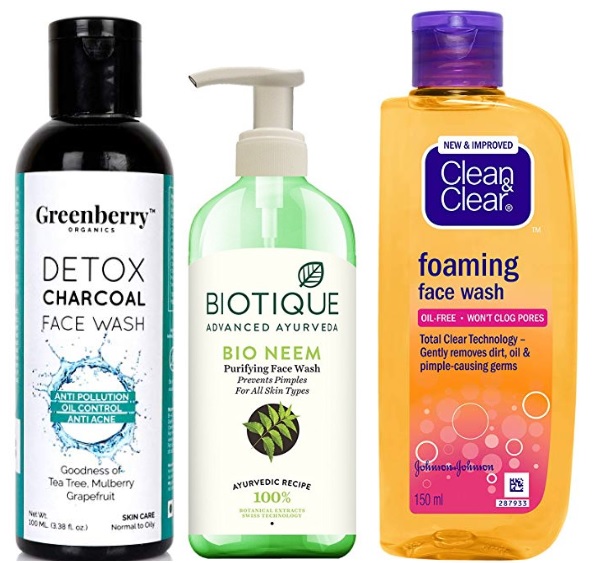 Face wash is the most important product in any skin care routine. You literally start your day with a facial cleanser and eventually your day starts with washing your face. This is why we have created this list of the best face wash in India for men and women. These are the most popular face washes from best brands for different skin types, like for dry skin, oily skin, combination and even the sensitive skin. The choice of face wash also varies from season to season. Like some people, who go for hydrating cleansers for winter season, opt for oil- controlling products during hot summer. Let's take a look at the best face wash brands in India.
Choosing the Best Face Wash 
Buying the best face wash in India online for your skin type, is also good, as you can get extra discounts, on top of that you can also read the consumer reviews and rating. So, we've researched and after that created this guide to let you choose the right cleanser for your skin. Hopefully, it will let you know which is the best face wash for your skin type in India. It also depends on the ingredients utilized in a face cleansing products. Like if you've dry face, then naturally you will go for a product which is moisturizing and hydrating in its formula. On the other hand, an oily skinned person will find a salicylic acid face wash, oil control or non comedogenic or the best benzoyl peroxide face wash as helpful. 
Other than that, like I said season also matters. There are people for whom a single face wash can work in all the seasons, but the majority of us will need skin care products according to the changing season. Like when my skin gets slightly dry during winters, I look for a face wash which is not too foaming or oil clearing. In Spite of my skin being very oily in summers. Anyways, let's go ahead and check these best face cleansing products in India.
Top 10 Best Face Washes in India 2020
We have categorized the list accordingly (Oily, Dry, men's and Whitening face washes) so that you can pick the best selling face wash product that goes well with your skin texture and type. 
Best Face Wash for Oily Skin In India 2020 (Acne Prone Skin)
First comes the section, where we have put all the best face washes for oily skin and acne prone skin.
1. Himalaya Herbals Purifying Neem Face Wash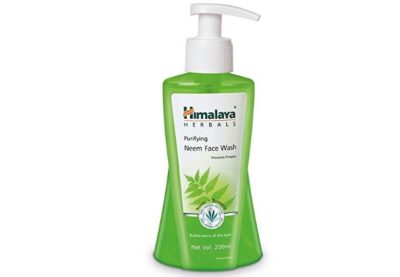 This is by far the most popular and best neem face wash in India for oily and acne prone skin. Its price is very inexpensive and is easily available. That makes it a good facial cleanser for breakout prone skin undoubtedly. It helps in eliminating acne and purifiers your pores and facial skin. Being herbal in nature it helps to combat acne for sensitive skin as well. Moreover, the product gives you oil control features to. But only for few hours. It's the best herbal face wash for acne prone skin in India.
2. Biotique Bio Neem Purifying Face Wash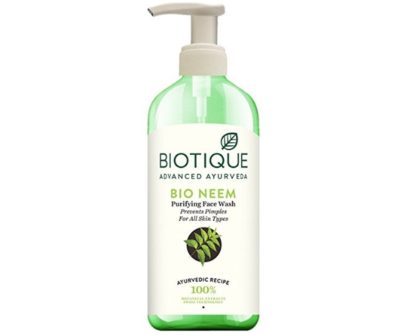 Biotique neem face wash is yet another beneficial product for all skin types, especially when your skin is acne prone and greasy. It is herbal facial cleanser that contains 100% natural ingredients. This soap-free and paraben free product is effective for pimple prone skin. It can be applied two times in a day and trust us, it does not make your face dry. It's suitable for dry winters as well as hot summers to keep your skin stay matte. It's the best face wash for oily skin and blackheads.
3. Clean & Clear Foaming Face Wash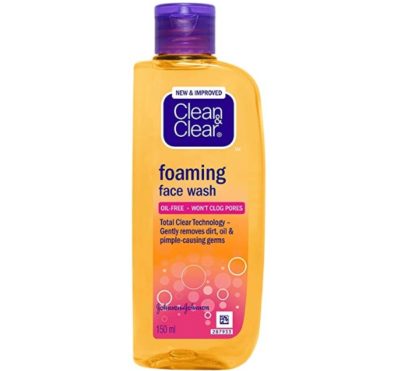 Clean & clear is an effective face cleanser for oily skin in India. With an oil-free formula, it does not clog the pores. Formulated with salicylic acid, it fights the pimple causing germs and removes the dirt and impurities effectively. Applying it regularly helps in getting rid of the breakouts and also prevents them from coming on your skin. It's the best face wash for teenagers in India with oily skin and blackheads.
4. Lotus Herbals Tea Tree and Cinnamon Anti-Acne Oil Control Face Wash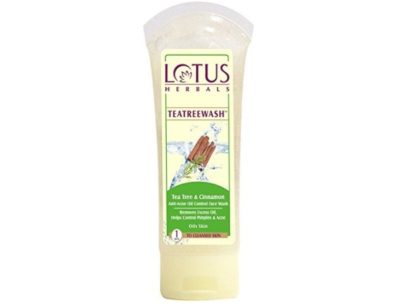 We've yet another anti acne face wash that is perfect for curing breakouts and zits. Lotus Herbals tea tree and cinnamon face wash ensures that your skin stays clear and free of any eruptions which is common during summers.  Lotus oil control face wash removes the excessive oils and sebum from your skin surface. It helps control pimples and acne while fighting the bacteria causing them. The gentle gel formula makes this the best face wash for oily skin and dark spots. The affordable product is priced reasonably and is amongst the top face wash in India.
5. Neutrogena Oil Free Acne Face Wash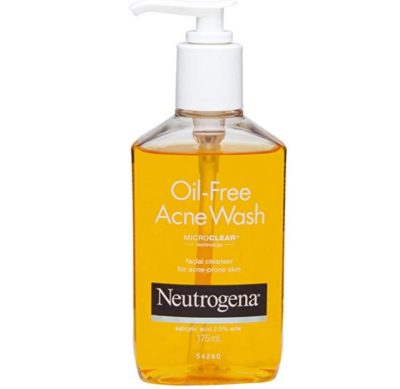 When you have oily facial skin with large open pores, this is the best salicylic acid face wash for you. It is a reasonably priced and pocket-friendly facial cleanser. It causes acne, removes pimples and product built up upon your face. If you have oily and acne prone skin, then this would be appropriate. As it does not leave the skin rough by squeezing  all the natural lubricating oils, your skin does not feel dry at all. It's an effective and the best face wash for women in India to include in your oily skin care routine.
6. Mcaffeine Neem Face Wash Cleanser with Argan Oil & Vitamin E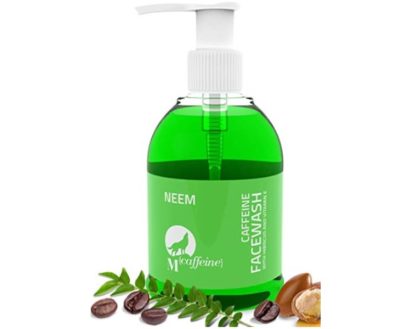 The neem extracts rich cleansing product also contains Argan oil and Vitamin E, it is suitable for all skin types that gives you glowing skin and treats the open pores. It also clears hyper-pigmentation, spots and unevenness of the skin tone. By removing the dullness and impurities from the surface of the face, the organic face wash provides you with clear skin everyday. It's the best face wash for oily skin and large pores with spots in India.
7. Wow Activated Charcoal Face Wash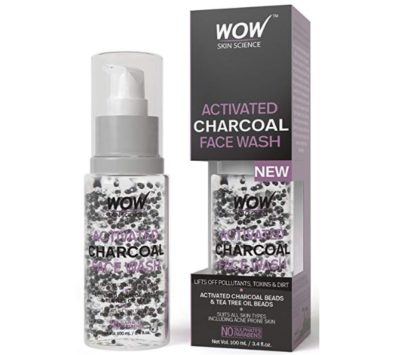 I would call it as the best charcoal face wash in India, this cleanser stands out the best. It may be a comparatively new brand but it is undoubtedly very effective. It is a the best paraben and sulphate-free face wash that contains activated charcoal along with tea tree oil. You can try it without any second thoughts. It is suitable for all skin types but people with oily and acne prone skin will like it more. In fact, it's a decent face wash for pimples and dark spots for men in India.
8. Plum Green Tea Pore Cleansing Face Wash
The deep pore clearing herbal face wash keeps your dirty pores clean. When your pores are gunk free, you can surely enjoy healthy and beautiful skin. It's a green tea face wash which has glycolic acid as well with loads of powerful antioxidants. Most importantly, it's amongst the top chemical free face wash in India. The easy to use pump packaging also adds to it advantages. People also claim that it's the best face wash for summer in India.
9. Greenberry Organics Detox Charcoal Face Wash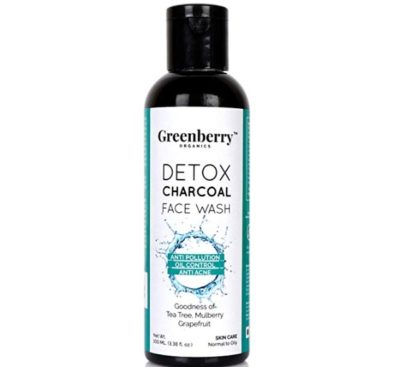 This is a very good brand to get paraben-free herbal products in India for skin and hair. The purifying charcoal rich and oil clear face wash is an anti-pollution product that gives you oil-free skin for a long time. It comes with the goodness of tea tree, very, grapefruit and activated charcoal to get rid of the oils and bacteria trapped in the pores on the face. Actually, these gunky loaded pores are the major reason, why acne happens in the first place. After using this, it's evident that it will suit people looking for a good face wash for pimples and marks in India.
10. Khadi Natural Neem and Tulsi Herbal Face Wash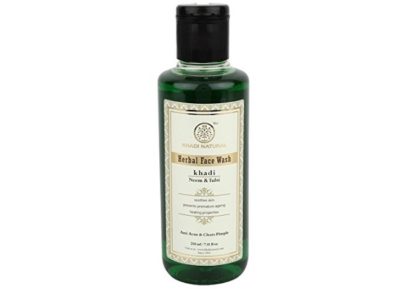 With the goodness of neem and Tulsi, this face wash comes as a clear winner for people who want herbal face wash with organic ingredients. The gel like formula gives lathers that cleanse the face thoroughly by removing the sebum and bacteria along with the impurities which are deep seated. It also suits teenagers and adults also with oily to normal skin.
11. Wow Apple Cider Vinegar Foaming Face Wash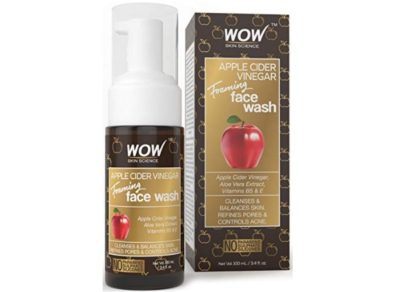 The WOW product is rich in Apple Cider Vinegar, Aloe Vera Extracts, Vitamin D and Vitamin E. It is the best face wash for blackheads and oily skin in India. Apple cider vinegar helps to cure the large pores on your face and clarify the clogged pores. Therefore, it also minimizes blackheads and whiteheads to happen. These are also called as comedones which can then become blackheads due to oxidization and whiteheads. Moreover, it is a paraben-free face product suitable for all skin types.
12. The Body Shop Tea Tree Skin Clearing Facial Wash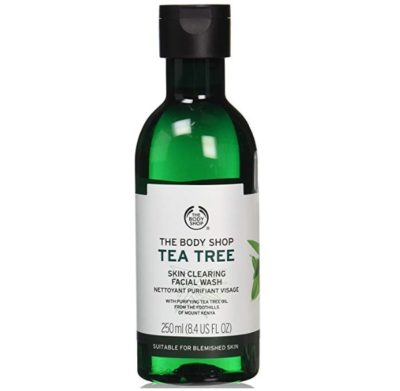 The Body Shop product is expensive but is clearly one of the best tea tree face washes in India for oily and acne prone skin. It also has heals acne and dark spots on your skin. Giving it a try and I am sure you'll not be disappointed. By the way, tea tree is also known to treat pigmentation making it as the best face wash to remove pimples and pigmentation. It also control whiteheads and blackheads. You can buy The Body Shop Tea Tree Face Wash online as well.
Cipla saslic face wash is also very good and is available online Here.
Best Face Wash For Dry Sensitive Skin in India (2020)
Now, let's see which are the face washes which works for dry face.
13. Cetaphil Gentle Skin Cleanser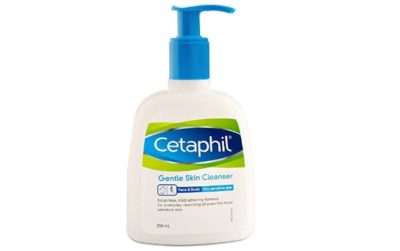 This gentle skin cleanser is the best face cleansing product for dry and sensitive skin. It has a soap-free formula that has mild lathering features.  With its oil-free and gentle cleansing formula it's perfect for sensitive skin. It is a non-comedogenic and dermatologist recommended cleanser.
14. Aroma Magic White Tea and Chamomile Face Wash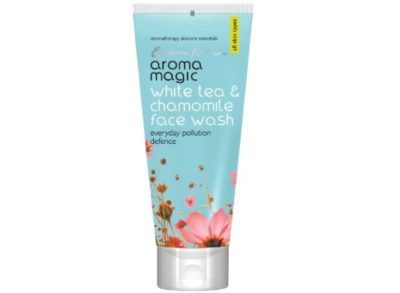 This next option is from Aroma Magic. It is the white tea and chamomile face wash that is suitable for all skin types, that includes sensitive skin. The best face wash for dry skin has is effective against the daily pollution build-up on your face. It gets rid of the dirt impurities, dullness effectively. It also contains micro-beads that are exfoliating. Additionally,  it can also be used during winter season because of the creamy moisturizing formula. Also, it's the best face wash for sensitive skin in India.
15. Himalaya Moisturizing Aloe Vera Face Wash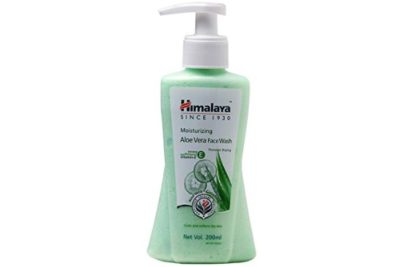 If your skin is sensitive and very greasy, we would recommend this best aloe vera face wash for you. This cleanses with the goodness of aloe vera and helps to moisturize your sensitive dry skin. The natural face cleanser also acts as an excellent toner for your open pores. The product is rich in creamy base that gives mild lathers. Clearly, it's the best face wash for dry skin in Indian market for both men, women and teenage skin.
16. Lakme Blush and Glow Face Wash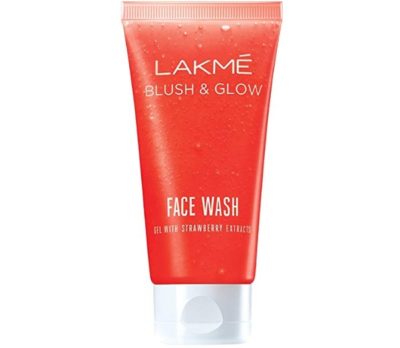 Lakme Blush and Glow face wash is the best cleanser for getting glow on your dry skin. It's extremely affordable and people of every skin types can use it. Richness of strawberry extracts in a gel base, gives good lathers that clears the skin. It eliminates those bacteria and impurities effectively to impart a supple glow and fairness from everyday impurities.
17. Biotique Bio Honey Gel Refreshing Foaming Face Wash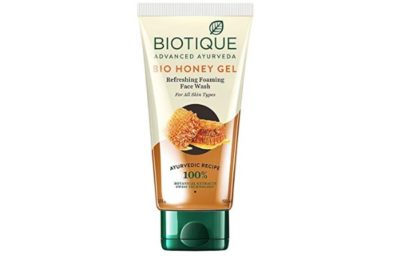 When you have rough flaky face during the harsh winter season, this is the best face wash for glowing skin in India for dry and sensitive skin. The Ayurveda inspired face cleanser contains Honey and Orange gel formula that contains 100% Botanical extracts. It gently cleanses your skin and enriches the face with the vitamins like B1, B2 B6 and Vitamin C. It gives you glowing skin and also eliminates tan.
Best Fairness Face Washes in India For Dark spots Removal and whitening
Now in this segment, we'll talk about the best skin whitening face wash in India for men and women with different skin types.
18. Lakme Absolute Perfect Radiance Skin Lightening Face Wash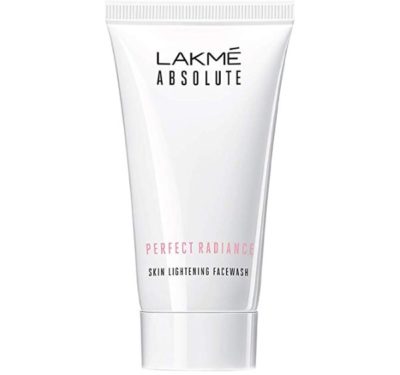 During the summers, sun tan and UV exposure makes your skin dull and dark. There you need a cleanser to get rid of the darkening. It's the best fairness face wash in India at affordable prices. It gets rid of the 6 blocks of skin whitening like dark spots, acne marks, uneven skin tone, tanning, blemishes and scars. This is suitable for all skin types.
19. O3+ Brightening and Whitening Face Wash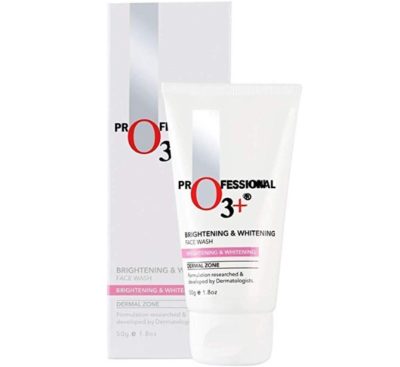 It's skin whitening face wash that contains cucumber and aloe vera. The thick and rich lathering cleanser gives illuminated face, post washing and has received good ratings from the people have used it. Suitable for normal to oily skin, it brightens your dull skin with its fast active ingredients.
20. Pond's White Beauty Daily Spotless Lightening Face Wash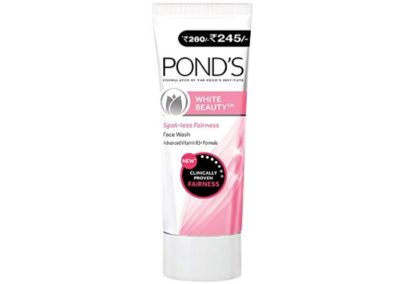 Pond's skin whitening face product removes the dark spots and dullness left by the UV damage on your skin. The dark spots removal cleanser is clinically proven. It is not suitable for dry skin during winter season but for oily and sensitive skin this is fine. Priced reasonably, it's the best face wash in India for fairness and glow.
Best Face Wash for Men in India (2020)
In this section, we have listed the best face wash in India for men. Oily skinned men often struggles with skin problems, therefore, the list has some of the good face wash for men's  oily skin too.
21. Garnier Men Power White Double Action Face Wash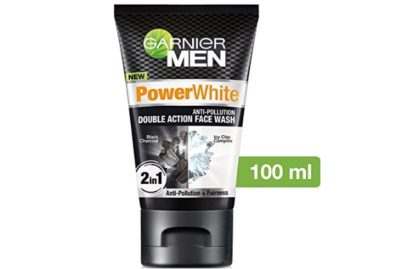 Men who've got greasy skin that also appears dark, For them this is the best men's face wash in India for oily and acne prone skin for the purpose of skin brightening. It contains activated charcoal and Icy clay Complex. It removes the dirt, pollution and impurities from your face effectively. It is enriched with salicylic acid and Vitamin C or extra effectiveness and thorough cleansing of the face.
22. Nivea Men All-In-1 Pump Face Wash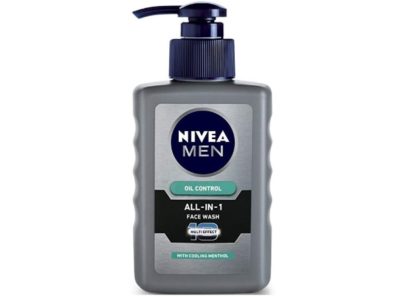 Nivea Men all in one face wash is basically an oil-control face wash for men with cooling menthol. It's suitable for men who've got sticky oily skin type. Actually boys, who're mostly into outdoor activities and sports activities. It reduces the dark spots and scars from your face and gives a cooling feel. It is the best face wash for men for summer season. Pump pack is very easy to use with convenience.
23. Nivea Men Dark Spot Reduction Face Wash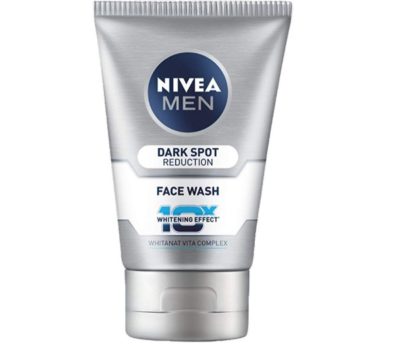 To fade the dark spots and marks, this is the best whitening face wash in India for men of all age groups. The dark spot removal cleansing product deeply whitens your skin and also controls oil. It is easily available and is reasonably priced. The Vita complex present in this helps to uplift and brighten the shallow dark skin.
24. Beardo Activated Charcoal Acne Oil and Pollution Control Face Wash
It's the best charcoal face wash for men in India. Therefore, it controls the acne and pollution ill-effects nicely. It will deeply cleanse sticky and oily skin and also help you treats the scars with long term usage. Tea tree oil, Lavender oil and aloe vera are its main ingredients that are considered best when your skin is acne prone and oily.
25. Garnier Men Oil Clear Deep Cleansing Face Wash
To get oil controlling features, men should definitely try it. With clay complex it squeezes the oil traces from the pores to give you oil-free skin and is the best pimple face wash for men. It contains a mineral clay and menthol and is suitable face wash for men with very oily skin during summer season. You can use it two times in a day to get rid of the excess oil from the face.
So, guys these are the top best face washes in India for different skin types to solve different skin issues that we face during the seasons like summers and winters. Please note that you keep in mind the things we told you while choosing the best face wash for your skin. Buying the best beauty products is the first step in keeping the skin healthy and problem-free.