Fruits are loaded with Alpha hydroxy acids, antioxidants and vitamins. This is why, fruit packs and masks are bound to give you beautiful skin. Considering this, we have created this list, where you will find the best fruit face packs in the Indian market.  Fruit face packs not just fade the dark spots that annoys you the most, but they also keep your skin younger looking. Once in a week application of a good fruit face mask would benefit you a lot in the long run as an anti aging procedure.
You can get rid of the sun tanning and deep seated impurities removal with just a single application of a fruit face mask. Yes, this is the power of a good fruit face pack however it is also important that you choose the effective fruit face packs in India. This is why, we have the best fruit face pack brands in India.
Best Fruit Face Packs in India (2021)
If you're wondering which face pack is best for glowing skin then you have reached the right spot. These fairness fruit face packs are loaded with fruits for glowing skin and even for the dark spots.
1. Biotique Bio Fruit Whitening And Depigmentation & Tan Removal Face Pack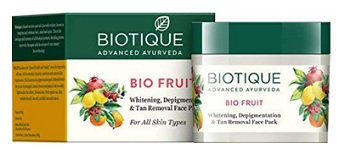 Biotique fruit whitening and depigmentation face pack contains the natural blend of juices of pineapple, lemon, tomato and papaya. It visibly lightens your skin complexion. With regular use one can expect their skin tone to get lighter and get healthy. Biotique fruit face pack removes the dark spots and makes your skin youthful and even textured. Apply it evenly on the clean face and neck. Leave it for 20 minutes. Wash off with water. Use it as needed to lighten and brighten the skin complexion. Additionally, it also contains multani mitti that takes care of the excessive oils from the skin. For prices, you can check below.
2. Lotus Herbals Frujuvenate Fruit Face Pack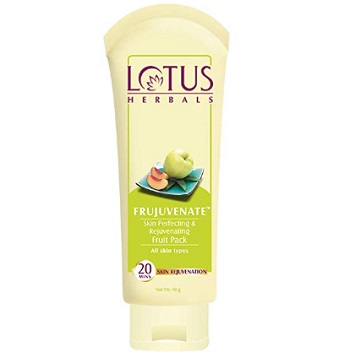 Lotus Herbals fruit face pack contains the goodness of apples, pineapple, peach, carrot and juice of grapes. These fruits are natural source of Alpha hydroxy acids and natural antioxidants. These also has antiseptic and astringent properties that clear the skin pores while unclogging them. Restoring the skin moisture, your skin gets anti-aging benefits. So the face mask does multiple things for you. It is suitable for all skin types. The best part is that it takes care of the excessive oils from the skin. Applying this apple fruit face pack, twice in a week ensures that the skin stays smooth and glowing.
3. Vaadi Herbals Refreshing Fruit Face Pack
 
Vaadi fruit face pack contains Apple, cucumber and Lemon extracts. Lemon and tomato are helpful in removing the black heads, impurities and excessive oils. Therefore, the face mask also prevents the acne and the acne scars. It is loaded with antioxidants to protect the skin from sun rays and pollution. Apple and papaya are known to revitalize the skin and to give you even texture. The best part of this fruit face pack is the removal of dark spots. It gives instant fresh tightening effect on the skin. The affordable fruit face mask is one of the best brands of fruit face packs in India.
4. Himalaya Herbals Refreshing Fruit Pack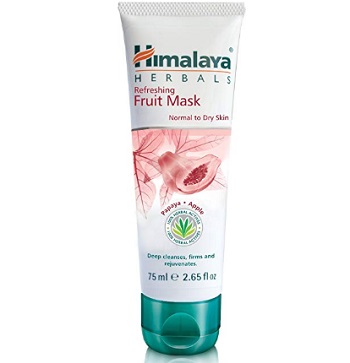 Himalaya Herbals refreshing fruit face mask for normal to dry skin. It is loaded with papaya and Apple extracts along with aloe vera. It removes the deep embedded impurities while maintaining a healthy glow. As it is rich in hydrating ingredients, it's one of the best readymade fruit face mask for glowing skin in India. Papaya is a key ingredient in this product because it contains the papain. It's a natural enzyme that promotes the cell turnover and makes your skin even tone. So if you are struggling with dark spots and age spots, this fruit mask can be extremely helpful. This is also one of the most affordable fruit face packs in India.
5. Khadi Fruit Herbal Face Pack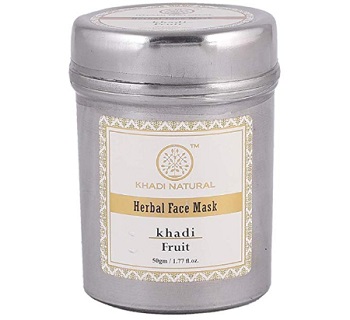 Khadi fruit face mask in a powder form. You can make it with some plain water, Milk or rose water. If your skin is dry mixing it with milk is better however for oily skin mixing the Powder face mask with water or rose water is better. Apply the face mask on your face and leave it for 15 to 20 minutes. Remove it with normal water. This is one of the most effective Ayurvedic fruit face mask for oily and acne prone skin.
6. Bodycare Fruit Face Pack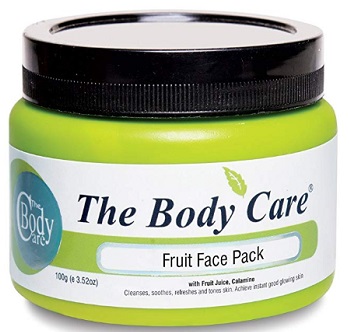 Bodycare fruit face pack is used in salons and parlours. The fruit face pack contains fruit juices along with Calamine. It helps you achieve instant glowing skin and refreshes the tone. It is very affordable and comes in a big pack. Being a natural skin softener, it gives natural fairness. It can be used two times in a week for maintaining the results.
7. Oshea Papayaclean Anti Blemish Face Pack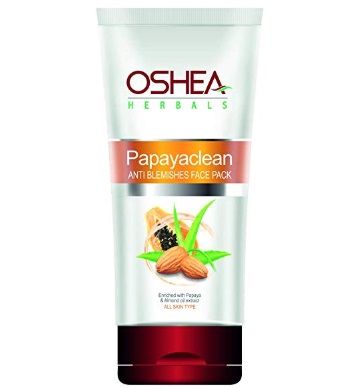 Papaya clean is an anti blemish face pack. It contains aloe vera, almond and papaya extract. Suitable for all skin type, it helps to improve the skin complexion and controls the over production of melanin. It makes your skin fair and lightens the skin tone. Regularly using this skin whitening face mask decreases dark spots also gets lighter faster.
8. Jovees Apple & Grape Fruit Pack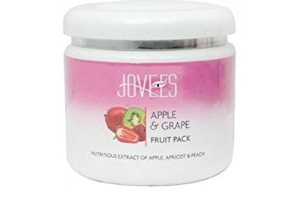 Jovees Apple and grape fruit pack is loaded with apples, grapes, tomatoes, Apricot and peaches. With multiple fruits and this face pack, is surely a precious Botanical nutritious blend of fruits for your skin. This apple pack improves the skin texture, lightens the dark complexion for clear and fresh skin. Additionally, the herbal fruit face mask is easy to apply and can be used twice in a week.
9. VLCC Clear Tan Fruits Face Pack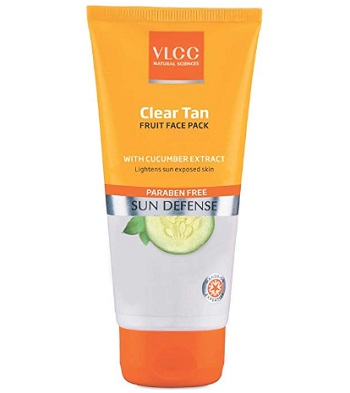 VLCC clear tan fruits face pack comes with cucumber and is a paraben free formula. It is basically a tan removal fruit face pack in India that is suitable for all skin types. You can combat the tan effects easily by this face mask. It is suitable for oily to combination to normal skin for glow and to remove the tanning from the skin. Face mask like this can be tried twice in a day.
10. The Body Care Fruit Face Pack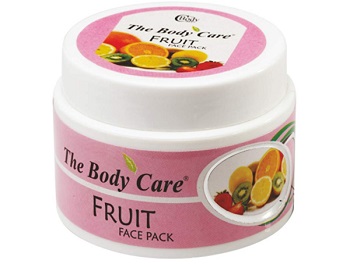 The body care fruit face pack is a rich blend of fruits like kiwi, oranges, lemon and more. It can be used two times in a week. The fruit pack is loaded with Alpha hydroxy acid of fruits to beautify your skin. It is suitable to restore the natural radiance of your skin. This fruit face pack is better for dry to normal skin.
Now that you've enough of the options of the best fruit face pack brands in India. Out of these fruit loaded mask, you can find the best depending on your skin type. Other than that, we would also suggest you to use face Scrubs regularly. Scrubbing helps to improve the skin complexion and to get rid of the dullness and clogged pores. The best thing is to apply the scrub before the face packs. Additionally, always ensure that you are wearing sunscreens.
If you're wondering, how to make fruit face pack at home, then here is a quick recipe that you can definitely follow:
Take a blender and add a small piece of banana, a slice of apple, a slice of papaya. Now make paste of these 3 fruits and blend them. While grinding you can also add some Milk or Honey. Now apply this paste on the face and neck. Leave it for 30 minutes. Wash after that. This homemade fruit face mask is one of the best for getting instant glow on the skin.