Shampoos for women are available in multiple variants. While some shampoos claim to combat the hair fall issues, others will add thickness and fight hair loss. Whatever, hair related stressful issues you have, the brands have already come up with a shampoo claiming to provide the solution. There are shampoos to control oily hair as well as to provide the nourishment and extra moisture to the lackluster dry hair. Shampoo for ladies is an important part of even the simplest hair care routine. Definitely, using a shampoo is an important part. Hair cleansing is needed to get rid of the dust, dirt and any pollutants sticking on the scalp and hair, thus choosing a good hair shampoo is needed.
There are several shampoos brands for women available in the market, however many women get confused, which shampoo is better and what should they use? If you are wondering about the best shampoos for women present in the market then here we go. We have created this list of the best shampoos for ladies available in India. These shampoos are from different brands and variants formulated for different purpose. If one has a particular hair issue then choose the best hair products for women to deal with the common hair problems.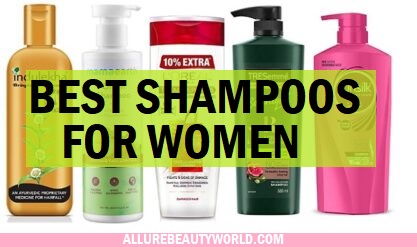 List of Best Shampoo Brands for Women (2022)
1. Indulekha Bringha Anti Hair Fall Shampoo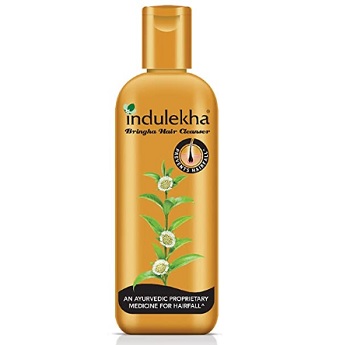 This is the best anti hairfall shampoo available in India for women. Men with hair loss and bald patches too can apply it to curb the loss of hair drastically. The hair fall control Ayurvedic shampoo prevent hair fall with its organic formula. With a blend of 9 bringha plants, it does not contain any color and fragrance. After using the shampoo, it definitely helps in restoring the natural goodness and bounce of hair. Honestly, this shampoo does not lather a lot but it does clarify really well. The reason is simple it's the best natural and sulphate free shampoo in India. Trusted by millions of Indian people, the shampoo for women's hair is also very affordable. It has given a lot of benefits for many people like premature greying control, hair fall reduction and even relief in dryness.
2. Dove Hair Fall Rescue Shampoo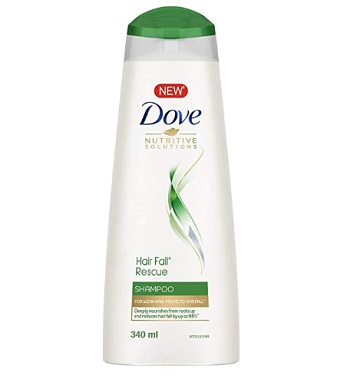 Dove Hair Fall Rescue Shampoo is formulated to prevent hair fall and to reduce the hair fall routine by up to 90%. It is basically a formula that helps to protect the weak hair roots by strengthening from root to tips to get them stronger and nourished hair. This women's hair fall shampoo has a light creamy texture that creates fluffy lather to cleanse the scalp wonderfully. Mild and refreshing scent is also pleasant.
3. Mamaearth Onion Hair Fall Shampoo for Hair Growth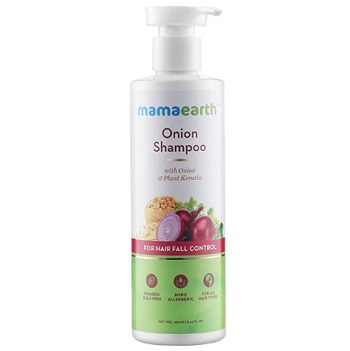 Mamaearth Shampoo is basically a hair fall control shampoo for women that is made with goodness of onion and plant keratin. It also has soy proteins that are known to give vitality and strength to limp, weak and dull hair. it's a must try product to address the hair fall. The every day use shampoo is free of paraben, mineral oil, dyes, silicon and sulphates. Mamaearth as a cosmetic and beauty brand is amongst the best organic skin and hair care brands in India. Onion rich shampoo for ladies, without any doubt are able to stimulate new hair growth and are known to put a stop on hair fall.
4. L'Oreal Paris Total Repair 5 Shampoo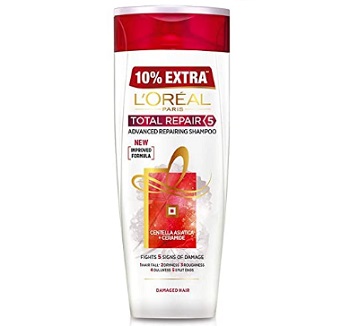 This is a shampoo that is made with proteins and ceramides. The best thing about this L'Oréal shampoo for women is its ability to fight 5 signs of hair damage like hair fall, dryness, roughness, dullness and split ends. So all in all, it is the best shampoo for women for dry and frizzy hair. While minimizing and preventing roughness, dullness and breakage, this women's dry hair repairing shampoo product, surely makes your hair noticeable stronger and smoother. Ceramide cement and its efficient formula also protects the hair from the future damage. This is a budget shampoo for women, that can be used to 3 times in a week.
5. Pantene Advanced Hair Care Solution Lively Clean Shampoo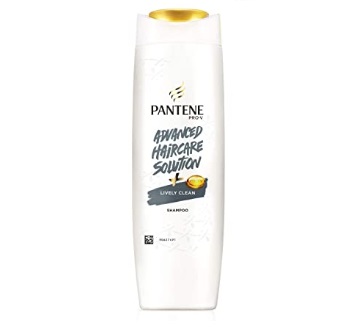 Pantene lively clean shampoo is yet another popular shampoo for women in India because it is available at very affordable prices. Being a very mild shampoo, it's apt for everyday use. Undoubtedly, this mild shampoo gives healthy looking beautiful hair and also ensures lesser hair tangles. Eventually the shampoo minimizes the hair fall because of the breakage it also gives the boost of natural growth. This shampoo for women, is best in India due to its effective ingredients and its daily use gentle formula. For ladies with short hair, who like to wash their hair everyday, this is a sure-shot budget friendly choice to make, Indeed, this Pantene shampoo can be used on every day basis to remove even the product built up.
6. TRESemme Botanique Nourish and Replenish Shampoo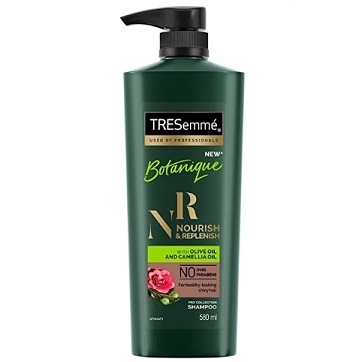 With olive oil and Camellia oil, this Botanique Tresemme shampoo does not contain any paraben or Dyes. It gives you gorgeous hair with just one use because of the deep conditioning formula. The ladies shampoo gently nourishes and cleanses the scalp to make the hair moisturised and super soft. It's a shampoo that is suitable for women with all hair types, excluding the women with very dry hair as it can be a little less conditioning for women with curly and rough hair. Water lily and plum scent is refreshing. It's is safe shampoo for color treated hair as well.
7. Biotique Bio Kelp Protein Shampoo Intensive Hair Regrowth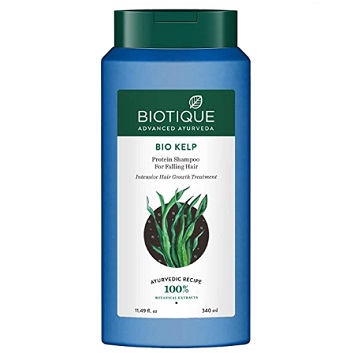 Made with the Sea kelp and 100% Ayurvedic recipes, this is an intensive hair growth treatment. The protein shampoo is made for hair fall control and with the protein rich formula, it creates a barrier between the damage and the erosion of natural cuticle of the hair. The shampoo is a blend of Sea kelp and peppermint oil along with mint leaf extracts. This gently cleanses the scalp and it also boosts the blood circulation and initiates a fresh growth of hair. It does not lather a lot but it really does cleanse the scalp nicely and thoroughly.
8. Sunsilk Lusciously Thick and Long Shampoo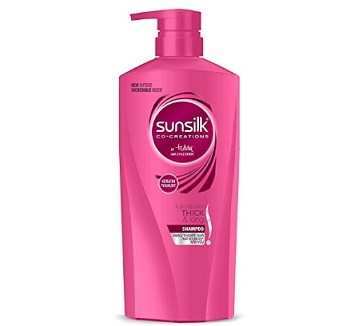 The Sunsilk shampoo is to get hair thicker and longer. It has the yoghurt keratin and the yoghurt protein that make the hair stronger from roots to tips. While it gives you 2 times more voluminous looking hair, it also makes the rough and dry hair super moisturised. It provides the hair with all the essential nutrients to increase the natural bounce and volume. One can enjoy a full body hair within just first few washes. It's a shampoo for women with thin and lifeless dry hair. Even if you have oily hair that gets low on volume during the humid summer season, the shampoo can be tried. With yoghurt powder and hydrolysed keratin, it is one of the best shampoos that are available at very affordable prices in India.
9. Clinic Plus Strong & Long Health Shampoo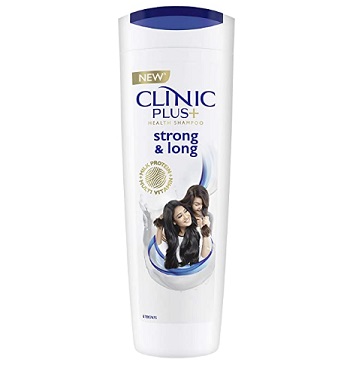 Clinic Plus strong and long health shampoo is made with milk proteins and is one of the cheapest and affordable shampoos available in the Indian market. It is suitable for all hair types.  The milk proteins present in the shampoo penetrates each hair strand to give the total nourishment. So, every time you wash your hair using this protein shampoo, your hair becomes voluminous and stronger. In addition, it also contains multivitamins like Vitamin A, C, D and E, helping the hair to get stronger with every wash. The shampoo is also good for the teenagers.
10. Dabur Vatika Health Shampoo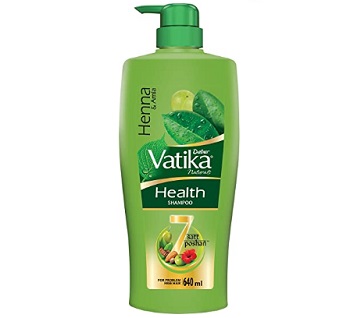 Dabur Vatika shampoo is a blend of natural ingredients like peaches, Hibiscus, Amla, almond, Shikakai and more. It's a shampoo made to combat different hair problems, which we encounter on daily basis. While fighting the hair loss, greying of hair, premature hair breakage and what not, the shampoo is an affordable one stop solution for all the commonly experienced hair woes. It also includes the power of Henna and Amla that are known to cure the hair problems like dandruff and gives satisfactorily relief in falling hair.
11. WOW Red Onion Black Seed Oil Shampoo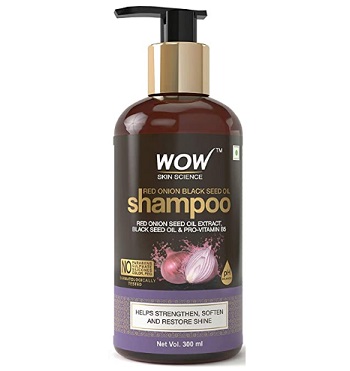 This is a brand that makes paraben, mineral oil, pthalates and sulphate free products. In fact the brand is the most popular brand amongst all the current cosmetic brands in India because of its cruelty-free and harmful chemical free beauty products. Wow shampoo for hair growth and hair fall control is suitable for everyone with the hair loss issues. The best hair fall control shampoo in India contains red onion and black seed. Both of them are known to initiate the growth of new hair follicles. So while rejuvenating and strengthening the weak hair roots, this hair cleanser controls the excessive hair fall. The shampoo also makes the cuticle smoother to minimise hair breakage due to tangles. Red onion is rich in sulphur, known as an effective ingredient in re-initiating the hair growth. Rich in vitamin B, C, D and E, it helps to unblock the blocked roots. It's amongst the best organic shampoos for women.
12. Himalaya Gentle Daily Care Protein Shampoo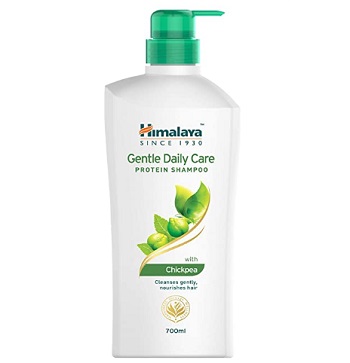 Himalaya protein shampoo is rich with chickpea and Aloe Vera extracts. The mild and efficient cleanser aids in getting rid of the dirt and dust. It removes the effects of pollution as well. The shampoo is one of the most popular shampoos in India made with an Ayurvedic and herbal formula. It is a daily mild shampoo for men and women. Additionally, the Himalaya shampoo is yet another famous and budget friendly shampoos in India.
13. Chik Hairfall Prevent Egg Shampoo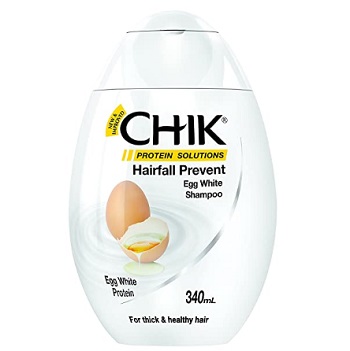 Chick hair fall prevent shampoo is another popular shampoo in India. The goodness of egg protein in this shampoo is known to give fuller hair which you can flaunt. It has egg protein rich formula and is suitable for normal to dry hair. The gentle shampoo can be used on every day basis. It can be the much needed solution for the hair fall issues and to avoid the hair breakage. By smoothing the hair, it also reduces the clumping and tangles.
14. Khadi Herbal Neem Shampoo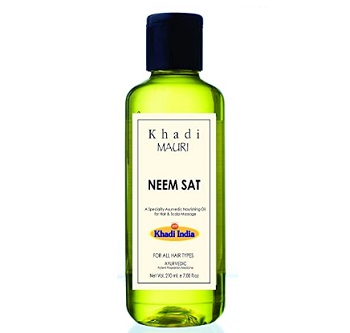 Khadi Herbals Neem shampoo is an anti hair fall and anti dandruff shampoo. The ever-popular shampoo deeply clarifies the scalp. While cleansing, it won't remove the essential oils from the hair and scalp, which can later disrupt the pH balance. It makes the hair look dark and stronger. The gel based formula is light and makes the hair healthy and more beautiful. The shampoo can be tried 2-3 times in a week.
15. Herbal Essences Coconut Milk Shampoo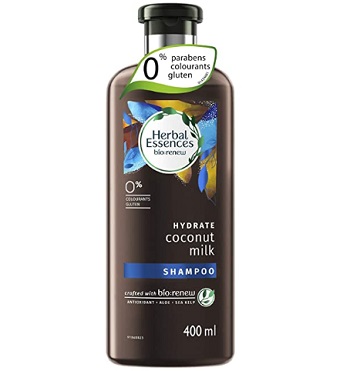 Herbal Essences coconut milk shampoo is for dry to damaged hair. With no color and paraben, it is also a gluten free. The shampoo has the mild scent of vanilla and coconut that also gives feel good factor while using the shampoo. Apt for even the permed and colored hair, it has a pH balance formula with the blend of natural antioxidants, Aloe and sea kelp. The natural ingredients help to protect the damage and overcome the split ends.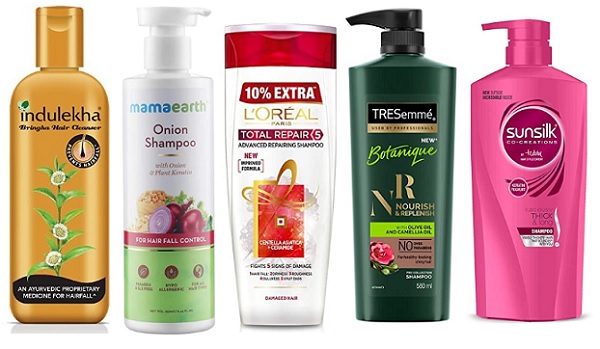 These are the Best shampoos for women in the market. You can shop these from the stores and online. One thing you must remember that women's hair need more care and attention as compared with men's hair hence, always try to use the suitable shampoo.