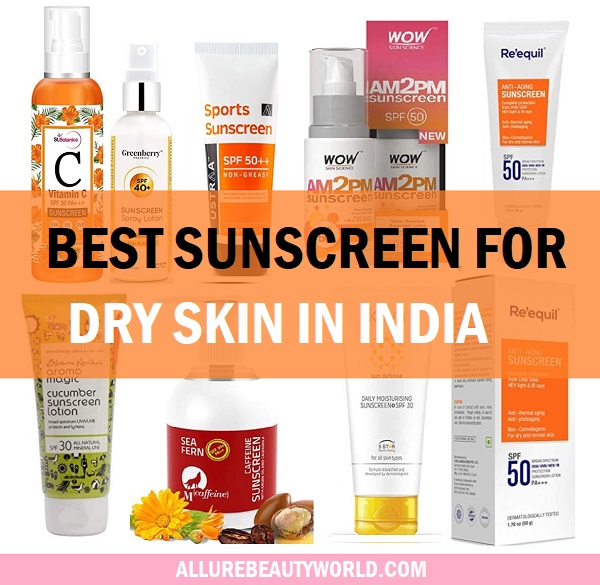 Sunscreen for dry skin helps to shield your skin especially, during harsh summers. Therefore, using the best sunscreen for dry skin in India, becomes even more important. It's going to hydrate and protect both. When we have dry skin, we apply a lot of skin creams and moisturizers. But it is also true guys that dry skin is more prone to sun damage and wrinkles as compared to oily skin. As your dry face lacks lubricating glands that secrete the oil, it is less oily and always low on moisture. If you are confused which is a good sunscreen lotion that you should try for your dry face, then surely this post on the best sunscreen for dry face in India, is going to help you out. In this, I have listed all those sunscreens which I have knowledge of and have researched that they will be suitable for people with dry to normal face. Suitable for all seasons, you can apply these face sunscreen lotions for dry skin during summers as well as winters.
Why Applying Sunscreen is Important?
A lot of people will not apply sunscreen when it is winters considering or thinking that sun rays won't be that harmful however, sun rays are equally harmful even during the winter season. Therefore, we should apply sunscreen all around the year. So let's go ahead and check which are the best sunscreen lotions for dry skin available in India.
While Choosing a good sun lotion, it is essential that you go for moisturizing formula which give enough of  the hydration, that does not let the skin get dry further.
List of Best Sunscreens for Dry skin in India (2022)
1. Greenberry Organics SPF 40+ Sunscreen Spray Lotion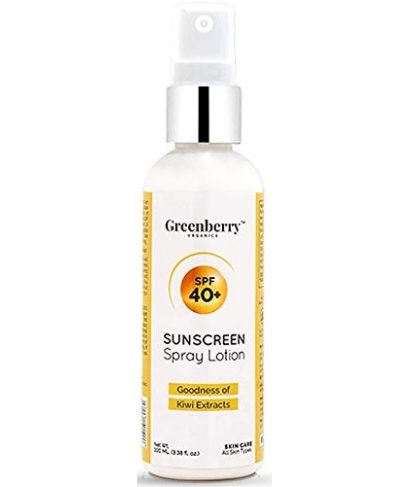 It's a face sunscreen that comes in a spray packaging. Containing the kiwi extract, a natural anti-oxidant, it creates a shield on your skin which protects from the UV damage. Kiwi is loaded with the goodness of multiple antioxidants that fight and safeguard from free radical damage of your skin. Therefore, it hydrates your skin cells while giving them protection from UV rays. It is a perfect blend of natural and organic ingredients which are certified. If you're looking for a paraben and Sulfate free sunscreen for dry skin in India to buy online, this is perfect.
2. StBotanica Vitamin C SPF 30 PA+++ Sunscreen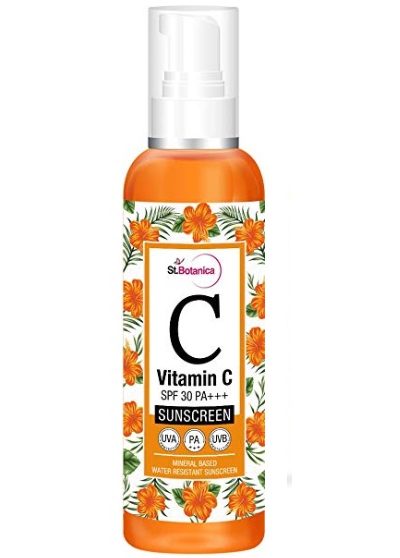 How about Vitamin C in your sunscreen? Yes, this sunscreen contains vitamin C and SPF 30. It is a mineral based sunscreen with water resistant and waterproof formula. So, even while you are going for a pool or beach to relax, this will not get wiped off from your skin. The fast and quick absorbing formula contains zinc and Titanium dioxide. On application, it may leave a white layer on your skin, therefore, you must blend it nicely. The lightweight face sunscreen lotion for dry to normal skin is extremely powerful and is suitable for everyday use. It does not contain any paraben, sulphates, mineral oils and other harmful chemicals which can pose a threat to your skin's pH balance. While it nourishes and moisturize your skin and also make sure that your skin stays healthy.
3. Ustraa Sports Sunscreen for Men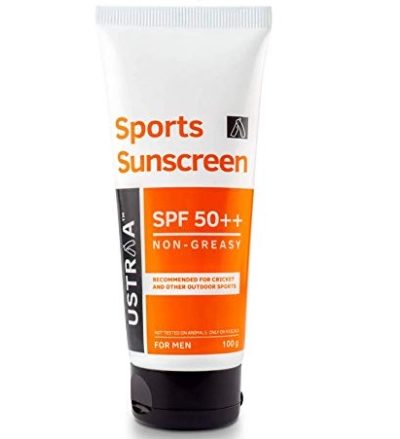 Even though, it's non-greasy but after using this, I find that it is slightly greasy for people who are involved in outdoor activities like sports and athletic activities. It has SPF 50 which is commendable as when you are outside; you are more exposed to sun damage and premature aging. However, because of SPF 50 your skin will stay protected. It contains soothing effect of cucumber and mint extract that keeps you cool and protected from sun tan. It is also a SLS and paraben-free product and the best sunscreen lotion for men's dry skin in India. You must also check out the best sun tan removal creams in India, if your skin has gotten tanned, I know in summers, we all get tanned to some extent. 🙂
4. WOW AM 2 PM SPF 50 Water Resistant Sunscreen Lotion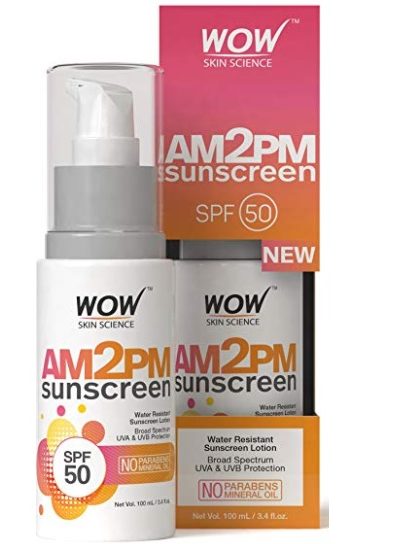 Now coming to the next option, it's a paraben and mineral oil free summer sunscreen. It is a very affordable sunscreen lotion that has been rated very high by the customers. It contains aloe vera extracts, Moroccan Argan Oil, Liquorice Extracts, Vitamin E, Titanium Dioxide and Zinc Oxide. Therefore, it is a physical sunscreen with active sun protection and cure against the pigmentation. For anti aging too, the sunscreen for dry skin is appropriate for your rough face. I personally like this brand, as whatever products I've used so far from them, are proven to be really effective for the price that I have paid. And the price is also very high, as compared with the other popular Indian brands.
5. Aroma Magic Cucumber Sun Screen Lotion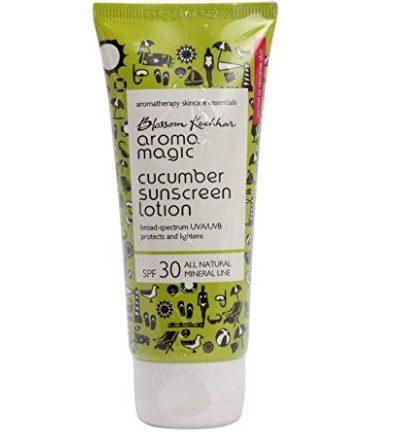 Aroma magic cucumber sunscreen lotion with SPF 30 is for all skin types, however, I feel, it's very hydrating so, ore for dry skin. It is a sunscreen of all seasons and gives you cure from Sunburn and sun tanning. It also contains vitamins like vitamin B5, C and A. While it prevents the signs of ageing, it also revitalizes your damaged skin. By far, it's the best paraben-free and affordable sunscreen lotion. So, if you've dry and chapped skin, then definitely this can be your budget friendly sunscreen for dry skin in India with SPF 30 in it.
6. MCaffeine SPF 30+ PA++ Sea Ferns Sunscreen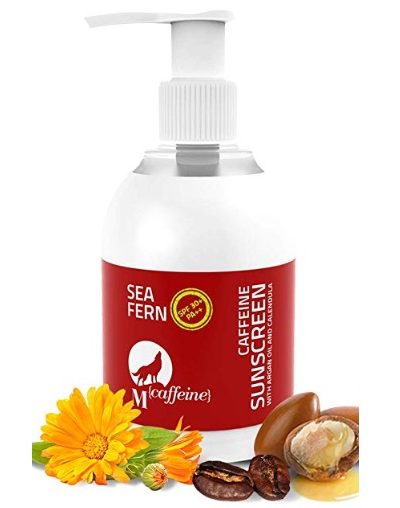 The next option of best sunscreen for dry skin that I've listed here, is because it contains Seaferns and Agran Oil along with Calendula. So if your skin is damaged because of UV rays, Calendula surely helps and Argan oil nourishes your dry face. The sunscreen comes from a brand that is paraben and Mineral oil free. It is also Ayush certified and contains 100% vegan ingredients. This is why, it's the best sunlotion for dry sensitive skin. Even though it claims that it's a sunscreen for all skin types in India, I find that for dry skin, it works better. This moisturising sunscreen lotion contains SPF 30 that gives you broad spectrum protection against UV and you will be raised. It also contains caffeine, a strong antioxidant.
7. Kaya Clinic Daily Moisturizing Sunscreen SPF 30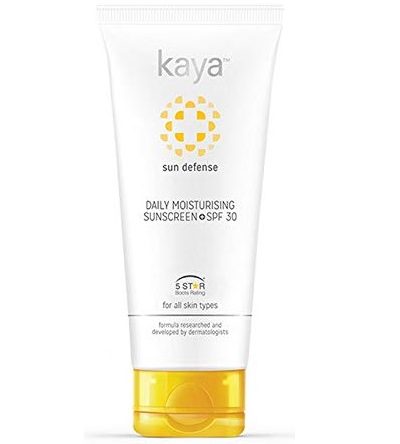 The hydrating Sun lotion comes with SPF 30. It's a suitable daily suncream with a non-comedogenic mild formula. It not just protects your skin from UV damage but also maintains a healthy pH balance. It's a formula that is researched and developed by the Dermatologists. It gives you whole day moisturisation and keeps your skin protected from external pollutants as well. This sunscreen lotion will be able to cover up your entire face therefore, little bit is required, so that saves the product and money. Use this for the day time and a suitable night cream for dry skin and your skin care regimen is set.
8. Biotique Botanicals Bio Carrot SPF40 Sunscreen Ultra Soothing Face Cream 

Biotique Ultra soothing face cream contains SPF 40. Rich in the carrot extracts, this sunscreen is very moisturizing for people with dry face. And give the optimal sun protection and repairs the skin damage. It also works to shield the skin from the external pollutants. So far, this is the best affordable sunscreen for dry to normal skin in the market. It is more like a day cream with SPF. 
You can know about the complete list of best creams with SPF in them here at best creams and moisturizers with SPF in India.
9. RE' EQUIL Anti-Aging Sunscreen SPF 50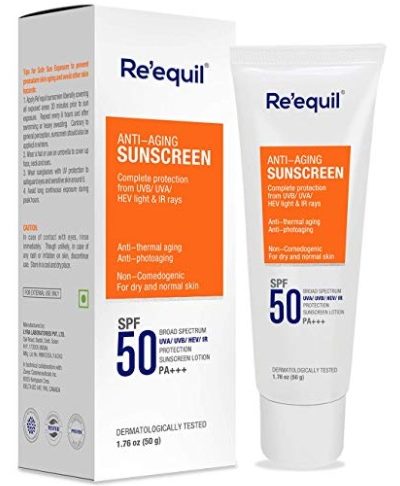 To cure the dry sensitive skin, this is a dermatologically tested sun protection product with SPF 50. It gives you broad spectrum protection and its lotion like texture is suitable for dry and normal skin. It has anti-aging and anti photo aging benefits for your dry skin. Prior to going out in the sun, apply this on your face. The hydrating lotion is oxybenzone and OMC-free which means it is safe for sensitive skin. Also see which are the best anti aging skin creams in India, they you can try when you are over 30.
10. Lotus Herbals Safe Sun UV-Protect Body Lotion For Dry Skin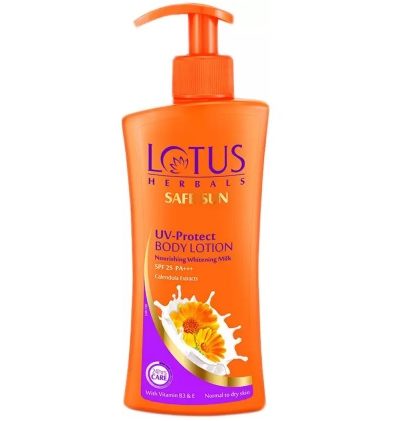 Your dry skin craves moisture with sun protection. Therefore, this sunscreen lotion is best for normal to dry skin. It contains calendula extracts which are known to soothe the dry flaky skin. It has nourishing whitening ingredients with vitamin B3 and Vitamin E. It gives 24 hour moisture and is a perfect body lotion with sunscreen for dry skin. Apply it literally after the shower to make sure that your skin stays protected and hydrated.
These are the best sunscreen lotions for dry skin in India. Hope it helps you to find the best sun lotion for dry facial skin. Out of all the best sunscreen, these are very moisturizing, so suits dry skin the best.
Please ask me the comments, if you have any queries.
Other than that, please make sure that you apply sunscreen at least 10 to 15 minutes before leaving your house. Because sunscreens takes a little time to get completely absorbed in your skin.